The U.S. Treasury will offer $11 billion in a reopening of CUSIP 9128282L3 at auction on September 21, creating a 9-year, 10-month Treasury Inflation-Protected Security.
This TIPS, which originally auctioned on July 20, carries a coupon rate of 0.375%. The actual after-inflation yield to maturity (known as the 'real yield') will be determined by the auction. But because this TIPS trades on the secondary market, potential investors can track its yield and cost in the days leading up to the auction. Here are some data sources:
The best source for a reopening auction is Bloomberg's Current Yields page, which posts real-time updates on Treasury yields. As of Friday, this TIPS was trading with a real yield of 0.34% and a cost of about $100.34 for $100 of value. The cost is at a premium because the real yield is currently lower than the coupon rate.
Also helpful is the Wall Street Journal's Closing Prices page, which shows that this TIPS - which matures on 2027 Jul 15 - closed Friday with a real yield of 0.327% and a cost of about $100.47.
Plus, keep an eye on the Treasury's Real Yields page, which shows estimates for the real yield of full-term TIPS. On Friday, the yield estimate for a full-term 10-year TIPS was 0.35%.
Thursday's auction closes at noon EDT for non-competitive bids and 1 p.m. for competitive bids. Also note that this TIPS will carry an inflation index of 1.00073 on the settlement date of September 29, which will slightly increase the cost to buyers, while also slightly increasing principal.
An unattractive rate trend. When this TIPS originally auctioned July 20, it generated a real yield to maturity of 0.489% and sold at a discount of about $98.36 for $100 of value. The current real yield is lower and the price is about 1.4% higher - not a good trend for investors.
This chart shows the trend in 10-year TIPS yields over the last four years. It's significant that recent yields have been nearly 30 basis points higher. Investors looking to buy TIPS during peaks in yields will probably want to sit out this auction.

The inflation break-even trend. Even while yields have been declining, TIPS have been getting a little more expensive versus nominal Treasurys. This can be seen by tracking the 10-year inflation breakeven rate. As of Friday, with a 10-year nominal Treasury trading with a yield of 2.2%, this TIPS would get an inflation breakeven rate of 1.86%, 10 basis points higher than at the original auction. Investors are starting to price in expectations of higher inflation, making TIPS more expensive versus nominal investments.
This chart shows the trend in 10-year inflation breakeven rates over the last four years. TIPS are solidly in the neutral range versus nominal Treasurys - neither cheap nor expensive.

Conclusion. It's disappointing that TIPS yields have declined since the originating auction for CUSIP 9128282L3, and now require investors to pay a premium for a rather paltry coupon rate of 0.375%. The current yield of 0.34% would fall below the result of the last five 9- to 10-year TIPS auctions. Then again, if you look back a year ago - 45 days before the U.S. presidential election - a 10-year TIPS auctioned with a real yield of 0.052%, barely positive to inflation.
If you are considering an investment in this TIPS, I recommend watching the data sources I listed above and then making a decision Thursday morning. TIPS and Treasury yields have been gradually sinking in recent weeks. I'll be posting the auction results soon after the closing at 1 p.m. Thursday.
This TIPS will be reopened again in an auction in November.
Here's the history of every 9- to 10-year TIPS auction since 2011: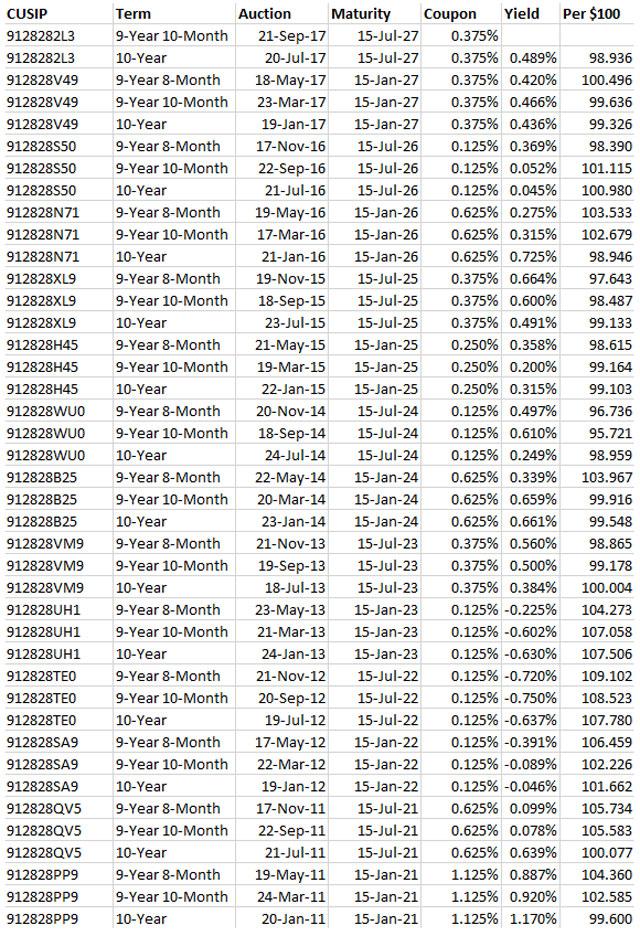 Disclosure: I/we have no positions in any stocks mentioned, and no plans to initiate any positions within the next 72 hours.
I wrote this article myself, and it expresses my own opinions. I am not receiving compensation for it (other than from Seeking Alpha). I have no business relationship with any company whose stock is mentioned in this article.