Most have probably heard of FANG, the term coined by polarizing stock "expert" and TV celebrity Jim Cramer to refer to four of the best performing tech stocks of late: Facebook (FB), Amazon (AMZN), Netflix (NFLX) and Alphabet (GOOG)(GOOGL). Those who have bet on these stocks in the past year at least have probably looked and felt like investment geniuses. A concentrated portfolio equally allocated to these four names would have returned around 40% in the last 12 months vs. the broad market's less than 20% (dividends included).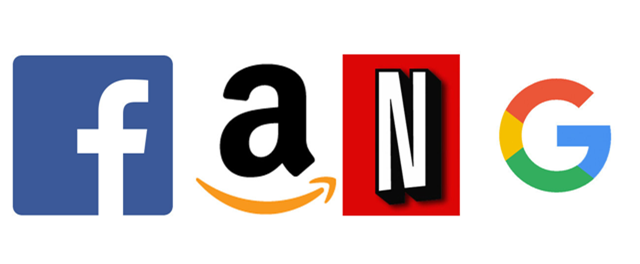 Credit: Advisor Analyst
But as the saying goes, you can't drive forward by looking into the rear-view mirror. Only because the hot stocks of months past have performed phenomenally well does not mean that they will continue to do so in the future. This is particularly true in the context of a deteriorating economic landscape or the end of the current eight-year long equities bull market - if or once either were to happen.
Recently, I published an article arguing that, based on what I have seen happen to 30 of the largest-cap names during the 2Q17 earnings season, I believe the stock market is running out of breath. If I am right and equities are heading into a long overdue correction some time soon, I would be more inclined to set aside my "FANGs" and do like notable biblical figure Noah did: build an ark and place my valuable assets in it ahead of the forthcoming flood.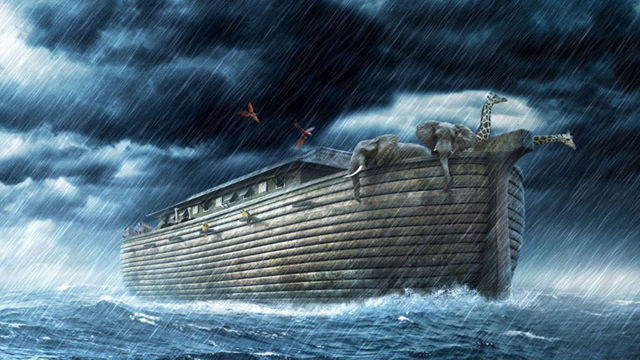 Credit: YouTube
This is not to say that I am bearish FANG stocks, and that I believe these names should be shorted. I would not dare stand in front of a moving train - even if I think that it will logically have to stop or slow down at some point. But I believe a balanced portfolio should have not only fast-growing, hot tech stocks, but also more defensive names that would better survive what I see as an imminent broad market pullback.
Today, I introduce "NOAH" - a set of high-quality, more defensive tech stocks represented by Nokia (NOK), Oracle (ORCL), Apple (AAPL) and HP (HPQ) that I believe deserve some consideration from the more prudent investors.
Nokia: Playing the 5G cycle at a reasonable price
NOK has been one of my best calls of the past year. For a while, I had been observing from a distance the Finnish telecom equipment vendor weather the downcycle caused by large carriers worldwide tightening their budgets as their 4G upgrade cycles came to an end. I bought shares at $4.30 late last year, when I realized that the market had unduly discounted the stock on macro fears that I found largely irrational.
Today, Nokia is a better diversified tech name (it has entered the smart device business through the Whitings acquisition and began to license its name for the marketing of mobile phones once again) on the cusp of benefiting from a new cycle of 4.5G-to-5G infrastructure upgrades over the next three to five years. As Nokia's U-shaped recovery begins to take form, I estimate that the company can deliver non-IFRS EPS CAGR of over 20% through 2020.
It doesn't hurt that Nokia's balance sheet looks rock solid and the projected dividend yield seems attractive at 3.5%. All of that would cost a potential investor only 20.5x forward earnings (substantially lower than last year's 27x multiple), or 1.1x PEG using the Street's long-term earnings estimates (see chart below).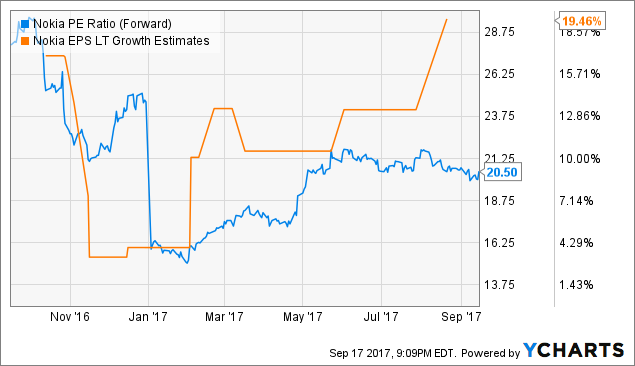 NOK PE Ratio (Forward) data by YCharts
Oracle: Cloud transition under way
The software giant has been on the upswing. After seeing its on-premise, licensing and hardware businesses lose steam in the past, Oracle began a slow transition of its new and existing client base into a cloud-based, recurring-revenue business model that is just now starting to drive meaningful growth to the company's top line. Profitability has been improving, and the company has ambitious plans of "a lot more than $2B in new cloud ARR" in fiscal 2018 along with SaaS gross margins of at least 80% by fiscal 2019 (potentially).
I already had my eyes set on ORCL ever since the company recently delivered its first blowout quarter (i.e. all-around beat) since 2014. But I had been cautious about the stock price and valuation, which at that point had reached 52-week highs. My concerns have subsided this past week, however, as the stock retreated nearly -8% in one day following Oracle's most recent quarter results. Without finding any significant bad news in the results or long-term outlook, I see the recent pullback as an attractive opportunity to buy shares on the dip.
ORCL PE Ratio (Forward) data by YCharts
Apple: I've plugged in the numbers, and they look good
I have been an AAPL bull for some time. But it has been a few quarters since I have seen such a strong, immediate-term catalyst that I believe could send the company's equity valuation into the trillion-dollar territory by as early as next year.
Let me explain: this past week, Apple unveiled its 10-year anniversary iPhone X ahead of the 2017 holiday season. What seemed to me like a bullish event at first turned out to be an amazing EPS upside opportunity when I plugged in the numbers.
According to my estimates and under a set of assumptions that some of my readers have found very conservative, I believe the iPhone X could be responsible for earnings tailwinds of at least $1.00/share next year. Holding all else constant, this could represent a stock price upside of 11% in one year driven by a single product category, using current earnings multiple of 17.8x.
To make the bullish case even more appealing, the new Apple Watch that was launched alongside the iPhone X on Tuesday could benefit from a projected pick-up in smartwatch sales. I estimate that Apple's smartwatch product category, today responsible for minimal top-line contribution, could generate nearly $12 billion in revenues by fiscal 2021.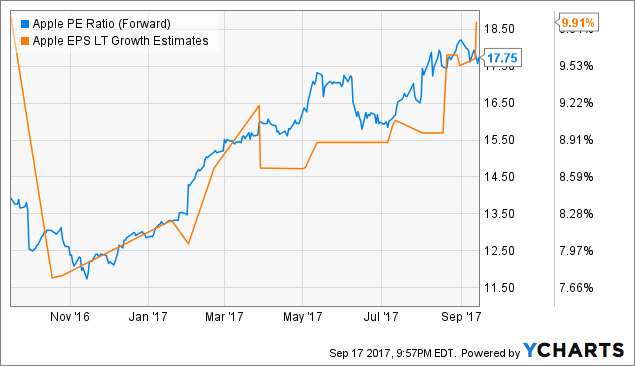 AAPL PE Ratio (Forward) data by YCharts
HP Inc.: Momentum in an unlikely industry
How boring is it to invest in a desktop, laptop and tablet manufacturer? If the company in question is HP Inc., then I think the move could be highly rewarding.
Personal computer sales have not been white-hot lately, even though the industry had seen a short-lived spike in demand (particularly of laptop and hybrid models) in the first quarter of the year. But within that slowly-moving industry, HP has been performing much better than anyone else. The Palo Alto-based company regained its market leadership position from Lenovo (OTCPK:LNVGF) earlier in 2017, managing to be the only player in the space to (1) grow its PC business at a double-digit pace in 1Q17 and (2) maintain that growth rate above 5% in 2Q17.
As a bonus, HP is diversified into the higher-margin printing business. The company has acquired the assets of Samsung (OTC:SSNLF) and is ready to take over leadership in yet another important tech hardware market. Those who are patient to wait long enough may also see HP play an important role in the 3D printing space, an incipient business that the company is very deeply involved with.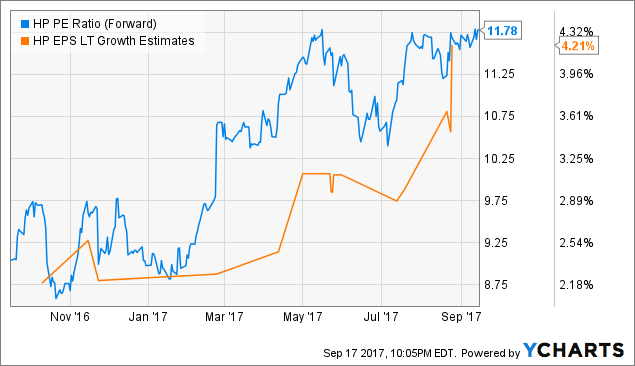 HPQ PE Ratio (Forward) data by YCharts
Note from the author: If you have enjoyed this article and would like to receive real-time alerts on future ones, please follow D.M. Martins Research. To do so, scroll up to the top of this screen and click on the orange "Follow" button next to the header, making sure that the "Get email alerts" box remains checked. Thanks for reading.
Disclosure: I am/we are long AAPL, GOOG, HPQ, NOK, ORCL.
I wrote this article myself, and it expresses my own opinions. I am not receiving compensation for it (other than from Seeking Alpha). I have no business relationship with any company whose stock is mentioned in this article.
Editor's Note: This article covers one or more stocks trading at less than $1 per share and/or with less than a $100 million market cap. Please be aware of the risks associated with these stocks.