The apparel industry has been beaten down in the last two years, due to a combination of problems that hammered down retailers' results. These headwinds included a clear problem of overcapacity that exploded due to the increasing competition from online players such as Amazon (AMZN) and an overall weak consumer spending environment due to declining tourist spending and a shift in consumer preferences towards experiences rather than goods.
Some companies started to suffer much before 2016-17, including Abercrombie & Fitch (ANF) and many of its peers, which have started to see contracting margins and declining sales already in 2013. Abercrombie & Fitch in particular, has first started to experience a fast decline in its Hollister division while its Abercrombie business continues to be more or less stable. While a successful turnaround plan reverted the trend in the Hollister division, the Abercrombie business started to suffer, posting double-digit declines in comps and weighing on the company's overall results.
In this article, I am going to share some thoughts on the company's current conditions and its future prospects. I am going to start by commenting ANF's recent results.
Q2 Was Not Bad at All
Starting from the top line, it's a significant positive to see overall net sales close to flat after many quarters of mid-digit declines. Same store sales fell 1% and confirmed a significant sequential improvement from Q1 2017 and Q4 2016, when they declined 3% and 5%, respectively.
Hollister, the company's largest brand and only source of momentum at the moment continued to perform well even in troubled retail environment, while the Abercrombie & Fitch division continued to post declines but at a more moderate pace.
Comps at Hollister rose 5%, while Abercrombie's comps declined 7%. In both cases, the performance showed an upward acceleration: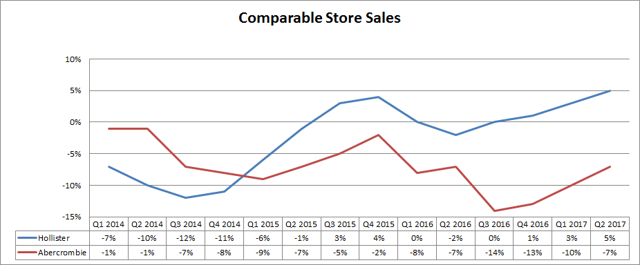 Source: Created by author.
While the top-line showed a healthy momentum, operating loss doubled in comparison to Q2 2016, mainly as a result of a lower gross profit/margin and lower "other operating income." Gross margin for the quarter was 59.1%, 160 basis points lower than last year on a constant currency basis primarily due to lower average unit retail and pricing pressures from a highly promotional environment. The market didn't seem to be particularly upset when the company reported a further contraction in margins, as the stock jumped almost 20% after the earnings release and has kept rising so far.
Of course, we have to take into account that analyst estimates pointed to significantly lower EPS and a stronger contraction in revenue. While the improving trend in comps and the EPS beat helped improve the sentiment, the management's guidance indicated a scenario of improving marginality, mainly as a result of flat gross margin expectations and ongoing cost-savings measures that should generate a 3% reduction in expenses.
While you can see the details of last quarter's earnings in the press release, I would like to focus on some simple key facts that can clearly explain the current situation:
Both Hollister and Abercrombie&Fitch are gaining momentum. Although the Abercrombie division is still reporting comps growth in negative territory, the trend is clearly improving and is supported by several positive signs in the industry, as many peers are reporting relative improvements in comps, margins and even foot traffic.
No particular problems on the balance sheet. A healthy current ratio of 2.15 indicates excellent short-term liquidity, while a debt to equity ratio around 1 is acceptable. The company is still free-cash-flow positive, although the TTM FCF is just around $54 million.
The guidance points to a further improvement on several fronts. Comps are expected to be slightly positive in the second half of the year showing a relative improvement from the first half, gross margin is expected to flatten, and the aforementioned goal to post a 3% reduction in expenses should help improve operating margin.
Like Guess? But One Step Behind
In the current situation, ANF reminds me of Guess? (NYSE:GES), which is currently in my portfolio. Just like GES, ANF has lived difficult years characterized by an apparent declining interest for its brands, while it has recently started to show relative improvements in fundamentals, which triggered a strong rise in bullish sentiment. Like GES, Abercrombie & Fitch has seen its profitability contract to ridiculous levels and trades at a discount to peers due to the lower margins.
I want to compare ANF to a basket of peers in the apparel industry that report higher margins. The companies I chose are Gap Inc. (GPS), American Eagle Outfitters (AEO) and Urban Outfitters (URBN). The peers' basket trades at an average EV/revenue of 0.63, against just 0.25 for ANF. It's mainly a result of the different margins, as the recent growth rates are not that different.
| | | |
| --- | --- | --- |
| | EV/Sales | Operating Margin |
| ANF | 0.25 | -0.31% |
| GPS | 0.68 | 9.02% |
| AEO | 0.60 | 7.68% |
| URBN | 0.60 | 7.54% |
Source: Created by author.
In a scenario where margins go back to normality, or very close to the peers' group, ANF would have 150% upside based on multiple expansion alone. This would happen if the company's operating margin expanded from the current slightly negative figures to around 8%. This is an ambitious goal. It might take more than a few years and there is still the risk that ANF may lose the momentum it has recently gained. Nonetheless, I think that even with a lower target the potential upside would still be very interesting. After all, the discount to peers is huge and the company seems to be on the right track to improve margins further, helped by the momentum at Hollister and the relative improvements in Abercrombie.
We can create another benchmark by looking at other peers that have higher margins but not at the levels mentioned above. For example, a basket that includes Guess, Tilly's (TLYS), Tailored Brands (TLRD) and Zumiez (ZUMZ) would have an average operating margin of 3.72% and an average EV/revenue of 0.47, still 88% above ANF's current valuation. Therefore, a margin expansion to the low-to-mid single digits could generate up to 88% potential upside. That level of operating margin is not far from what the company achieved in 2015, when OPM was 3% of sales.
Now a few considerations:
Hollister's momentum hasn't been so strong for years, and comps are growing much faster than they were in 2015.
The underlying trend at Abercrombie is improving. I think there is a good chance that the division may show a path similar to Hollister. By applying the lessons from Hollister to Abercrombie, the management can use its experience and try to replicate the former's performance into the second.
Signs that indicate improvements in the apparel industry abound. The majority of the apparel companies mentioned in this article and many others are reporting improving trends in comps and margins. The weakening dollar can help drive international momentum thanks to the more favorable translation of foreign results.
Moreover, the problem of overcapacity seems to be less concerning after the huge amount of store closures in the last two years and the improvements achieved by many companies on the front of inventory management.
The omnichannel model is rising fast and companies like Abercrombie & Fitch are showing good results on that front. E-Commerce already accounts for 24% of total sales and is on the rise. Apparently, customers value the omnichannel experience, a factor that should protect brands from external pressures from online pure players.
For all these reasons, I have a bullish view on ANF. Although I am not holding the stock due to my exposure to the sector through a basket of stocks that, in my opinion, offer even more attractive risk/rewards, I may consider going long if something in my portfolio needs to be adjusted.
Thanks for taking the time to read the article. If you liked it, click on the follow button at the top of the page. You will get my articles as soon as they are published. I am available to further discuss the topics of this article in the comments section. If you are interested in having access to my best long and short ideas in the consumer industry, please consider joining Consumer Alpha. A two-week free trial is available and, only for a little more than one month, I am going to offer a special price of $30/month or $240/Year. On Nov. 1, the price will rise, but all subscribers will be grandfathered in from any increase.
Disclosure: I am/we are long GES.
I wrote this article myself, and it expresses my own opinions. I am not receiving compensation for it (other than from Seeking Alpha). I have no business relationship with any company whose stock is mentioned in this article.