It's been almost a month since I responded to Rida Morwa's recommendation to buy Alpine Global Premier Properties (AWP). Warning that the fund was unsuitable for long-term investors for a variety of reasons, I recommended investors instead consider other real estate closed-end funds (CEFS) with a superior long-term CAGR such as the Nuveen Real Estate Income Fund (JRS), Neuberger Berman Real Estate Securities Income Fund (NRO), Cohen&Steers Total Return Realty Fund (RFI), RMR Real Estate Income Fund (RIF), Cohen&Steers REIT&Preferred Income Fund (RNP), and Cohen&Steers Quality Income Realty Fund (RQI).
Most recently, Rida commented on my article to point out that AWP is "up 4.5% in one month", and it is indeed true that AWP has outperformed all other real estate CEFs I highlighted in my rebuttal argument over that short time horizon: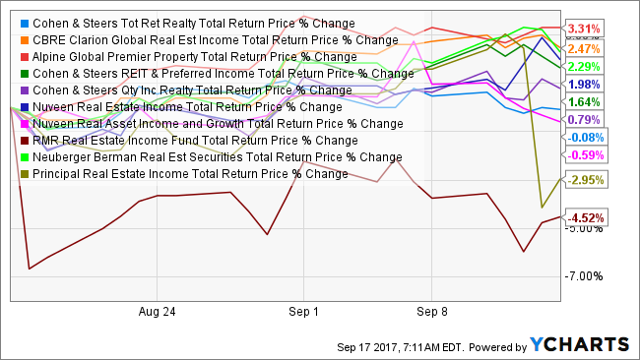 (Note that the Diversified Real Asset Income Fund (DRA) has merged with JRI, hence it's not on this list).
Since I'm not sure if Rida recommends this fund for short-term trades or long-term income (I get the sense from his article that he prefers it for the latter, which would make the short-term price gains somewhat irrelevant), I am unsure whether Rida should proclaim victory on this particular fund quite yet.
However, I think there's merit in taking a deeper dive into these real estate funds' recent performance to get a sense of what is actually happening here and why AWP's short-term return is beating the competition. While the fund's total return has been impressive over the last month, we can see that the fund's NAV performance has been one of the worst in the real estate CEF universe - being nearly flat and only beating out the Nuveen Real Estate Income Fund over the same period: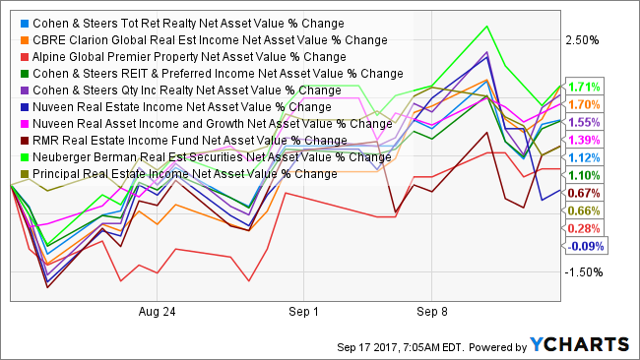 As a result of the strong price performance and NAV underperformance, AWP's premium to NAV has fallen even further to 9.8%: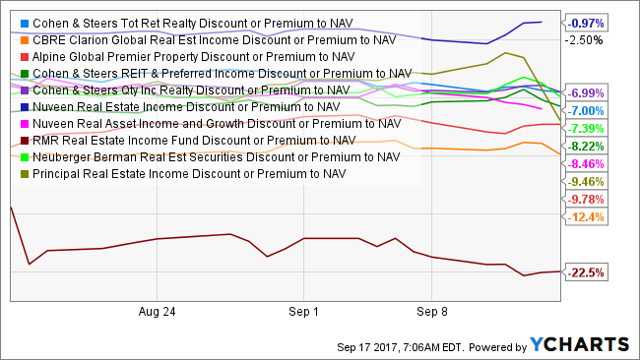 This is significantly worse than AWP's 10-year average discount of 12.17% and is the highest discount the fund has seen since 2013 with the exception of a short-term spike in mid-2015: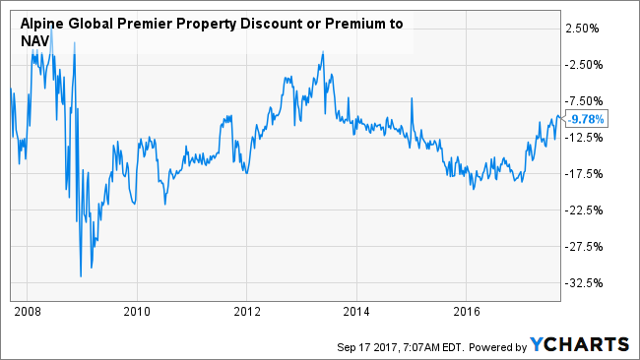 Since both Rida and I wrote our articles, AWP has also announced its FY 2017 cumulative net investment income was 11.74 cents, accounting for 23.5% of the fund's distributions. Over that same period, AWP's NAV rose 5.6%: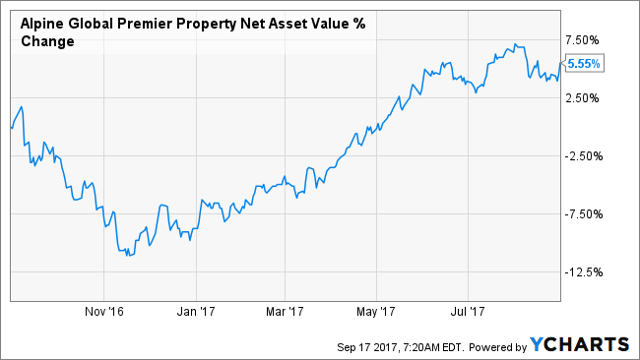 Where are those gains coming from? A total of 41.7% of the fund's holdings are in the U.S., with Japan, Germany, the U.K., and other countries: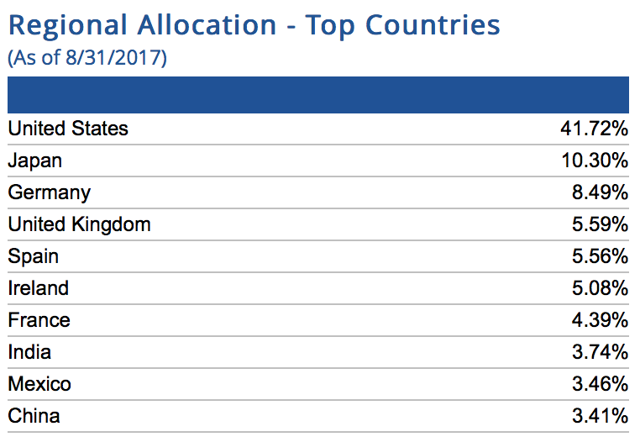 A continued decline in the U.S. dollar has those made the currency-adjusted value of 58.28% of the portfolio higher on paper: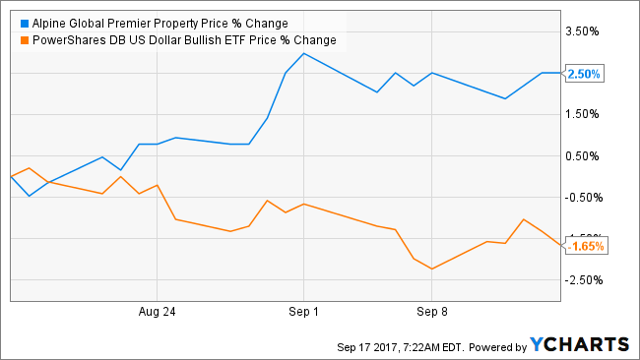 That, in turn, has driven AWP's gains both in the last month and over the past year: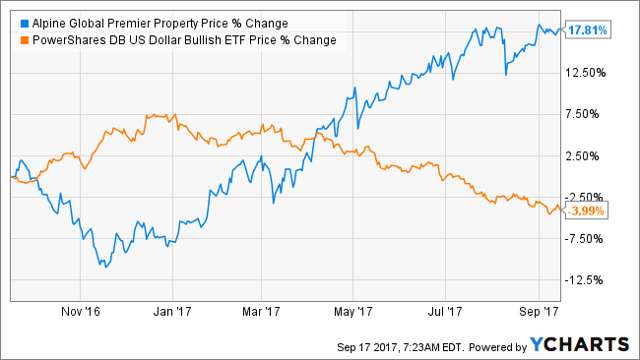 That has also helped AWP provide a tremendous total return over the past year: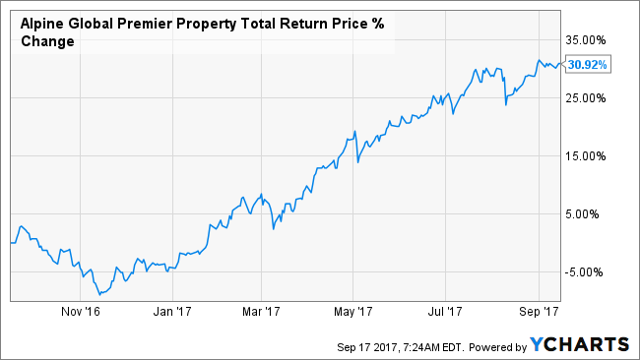 With so much of the fund's returns dependent on a depreciating U.S. dollar, and with the fund bought significantly higher than the U.S. dollar has declined in recent months, it remains to be seen whether a turnaround in the fund will hurt AWP or cause investors to panic and reverse the deterioration of the fund's discount to NAV as we've seen in recent weeks.
The fact that the last month has shown a strong decline in the U.S. dollar but not a commensurate increase in AWP's NAV suggests that the fund's buyers may be getting ahead of fundamentals. That is, they are buying the fund on the presumption that a weaker U.S. dollar will boost the fund's NAV in the future. Yet, AWP's NAV growth seems to be very much a thing of the past, as gains have flat-lined in recent months: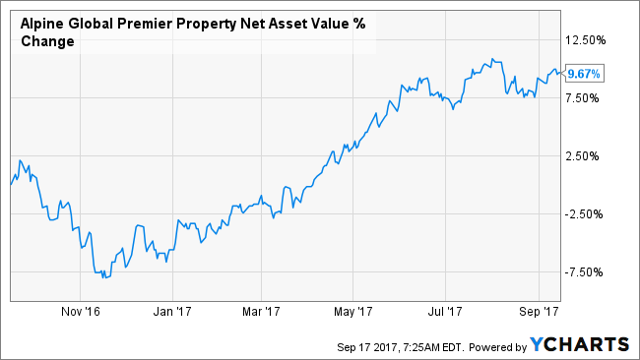 If AWP's discount rises significantly due to a resurgence in NAV growth or because of a market sell-off due to a resurgence of the USD, I could see a buying opportunity for AWP opening up. As it stands, the irrationality of the CEF market is creating too much demand in the short term. That is creating the illusion of fundamental strength in the fund that masks diminishing returns in the fund's portfolio.
While this sometimes results in short-term gains that can be profitable for short-term traders, long-term investors should be aware of the simple fact that AWP's dividend will become increasingly unsustainable, and its unusually low discount to NAV may reverse course when investors have a change in sentiment. No one can predict if that will happen in as short of a time period as a month, and I would caution investors from thinking anyone can predict short-term price movements in a fund (longer-term price movements on a scale of 4-5 months, on the other hand, are much more predictable).
For that reason, I'd encourage AWP investors to be pleased with the short-term gains in the fund but also take a close look at the fund's NAV performance and dividend sustainability over the next six months.
Disclosure: I am/we are long JRI.
I wrote this article myself, and it expresses my own opinions. I am not receiving compensation for it (other than from Seeking Alpha). I have no business relationship with any company whose stock is mentioned in this article.
Additional disclosure: We are also long NRO, RFI, and RIF