When following any industry, it is important to learn and understand the history by which the companies are judged. In the case of the airlines, this is essentially a new industry given the massive transformation over the last few decades. With flying having gone from an enjoyable privilege through which the airlines hemorrhaged money to today's miserable flying experience through which the airlines actually make profits, the investing history has essentially been reset. The dawn of the new era was in December of 2013 when American Airlines Group (NASDAQ:AAL) emerged from bankruptcy. Consolidation has also been a major transformative factor. A good trivia game is to try to name defunct or acquired airlines (naming Trump Shuttle gets double points).
With this transformation came a whole new set of investing opportunities. The early investors in AAL made out like bandits. Many were hedge funds that gobbled up cheap debt before and during the bankruptcy. The new equity just about doubled in little over a year. Of course, the friendly skies for the airline stocks did not last for long. Stocks topped out in early 2015 and began to slide for almost 15 months. Much of the industry woe stemmed from a turf war in Dallas. Southwest (NYSE:LUV) had just "won" its freedom with the termination of the Wright Amendment which had restricted its routes. So it was looking to expand. Meanwhile, Delta (NYSE:DAL) had just won a ruling from the Department of Transportation allowing it to keep its gates at DFW that it had been leasing. With all of this going on, AAL felt threatened on its home field, so it decided to slash fares. On top of this specific fear (10% of AAL's traffic was through DFW then), capacity growth spread as low cost carriers (LCCs) felt emboldened to open new routes.
Taking a step back, the two metrics that are most important to watch in the industry are capacity (measured by Available Seat Miles, or ASMs) and unit revenue (Revenue per Available Seat Mile, or RASM, sometime PRASM for Passenger or TRASM for Total). Capacity is tricky to monitor because you obviously have to incorporate what the competition is doing. Other than those with frequent flier balances, there is practically no brand loyalty in flying. Whichever airline has the route and price that match your needs is what you pick (to be fair, frequent flier miles are becoming a bigger and bigger slice of these; we will discuss this later). So AAL has to care what LUV, DAL, and the others are doing all over the country and the globe. RASM is more airline specific. Sure, base fares are the most obvious input to revenues. But do not forget about baggage fees, food and drink fees, upgrade seat fees, and frequent flier miles sales. Moreover, the optimization of routes and fares is paramount. In addition to these metrics as the baseline, of course it is important to look at gross margins, load factors, and fuel costs.
Now let us take a look at operating performance earlier this year. The 1Q was loaded with warnings and guidance lowerings. Delta was probably the most guilty as it lowered RASM guidance twice in a single month. But AAL, LUV and United (NYSE:UAL) all followed suit. For AAL specifically, it lowered its 1Q guidance to +1.5-3.5% RASM growth versus the previous expectation of +2.5-4.5%. This rash of warnings seemed like the group was front-loading any slight weakness. It turns out this was exactly what they were doing as they all reported better than expected. AAL continued to show strong traffic growth in April and May. In early June, AAL guided 2Q RASM growth at +3.5-5.5%. Capacity ticked higher by 2.6%, but management reiterated its 1.5% growth for all of 2017. Just as AAL was making new highs in July, UAL warned about capacity again.
There is obviously a lot of back and forth when looking at traffic updates and multiple guidance revisions. And this is happening across the whole space. Sometimes (often) this is hard to track. While we do make the effort to monitor every data point, we put more weight on the broad trend. The trend evident at American was that capacity and costs were under control and unit revenue was steadily growing. While operating revenue growth is not a perfect tool, you can see AAL has led the pack as the broad industry has been growing.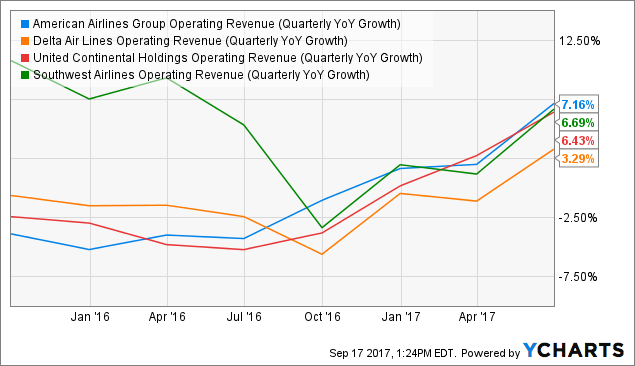 AAL Operating Revenue (Quarterly YoY Growth) data by YCharts
There have been plenty of other news bites throughout the year - some positive and some negative. Warren Buffett buying airlines surprised many industry watchers. He famously called the industry a "death trap" as recently as 2013. But given the transformation to which we alluded, he jumped on board with an initial $10b bet (he bought AAL, UAL, DAL, and LUV). Trump's travel ban (back and forth) rattled traders. The United passenger debacle was big news in the mainstream media. The same goes for the American flight attendant dust-up. Qatar announced an intention to buy up to 10% of AAL (this was a bizarre press release - and it riled up AAL mgmt to say the least). But in reality, none of this matters. Operational performance over the medium and long term trumps any short-term headlines.
Looking at AAL today, we see a similar pattern. Or rather, we see news and stock moves that are not aligned. Hurricanes Harvey and Irma obviously shut down a ton of flights over the end of August into the beginning of September. Irma in particular caused AA to cancel over 5,000 flights. And as the storm continued to move higher albeit with much less force, flights continued to be canceled in Georgia, South Carolina, and North Carolina (for example, AA is the largest carrier in Charlotte - it had to cancel about 350 flights last Monday since the airline flies mostly smaller, regional jets which are more vulnerable to high winds). So it was inevitable that AAL would suffer economically. The stock was under pressure as Irma approached. After the bulk of the storm had passed, management spoke at a conference. 3Q revenue growth would dip back to the +0-1% (positive) growth range. Without the storm effects, growth would have been +0.5-2.5%. Moreover, pretax margins would dip from 10-12% to 8.5-10.5% due to higher fuel costs. This was not elaborated on, but it could be a Harvey effect given refined petroleum products spiked higher in price due to refinery closures. Of course, this presumably would mean fuel prices would normalize once refining capability pushed back into the mid 90s%. But the key was that 4Q unit revenue growth would be back on track.
On top of this article being a bit of a history lesson for the industry as a whole, we have also focused our attention on AAL. We think it offers the most upside while maintaining some reasonable support. For starters, yes, this industry is highly cyclical. But the advent of the frequent flier third-party business has been a boon. Some analysts estimate that American generates close to 50% of its profits from selling miles. More importantly, it smoothes out the cyclical bumps and provides a more steady revenue stream. The airlines do not disclose the exact levels just yet. But there is speculation that they will in the coming year. On top of being an eye-opener, this disclosure will likely lead to more efficiencies in the core flying business (that is, remaining inefficiencies will be exposed more, so mgmt will work to clean them up).
Debt has always been a focal point for investors watching American. It certainly has the highest debt among its peers. And considering it is coming off a bankruptcy only four years ago, this is a bit eye-opening. But do not be confused into thinking AAL is a runaway cost train. The debt has been used to renew its fleet and upgrade its systems. With having the youngest fleet among the major carriers also comes having the most efficient planes. This is true in terms of fuel efficiency as well as load factor. That is, AAL has been able to squeeze more seats into the same space. This sounds utterly unpleasant for the consumer, but much of the space gains are coming from thinner seat backs. It terms of the debt metrics, AAL has a debt to equity ratio of 6.7x. This is leaps and bounds higher than its peers with DAL and LUV both being below 1x and United Airlines about 1.5x. But AAL's debt is obviously new debt with longer maturities. AAL has cash (and short-term investments) on the balance sheet to the tune of almost 13% of assets. This compares to DAL's 6% (the average for all North American and Latin American carriers is in the low teens, comparable to AAL). To be clear, we are not trying to minimize the importance of AAL's heavy debt. It has been buying back stock and paying dividends which investors love. But clearly AAL needs to strike a balance. With its fleet modernized, it will be important for management to prove it's not a debt junkie.
Looking at some traditional valuation metrics, AAL seems to be in the middle of the pack compared to its peers. On a generic P/E basis, AAL trades at about 11.5 trailing earnings. This compares to DAL at 9.7, JBLU at 9.9, and UAL at 8.4. On the flip side, LUV trades at 16.8 with Alaska Air Group (NYSE:ALK) at 12.0. Of course, all of these are much cheaper than the broad market at close to 25. With respect to operating margins, AAL trails the group. AAL is about 10.5% with DAL at 15.2%. LUV and JBLU are about 16.5% with UAL down at 11.5%. On the surface, this 4-6% gap in margin below its peers is worrisome. But all we have to do is look at United. It has taken seven years for the merger with Continental to finally start to take shape. Integrating systems, equipment, and personnel has taken much longer than anyone anticipated. We know AAL was formed in December of 2013. But the FAA did not recognize the entity as a single carrier until April of 2015. Our point is, merger integrations take time. But AAL is actually ahead of the usual curve. Pilots and routing systems have been integrated. But some challenges remain with flight attendants, technical operations, and HR. Management is confident these hurdles will be overcome in their timetables (this year for employees; it will take a few years on the technical side). On the revenue side, AAL thinks it can close the margin gap with new segmented product offerings, i.e. new cabin pricing. American also intends to increase its sales staff to garner a higher share of corporate contracts. The market is rarely patient with strategic initiatives. And management will and should be held accountable. But we think patience is the key as management has proven adept at maneuvering the new company so far.
An area of concern for the industry is fare pressure. August fares dropped 3.2% y/y. This is the second monthly decline in a row. Market insiders expect fares to bottom out in or around October with an average fare of $216 compared to the recent peak in June of $258. Following this, JPMorgan downgraded AAL and UAL. JP also blamed higher fuel costs. We think this is a bit of a shallow report in that both factors appear to be transitory. Not to mention, the report is reactionary with fares and fuel costs having already moved. The JPM analyst, Jamie Baker, is a good one with maybe the best industry knowledge. But this calls seems a little late without much forward thinking.
Where does this leave us? Generally speaking, we think the industry is an attractive investment opportunity. Fuel costs should be contained with headline crude struggling to get much higher than $50 (we are big believers in US shale production capacity). The modern day airline flight experience can be a miserable one. But for the airlines, this means more revenues. With cost structures more contained (bankruptcies have helped eliminate legacy costs while still increasing current employee pay) and capacity growth held in check, Warren Buffett and the rest of the new believers should be rewarded with patience. We think AAL is the way to play the sector given the potential improvements in margin and best-in-class growth. But we think broad exposure can be justified. There is an ETF, JETS, but this also has stocks like Boeing (NYSE:BA) and General Dynamics (NYSE:GD), not to mention international carriers. So we would stick with the broad US names. In terms of trading these names, we would advise buying on dips based on misleading or short-term headlines. You could complicate the trade with an oil hedge or a cyclical short, but we think you will be all right riding it out for the long haul.
Disclosure: I am/we are long AAL.
I wrote this article myself, and it expresses my own opinions. I am not receiving compensation for it (other than from Seeking Alpha). I have no business relationship with any company whose stock is mentioned in this article.