Emerson Radio Analysis
September 15th, 2017.
Introduction
This is an update to the original Emerson Radio analysis I wrote in January of 2016. Since that analysis, the stock advanced 34% but I nailed down a 106% gain after purchasing at $0.67. The question we'll try to answer is whether this stock is still a buy today.
The value in the investment was plain to see at the time - which is why it appeared on our Shortlist of net net stocks. We focus on the best net nets available which is how we have been able to outperform both the market indices an American net net stocks in general. We recommend being far more selective when picking net nets than most investors tend to be, and searching for net nets internationally. Doing so means far higher returns for your portfolio.
This analysis may be different from the sorts of stock reports you typically read. First, it runs through our checklist, our Core7 Scorecard, rather than just being a paragraph style report. We do this to lay out our findings according to our scorecard. Checklists are vital for successful investing - even Benjamin Graham used them. After significant discussion on our Inner Circle Forum, we've arrived at a much deeper understanding of net nets and have worked this understanding into our investment practices. I recommend getting up to speed on sound net net investing because I've seen a lot of net net or deep value investors make a lot of basic mistakes when picking stocks for their portfolios.
Secondly, we're making decisions based off of this checklist and then letting the statistical averages associated with stocks of this type propel our portfolio skyward. The focus is on the group return of stocks in our portfolio - these analyses try to identify worthy candidates or companies that fit the sort of stocks we're looking for. At the end, we'll have a more detailed discussion about the business and prospects as an investment, but the investment decision is made almost totally based on our Core7 Scorecard.
Finally, even though this analysis was first published for Net Net Hunter members, we're not holding back here on Seeking Alpha. This writeup is exactly what was published on Net Net Hunter. Enjoy!
Summary
Name: Emerson Radio Corp.
Country: USA
Symbol: MSN
Market Cap: $33.24M*
Share Price: $1.33
NCAV/Share: $1.95*
Current Discount: 31.84%*
Net Cash per Share: $1.68*
Price/Net Cash: 79.2%*
Debt to Equity: 0%*
Current Ratio: 45.71x
Burn Rate YoY: -1% decr
Burn Rate QoQ: -1.8% decr
*These values have been estimated due to a recent share repurchase by the company.
Business
Emerson Radio Corp. designs, sources, imports and markets a variety of housewares, video products and consumer electronic products, and licenses them to others across the world directly and through its subsidiaries. The Company's products include audio and video such as: TVs, DVD players, VCR's, audio accessories, home theater systems, high end audio products, mobile stereo and wireless products; home kitchen appliances such as microwaves, compact fridges, and wine coolers; and various office products.
The Company distributes its products primarily through mass merchants, discount retailers, catalogers and Internet. While the company does have a Chinese subsidiary, nearly all sales are to the USA.
The company's home office is located at 3 University Plz Ste 405, Hackensack, NJ 07601-6221, in the United States.
Net Net Hunter 2017 Core7 Scorecard
Core Criteria
Core criteria are absolute basics that the company has to meet to be considered as an investment. If the company does not meet these checks, we pass on the stock.
Not Chinese – Pass
Legitimate questions can be raised as to whether this company is a Chinese firm or not. Emerson Radio (Emerson) is not a Chinese reverse merger company. The firm is US based, with operations and major assets located in the USA. While it does have a subsidiary based out of Hong Kong, the firm keeps inventory state-side, all of which satisfies the Not Chinese criteria. Pass.
Low Price to NCAV – Pass
At the time of the analysis, the company was priced at $1.33 per share against a NCAV per share of $1.95. This amounts to a 31.84% discount to NCAV. This is a hair under the minimum margin of safety I want to see before I buy a net net. Because it's so close and shows strong additional characteristics as an investment, we're passing Emerson on this criterion.
Low Debt to Equity – Pass
January 2016, I wrote, "The company does not have any outstanding debt disclosed on its Balance Sheet, according to the firm's SEC filings. In fact, combined with a very large Current Ratio and a strong cash position, the firm's Balance Sheet is very strong." This is still very much the case.
Adequate Past Earnings – Pass
While the company is now losing money, it was reasonably profitable in two of the past 6 years, as shown in the table below. This is good enough to satisfy this Core7 Scorecard criterion.

Past Price Above NCAV – Pass
One of the core things I look for is whether a stock has traded above its NCAV at sometime in the recent past, which I define as within the previous 5 or 6 years. This is important because I want to avoid perennial net nets. These are usually situations where a firm has been trading below NCAV for years because management hasn't been able to, or interested in, turning the firm's situation around.
Emerson's stock price has traded above NCAV Per Share in 2011, and came within 10% of reaching NCAV Per Share in 2012. This is now 5 or 6 years ago and just makes the cut-off for Past Price Above NCAVcriteria.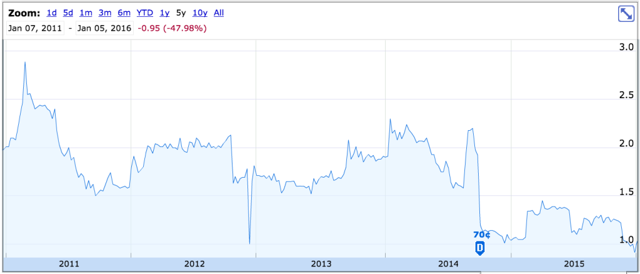 Existing Operations or Liquidation – Pass
The company has significant ongoing operations, with $21.25 Million in Revenue for fiscal 2017. While this is less than half of its fiscal 2016 Revenue of $45.75 Million, it's still very significant. To top it off, the company has acquired a major customer (more on that below). Emerson Radio certainly passes this criteria.
Not Selling Shares – Pass
Emerson is definitely not selling shares - quite the opposite. It's buying back shares and increasing the number of shares it's authorized to repurchase. I try to avoid firms that are selling shares because there's nothing worse than management that sell shares for far less than they're worth. Either they don't care about shareholder value or they're in such desperate need of cash that selling shares is a necessity. Either way, best avoided.
Small Market Cap – Pass
When it comes to net nets, smaller firms tend to produce much higher returns.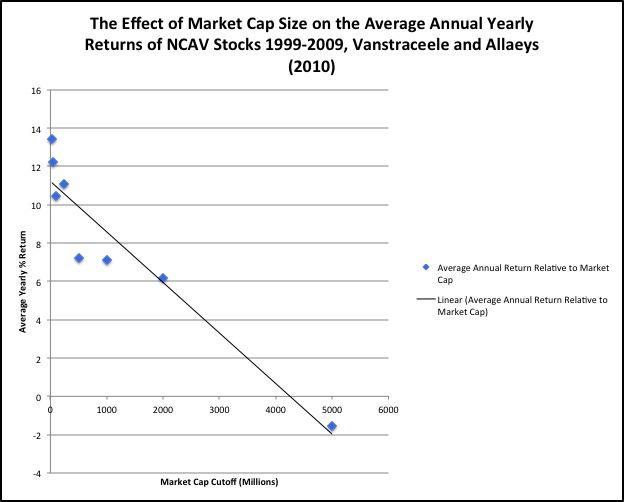 I estimate Emerson's Market Capitalization at $33.24 Million after the recent share repurchase. That means that Emerson is tiny and exactly the size of firm I like to buy.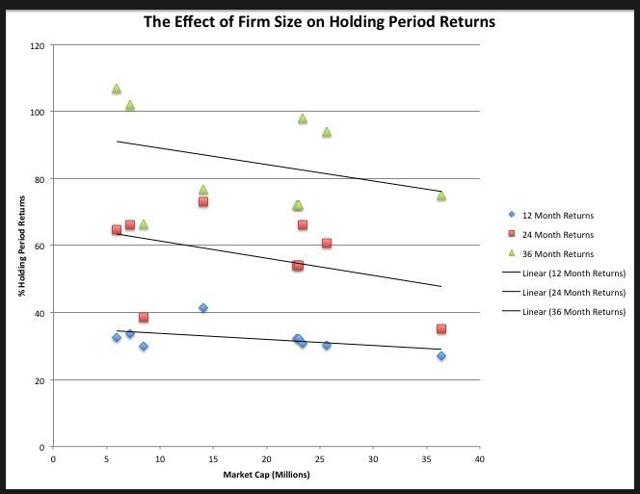 Financial/Regulated/ADR/Real Estate/Closed Fund – Pass
Net net stock studies avoid these firms due to complications that can arise with calculating NCAV, the rapid erosion of NCAV seen by certain types of firms, or because government interference can prevent 3rd party buyouts or restructuring plans that often trigger share price recovery. Emerson Radio does not fit any of these industries. Pass.
Burn Rate Low or Positive – Pass
The company's NCAV has been very stable, shrinking just over 1% per share year over year. The NCAV per share is up slightly quarter over quarter due to the share repurchases. Over the previous 5 years, the company grew NCAV.
Growing NCAV is a very strong positive for any NCAV investment since as you wait for the stock price to recover back up to NCAV per share, your margin of safety and ultimate profit potential is increasing. Conversely, a shrinking NCAV erodes both your profit potential and an investment's safety. While many net nets have a shrinking NCAV, I do accept a small NCAV Burn Rate and consider Emerson Radio's NCAV stable.
Ranking Criteria
Ranking criteria are items that separate the best Core7 stocks from the rest. Even nailing a couple of these is a major plus for the investment.
Company is Buying Back Stock – Pass
One of the major draws of an investment in Emerson Radio is the significant share repurchases over the past couple of quarters. On December 19th, 2016, the company announced authorization to buy back $5 Million in stock. The company only repurchased $0.066 Million by August before it agreed to buy out a major shareholder, BML Investments, amounting to a purchase of 2 Million shares for $1.50 per share. While this was above the ~$1.30 market price, it remained a good use of cash because purchases were made well below the June 30th, 2017, liquidation value of $1.92 and Net Cash per share of $1.67. BML Investments in effect gave up $0.17 in cash and $0.42 in liquidation value to tender its shares, and this value accrued to the remaining shareholders.
While generally it's not a good sign to see a company repurchase shares above the market price, liquidity issues may have prevented Emerson from taking advantage of its repurchase mandate without pushing the share price up.
In September, the company announced an additional authorization to repurchase $5 Million more in shares and extended the initial buyback authorization to June 2018.
Share repurchases are a strong indicator that management considers the current business crisis temporary and that the company will soon see brighter days. Conversely, management is not likely to spend money on share buybacks if they feel that the firm needs the cash to survive a dangerous business period. Not buying back shares, however, is not a major concern because in many situations where an undervalued firm is not facing large business challenges, management opts not to buy back shares. Emerson Radio passes with flying colours.
Low Price to Net Cash – Pass
On top of the cheap price relative to NCAV, Emerson is also trading well below Net Cash. With a Price to Net Cash of just 79.2%, for every dollar you spend to buy a share you receive $1.26 back in cash. Not a bad deal!
Large Current Ratio – Pass
Emerson currently has a Current Ratio of 45.71x. This is down slightly from its 61.82x Current Ratio achieved in March of 2017. Current Ratios are a quick measure of a company's ability to meet its short term obligations and Emerson Radio passes easily. In fact, these are among the highest ratios I've seen in a company.
Insider Ownership – Pass
In January 2016, I wrote: "Insider ownership in Emerson is a complex matter. It is not as simple as a CEO owning X% of shares, since ownership in Emerson's case is represented through a complex web of cross-ownership in other various companies. In this case, in 2014 The Grande Holdings Ltd. (Grande) had a 56.2% ownership interest in Emerson. In other words, Emerson is a controlled subsidiary of Grande. A businessman by the name of Wing Ho owns a large chunk of Grande, which means that he also owns a large chunk of Emerson. Grande also owns a number of other subsidiaries, one of which being Sansui Electric in Japan. Emerson's CEO, Duncan Hon, is both the Chairman of Sansui and an employee of one of Grande's other subsidiaries. Since Duncan Hon is an employee of one of Grande's subsidiaries, he's also indirectly an employee of Grande. This undoubtedly gives Grande leverage over Hon when making business decisions for Emerson. It's this vicarious relationship (Ho owning Grande which owns Emerson; and, Hon working for both Grande's subsidiary and Emerson) that constitutes significant insider ownership. While I'm unsure how large that ownership percentage is in 2015, investors should assume it's very large. In this case, it would be fair to call Grande's 56.2% interest in Emerson insider ownership."
Since then, Mr. Ho has boosted his stake in Grande from 72.3% to 73.5%, therefore also strengthening his grip on Emerson Radio. Emerson is effectively a controlled company, which helps explain the low liquidity. While this may raise concerns over fair dealing with minority shareholders, it's definitely a pass for this criterion.
Insider Buys Vs. Sells – Pass
There is no indication that insiders either bought or sold stock within the previous 12 months. This is a slight positive for the investment.
When it comes to insider transactions, insider buys are always a good sign. Insiders may sell stock for any number of reasons (to diversify holdings, to help a family member, to buy a new house, etc) but the only reason a manager buys stock is because he believes he can make a good amount of money on the investment.
Catalyst – Fail
By catalyst, we specifically look for some definite situation on the horizon that has a high probability of leading to an advancement in the share price. This can come in the forum of a recapitalization, return of capital, activist pressure, or some more qualitative event on the horizon.
While the company is buying back stock, it's not nearly buying enough to constitute a recapitalization of the company. Likewise, there are a number of institutional shareholders among the shareholder ranks but none that seem to be capable or willing to push management to take shareholder value maximizing decisions. While Andri Capital has written a letter to push management to act in shareholder's interest, since they haven't filed a 13D, their ownership is likely tiny. Grande also owns majority control of the business, making activist pressure less likely to cause significant change.
One positive that comes close to a catalyst is Emerson's acquisition of Fred Meyer as a major retail distributer. Fred Meyer now makes up 17% of the company's sales. In our view, Emerson Radio needs a few more of these to boost Revenue and significantly boost profitability. If they could acquire a few more retail distributors, it would be a major plus for the stock, because it would mean higher Revenue and profitability. Under this scenario, investors would come to value it based on earnings, not liquidation value, boosting the stock price.
Insider Pay – Pass
Insider pay is on the high side but acceptable. A new CFO, Michael Binney, was appointed CFO with a base salary of $150,000 USD. This is acceptable. He replaces Andrew Davis, who earned $333,500 in 2016. CEO Duncan Hon earned $475,000 in 2016. Both of these 2016 salaries are a bit on the high side for a money losing company of this size. Still, they're not egregious and the company is regaining its footing. The insider pay criterion was also put in place to prevent buying firms with vampire-like management that are sucking the cash out of their dead company. This is not the case with Emerson Radio.
Business Problem or Reason for Undervaluation
A company is usually only beaten down below net current asset value if it's going through a terrible business problem. Net nets are dirt cheap stocks, and people don't hand away assets for dirt cheap prices without some compelling reason. Typically, both Revenue or Earnings will have fallen off a cliff and there's serious doubt as to whether the business can survive without major changes.
Net nets, though, are valued based on a conservative assessment of liquidation value, not Revenue or Earnings, and usually have very conservative Balance Sheets.
Last January I wrote, "The main reason for Emerson's terrible stock price performance is its sinking sales performance. Sales have been slipping over the past 5 years, from a high of $221 Million USD to just $76 Million for fiscal 2015. This has also been reflected in the firm's yearly operating and net income.
At the end of fiscal 2015, the company announced that one of its main customers planned to discontinue sales of the company's compact refrigerators and microwaves, amounting to 57.3% of the firm's revenue. On top of that, Funai Corporation (Funai) has just given notice that it plans to end its licensing agreement with Emerson effective December 31st, 2016. This amounts to a further drop in revenue of $5.8 Million USD. All said and done, the company is set up to lose a large chunk of sales and likely profit in 2016.

On top of that the company has a history of tax complications and has faced a tax dispute for each of the last 5 fiscal years. The company is uncertain what impact the IRS dispute over its previous year's income will have on its 2014 and 2015 taxes but have expensed $1 Million USD which it assess to be the maximum amount it would have to pay. The company has already reached an settlement with the IRS over its 2010 and 2011 tax years, amounting to $3 Million USD, which has been fully expensed.
The amount of money at stake here is not necessarily what is depressing the stock price — the fact that the company has tax complications at all is enough to steer many people away from the investment. Investors hate uncertainty and will irrationally stay clear of investing in an uncertain situation despite the risk-reward relationship on offer.
Unfortunately, that's not the end of the company's tax issues. Currently, Emerson's parent company, Grande, is going through reorganization in bankruptcy. Emerson may be on the hook for taxes amounting to $4.9 Million USD over the firm's special dividend issued in September 2014. In fiscal 2015, the company issued a return of capital to investors, including Grande subsidiary S&T. While the company believes it complied with American tax laws, the IRS thinks otherwise. According to the company's September 30th 2015 quarterly report, published November 17th, 2015, the firm has an agreement with S&T where S&T will pay the assessed taxes if they should arise. Since Grande is going through bankruptcy proceedings, however, if S&T either can't or won't pay these taxes, Emerson may be forced to cover the tax bill.
It's important to note right here that the company's tax issues have involved a relatively small amount of money. At most, the company could be on the hook to pay roughly $5 Million USD, which is a little less than 10% of its NCAV.
Finally, in 2011, provisional liquidators took control of Grande and issued an order for Grande to liquidate its holding in Emerson, amounting to 15,243,283 shares. This liquidation would result in a large oversupply of Emerson stock which would depress prices. After pushing forward a reorganization plan, however, the order was put on hold giving management the chance to implement the plan. So long as management is successful implementing its plan, there is little risk that Grande's 56.2% share of Emerson's outstanding stock will be dumped on the market. Still, since there is a chance of failure, this enormous block of shares is hanging over the market and helping to suppress Emerson's stock price."
A few changes have taken place since January, 2016. Grande is out of restructuring and Grande management once again has full control over their assets, including their majority stake in Emerson Radio.
As expected from the previous announcement, the company's sales have been hit by a truck, dropping from $41 Million for fiscal 2016 to $21.25 Million for fiscal 2017. This is a drop of about 57%, inline with the sales Target, the major retailer the company lost, brought in. This drop in sales caused the stock to crater, down to $0.59, less than 30% of net current asset value.

Lastly, the company does not seem to have any ongoing tax issues with the IRS. The company expensed a small amount of money in Fiscal 2016 for uncertain tax positions but none for 2017. Things are looking much better in that regard. With Grande out of reorganization, it looks like Emerson is off the hook for taxes on dividends paid to S&T. S&T requested and received most of the collateral from Emerson that it put up to deal with the potential tax settlement. Emerson received the remainder as compensation for defending against the IRS challenge.
Today, Emerson is primarily depressed due to its terrible Sales and Net Profit performance. The company has to get back on track.
Attempts to Address the Problem
Luckily, it looks like they are. Over the previous half-year, the company managed to bring on another major retailer, Fred Meyer, which now accounts for 17% of Revenue. Management states that it will continue to try to expand its distribution channels and develop new products for sale within those channels. The company made a point to highlight its attempt to sell its products over the internet.
Similarly, management also states that they plan to look for future licensing agreements which would bring in additional Revenue at little additional cost. Unfortunately, licensing Revenue has dropped from March 2016 to March 2017 from $4.7 to 3.6 Million.
The company formed a special committee in 2013 to evaluate strategic options for enhancing shareholder value. This is usually a good sign because it results in a catalyst for price appreciation. Given the stock's record since 2013, however, it doesn't look like the committee has been successful and I'm doubtful that they will lead to major value enhancements in the future.
The company's also shrinking its annual Net Loss, from -$968,000 to -$237,000 in 2016 and 2017. Operating Loss for those same years are -3% and -1.5%. For the first quarter of Fiscal 2018, however, the firm's Operating Loss widened from -$54K to -$890K year over year. This poor performance is due to the loss of Funai and slightly higher SG&A expenses as a percentage of Revenue. Management has to cut more fat and bring in more distributors.
Other Factors
Emerson is a well known name among the appliance business. Consumers recognize the brand since its been around for decades.
In January 2016, I wrote:
Geoff Gannon wrote a fantastic piece on Emerson in 2012 which revealed management's history of shifting around assets between subsidiaries against the interest of creditors and shareholders. Wikipedia has an entry for Grande and I've quoted the relevant section below.

"In 1999 during the Asian Financial Crisis the company courted controversy when one of its main subsidiaries in Hong Kong, Akai Holdings Ltd, fell apart after recording a $1.65 billion loss in 1999, one of the biggest losses in Asian financial history. It resulted in Grande Holdings becoming almost bankrupt, and having to sell many of its subsidiaries and business interests to recoup its loss.

Regulators and officials in the bankruptcy court had found the company's subsidiary, Akai Holdings Ltd, and its Singer division, had made a number of complex company cross-selling deals which resulted in the destabilisation of Singer and Akai. Officials, through their findings, had found Akai's directors and staff had left their Hong Kong offices, and also found that some $38.5 million had mysteriously disappeared from Akai's funds. It was speculated the money was either siphoned away by employees, or deposited in overseas bank accounts.

In November 1999, after the bankruptcy proceedings control of many of Akai's remaining assets mysteriously shifted to Grande Holdings, without any notification to the Hong Kong Stock Exchange, creditors, courts, or other regulatory authorities. The deal was done through a simple and hastily prepared four-page management agreement.

Creditors for Akai say they only learned of the change in corporate ownership in September 2000, when Grande Holdings presented 54 boxes of Akai records to liquidators. Grande Holdings then executive director Samuel K. Yuen denied in a brief telephone interview that Grande had taken over Akai."

Investing in a stock amounts to partnering up with management and company directors in the hope that the enterprise will prove profitable. Honesty and integrity is key in any business partnership, and luckily most management teams are both honest and conduct their affairs with integrity. In the case of Emerson, investing in the stock of the company would amount to partnering up with a management team, most notably the Ho family, that has a history of screwing over minority shareholders and creditors for their own personal gain.

When it comes to net net stock investing, we base our assessment of value on a simple shorthand liquidation value taken straight from the Balance Sheet. In order for our valuation to have any meaning whatsoever, we have to be reasonably confident that the numbers on the books are real and that the assets actually exist. In Emerson's case, while the Balance Sheet may reflect the true financial situation of the company, there is no guarantee that these assets won't be stripped away when management deems it advantageous. This poses another substantial risk absent from many other net net stocks.
The same holds true today, even with Grande out of restructuring and the latest share repurchases. While it's great to see the company returning cash to shareholders through stock repurchases, past unfair dealing by Grande is a significant black spot on the company's record.
Valuation
The right way to value Emerson Electric is to look at the company's NCAV per share. Emerson has no earnings and liquidation value provides the most rock solid assessment of value.
As of September 13th, 2017, the company had an estimated $1.95 per share in net current asset value. The estimate is due to the recent significant share repurchase after the most recent quarterly report, which decreased both the company's cash and the number of outstanding shares. At a share price of $1.33, shares are trading at a 31.84% discount to liquidation value.
Better still, the shares are trading at a 20.8% discount to Net Cash. For every dollar you spend to buy a share you receive $1.26 back in cash. Buying today effectively means getting paid to take ownership of the shares - granted management becomes steward of your cash.
Future operating lease expenses amounted to $585K on March 31st, 2017. These have been excluded from this valuation because Emerson Radio is a going concern with little likelihood of liquidating. In a liquidation event, it's also possible that Emerson would be on the hook for far less than this stated amount.
Emerson Radio is cheap, and if it continues to grow its Revenue and Net Profit, returning to profitability, the stock could appreciate well above net current asset value per share.
Conclusion
In January 2016 I wrote that significant risks exist due to former management misdealings. I still feel this way, despite the share repurchases.
A few months after my initial analysis, the stock price dropped and I ended up picking some up at about $0.67. The stock is up 100% after my purchase and 34% since my initial analysis was written.
Today, Emerson Radio is still cheap, has taken on a new retailer, has bought back shares, and has authorization to buy a lot more. I consider these major positives for the investment.
Taken all into account, I arrive at the same conclusion I arrived at at the start of 2016. Emerson Radio is best suited for a smaller position in a widely diversified portfolio of net net stocks.
Disclosure: I am/we are long MSN.
I wrote this article myself, and it expresses my own opinions. I am not receiving compensation for it (other than from Seeking Alpha). I have no business relationship with any company whose stock is mentioned in this article.