Whether you're an investor focused on acquiring high-quality companies trading at reasonable prices, or an income-focused investor, Omnicom (NYSE:OMC) is a firm worth putting on your radar within the consumer discretionary space.
It is a solid franchise that possesses durable competitive advantages, is in a strong financial position, and is headed by a competent management team that has generally run the business in the best interest of shareholders. While not trading at a large discount to a conservative estimate of intrinsic value, we believe the firm to be attractively priced both relative to the market and in absolute terms.
Company background & description
Incorporated as a holding company in 1986 in what was effectively a 3-way merger, Omnicom is a leading provider of advertising, marketing, and corporate communications services. Through its branded networks and agencies, the company provides such services to over 5000 clients in more than 100 countries.
The company organizes itself along four "fundamental disciplines"(please refer to the Appendix for more details), including:
Advertising

Customer relationship management
Public relations

Specialty communications
As of the end of the first half of fiscal 2017 (i.e. 1H17), the company derived approx. 53% of sales from Advertising, 30% from CRM, 9% from PR, and 8% from Specialty communications.
By region, the company derived nearly 60% of 1H17 sales from North America, close to 30% from Europe (where the UK accounts for nearly 10% of total sales), and the rest from emerging markets, predominantly in the Asia-Pacific region.
By industry, the company has a highly diversified base of customers operating in various sectors, with Food & beverage (13%), Pharma & health (12%), and Consumer products (10%) being the largest end-markets. In fiscal 2016, the firm's largest client accounted for approximately 3% of total sales, while the top-100 clients accounted for slightly over 50% of sales.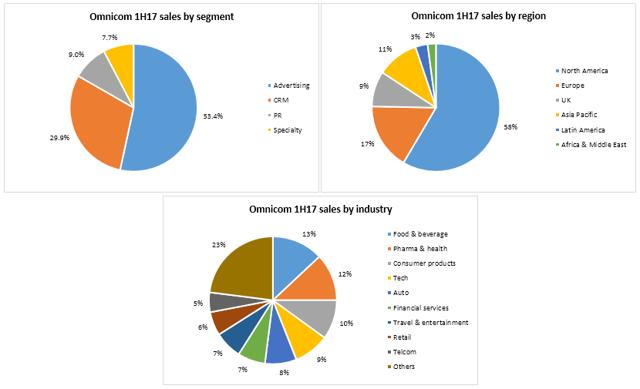 Source: 2Q17 Investor Presentation
Industry background
Omnicom operates in the highly-competitive global advertising & marketing services industry, which comprises numerous global, regional, and national players. Industry participants provide various services to help businesses market their products and brands more effectively. The services include the design and creation of advertising content, in addition to its distribution and placement through various channels. Ad firms also manage the campaigns that they help their clients launch. This includes not only working with various intermediaries to purchase media space and place the ads, but also tracking the effectiveness of the ads by gathering data and measuring their return on investment.
According to a report by the market-research firm Magna, the global advertising market was worth slightly over US$ 490b in 2016. It is a market that generally grows in-line with global GDP. As advertising & marketing services represent highly discretionary spending for customers, it typically exhibits a fairly pronounced level of cyclicality. Having said that, individual companies somewhat mitigate this by having a diversified client base across end-markets and geographies.
A number of significant changes have occurred in the industry over the past couple of decades. Firstly, the rapid digitalization of the global economy and society has led to a significant shift in advertising and marketing channels. While online and mobile have grown rapidly, traditional channels such as print, radio, and to a lesser extent television, have all lost ground.
The second noticeable change has been the gradual consolidation of the industry, and the increasing prominence of the so-called "Big 5" advertising firms: WPP Plc (WPPGY), Omnicom Group Inc, Publicis SA (OTCQX:PUBGY), Interpublic Group of Companies Inc, and Dentsu Inc. Combined, these firms account for over a fourth of the total global advertising dollars spent. Industry consolidation has been occurring as a result of a number of trends. Firstly, globalization requires ad companies to have a better understanding of different cultures and regulations in various geographies. In addition, the emergence and rapid growth of digital media has led ad companies to fill the gaps in their service offering by acquiring smaller local, specialized players. Second, we would argue that the cashflow profile of the most successful ad companies such as Omnicom, combined with the industry's modest level of growth, makes it impossible for them to redeploy all of their free cashflow into growing their business organically, hence a focus on external growth via acquisitions. Last, clients have been increasingly cost-conscious about their advertising budgets, inciting industry players to gain more economies of scale in order to lower prices while maintaining their profitability levels.
Competitive position & barriers to entry
Omnicom is the world's second-largest advertising and marketing services company, as measured by revenues. Through various acquisitions, the firm has successfully transitioned from traditional advertising (using channels such as print, broadcast, cable television, billboards, and mail) into a complete solution provider by combining traditional with digital (now including online video, social media, and mobile). In addition, the company has diversified into adjacent niches such as public relations and specialized communications services.
While barriers to entry are generally low, companies operating in the advertising space can nonetheless develop meaningful competitive advantages over time. In Omnicom's case, the firm clearly possesses intangible assets in its brand equity, with well-recognized and reputable creative agencies such as BBDO and DDB (two of the three entities that combined to establish Omnicom as a holding company back in 1986). Moreover, it can be argued that there are some switching costs for clients to move to another service provider, as Omnicom's agencies build long-lasting relationships and become deeply integrated in their client's own marketing departments. This is best exemplified by the industry's extremely high client retention rate, as described in detail in this insightful review by Singular Diligence. Lastly, the firm has accumulated a sizable amount of valuable data as it has tracked the performance of its ad campaigns over decades, arguably giving them an edge over competitors.
Overall, we view Omnicom as a very decent franchise that possesses modest competitive advantages. Compared to WPP Plc and Publicis SA, the two other companies we deem worthy of consideration, a fundamental review rates the company favorably on profitability and return metrics. The only category in which it underperforms is sales growth over the past decade, but this isn't an apple-to-apple comparison, as sales are denominated in different currencies and incorporate varying levels of external growth via acquisitions. It can be argued that Omnicom's slower growth has partially been the result of having been less acquisitive over recent years, as well as currency headwinds.

Source: Thomson Reuters Eikon
Fundamental profile
Profitability, capital efficiency, and returns on investment:
Omnicom runs a profitable business with remarkable consistency, considering it is a consumer discretionary company exposed to fairly cyclical end-markets. Return levels are entirely satisfactory and easily pass our hurdle rates, especially when looking at ROIC/CROIC (please see definitions at the end of the document) and ROE, which is further boosted by the firm's large buybacks and the retirement of Treasury shares.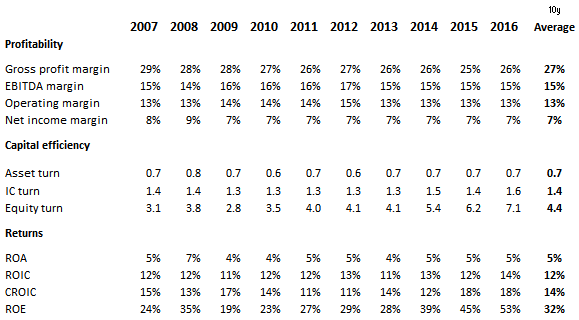 Source: Thomson Reuters Eikon
Growth:
Omnicom's growth profile over the past decade paints a pretty good picture of what one can expect from the company going forward. Top-line growth should be around global GDP growth, and hopefully higher than the growth achieved over the past 10 years as currency headwinds abate and the company becomes less gun-shy on making acquisitions. Operating margins are not expected to expand in any meaningful way, so operating profits should grow more or less in line with sales. Having said that, the company is expected to continue to use a portion of its significant free cashflow to buyback and retire stock, adding about 1-2% to earnings per share growth per year. All in, we expect Omnicom to continue to grow earning per share at about 5-6% p.a.

Source: Thomson Reuters Eikon
Cashflows:
Perhaps the most impressive aspect of Omnicom's fundamental profile happens to be one of the most important considerations for investors: its free cashflow profile. While the company takes nearly 6 months on average to collect receivables from clients (not a great start!), this is more than compensated by the fact that ad companies hold little to no inventory, and have extremely generous payment terms with suppliers (i.e. media companies with which they purchase ad space). As a result, Omnicom runs a negative working capital business model, which is basically equivalent to getting paid hard cash in advance to provide your services. Looking at the evolution of working capital over the past 30 years, one can see that Omnicom has always benefited from a very low level of working capital intensity, although the company has made steady improvements on collecting receivables from customers. Consequently, Omnicom generates a ton of cash from operations. And being a capital-light business, it doesn't require much capex investments to grow. Hence, the company converted nearly 150% of net income into free cash flows on average over the past 10 years, which is highly impressive.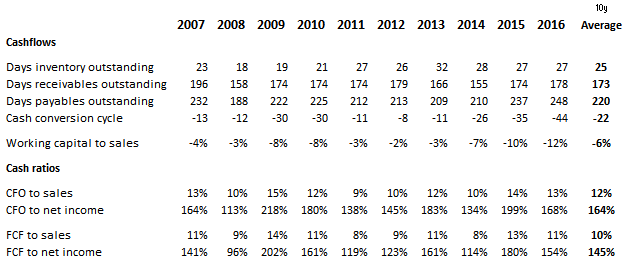 Source: Thomson Reuters Eikon
Financial position
As shown below, Omnicom is in a strong financial position, holding a net debt of about $2b as of the end of 2016, or less than 1.0x EBITDA. In short, the company's capital structure is arguably underlevered and its cash balance high, although this may prove to be useful to undertake M&A deals in an opportunistic manner.

Source: Thomson Reuters Eikon
Management team & track record of capital allocation decisions
As previously mentioned, Omnicom was first established when in 1986, Allen Rosenshine, Keith Reinhard and John Bernbach undertook a three-way merger of BBDO Worldwide, Doyle Dane Bernbach and Needham Harper Worldwide.
In 1989, Rosenshine stepped down as chairman of Omnicom to return to his role running BBDO Worldwide, which he did until 2004. Bruce Crawford was put in his place as the chairman of Omnicom, a position he still holds today. In 1997, John Wren, the number two executive at Omnicom, moved up to the CEO role, while Crawford remained chairman. Mr. Crawford and Mr. Wren have each held their respective positions of chairman and CEO for over 20 years.
Arguably the only red flag that has come out of our review of Omnicom has been corporate governance practices and executive compensation. For a detailed review of such issues, we recommend the excellent article written by fellow SA Contributor Lateral Capital Management (dated Sept. 2016) as well as the firm's 2017 proxy statement. In short, the company has been slow to adopt corporate governance best-practices, but things have been moving in the right direction over the past couple of years. Key initiatives worth mentioning include the appointment of a Lead Independent Director, Mr. Coleman, in late 2015 (he had previously been an Independent Director since 1993), as well as the establishment of a mandatory retirement age (75) for Board members. As a result, there is finally a bit of turnover and new blood at the Board level.
Executive compensation remains a cause for concern, and it is impossible for us to justify the level of remuneration earned by Omnicom's executives. In 2016, Mr. Wren earned a base salary of US$ 1m, but his total compensation package amounted to US$ 26m. Despite being a highly successful and cash-generative company, we find this level of total compensation to be unreasonable for a US$ 17b market capitalization company. Omnicom's compensation levels compares favourably to WPP, whose CEO earned a staggering £ 48m last year, while Publicis' CEO earned a far more reasonable total comp of EUR 4m in 2016.
Let's move on to capital allocation decisions, which is particularly relevant given the high level of free cashflow being generated. As shown below, looking at the past 10 years, one can see that the lion's share of free cashflow (70%+) has been returned to shareholders via buybacks (50%+) and dividends (20%+). Between 2007 and 2016, Omnicom has bought back nearly 30% of its outstanding shares, of which it has retired the majority. Acquisitions and capex make up the rest of cash uses, while working capital is actually a source of cash, as previously described.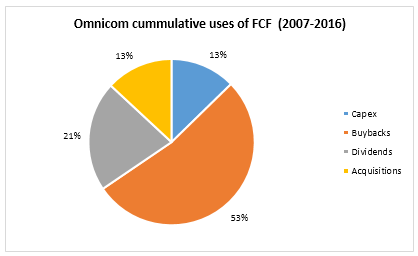 Source: Thomson Reuters Eikon
At this stage, we must mention the "merger of equals" that Omnicom and Publicis announced in mid-2013, only to see the deal fall through in early 2014. By combining the No. 2 and No. 3 player in the industry, and arguably two of the strongest players in the advertising services space, Omnicom and Publicis would not only have surpassed WPP as the largest industry player, but they also would have created a truly formidable franchise. The deal didn't materialize due to a number factors. Firstly, there is arguably no such thing as a "merger of equals," and from reading a number of interviews and articles, it seems clear that Omnicom was behaving more as an acquirer throughout negotiations. Whether that was fair given their larger size is open for debate. More importantly, there were serious question marks about how the combined entity would deal with conflicting clients (i.e. one entity representing The Coca-Cola Co (NYSE:KO), the other PepsiCo Inc (NYSE:PEP)). There were also a number of tax-related considerations making the deal difficult. Last, we can't dismiss the fact perhaps the main reason why the deal didn't happen is because the two CEOs simply couldn't reach an agreement on basic items such as who was going fill the Chairman, CEO, and CFO positions, as well as where company headquarters were to be located. When you have charismatic leaders who have been in their respective positions for decades, this is to be expected. Still, this merger debacle raised questions about the alignment of management's interest with that of its shareholders.
Dividend
In the context of capital allocation decisions, let's take a closer look at Omnicom's dividend profile. Looking back on a 29-history of dividend payments, one can see that Omnicom has never cut its dividend, although it wasn't increased on 3 separate occasions (1988-1989, 2002-2003, and 2008-2009). Over that entire period, it grew its dividend at a CAGR of nearly 11%. Over the past decade, the dividend has grown at a CAGR of 15.7%.
The current (i.e. FY17) dividend rate of $ 2.20 per share represents a yield of approx. 3.0% at today's price, vs. 1.89% for the S&P 500. Considering the low payout ratio, the firm's earnings stability and long-term durability, its free cashflow generation profile, as well as its balance sheet, we rate the dividend as very safe presently. We believe that the company will grow the dividend in excess of long-term earnings per share growth of about 6.0%, which together with the current 3.0% yield, leads to a total return proposition of 9.0%+, passing our hurdle rate for a consumer discretionary company such as Omnicom.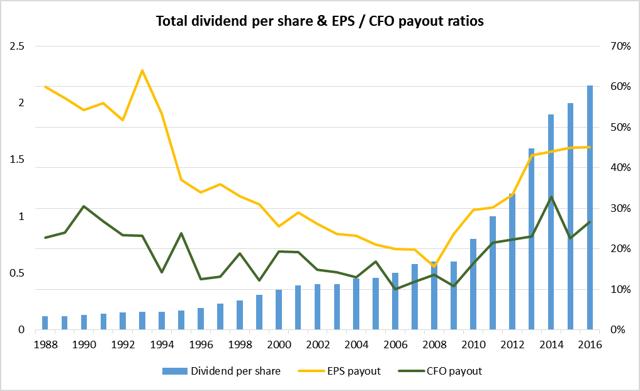 Source: Thomson Reuters Eikon
Valuation
We conservatively model Omnicom's intrinsic value using a range of valuation methodologies including a discounted cashflow model, a dividend discount model, earnings power, and multiples, to derive a fair value estimate of approx. US$ 85 per share, or a modest upside of 15%+.
To give you more details on the main inputs to our DCF model, we assume sales growth slightly in excess of 3.0% over the next 10 years, average EBIT margins of 13.5%, 2.0% terminal growth rate, and a WACC just shy of 8.0%.
Looking at forward (FY17) valuation multiples based on consensus estimates, we would argue that Omnicom (and its peers) are attractively priced relative to the market, although we should also point out that these multiples are not meaningfully below their long-term averages. Relative to each other, we deem all 3 companies to be "investment grade," although we have a slight preference for Omnicom and Publicis. At the end of the day, whether you're a U.S.-based or EU-based investor might be the most important consideration when picking one over the other (i.e. considering FX risks and withholding taxes on dividends).

Source: Thomson Reuters Eikon. Data as of 17.09.2017
Risks & red flags
Cyclicality of underlying end-markets: As previously mentioned, advertising and marketing expenses represent highly discretionary spending by companies, which is often scaled back during economic downturns.

Client retention: Client retention is one of the most important aspects of an advertising company's long-term success. The loss of a client can materially impact a company's financials, although in Omnicom's case, the largest client accounted for 3% of revenues in FY16.

Attracting new clients while avoiding conflict with current client base: Conflict of interests between current and prospective clients (i.e. trying to get Nike as a client when you already service Adidas) is a real issue in the advertising industry, which has intensified as a result of the gradual consolidation of nearly all economic sectors.

Talent attraction & retention: Omnicom's success largely depends on the creative talent of its employees in its various agencies. Attracting and retaining such employees is therefore key to its competitive position.

Currency exchange rate fluctuations: The company derives over 40% of sales from outside of the U.S., which exposes it to volatile foreign exchange rates.

Intangible assets impairment risk: A sizable amount of the firm's book value is intangible assets related to its brand equity. Should the firm (and its accountants) determine that the fair value of these intangibles is less than what is currently listed on its books, the firm would have to make an impairment (as Publicis had to do in 2016). Having said that, this would represent a non-cash expense.

Acquisition risk (especially overpaying for acquisition targets): We've described the modest level of industry growth and need for companies to fill the geographic and technological gaps in their portfolio by making acquisitions. As always, this entails risks, notably related to overpaying for acquisition targets, as well as the subsequent integration process.

Technological disruption and new entrants in the digital media space: The advertising space is impacted by technological change, which mainly influences media channels rather than the fundamental function of advertising and marketing. Nonetheless, disruptive technological change could materially impact Omnicom's business.

Corporate governance practices and executive compensation: We've previously described the manner in which the company has been slow to adopt corporate governance best practices, and that executive pay is unreasonable.
Ownership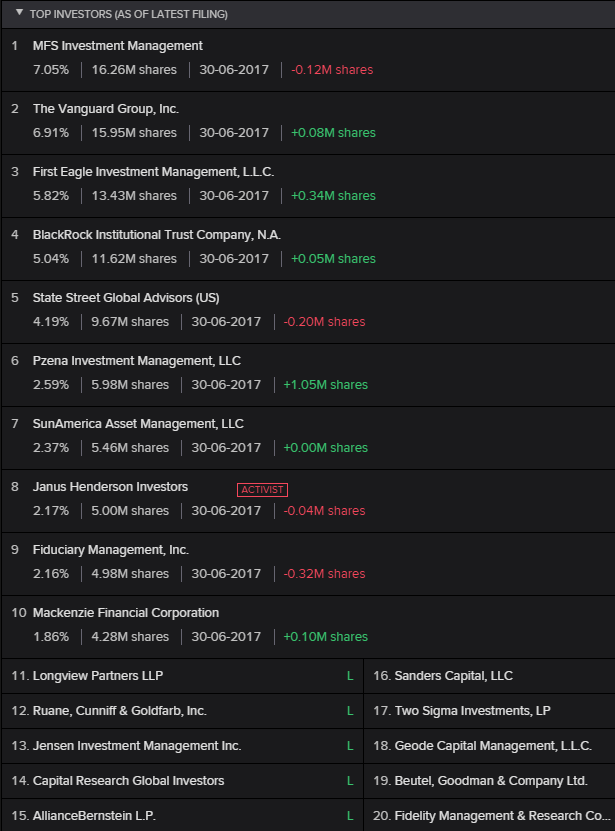 Source: Thomson Reuters Eikon.

Source: www.dataroma.com
It's also always interesting to know a little bit about the ownership structure of the company. While nowadays, it is increasingly difficult to avoid seeing the usual suspects such as Vanguard, Blackrock (and increasingly, the Swiss National Bank!), we take a certain level of comfort seeing the stock being held by seasoned stock pickers working in institutions such as First Eagle, Janus, Ruane, Cunniff & Goldfarb, Jensen, Ariel, Sequoia, and Hancock, to name a few. Most of these institutions have held the company in their portfolios for over a decade.
Initial conclusions
Whether you're an investor focused on acquiring high-quality companies trading at reasonable prices, or an income-focused investor, Omnicom is a firm worth putting on your radar within the consumer discretionary space.
It is a solid franchise that possesses durable competitive advantages, is in a strong financial position, and is headed by a competent management team that has generally run the business in the best interest of shareholders. While not trading at a large discount to a conservative estimate of intrinsic value, we believe the firm to be attractively priced both relative to the market and in absolute terms.
In terms of position sizing, we believe that all of the above considerations justify a median portfolio weight, or approximately 3.0% of assets.
Appendix
Figure 1: Omnicom's service offering
Source: 10-K 2016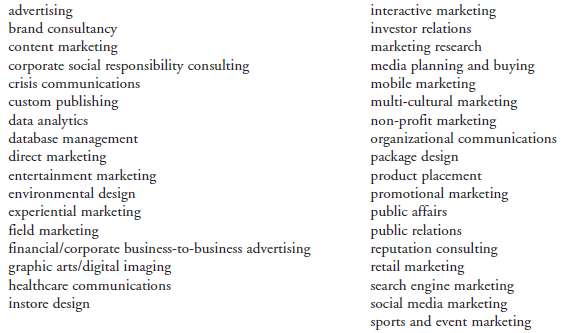 Note:
Please note that we calculate ROIC as:
IC = Fixed assets + net working capital
or
IC = (total assets - total current assets) + (total current assets - cash & equivalents - account payables + short-term debt)
CROIC = FCF / IC
Sources:
Annual reports
Investor presentations
Morningstar
Various media articles and interviews
Disclosure: I am/we are long OMC. I wrote this article myself, and it expresses my own opinions. I am not receiving compensation for it (other than from Seeking Alpha). I have no business relationship with any company whose stock is mentioned in this article.
Additional disclosure: The information enclosed in this article is deemed to be accurate and reliable, but is not guaranteed to or by the author.
Editor's Note: This article discusses one or more securities that do not trade on a major U.S. exchange. Please be aware of the risks associated with these stocks.