Introduction
AT&T (T) and Verizon (VZ) are the two largest wireless communication providers in the United States. Together they dominate approximately 70% of the wireless market. They have been favorite choices among dividend growth investors in the past. However, both companies are facing strong competitions from T-Mobile (TMUS) and Sprint (S) lately. With increasing competition, and declining margin, many wondered which company will be a better investment choice. In this article, we will compare both companies and help investors make a better decision.
Past Performance
Let us first take a look at AT&T and Verizon's past performance. The chart below shows the stock prices between the two companies in the past 10 years with blue line representing Verizon and yellow line representing AT&T. As can be seen, an investment 10 years ago on AT&T would resulted in a loss of about 10% while an investment on Verizon would result in about 20% return. The stock price reflected both companies' struggle to gain revenue growth while Verizon fared better due to better margin as we will see in the next section. While Verizon fared better than AT&T, both companies underperformed when compared to S&P500. S&P500 would result in a return of 70% from 10 years ago.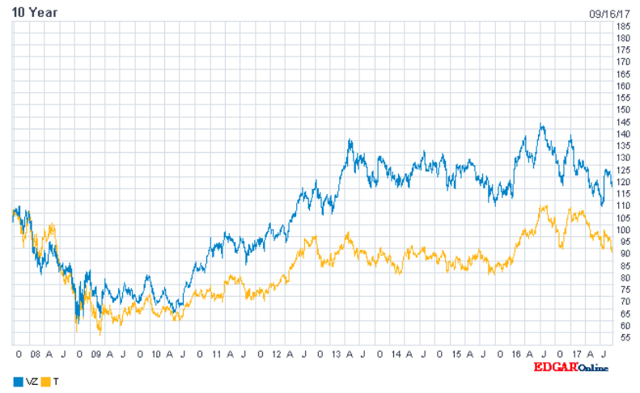 Source: Nasdaq.com
EBITDA Margin
We will now compare both companies' EBITDA margin. As we can see from the chart below, AT&T led in EBITDA margin before 2010, but Verizon is clearly the winner after 2013 due to its industry leading EBITDA margin in its wireless segment (low-to-mid 40%), and that Verizon acquired Vodafone's remaining stake in Verizon Wireless in early 2014. This improving EBITDA margin comes at an expense of increasing leverage. Verizon's industry leading low churn rate is also a key factor. It is worth noting that T-Mobile and Sprint's EBITDA margin in its wireless segment is in the range of 20~30%, much lower than Verizon and AT&T.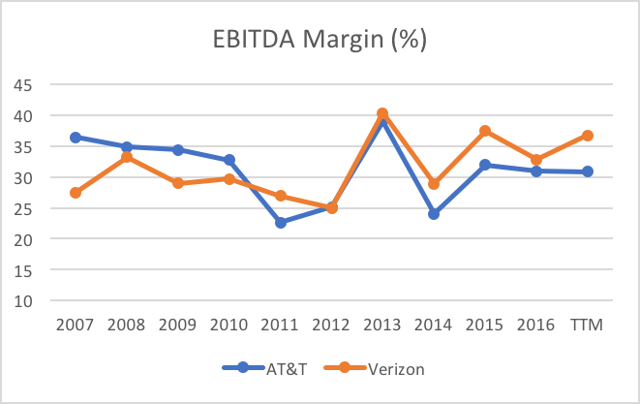 Source: Created by author, company reports
Balance Sheet
Telecommunication industry is very capital intensive. In order for Verizon and AT&T To keep up its competitive advantage, they have to spend billions every year on maintenance, upgrade its existing network, build towers, and acquire additional spectrums. As the chart below shows, we see AT&T consistently spends over $20 billion per year while Verizon is about $2 billion behind in spending per year.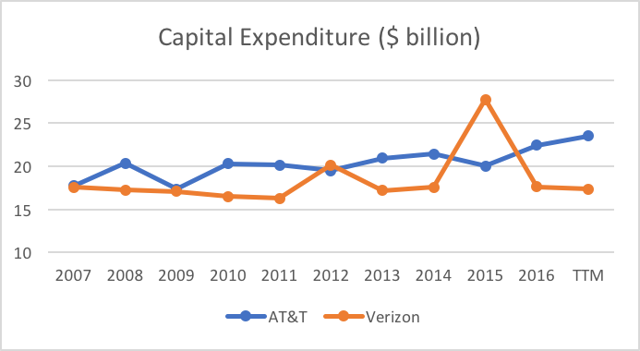 Source: Created by author, company reports
The table below shows the two communication giants' total long-term debt and its total long-term debt to capitalization ratio. As can be seen, AT&T has higher long-term debt at the end of its latest quarter than Verizon. However, its long-term debt to capitalization ratio of 51.6% is significantly lower than Verizon's 82.2%. Verizon's purchase of Vodafone's Verizon Wireless stake in 2014 was one of the main reason of its higher leverage.
| | | |
| --- | --- | --- |
| | Verizon | AT&T |
| Total Long-Term Debt ($ billion) | $116.4 | $132.8 |
| Total Long-Term Debt to Capitalization Ratio (%) | 82.2% | 51.6% |
Data Source: Company reports
In order to find growth vector, both companies have been pretty active in merge & acquisitions. Late last year, AT&T announced its acquisition of Time Warner, while Verizon announced to acquire Straight Path Communications (STRP) for $3.1 billion back in May. As we know, AT&T's Time Warner acquisition involves 50% cash and 50% stock. This means AT&T will have to finance about $5~6 billion through long-term debt on top of its $132.8 billion of long-term debt at the end of Q2 2017. Fortunately, AT&T's debt to cap ratio is lower than Verizon, which allows it to pursue a deal this size. On the other hand, Verizon's acquisition of Straight Path is an all-stock deal. Although it does not involve cash, but the company agrees to pay a hefty 486% premium to acquire the company. This will dilute Verizon's shares.
Dividend
AT&T and Verizon pays a quarterly dividend of $0.4900 and $0.5775 per share respectively. This dividend is equivalent to an annual yield of 5.26% and 4.83% at today's closing price (Sept. 15). Both companies have consistently raised its dividends in an annual basis. However, as we can see from the chart below, the increase is steady but only modest.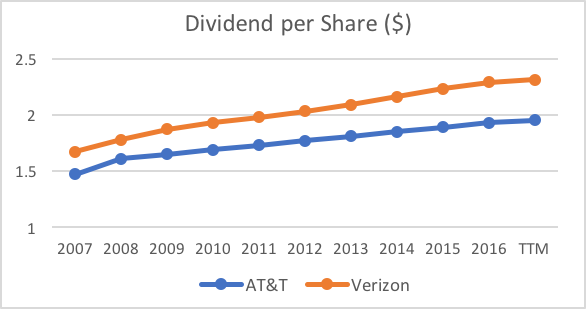 Source: Created by author, company reports
Let us now look at the growth rate. As we have already observed from the chart above, its dividend growth rate is only modest. If we want to declare a winner, Verizon has an advantage as AT&T's dividend growth rate is only slightly above 2% in the past 8 years and Verizon's growth rate is near or above 3%. Looking forward, we believe AT&T might be able to improve its dividend growth rate above its current pace as Time Warner deal will reduce its payout ratio from 76.7% (in its trailing 12-months) to approximately 70% (see here).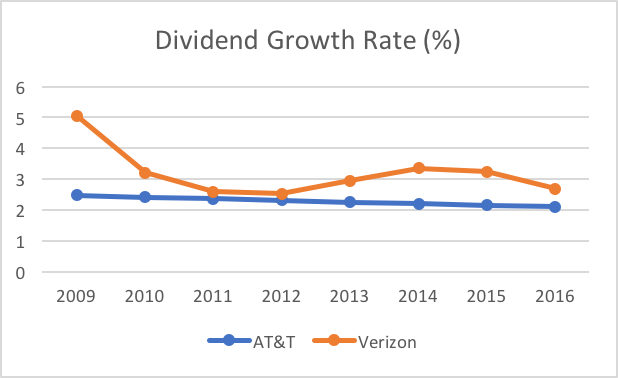 Source: Created by author, company reports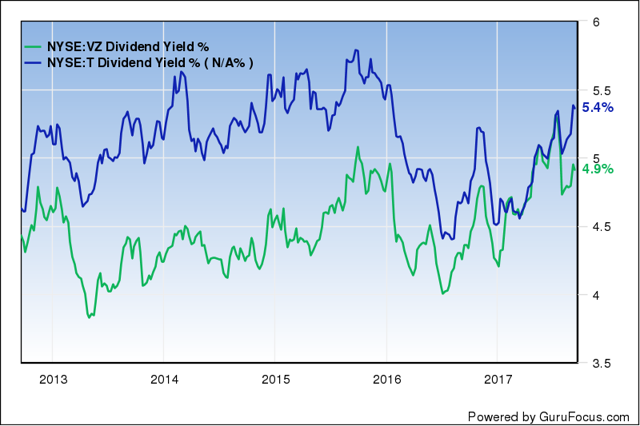 AT&T and Verizon's Historical Dividend Yield (Source: GuruFocus.com)
Future Prospect
As US wireless market saturates, it is clear that both AT&T and Verizon are seeking different paths to grow its revenue.
Verizon has a three-tier strategy: continue to lead the industry with the best wireless network in order to defend its postpaid subscriber base, develop new platforms in digital video (e.g. Yahoo and AOL contents) and the IoT, and focus on development of applications and content that are supported by the first two tiers. The strategy appears to be a balanced approach.
Unlike Verizon, AT&T wish to achieve integrates its content delivery service (e.g. wireless data or DirecTV) with content creation services (through Time Warner acquisition). AT&T hope to gain growth through multiple services as its wireless revenue is prone to price war whereas Time Warner's contents enjoys a wide moat. AT&T further indicates its shift of emphasis from postpaid wireless subscribers to growth in prepaid subscribers.
We like AT&T's strategy better as the company focuses on integrating both content delivery and content creation through its Time Warner acquisition. Verizon also wanted to focus on content, but the acquisition of AOL and Yahoo is not the same scale as AT&T's acquisition of Time Warner. Time Warner acquisition will be immediately accretive by increasing AT&T's operating cash flow by 13.3% based on trailing-12-month financial reports.
Investor Takeaway
Having examined both AT&T and Verizon, we particularly like Verizon's EBITDA gross margin and its slightly better dividend growth rate in the past few years. In terms of both companies' balance sheet, Verizon is more leverage whereas AT&T's long-term debt to capitalization ratio is only in the mid-50s. In terms of future prospects, both companies are facing headwinds from a price war in their wireless revenue. However, AT&T is expected to benefit from its acquisition of Time Warner by improving the company's cash flow and margin despite the added debt load.
Thank you for reading. Which company do you think is a better choice for long-term investment? Please share your comments.
If you like my article, please scroll to the top of the article and click "follow" to receive future updates.
Disclosure: I/we have no positions in any stocks mentioned, and no plans to initiate any positions within the next 72 hours.
I wrote this article myself, and it expresses my own opinions. I am not receiving compensation for it (other than from Seeking Alpha). I have no business relationship with any company whose stock is mentioned in this article.