The puns in the title are fully intended. California and China will drive acceleration of BEV (Battery Electric Vehicle) adoption... along with Ford.
My previous article on Ford's shift to electric vehicles was an introduction to how Ford (NYSE:F) will benefit from the coming BEV accelerated transition. Also read my comments in response to other comments.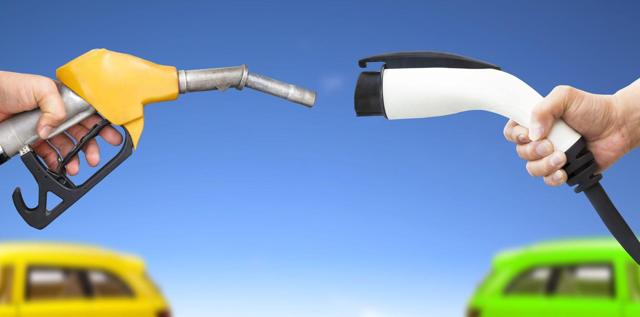 Source: Electrek.co
In the article, I hint at a bold prediction that the end of the ICE (Internal Combustion Engine) is coming soon - say the next 10 years. There will still be lots of ICE vehicles on the road, but almost all new vehicles will likely be BEVs. Almost all automobile predictions see the end of the ICE; I just see it happening sooner.
I give Elon Musk huge credit for accelerating the BEV along with solar and batteries to charge the BEVs. As he has said, his goal is not to be the biggest manufacturer of BEVs, but it is to accelerate BEV, solar and battery use... by five or ten years. As a side benefit, the technology can greatly reduce the need for unsightly and inefficient overhead power transmission lines.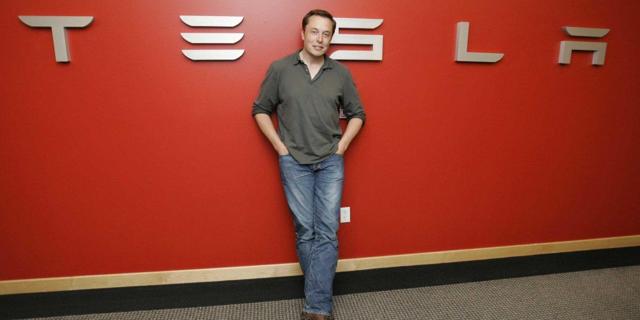 Source: AP Photo/Paul Sakuma
As a side note, again Elon has expressed his brilliance regarding electric trucks. With the electric car, he first made a sports car to make sure people thought electric cars are sporty and fun. Then he made a luxury electric car so that people think of electric cars as luxury. Only then did he make a less expensive electric car. Now with trucks, he is starting with an electric semi so that people think of electric trucks as big and powerful. Then, we are likely to see a high-end electric truck and finally an electric truck for the masses. Ford and others should take this as signal that it is now time to ramp up electric trucks.
From a California Air Resources Board press release:
China accounts for about 40 percent of the global market while California is responsible for more than 50 percent of sales in the United States.

Since 2014, ZEV sales in China have increased nearly sevenfold to 509,000 vehicles in 2016, making China the largest market and strongest driver of global market growth. A national "road map" for the country's auto market aims for ZEVs to account for at least 20 percent of total vehicle sales by 2025, or about 7 million vehicles a year.

In the first quarter of 2017, ZEVs accounted for nearly 5 percent of new car sales statewide.

Governor has set a goal of putting 1.5 million ZEVs on the roads [of California] by 2025.
Ford Past and Recent Trends
From mid-2014 to mid-2017, Ford was clearly in decline.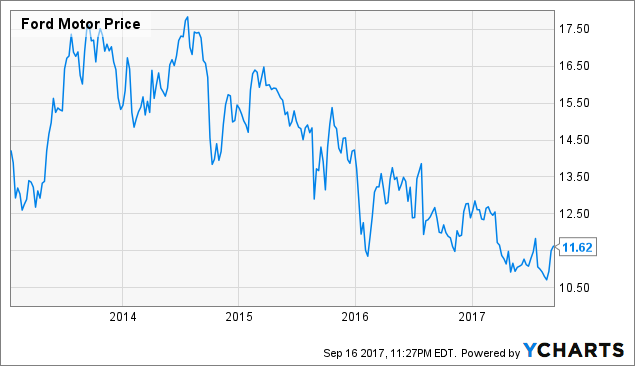 Now take a look at Tesla over the same period: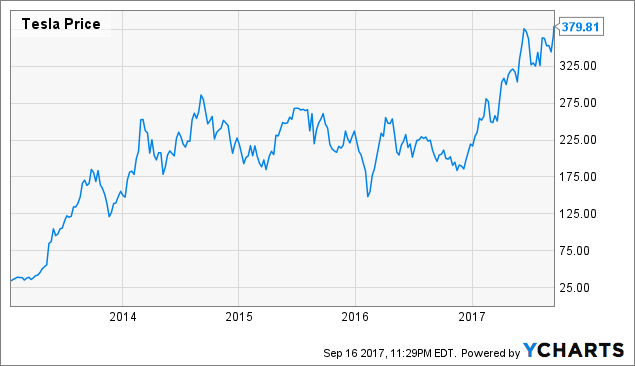 TSLA data by YCharts
Did Tesla have higher earnings per share? No. Tesla did not make a significant profit and had no dividend. Ford had solid earnings per share and paid a handsome dividend.
The big difference in my mind is that stock buyers are convinced that Tesla will do well and have huge earnings in the future.
Let's explore how Ford could change the view of stock buyers relative to the future of Ford. First, we need to outline the end of ICE and the bright future of BEVs.
New ICE Vehicles: Nearly Dead in 10 Years
Tesla has shown the world that a long-range electric vehicle is not only feasible but also fun and luxurious. As a result, nearly every car company has at least one plug in electric car either on the street or in the works. Some like Volvo (OTCPK:VOLVY) are committed to having all new vehicles electric by 2019 (not all BEVs).
During the last year, the idea of BEVs has become mainstream. Every analysis I see of the auto industry has a huge component of BEVs in the future. Some analysts are conservative and yet acknowledge that the transition away from ICE to BEV could happen much faster than they predict.
Let's explore how this accelerated transition away from ICE to BEVs will happen. First, we need to recognize that BEVs have been around for 10 years. They were fringe due to either the high cost or the low range. The 10 years is part of the learning curve and the first third of the transition. This is where Tesla has had a big role in showing the feasibility, luxury and fun associated with BEVs.
Now comes the transition phase where electric vehicles become even more cost effective. This will happen around the globe but will be most accelerated in China. China's highly urbanized cities are choking. Health problems due to air pollution in cities from vehicles are common. The most common app in Chinese urbanized areas is an app that says how bad the air quality will be that day so that parents know whether or not to let their children play outside. China is bringing online a new wind turbine every hour. It has mandated that 8% of new vehicles must be electric by 2018 ... increasing to 12% by 2020. It is talking about only allowing electric vehicles to drive in urbanized areas on days when air quality is poor.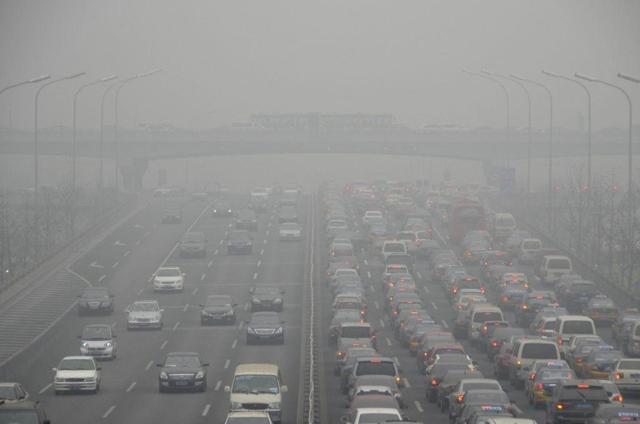 Source: ShangaiDaily.com Smog listing as "meteorological disaster"
It is clear that China has the urgent need for BEVs and the political system needed to drive acceleration of electric cars. Other countries including France and Britain have targets to replace ICE with BEVs. States within the USA also have and will have targets associated with replacing ICE with BEVs. California, as in many environmental matters, will be a leader in the US's transition from ICE to BEVs.
This transition will happen extremely fast with the following steps:
- Mandated BEVs in China will require mass production of inexpensive BEVs.
- Mass production will lower the capital cost of BEVs further.
- Technology driven by mass production will lower battery cost, increase range and speed the recharge time.
- In the second five years, driven by health concerns associated with NoX and Co2, and the feasibility of BEVs, more countries and states in the US will mandate higher percentages of BEVs and some countries and states in the US will ban ICE vehicles in highly urbanized areas during peak periods.
- Solar powered charging stations with batteries will become more common than Airbnb units.
- The TCO (Total Cost of Operation) for BEVs will plummet due to less expensive renewable power supplies, lower capital cost, very low maintenance costs, very long life of simpler BEVs.
- Other auto makers will accelerate their adoption of BEV technology or be left behind as not relevant. Just as horse stables became a thing of the past as the transition from horse transportation to automobiles took only 20 to 30 years (remember we are already 10 years into the BEV transition).
- ICE vehicle prices will drop with used ICE vehicle prices dropping dramatically. Lease returns will become a liability for leasing companies.
The transition from ICE to BEV will accelerate at an increasing rate. The next five years will see the technology ramp up dramatically as mass production starts. The second five years will see implementation across all car makers and all models of vehicles so that at the end of the second five years, new ICE vehicles will be rare.
Recent News
According to Reuters:
Tesla, Daimler AG and General Motors are among firms that have already announced plans for making electric vehicles in China, which wants electric and plug-in hybrid cars to make up at least a fifth of the country's auto sales by 2025.

Ford, whose overall China sales are down 7 percent this year, said in a statement on Tuesday that it had signed a memorandum of understanding with Zotye Auto to build a new brand under which the electric vehicles will be sold. Both firms will hold a 50-50 stake in the JV, it said.
According to Fortune:
All Volvo car models launched after 2019 will be electric or hybrids, the Chinese-owned Swedish company said ... making it the first major traditional automaker to set a date for phasing out vehicles powered solely by the internal combustion engine.
According to Bloomberg:
The U.K. became the latest European country to mark the end of the line for diesel and gasoline fueled cars as automakers such as Volvo race to build electric vehicles or face the consequences of getting left behind.

In London, the government said it will ban sales of the vehicles by 2040, two weeks after France announced a similar plan to reduce air pollution and become a carbon-neutral nation. For some in the auto industry, the plans are too much too soon while environmental campaigners say exactly the opposite.
According to Reuters:
Hackett, who took over as CEO in May, has told investors he is working on a 100-day review of Ford's operations but has so far provided few details of the process, except to indicate that it is looking at the automakers' luxury vehicle strategy, the future of its small vehicles and investments in emerging markets.
According to Forbes:
Rapid battery cost declines, rising commitment from major automakers, strong policy support from state and local governments, and low operational costs (including discounted charging tariffs from utilities) have put electric vehicles (EVs) on track to pass gasoline-powered vehicles.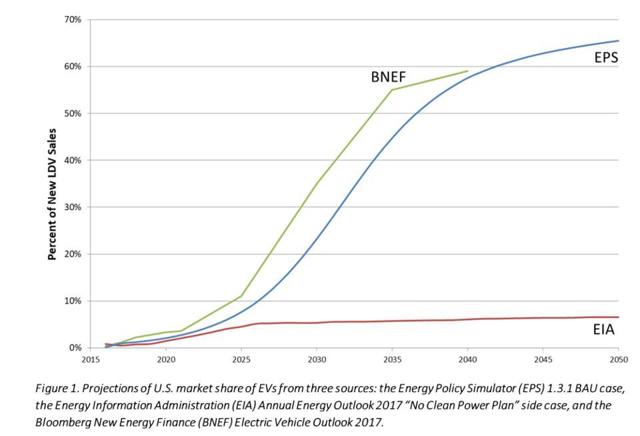 Source: Forbes
According to Motley Fool:
The last week has seen some very big electric-vehicle announcements from some very big auto-industry players, mostly around the International Motor Show in Frankfurt, Germany.

... there are good reasons to think that electric vehicles finally have momentum, that more automakers will announce broader commitments to electric vehicles in the coming weeks, and that the long-awaited shift toward electric vehicles is finally underway.

Here's a partial list of the commitments made by big automakers recently:
According to Los Angeles Daily News:
Jeff Bonthuis, 67, of Long Beach ... was checking out a sleek 2017 Bolt EV LT for sale [at the LADWP electric vehicle show on September 16]

The Long Beach resident said he didn't feel electric vehicles were completely mainstream yet because "if everybody knew about it, everybody would have one. This is definitely the way things are going. I don't think anything will stop it."
Ford actions needed to benefit from transition to BEVs
For Ford's stock price to continue its rally to $17 and higher, it will need to accomplish many of the following:
- Demonstrate that future Ford car models will stay current with BEV technology.
- Demonstrate how the partnership with Chinese companies will help to lower the cost of all Ford BEVs.
- Increase earnings associated with existing car line-up (recent hurricane damage will help in the short term).
- Demonstrate that Ford has a BEV pick-up truck in development with an expected mass production starting in the very early 2020s.
- Demonstrate that Ford has effective partnerships with various technology firms that are needed for cost effective autonomous BEVs in the early 2020s.
- Demonstrate significant progress toward BEV and autonomous vehicle technology.
- Make October 3rd CEO announcements a huge turning point for Ford ... with reasonable time frames that are subsequently met.
- Demonstrate that Ford will achieve BEV technology in a way that allows the company to mass produce cost effective BEVs that are less expensive to purchase and operate over a much longer and more reliable life compared to ICE.
- Ford needs to fully embrace mass production of BEVs (like it did with the Model T) while demonstrating a path to transition from ICE to BEV without significant drops in earnings.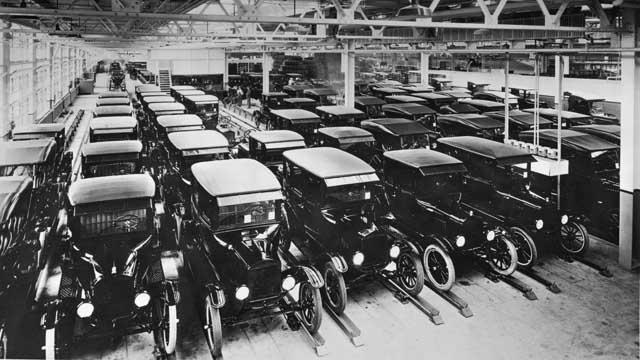 Source: Ford Motor Company
- Demonstrate to stock buyers that Ford is making tough decisions now that are needed to prepare for the future transition to BEVs (this could include restructuring vehicle leases, not spending large amounts of dollars on ICE research, retraining/laying off ICE experts and production staff, shedding ICE technology development and production such as engines, transmissions and exhaust systems, and spending funds on development and production of BEV electric and electronic systems).
- Ford needs to clearly indicate that it is keeping up with the times to increase mobility on all fronts including mass production of BEVs and transitioning from ICE while making the world a better place - safer, more dependable, less expensive transportation that is healthier for the environment and people. Ford is developing and implementing BEVs for mutual benefit of all.
- Ford needs to show that it can accelerate BEV development and production to exceed even China's mandates.
Ford does not need to do all of the above, but certainly the more it can accomplish in this list, the higher the stock will rise.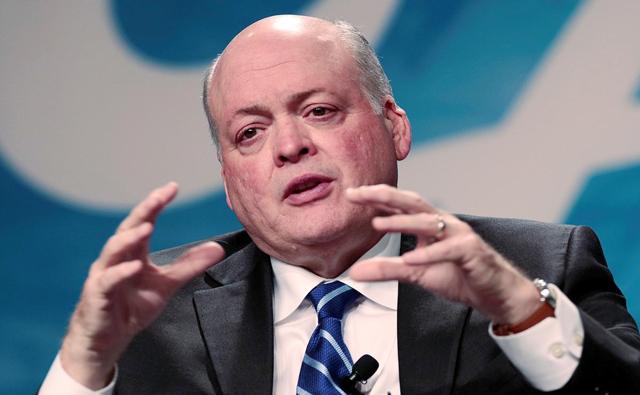 Source: Ford Motor Company
Next Steps
I'll be watching on October 3 to see how many of the above items Ford accomplishes and then I will look at adjusting my investments in the company accordingly. The chart below shows Ford over the last 10 months. The trend as shown in the 150 moving average and the resistance line has clearly been down until this trend was broken in September with a break through the resistance line.
According to Investopedia:
Trading breakout is best done when the prevailing market condition is either up trending or range-bound with price action approaching the upper end of the range. Once a resistance level has been identified, volume should be monitored very closely. A long position trade setup occurs when price action approaches and decisively surpasses the resistance level with strong volume. A small price retrace usually occurs following a breakout, resulting from the abrupt shift in supply and demand, as it seeks to re-balance. This is the long entry signal. Experienced traders take long positions as price is retracing with a protective stop loss placed slightly below the original resistance level.
The breakout was clear along with the slight retrace. The volume was not as high as I would like to see. There could be additional retrace prior to October 3 with bad news or lack of good news.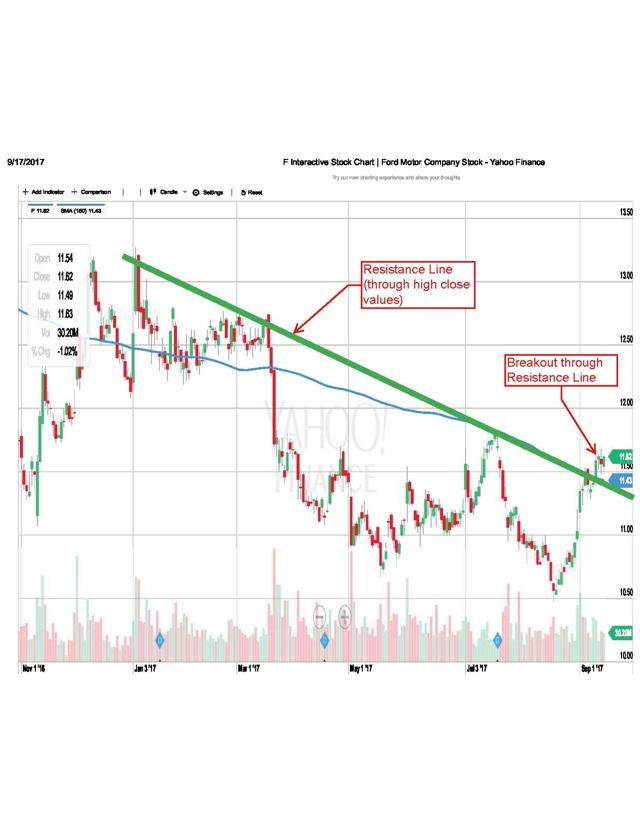 Source: StockCharts.com with resistance line added
I have a mix of Ford stock and LEAPs (long-term equity anticipation security - call options with expiration in January 2019 and a $17 strike price). Following October 3, I will consider increasing or decreasing my Ford investments. Stay tuned.
Disclosure: I am/we are long F.
I wrote this article myself, and it expresses my own opinions. I am not receiving compensation for it (other than from Seeking Alpha). I have no business relationship with any company whose stock is mentioned in this article.
Editor's Note: This article discusses one or more securities that do not trade on a major U.S. exchange. Please be aware of the risks associated with these stocks.