Caterpillar (NYSE: CAT) has reached record highs of late and subsequently has been the subject of consistent scrutiny as investors attempt to determine whether the price appreciation can continue in this cyclical dividend contender. Today, I want to discuss some of my own concerns and come to a conclusion as to whether I should take some profits off the board in one of the best investments I have ever made. I have owned Caterpillar for years now, with a cost basis around $78 I usually remain unfazed by the bears when it comes to the company as I am in it for the long run and have happily taken my dividends through the ups and downs. Still, as I become continually more pessimistic about the ability of this bull market to maintain its historic run, I have been taking profits in many of my equity positions, raising cash and preparing for the worst. I never thought I would sell any of my shares in CAT, as it is a well-run giant in the industrial segment that has proved its staying power in the market, but I'll admit my fears are getting to me and I am beginning to question my better side (the dividend growth investor) and have been thinking of selling a portion of my position.
Some may see this as an odd time to be considering such a move, given the strong Q2 and recovering revenue after a tough 2016, along with the new CEO and potential tailwinds of infrastructure spending from the Trump administration; but CAT has always been a cyclical stock that does exceedingly well in bull markets and really struggles when the bears come. I never want to be a greedy investor and I never want to fall in love with a stock, which means considering taking profits when ANY company reaches all-time highs, so I am here today to do my due diligence.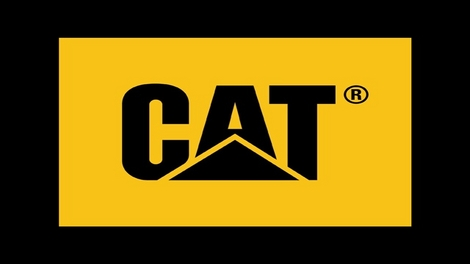 Source: Google Images
Strong Q2 and Poised to Benefit from Infrastructure Spending
From Q2 Sec Filings
I would like to start with some of the positives that have pushed CAT to its recent record highs. First off, the company performed admirably in Q2, beating EPS estimates by $0.23 and revenue estimates by $400 million. CAT showed impressive growth in profit, revenue, and cash for the quarter. Really, this is to be expected and some even say it should have come sooner as the company normally excels in bull markets as construction spending swells. Still, the quarter was an impressive one for the company's new CEO Jim Umpleby as you can see from the selected data below.
Six Months That Ended

June 2017

June 2016

Cash and short-term investments at beginning of period

7,168

6,460

Cash and short-term investments at end of period

10,232

6,764

Total Sales and Revenues

21,543

19,803

Profit

994

821
The majority of analysts loved what they saw in Q2 under the new leadership. BMO's Joel Tiss said it best:
It is clear that he has a strong plan for Caterpillar to refocus on driving profitable growth, and that mediocrity will not be tolerated. One aspect of his strategy that we are particularly keen on is enabling the business leaders to make decisions more quickly, and to have more control of growth strategies.
Sales and Revenues for the quarter were up 10% in comparison with Q2 2016. This was due in part to more favorable commodity prices, but CAT also got a boost from sales in "all four geographic regions and all three primary product segments" according to their Q2 conference call. China was the surprise for me in the sales and revenue segment. The street has been rife with rumbles about China's economy slowing, but CAT's sales in the country seem to tell a different story.
Bradley M. Halverson CFO, Caterpillar:
Strength in China continues to be driven by government support for infrastructure and strong residential investment. Sales in China in the second quarter were better than we had expected, and we now expect demand in China to remain strong through the rest of the year.
Although China sales don't make up a huge portion of CAT's overall revenues, they are still very important for the company going forward. I do fear that the People's Republic could be using infrastructure spending to prop up an economy that isn't doing as well as advertised, but there is no way of knowing for sure. The Chinese government has been on a spending spree in the infrastructure department for quite some time. The move allows the country to maintain its GDP but it has also created some of the aptly named ghost cities. I'll admit seeing nearly empty cities like Shenzhen in the far western Xinjiang province doesn't exactly fill me with confidence in regards to China's ability to maintain their current level of infrastructure spending, but for now CAT will continue to sell them as many excavators and dozers as possible and I don't fault them for doing so.
China isn't the only place where CAT is poised to benefit from infrastructure spending. When Donald Trump took office I'm sure many executives at CAT were jumping for joy (although undoubtedly they would never admit it), as the administration has promised to rebuild much of America's crumbling infrastructure. In a June Press Release many promises were made with respect to infrastructure spending.
President Donald J. Trump is pushing to rebuild the infrastructure of the United States by partnering with the private sector and getting government out of the way. The President has dedicated $200 billion in his budget as part of a $1 trillion investment plan to rebuild infrastructure.
CAT is clearly in line to benefit from infrastructure spending in the US if it does ever come to fruition. Infrastructure spending isn't the only way the Trump administration may end up benefiting CAT though. Expected tax cuts for businesses would also be a huge bonus for a company like Caterpillar that has a relatively high effective tax rate and will be especially burdened by taxes in 2017. From 2016 10-K:
The provision for income taxes in the second quarter of 2017 reflects an estimated annual tax rate of 32 percent, compared to 25 percent for the second quarter of 2016. The increase is primarily due to higher non-U.S. restructuring costs in 2017 that are taxed at relatively lower non-U.S. tax rates, along with other changes in the geographic mix of profits from a tax perspective.
The strong first half of 2017 coupled with the potential for real benefits from a lessening tax burden, followed by increased governmental infrastructure spending and positive changes in commodity prices, led CAT to increase its 2017 outlook in Q2. All this has led to some serious price appreciation in recent months, and the new all time highs we have seen lately may be just the beginning.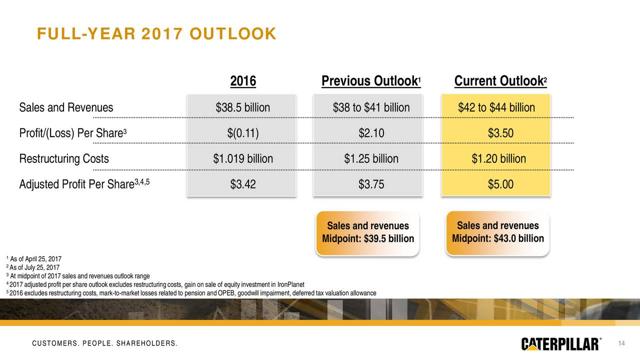 For me the question becomes: Are these positives already priced in at this point? Or is there more room for growth in this much beloved industrial giant?
Valuations Are Based on Potential Not Necessarily Reality
Analysts have been, for the most part, exceedingly bullish when it comes to CAT. This is epitomized, according to a recent SA news bulletin, by BMO Capital, which estimate CAT's EPS can reach the astounding figure of $9-$11 a share if they generate their "baseline revenue" of $55B. Doing some simple math here, if CAT can bring in $10 a share at a relatively conservative (in this market) 15 times earnings, the price target would be $150, leaving some 30 points in upside potential for shareholders. I know I should be thrilled by this assessment, but to be honest, I see these numbers as very optimistic. In the past 10 years CAT has only ever earned above $8 a share once in their volatile EPS history, so the likelihood of them breaking that $10 a share barrier seems farfetched to me.
| | | | | | | | | | | |
| --- | --- | --- | --- | --- | --- | --- | --- | --- | --- | --- |
| | 2007 | 2008 | 2009 | 2010 | 2011 | 2012 | 2013 | 2014 | 2015 | 2016 |
| EPS(NYSEARCA:USD) | 5.37 | 5.66 | 1.43 | 4.15 | 7.40 | 8.48 | 5.75 | 3.90 | 4.18 | -0.11 |
I guess analysts feel that there will be some serious demand increases for CAT's products due to infrastructure spending and the recent hurricanes which devastated parts of Texas and Florida. In the best case scenario I can see the $150 a share mark being feasible, but in my opinion this would take pretty much everything going right for the company in the coming months. You really have to have a lot of faith in the Trump administration's ability to pass some form of tax relief along with an infrastructure spending package in order to see these estimates as viable.
Looking at current valuation metrics, CAT seems to trade at a premium compared to the rest of the industry. This isn't unexpected as CAT is one of the best-run and most well-respected companies around. The current forward PE around 24 is a little rich, but not outlandish in this market, but some of the other current valuation metrics seem obviously stretched (as you can see below), which gives me pause.
| | | |
| --- | --- | --- |
| | CAT | Industry Average |
| Price/Earnings | 758.6 | 57.0 |
| Price/Book | 5.1 | 3.9 |
| Price/Sales | 1.8 | 1.3 |
| Price/Cash Flow | 10.6 | 11.2 |
Price to Cash Flow is one area where CAT is trading at a cheaper valuation than its peers. However, this is mostly due to the company's new "lean and mean" approach of focusing on margins and making some serious cuts to personnel and facilities. In a Press Release from back in September 2015 the company announced plans to cut four to five thousand salaried employees and five to six thousand other employees. If we attribute about $60,000 a year per employee in cost savings, that would mean CAT will be saving $600 million annually when they finish all of these cuts. As you saw in the full year 2017 outlook page, this has resulted in some serious restructuring costs in the past couple years and in 2017 once again CAT will be spending over $1 billion dollars on their restructuring efforts, which also include the closure or consolidation of up to 20 facilities, all in an effort to improve margins. Analysts have loved these moves labeled as cutting "the fat," which is almost always seen as a logical way to go.
All of this leads me to believe much of the current run up in price is not based on current EPS and revenue figures, but instead the market seems to be looking at CAT's future with rose colored glasses because of these new initiatives. This is something I fear doing as an investor. I would like to give CAT the benefit of the doubt and say that all these moves are the right ones, but in the long term I do worry that all of this focus on margins instead of sales could lead to pressure on revenues going forward.
One thing that CAT has done recently that is undeniably a positive is pay down debt. Over the past 5 years the company has really attempted to get their debt burden under control, which is a great thing to focus on when times are good.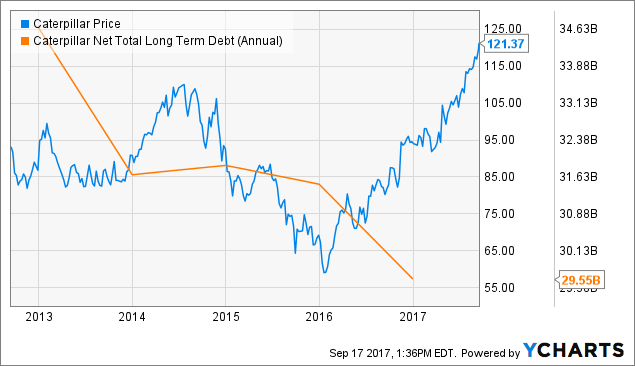 CAT
data by
YCharts
The problem for me is current EPS and revenue figures just don't seem to match up with the price appreciation CAT has seen of late. 2015 and 2016 were not exactly great years for the company and although the first half of 2017 has been much better CAT still isn't earning like it once did. I do see a brighter future going forward as infrastructure spending is a simple necessity in the U.S in order to make long overdue repairs and CAT is likely to benefit from a good percentage of these contracts, but if a recession strikes we may see a price decline on the order of what was seen in 2008.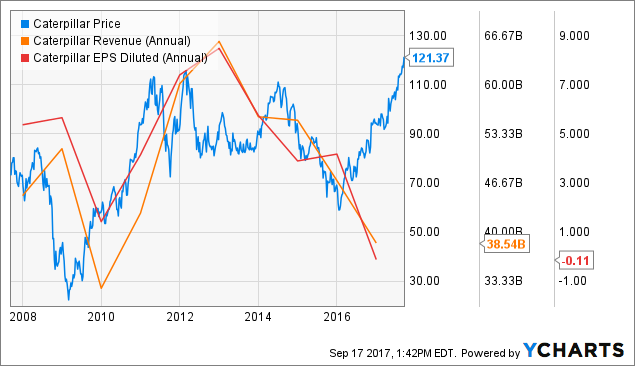 CAT
data by
YCharts
Conclusion
So what to do, what to do. Because I am a young investor who has no problem holding companies through turbulent times I have decided to keep all my shares of Caterpillar at least for the time being, and trust in the company's new margin-focused approach, but here comes the curveball. If you are a retiree who needs the money or the income, I recommend selling a portion of your position in this dividend contender. It's better to not be greedy and leave some on the table for the next guy than to hold on to the bitter end hoping to get every last penny out of the stock as its price appreciates. The current forward yield of 2.57% just doesn't warrant continuing to hold this cyclical beast with all its downside potential if a recession does strike, as you may be able to find better, safer yields elsewhere. Sure, things could go well for CAT in the next couple of months, and its price appreciation may continue, but I just don't know for how long until the market begins to see that perhaps the current valuation is a little stretched. CAT is one of the "safe" dividend plays that many investors fall in love with and defend with vitriol. Its conservative business model and consistent dividend make people feel secure when in reality it is a cyclical play that can really take investors through the ringer. If you have the patience and time to hold this company for the long term (I'm talking 5 years plus) and don't need the income or capital anytime soon then by all means hold your shares and don't fret, but if you can't commit for the long run then I advise doing the safe thing and taking profits soon while you still can.
I hope this was helpful, please feel free to comment and add to the discussion, and don't forget to subscribe for more!
Disclosure: I am/we are long CAT.
I wrote this article myself, and it expresses my own opinions. I am not receiving compensation for it (other than from Seeking Alpha). I have no business relationship with any company whose stock is mentioned in this article.