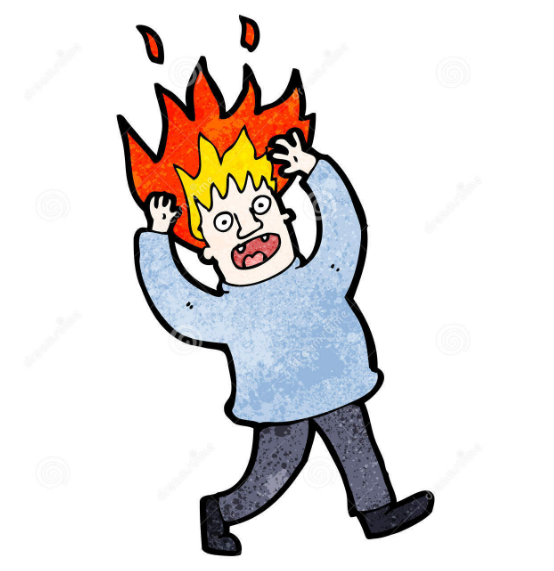 The dividend paid by Coca-Cola (KO) is safe at this time despite a number of articles titled otherwise. The dividend increase is most likely to remain 2 cents a quarter. With such a dividend stream, the current market price represents a modest value for a dividend growth investor.
What news has people up in arms recently?
Recently a number of articles have come out on Seeking Alpha about the danger to the dividend of KO. The latest came out a few days ago, titled "Coca-Cola's Dividend Really Is At Risk". Despite the alarmist title the author doesn't actually think that the dividend is at risk, he rather thinks that the rate of increase will slow. Contrast that to the earlier article titled "Coca-Cola: The Dividend Is At Risk" where the author predicts an imminent dividend cut and subsequent price crash. These dire predictions are all predicated on the fact that revenues and earnings have been declining at Coke over the recent past. They also worry about the long term decline in consumption, especially in the US, of Coke's premier soda brands. Concern is also expressed about the P/E ratio being very high.
Why setting your hair on fire over this news is unwarranted
First, a high P/E ratio has caused some to be concerned that KO is very expensive. This is caused by confusion over the correct number to use for EPS. While it's true that the GAAP earnings number is fairly low, $0.32 for the latest quarter, this isn't the best earnings number to use to compare how Coke is doing now compared to earlier. As can be seen at this link, comparable EPS (which is a non-GAAP measure) is much higher, $0.59 for Q2. Over the past 12 months, the total quarterly earnings using that metric are $1.88. This gives a much less alarming P/E ratio of about 24.6. While that certainly isn't cheap, I don't see it as alarmingly high.
Looking at the current yield, 3.2%, that doesn't seem very low to me as I would expect if KO was very expensive. In fact looking at the 4 year average yield, the current yield is about 6.3% above the average or looked at another way the current price is about 6.3% below average relative to the dividend. Now, that certainly isn't a back the truck up level of discount, and I do think KO was often over-valued over the last 4 years, it clearly isn't indicative of a price at historically high levels.
In all the concern about declining revenues and earnings, what I didn't see was any coverage as to why these things were declining. At best it was implied that this was due to sales declines of Coke's big soda brands, Coke and Diet Coke. Nowhere did I read anything about the fact that Coke was re-franchising its bottling operations. This effort has had and will continue to have a big impact on revenues, because revenues will no longer contain the sales of the various end products Coke makes, but only a franchise fee and syrup sales to the bottlers. This is being done because the bottling operations are fairly capital intensive (and they also require that capital to be in local currency, so there are a lot of currency risks if not done at the local level) and low margin. So it's part of the plan that revenues and earnings will decline. In exchange Coke will get revenues with far higher margins and less need for debt. Selling off these franchises will also give Coke cash to pay down debt and use to buy other assets. So for instance revenues in Q2 were hit with a 17% headwind, but only declined 16%. This is known and planned and management has been increasing the dividend anyway.
It's also not true that the sparkling soft drinks segment (what Coke calls its soda division) is in continuous decline. In Q2 the segment actually saw an increase in unit case volume. Mainly this was led by selling the rebranded Coke Zero Sugar in more markets, but Sprite also showed some strength. Over the 150 years Coke has been in business customer taste has changed and Coke hasn't remained in business by being unable to adjust to that. Those efforts continue on many fronts.
Now while the credit rating agencies don't have a perfect record in spotting problems at a company early, they are still pretty good at spotting trouble. Looking at Moody's, it still has KO at Aa3 with a stable outlook. And while it does see the declines in the soda segment as a challenge, it doesn't see it as a huge problem.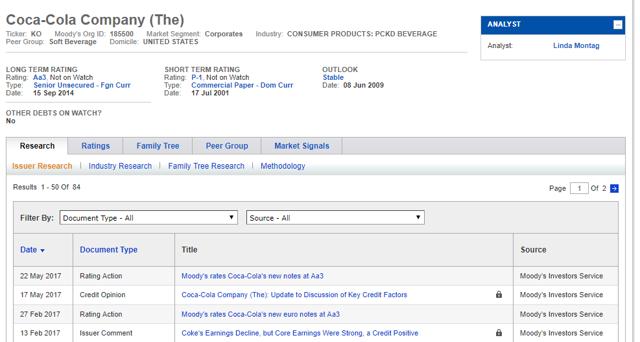 What's a good price?
To figure out a good price, I do a DDM calculation using my Excel based DDM calculator (pictured below, you can see the web-based calculator I based it on here and read a discussion on how the formulas were developed here). Looking at the David Fish's CCC List(which contains a data on companies that have raised their dividend each year for 5 or more years), I see that KO has been increasing its dividend each year for 55 years. For the last several years that increase has been 2 cents a quarter.
I last wrote about KO back on July 31st. At the time I did a DDM calculation to determine a buy price. I used a dividend payment for the next 12 months assuming that after 2 payments at the current rate of $0.37, the final two payments would be $0.39 in keeping with what has happened in the recent past. I also used a dividend growth rate of 5.2% because that would produce future dividend increases of about 2 cents a quarter each year.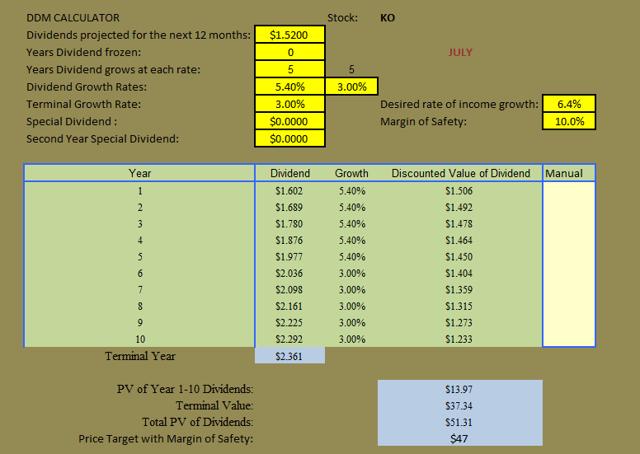 Using those parameters from July, I calculated an NPV of the dividend stream being $51.31. Because of the declining revenue and EPS, which is only partially due to restructuring, I wanted an additional 10% discount which produced a buy price of $47.
The author of the article titled "Coca-Cola's Dividend Really Is At Risk" actually proposed that it was the dividend at risk and thought it likely that going forward, rather than a 2 cents a quarter raise each year, KO would go with a 1.5 cents a quarter a year. So, using that assumption in my DDM calculation, the dividend for the next 12 months becomes $1.51. I lower the dividend growth rate to 4.8%, which puts the increase at 6 cents a year.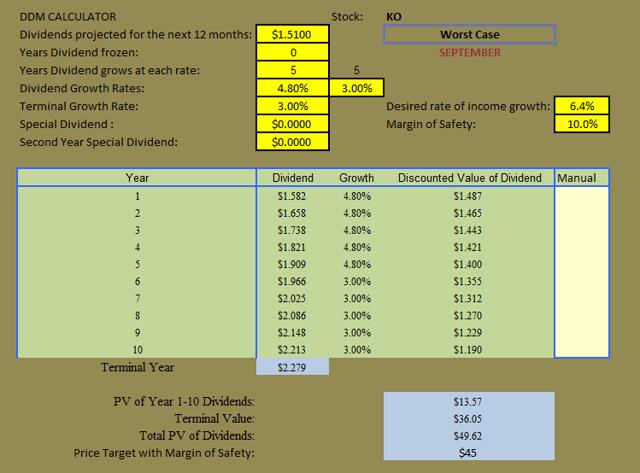 Using these parameters, which one might call a worse case, I calculate that the NPV of the dividends in $49.62. Again since revenue and earnings are declining, I want an additional 10% discount which sets my buy price to $45 if I actually thought the next dividend increase would be reduced from the previous 2 cents a quarter.
I actually think it more likely that KO will continue to increase the dividend by 2 cents a quarter. So at this time there is one more payment at the $0.37 rate, and then 3 payments at $0.39 for a total of $1.54. I adjust the dividend growth rate to 5.2% because that produces dividend increases of 2 cents a quarter each year.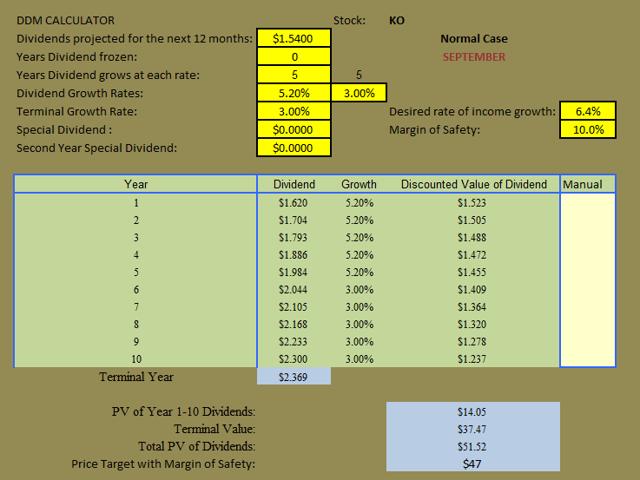 Using these parameters as a more normal case, I calculate the NPV of the dividend stream to be $51.52. With the revenue and earnings decline I want a 10% discount to that value which sets my buy price as $47.
So based on each of these 2 cases, even when I take into account the reduced dividend increase one of the alarmist authors felt was likely, the NPV of that dividend stream is only a little more than a dollar below the current market price. That doesn't sound like a price collapse to me. If you look at the current yield relative to the average yield over the last 4 years, it's clear that relative to its dividend now KO is at a below average valuation. I would be surprised if the price dropped at all when the new dividend is announced in February. In fact depending on the price at the time, I strongly suspect that an increase in the dividend, even if it is only 1.5 cents, will cause the share price to increase, not to collapse.
What to watch for going forward?
Going forward, I want to see the re-franchising efforts begin to wrap up. I want to see the cash from those deals either be used to reduce debt or buy new beverage assets. Also, since the dollar hasn't been as strong lately, I would also like to see lesser headwinds from currency issues.
Conclusion
Coke is clearly have to work hard to adjust its product mix to meet changing consumer tastes, but so far that really hasn't impacted its ability to support and grow its dividends. I don't expect that to change in the foreseeable future, so I think the value of the dividend stream is worth more than the current market price for the shares. I wouldn't want an over-sized position in KO at this time, but the shares do represent a modest opportunity for a dividend growth investor.
Note: I hope you all got something out of this article. I do appreciate the time you took reading it. If you are one of those who follow me here, I appreciate it; if you'd like to include yourself amongst those individuals, please hit the "Follow" button next to my name as well as following other contributors whose work you enjoy. As always, please leave any feedback and questions you may have in the comments below.
Disclaimer: This article is intended to provide information to interested parties. As I have no knowledge of individual investor circumstances, goals, and/or portfolio concentration or diversification, readers are expected to complete their own due diligence before purchasing any stocks mentioned or recommended. The price I call fair valued is not a prediction of future price but only the price at which I consider the stock to be of value for its dividends.
Disclosure: I am/we are long KO. I wrote this article myself, and it expresses my own opinions. I am not receiving compensation for it (other than from Seeking Alpha). I have no business relationship with any company whose stock is mentioned in this article.