Important Notes: Gamehost Inc. is traded on the Toronto Stock Exchange under the ticker (GH) and the US Pink Sheets under the ticker (OTCPK:GHIFF). All dollar ($) amounts are in CAD unless specified otherwise. The analysis date in this article is 14/09/2017.
Investment Thesis
Gamehost Inc.'s share price underwent dramatic decline during a prolonged economic recession in Alberta. Despite these conditions, the company maintained robust margins and continued the distribution of high-yield dividends for investors. The business is fundamentally strong with effective cross-selling channels between its segments and is now well-positioned to benefit from Alberta's economic recovery. Valuation suggests an attractive mix of returns to investors through both capital gains upside and continued high-yield dividends.
Stock price was beaten down by recessionary economic conditions
The Alberta province's economy is heavily dependent on the energy industry, specifically oil and gas. Currently, it makes up 16% of the province's GDP. In the last quarter of 2014, the oil prices plunged steeply and consistently by 56% from USD90/bbl to USD40/bbl over 15-months: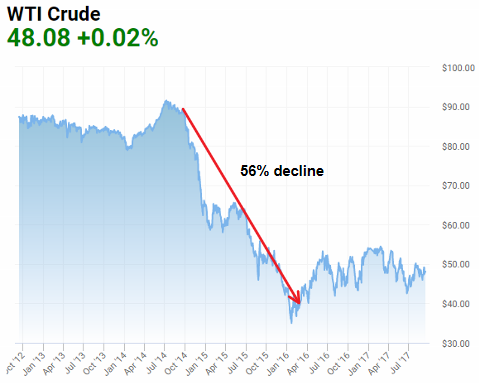 Source, prices in USD.
Over the same time frame, there was the same 56% decline in the natural gas prices from $4.5 MMBtu to $2 MMBtu: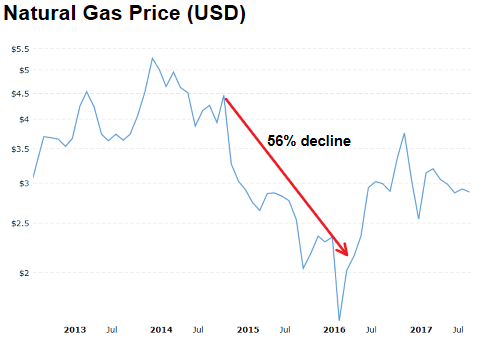 This sudden shock had a significant impact on the Alberta economy; real GDP fell from nearly 5% to -4% over the same 15-month time frame: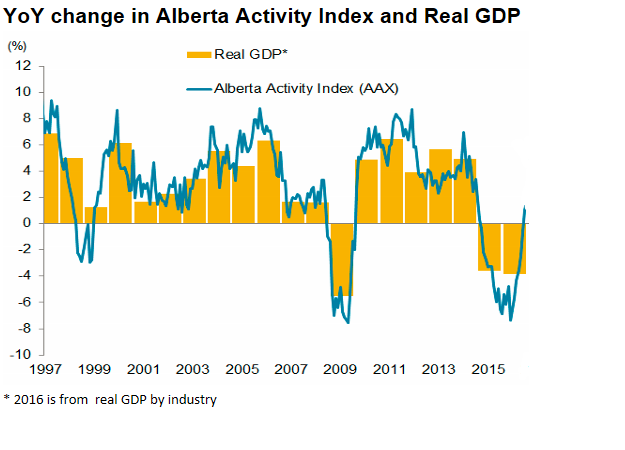 Source
Gamehost's share price fell by 45% in the same period without any other major fundamental driver coming into play, suggesting the stock movements' strong correlation with the Alberta economy.
Source --> Search for Gamehost Inc. chart
Now poised to reap the rewards of recovery and growth
According to ATB Financial's August 2017 economic outlook, Alberta is on the road to recovery. Annual Real GDP growth is forecasted to increase from 2016's -3.8% to 3.2% this year, with continued growth further on. Furthermore, the unemployment rate is expected to reduce from 2016's 8.1% to 6.8% in 2019.
Improvements in the economy as indicated by the real GDP growth rate can be a sign of increased consumer discretionary spending. Furthermore, decreases in the unemployment rate would lead to increased aggregate disposable incomes in Alberta, which widens the pool of money available for discretionary spending. Drilling down closer into the relevant sectors, the Canadian Hotels & Motels industry is expected to grow at a compound annual growth rate of 6.1% till 2020. The Canadian casinos and gaming industry is forecast to grow at a compound annual growth rate of 1.3% till 2020. Thus, Gamehost is well-positioned to reap the rewards from the economic recovery and growth in its business sectors, particularly in the hotel industry.
Key balance sheet and performance metrics
Note: The following information is derived from Yahoo Finance, Financial Times Markets data and the company's financial filings.
| | | |
| --- | --- | --- |
| Metric | Value | Commentary |
| Average annual dividend yield | 7.26% | Such high dividend yields even after a dividend cut (from an annual rate of 0.8796 to 0.69) during the low-point of a prolonged recession shows good defensive characteristics for this stock. The year-end dividend yield for 2016, when the dividend was cut was still high at 6.17%. |
| Dividend payout ratio | 68.66% | This high payout ratio means less money is being used by the company to fund further growth opportunities. But the attractive income yield characteristics provides more than enough compensation for investors. |
| Debt to equity (D/E) | 23.4% | Given the consistent profitability margins and returns to shareholders, this D/E is low and it is highly unlikely to pose any financial problems for the company. |
The following shows the company's remarkably strong and stable margins and return metrics even during times of economic decline (2014-2016 recession):
This is a visual representation of the key figures over the last 6 years: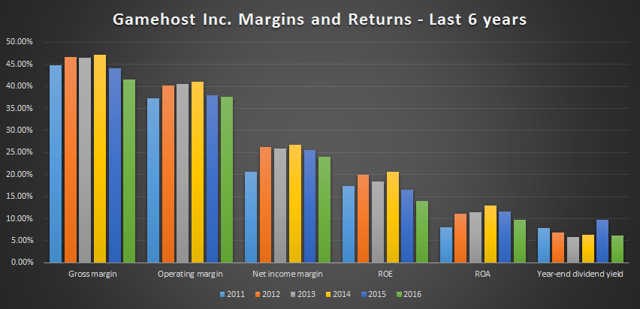 This is a visual representation of the averages for key figures over the last 6 years:

This is a table showing the exact values of key figures over the last 6 years:
| | | | | | | | |
| --- | --- | --- | --- | --- | --- | --- | --- |
| Metric | 2011 | 2012 | 2013 | 2014 | 2015 | 2016 | Average |
| Revenue | 71,990,000 | 76,600,000 | 77,600,000 | 83,700,000 | 77,400,000 | 67,300,000 | 75,765,000 |
| Gross margin | 44.73% | 46.61% | 46.52% | 47.19% | 44.06% | 41.60% | 45.12% |
| Operating margin | 37.26% | 40.21% | 40.46% | 41.10% | 37.98% | 37.59% | 39.10% |
| Net income margin | 20.64% | 26.24% | 25.90% | 26.76% | 25.58% | 24.07% | 24.87% |
| ROE | 17.32% | 19.92% | 18.39% | 20.59% | 16.62% | 13.93% | 17.80% |
| ROA | 8.06% | 11.06% | 11.43% | 12.90% | 11.64% | 9.72% | 10.80% |
| Annual dividend per share | 0.8796 | 0.8796 | 0.8796 | 0.8796 | 0.8796 | 0.6900 | 0.8480 |
| Year-end dividend yield | 7.82% | 6.93% | 5.91% | 6.33% | 9.70% | 6.17% | 7.14% |
| Conservative dividend yield - computed using all-time share price high of 17.25 | 5.10% | 5.10% | 5.10% | 5.10% | 5.10% | 4.00% | 4.92% |
Source: Company financials
Due to significant share price decline during the recession, the dividend yield may be a little overstated during this time. For this reason, an alternative conservative dividend yield calculation is presented, still showing a solid dividend yield close to 4% or 5%.
The annual dividend per share changed from 0.8796 in 2015 to 0.69 in 2016, which amounts to a decrease of 22%. This was during the period where the company hit its lowest share price point during the Alberta 2014-2016 recession. Since Gamehost is positioned to benefit from the expected economic recovery now, dividend per share is deemed to be unlikely to decline further.
All these metrics give this a company the quintessential profile of a high-yield dividend stock.
Attractive upside in valuation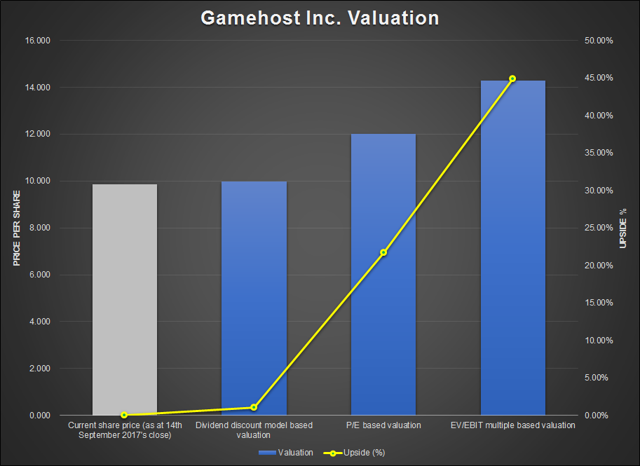 The valuation summary is presented here:
| | | | |
| --- | --- | --- | --- |
| Valuation methodology | Valuation | Upside (%) | Reward: Risk ratio |
| Current share price (as at 14th September 2017's close) | 9.860 | 0.00% | 0.0:1 |
| Dividend discount model based valuation | 9.965 | 1.07% | 0.1:1 |
| P/E based valuation | 12.000 | 21.70% | 1.2:1 |
| EV/EBIT multiple based valuation | 14.287 | 44.90% | 2.4:1 |
Here is a summary of the valuation approaches and key conservative assumptions:
Dividend discount model
This is a logical approach to value a dividend-stock such as Gamehost.
Annual dividends per share = 0.690, based on the current annual rate.
Cost of equity = 6.92%, based on the CAPM model.
Dividend growth rate = 0%. Since the company has decreased annual dividends per share from 0.8796 to 0.6900 in 2016 near the low-point of the recession in Alberta, no dividend growth is assumed for conservatism. Further declines in the dividend distribution is deemed to be highly unlikely since the company is probably going to benefit from economic recovery conditions now.
EV/EBIT multiple
An EV/EBIT multiple based valuation is done using multiples for the hotels and gaming industry. EV-based multiples are common use in industry to value a whole company. In this case, since a long-term horizon is considered, an EBIT-driven multiple instead of an EBITDA-driven multiple is used since the former takes into account the effects of depreciation, which is a real cost to the business, especially over the long-term.
Although the peer EV/EBIT multiple for companies in the hotels and gaming industry was 19.68x, this is scaled down to 15.00x to be conservative in the valuations and have a margin of safety.
A constant annual EBIT of 26.782 million is assumed for the company. This is driven off assumptions of 70m in annual revenues and 35% of operating margins. Both the revenue and operating margin figures are based on conservatively-adjusted last 5 year figures.
P/E multiple
A P/E multiple based valuation, one of the most common forms of quick valuation is also done to give some perspective on the valuations that many other participants in the market may use.
The Canadian market's Schiller P/E is used as it takes a more long-term, inflation-adjusted view of earnings, making it more suitable for the long-term horizon suggested for the Gamehost investment. The data source quoted 20.40x, but this has been scaled down to 16.00x to be conservative in the valuations and have a margin of safety.
Earnings per share (EPS) of 0.750 is used. This is based on the 5 year average for the diluted normalised EPS, which was 0.8146. Once again, this figure has been lowered to be conservative in the analysis.
Maximum downside level for risk-reward assessment
A maximum downside price target of 8.00 per share is assumed for calculation of the reward-risk ratios. This is based on the low point for the share price in January 2016 during the 2014-2016 recession. The company's fundamentals are judged to be highly unlikely to deteriorate to such levels again in a post-recession recovery environment.
For more detailed breakdowns of these valuations, please see the following spreadsheet: Gamehost_Inc._Valuation.xlsx.
Cross-selling of hotel and gaming offerings mitigate risks of online gaming growth
Currently, the company's gaming operations include table games, slot machines, video lottery terminals and lottery ticket outlets. This portfolio of offerings generally requires physical presence at a casino establishment. However, the general gambling games market is undergoing a shift towards a preference for gambling that occurs more through online and social games. This is a global phenomenon; the online gambling industry was forecast to grow at a compound annual growth rate of 10.81% since 2014.
However, Gamehost's strong cross-selling channels and casino property locations positions the business to mitigate the risks of general changes in gambling preferences.
The company's current property portfolio consists of the following:
| | | |
| --- | --- | --- |
| Location | Property | Commentary |
| Fort McMurray | Boomtown Casino | Only a casino property is owned in this area. |
| Calgary | Deerfoot Inn & Casino | Dual-business property, setting up an effective platform for integrated cross-selling across the hotel and casino entertainment businesses. In this situation, cross-selling helps obtain win-win outcomes for Gamehost and its customers. Gamehost benefits as it has more opportunities to gather revenue from multiple streams. Customers enjoy a more holistic and complementary experience. |
| Grande Prairie | | The hotel and casino properties are located just 2 minutes walk away, which again provides cross-selling opportunities. |
Source: Google Maps
For the Boomtown Casino in Fort McMurray, there are 5 hotel-type establishments within 5 minutes walking distance: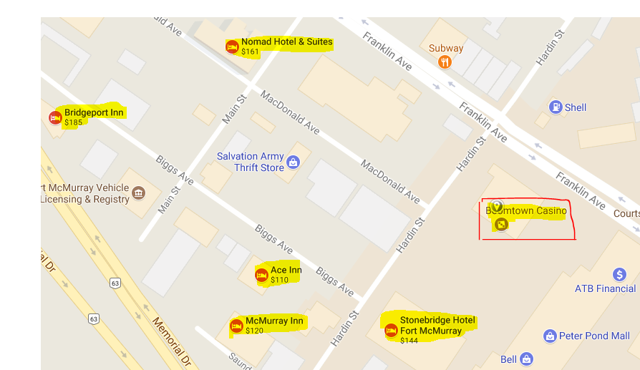 Source: Google Maps
Furthermore, Gamehost's Boomtown Casino is the only casino in the vicinity of these 5 hotels. This makes the casino property extremely well positioned to benefit from business acquired through hotel occupants since its food and casino entertainment offerings complement the hotel experience well. It is also reasonable to assume that hotel customers seeking entertainment would much rather go to the casino situated in their immediate hotel establishment or at most, a 5 minute walk away for their entertainment instead of opting for online casino gambling games.
Hence, the company is likely to avoid any serious deterioration of its top-line gaming business numbers. This is supported by the fact that although the global online gambling games market grew 310% from USD10.1 billion to USD41.4 billion during 2004-2015, Gamehost's revenues also grew 207% from CAD15.6 million to CAD47.9 million over this time: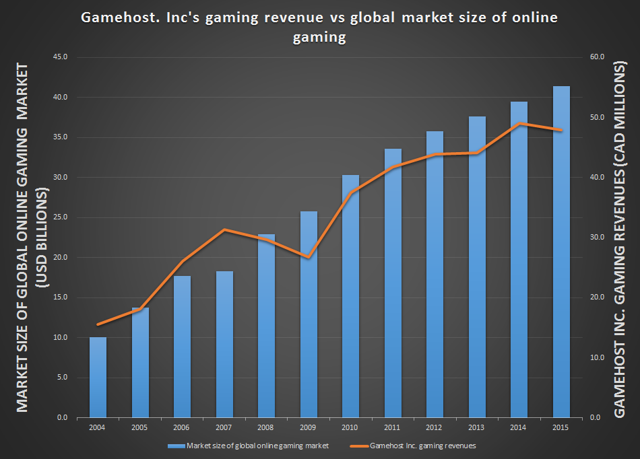 It is important to note that for most years, historical revenue growth has been obtained through organic means, which is generally more predictable and reliable than an acquisition-based growth strategy. The company did, however, increase its joint venture stake in Deerfoot Inn & Casino from 40% to 91% on 1st May 2010, which boosted revenues by 40%. But from 2010 to 2015, revenues have grown organically at a compound annual growth rate of 5%.
Altogether, due to the company's strong cross-selling channels that offer a complementary suite of entertainment experiences for hotel customers, the growth of online gaming is deemed to pose a low business risk for Gamehost Inc.
Buy-and-hold investment until fundamentals go awry
Due to its healthy balance sheet, robust performance margins and consistently high-yield dividends, currently, Gamehost Inc. seems to be an ideal candidate for a long-term buy-and-hold type of investment. As with any investment, when the fundamentals go awry, the initial thesis may no longer hold, prompting a requirement for a reevaluation of the investment.
Closing remarks
The analysis in this article shows Gamehost Inc. to be a business that provides its customers with a holistic suite of offerings that generate strong cross-selling opportunities. This competitive strength has translated to strong fundamentals with sustainable margins and continued high dividend yields. The recovery of Alberta's economy post-recession is a promising catalyst to propel the share price forward. Overall, Gamehost Inc. seems to be a promising dividend cash-cow set to ride an economic recovery!
Disclosure: I/we have no positions in any stocks mentioned, but may initiate a long position in GHIFF over the next 72 hours.
I wrote this article myself, and it expresses my own opinions. I am not receiving compensation for it (other than from Seeking Alpha). I have no business relationship with any company whose stock is mentioned in this article.
Editor's Note: This article discusses one or more securities that do not trade on a major U.S. exchange. Please be aware of the risks associated with these stocks.