Statistically speaking, we are currently in the worst month of the year. Since 1928, the S&P 500 declined on average 1.05% in September. The publication of this article in September is more a coincidence. It is rather the combination of many different other aspects making me particularly cautious right now. I have already expressed in articles in November 2016 and in March 2017 that I am a bit worried about current valuation levels and that it is not a good time to be fully invested.
I didn't change my mind for the past quarters and I still think we are in the final stages of the current bull market. Nevertheless, I see many different factors right now that make me particularly cautious about investing in the stock market and the possibility for a correction during the next weeks is high. It is not just the valuation that is still ridiculously high, but also the political turmoil, the latest statements of investors like Ray Dalio and Howard Marks and aspects of technical analysis that make me mostly stay on the sidelines. Once again, I will look at the US stock market – represented by the three major indices Nasdaq 100 (NYSEARCA: QQQ), the Dow Jones Industrial Average (NYSEARCA: DIA) and the S&P 500 (NYSEARCA: SPY).
1) Are stock markets overvalued?
We start our analysis by looking at some important valuation aspects. There are many different ways to look at the stock market and determine if it is time to invest or if current prices are maybe too high to buy stocks. As I already discussed these points at length in previous articles and the main arguments didn't change over the months, I will only give a quick recap and present the current numbers.
CAPE
We can find countless metrics to measure the current valuation of the stock market. One of the most accurate ways – in my opinion – is calculating a ten-year average of the P/E (as introduced by Ben Graham and made popular by Robert Shiller). The P/E 10 ratio is currently 30.0 and there have only been two times since 1870 where the same ratio has been even higher. In 1929, it was 32.6 and in the last months before March 2000 the ratio climbed as high as 44.2. We certainly all know what came after 1929 and 2000 – two of the worst declines (or crashes) in the last 100 years.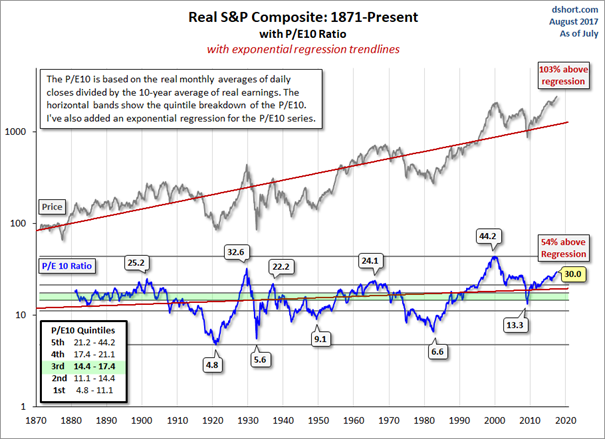 Market Cap to GDP
Another different, but quite similar way to look at the current valuation is by comparing the market cap to the GDP - a valuation metric that is often associated with Warren Buffett. The numbers are a little different, but the conclusion is the same: overvaluation. Since 1950, this ratio has only been higher during a few quarters in 1999 and 2000. And depending on what we use as numerator in the equation, we are quite close to the record levels of 1999 and 2000.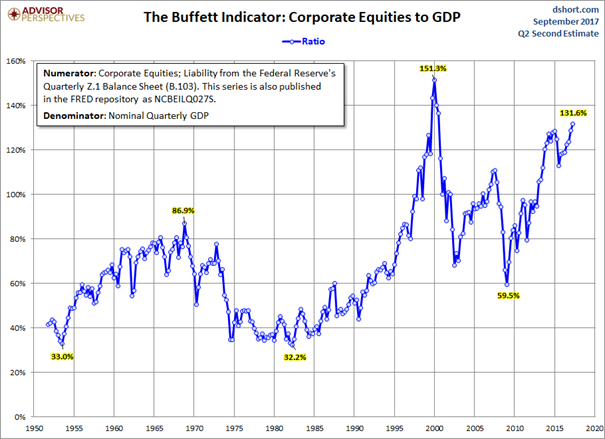 Margin Debt
The credit balance is as negative as it hasn't been since 1980. Although we don't see a contraction yet (as always at the beginning of a bear market), the extreme negative credit balance alone is reason enough to be cautious.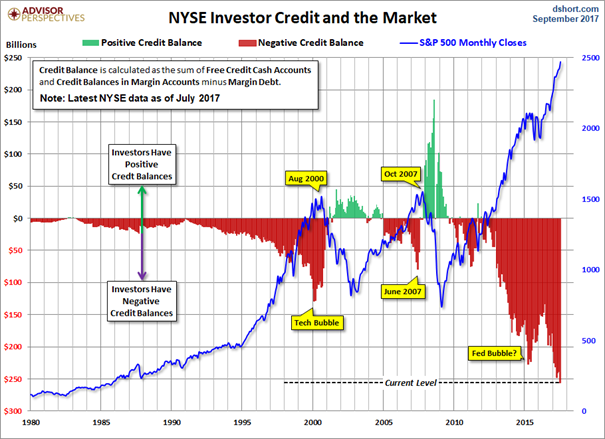 Like I said, I already covered these facts in other articles before and in my opinion the fundamental picture hasn't changed. Only the numbers (CAPE ratio, market cap to GDP ratio) get more and more extreme and we are in a territory where a correction is likely.
2) Famous investors are rather bearish
Although valuation is extremely high and has been at high levels for quite a few months, this by itself is no reason for a decline. But, high valuation levels could be a catalysator for declining stock prices if there are other facts like rising interest rates or political turmoil leading to fears about the future and the economic outlook. When thinking about the US stock market, I was similarly bearish in November 2016 as I am today. However, some investors I respect very much, were rather bullish after the election. As it turned out, they were right. At least in the short term. But in the last few weeks we could witness something like a sentiment change in their writing as they articulated different warnings, that the stock market is overvalued and probably in a bubble and therefore recommended to reduce risk.
One of those investors is Howard Marks from Oaktree. His memo "There They Go Again…Again" has a bearish sentiment surrounding it and by quoting his own memos from times where the stock market was heading towards a bubble, Marks draws a clear comparison to 2000 and 2007. His list of risks and reasons why investors should be cautious right now is long:
Uncertainties are unusual in terms of number, scale and insolubility
Asset prices are high across the board
Risks due to passive investing in ETFs and the hype around FA(NYSE:A)NG stocks
High credit levels and the emerging market debt
Pro-risk behavior seems to be commonplace
Marks also quotes many of the same valuation metrics, I mentioned above. But according to Marks it is not the already mentioned risks, most of us can see anyway, but a completely different aspect.
[M]ost people can't think of what might cause trouble any time soon. But it's precisely when people can't see what it is that could make things turn down that risk is highest, since they tend not to price in risks they can't see."
Howard Marks sees four different components – high uncertainty, low prospective returns, high prices and pro-risk behavior – that generate a ticking time-bomb and can cause a steep correction in the near future.
A few days ago, Robert Shiller stated in an interview not only that Bitcoin is the classic example of a bubble, but also explained why the market is overvalued. When asked, Shiller pointed out that he is not just using the CAPE ratio, which he is famous for (see above), but also the valuation confidence index. Like the CAPE ratio has only been higher in 1932 and 1999, the valuation confidence index was also only lower in 1999 (data available since 1989).
Another investor that was rather bullish in November 2016 and turned bearish in his writing in August is Ray Dalio, the head of Bridgewater. In an article published in November 2016 on LinkedIn, Dalio sounded rather bullish but is now very cautious and looking out to protect Bridgewater from risk and volatility: "As a rule, periods of lower risk/volatility tend to lead to periods of greater risk/volatility." The 5-year rolling global asset volatility is as low as it hasn't been since the 1960s:
For example, low-volatility periods in which credit is readily available tend to lead people to assume that it's safe to borrow more, which leads them to lever up their positions, which contributes to greater volatility and hurts them when things change."
In my opinion, what Dalio and Marks are trying to say is simple to be prepared if volatility increases and in case the stock market turns bearish, but none of them is stating when this day might come.
3) Contra-Indicator: Gold
Ray Dalio also mentions gold (NYSEARCA: GLD) in his article and like James Rickards, who recommends that 10% of a portfolio should be physical gold, Dalio has a similar recommendation:
We can also say that if the above things go badly, it would seem that gold (more than other safe-haven assets like the dollar, yen, and treasuries) would benefit, so if you don't have 5-10% of your assets in gold as a hedge, we'd suggest that you relook at this" (Ray Dalio)
While many indices and stocks are positive correlated (if stocks in the United States rise, stocks in Germany, France or Japan often rise in a similar way), gold seems to be inversely correlated to the major indices. However, the correlation is certainly not perfect and for example during the stock market decline in 2000 as well as in 2007 and 2008, gold often declined side by side with stocks. But during the bull markets from 1990 till 2000 or during the last bull market since 2011, the gold price declined while stocks were bullish.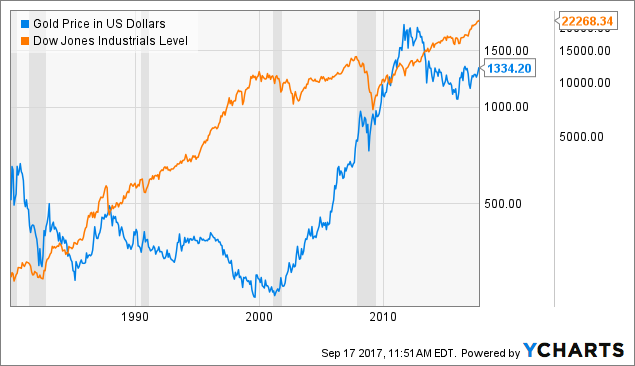 Gold Price in US Dollars data by YCharts
No matter how the correlation really is, gold is often perceived as a safe haven in times of trouble. When risks and uncertainties are high and investors fear high volatility or a bear market in stocks, they might rather consider buying gold as kind of an insurance for their portfolio. For the last few weeks, gold has not just been climbing over 10%, but uncertainties and political as well as economic risks seem to be as high as they haven't been for a long time. The United States being a deeply divided country, riots in Charlottesville or the tensions between the United States and North Korea are only a few of the developments right now that might concern investors as well as everybody else.
It would be wrong to assume that a rising gold price has to draw the stock market down automatically, but it could be viewed as an indicator that investors see rising uncertainties and increased risks and maybe start to shift their investments which might lead to declining stock prices. Rising gold prices are a little hint, that stocks could decline – no more, no less.
4) Technical Analysis
From a technical point of view, there is certainly no proof, that the major indices have to decline in the coming weeks, but there are a few indications:
Since November 2016, the S&P 500 as well as the Dow Jones have been nowhere near their 200-day exponential and/or simple moving average. The S&P 500 is currently also 61.8% above the 200 months exponential moving average; the Dow Jones is currently 61.6% above its 200 months exponential moving average.
Since the lows during election day, the S&P 500 has gained 18.6% without any major correction and we know stocks don't rise forever.
If we look at the short-term fluctuations, we can see that since the beginning of the current bull market in 2009, the S&P 500 has regularly been 6-7% off former highs, but since summer 2016 there has been no correction drawing down the index more than about 3.5% off its former highs. Of course, this is no argument for a correction or sell-off, but it is at least a small anomaly that doesn't happen too often (period of low volatility as Dalio points out).
5) Rising interest rates
In February 2017 Warren Buffett said that the market still looks cheap: Measured against interest rates, stocks actually are on the cheap side compared to historic valuations. Despite that statement, Buffett and Munger seem to have troubles to find companies worth investing in or why else are they sitting on $100 billion in cash? And Buffett went on in the interview: "But the risk always is interest rates going up, and that brings stocks down."
One piece of information, that doesn't match the rest of the article is the reported GDP growth rate of 3.0% indicating a flourishing US industry. But what sounds like good news at first could be dangerous for the US stock markets, because a growing US industry is just the reason the Fed needs to justify further rate hikes in the coming months (and they might even increase the number of hikes in 2018). According to the CAPE ratio, the average stock market yield is 3.33% and hence only a little more than 1% higher compared to the 10-year treasury yield. It would only take four additional rate hikes (a realistic scenario for the next 12 months) and the 10-year treasury yield will be about as high as the average stock market yield. And despite irrational behavior of people, investors should stop investing in the much riskier stock market as soon as the safer bonds have a similar yield, because additional risk is not rewarded by a higher return. During the Dotcom bubble, we could witness that investors sometimes don't care about that particular anomaly and accept higher risk of stocks for the "reward" of a lower yield than bonds. However, as investor I would not count on such anomalies once again, because they happen very seldom and maybe only once in a lifetime (at least for one asset class).
Conclusion
In my opinion, the overall picture hasn't changed over the last quarters: the US stock market is overvalued and current valuation doesn't reflect the growth opportunities of companies in the United States any more. It also seems, that the Trump euphoria that pushed the S&P 500 as well as the Dow Jones about 20% higher in just a few months is finally gone. All the different aspects like rising interest rates, political uncertainties and high valuations are nothing less than a very dangerous cocktail for investors.
If we are just confronted with each aspect individually, it is usually not dramatic. If interest rates are extremely low, investors can tolerate higher valuation levels as long as equities have higher return rates than bonds or similar asset classes and investors are rewarded by higher return and therefore accept higher risk. If uncertainty is high because of political or economic problems, investors still might invest in equities if they are valued attractively and high return rates once again will compensate the risk. This was the case in 2009 or in 1932 when uncertainties were still high, but smart investors were buying nevertheless because of the extremely attractive valuation. Right now, we have a hard time to come up with good reasons why investors should buy the next dip in the stock market. Interest rates are rising and probably will continue to rise and the stock market will only offer a return that is slightly higher than the return of much safer bonds and we are faced with risks like political turmoil or extremely high debt levels.
Although I am still buying stocks when I find a bargain and I also have recommended single stocks as attractive during the last months, I am holding back cash because I like to wait for better buying opportunities. Maybe I am still too early and this bull market will go on, but I would like to finish with another Howard Marks quote:
I think it's better to turn cautious too soon (and thus underperform for a while) rather than too late, after the downslide has begun, making it hard to trim risk, achieve exits and cut losses."
Disclosure: I/we have no positions in any stocks mentioned, and no plans to initiate any positions within the next 72 hours.
I wrote this article myself, and it expresses my own opinions. I am not receiving compensation for it (other than from Seeking Alpha). I have no business relationship with any company whose stock is mentioned in this article.
Additional disclosure: If not stated otherwise, all charts are taken from https://www.advisorperspectives.com. I also have no positions in the mentioned securities, but I own physical gold as well as certificates profiting of rising gold prices as well as factor certificates shorting the Dow Jones Industrial Average.