Business Overview
Landstar System (NASDAQ:LSTR) is a worldwide asset-light provider of integrated transportation management solutions. By integrating connections between shippers, agents and business contract operators, Landstar serves as the Amazon of freight. Currently, Landstar's customers include 25,000 freight owners. These shippers are serviced by 1,200 independent agents responsible for sourcing freight and capturing 8% commissions. Once freight has been identified, carriers exclusive to Landstar (BCOs) and independent truckers (TCOs) ultimately transport hauls to their final destinations (receiving 65-75% commissions). A 5% segment of revenue is also dedicated to intermodal transport through rail, air and ocean.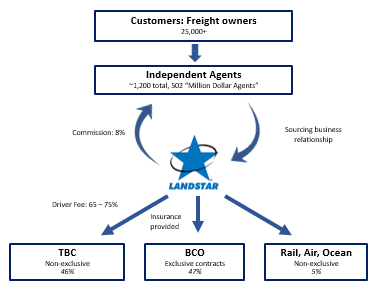 Industry Overview
Over 10 billion tons are hauled annually, representing 70 percent of value of all US commercial freight activity. At the top of the industry stack, commodities such as food, chemicals, machinery, etc. are transported by over 51,400 merchant ships trading internationally. An anticipated 2.1% CAGR in consumer spending and 1.8% CAGR in industrial production to 2020 should provide strong support for continued freight volumes. Once arriving at US ports, freight is transported by about 110,000 for-hire carriers and 350,000 independent owner-operators with combined annual revenue of nearly $200 billion. The market remains highly fragmented: the 50 largest companies account for less than 30 percent of the market. Including private carriers, the US truck fleet is comprised of nearly 6 million single-unit trucks and 2 million tractor-trailers.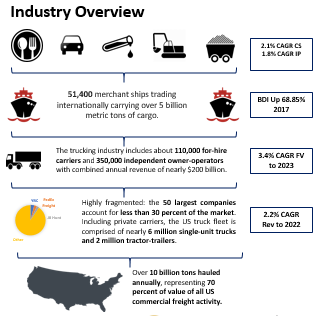 Market Mispricing and Investment Theses
1. The market's fundamental misunderstanding of the economies of scale supposedly accessed by asset-heavy companies has led to a discount for more efficient asset-lite peers.
Contrary to sell-side opinion, increasing fleet size doesn't automatically translate into lower costs in asset-based truckload shipping. This is why Swift (NYSE:KNX) and Schneider (NYSE:SNDR) have struggled to access scale economies, while smaller competitors such as Knight and Heartland Express compel more efficient operating margins. By definition a truckload carrier can't boost route density by adding more customers - a full trailer hauls a load from point A to point B for one customer at a time. As a result, asset-heavy companies struggle to earn out earn their cost of capital. Meanwhile, asset-lite peers average an ROIC ~7% higher than capital-intensive competitors. Furthermore, asset-lite carriers avoid the extensive capital expenditures needed to service owned trucks (replace trucks every 8 years, or 500K miles). These advantages lead to 2.5% lower operating leverage, as serving is passed down to BCOs.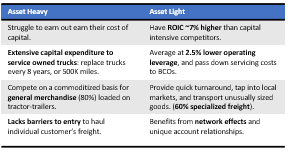 2. Landstar's value-add to all parties in the freight process propels unique client relationships and industry-leading ROCE of 30% and ROFE of 70%.
Landstar's customer base of 30,000+ shippers covers ~60% of international merchant ships. Hence, the company's significant buying power allows shippers to procure capacity at lower rates. With 502 "Million Dollar Agents" averaging $5 million in revenue, Landstar is able to offer smaller shippers a level of service typically only available to larger shippers. The street's widespread view of the trucking as a commoditized industry overlooks the service differentiates available to 3PL companies. If Landstar's agents increased average customer connections by 10 additional shippers, the company would access 80% of shippers worldwide. Finally, its 8,900+ BCO and 29,700 active TBCs are offered massive flexibility, as they are able to choose their own loads, while accessing discounts on equipment, fuel and tires. While the sell side is concerned about upcoming ELD regulation, which is set to exacerbate the 45K driver shortage to 175K, Landstar's retention of available drivers will mitigate labor difficulties. With a turnover of 25% compared to 100% for asset-based trucking companies, Landstar's platform offers unique opportunities for avoiding labor market softness, while benefitting from tightened capacity.

3. Attractive end markets and unique flatbed exposure provide excellent secular tailwind and highlight flexibility.
Landstar is uniquely exposed to flatbed freight, with 33% of revenue comes from specialized loads. With the flatbed market's load-to-truck ratio 170% higher than 2016 at 30x, it is one of the only firms to benefit from the industry's highest upswing in 5 years. The market is currently overlooking the structural improvement in flatbed volumes by separating demand drivers of flatbed trucking into three key areas. In Texas, liquid natural gas growth at a 3.4% CAGR to 2020 is expected to boost trucking demand. On the West Coast, housing prices have increased 15% y/y, with nearly a million houses expected to be constructed by 2020. Finally, on the East Coast, increases in importation of electric vehicles (39% CAGR to 1 million 2017) and 20% increases in automobile sales is expected to drive freight. However, Landstar's flexibility as a 3PL provider will allow it to subcontract carriers in every single market. No other firm can take three disparate macroeconomic tailwinds and unify them into one structural opportunity.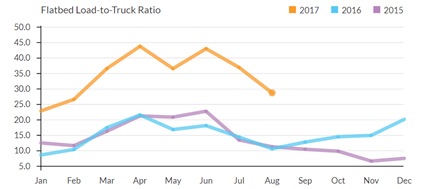 4. Key takeaway: LSTR benefits disproportionately from cyclical upswing and has limited downside during cyclical downturns.
Spot market loads are up 100% year to date, and spot market capacity has fallen 1.0% across vans, reefers and flatbeds. Landstar is primed to benefit from price dispersion of 30% from Philadelphia to Chicago, again due to its ability to deploy drivers in areas of peaking demand. As a result, the company continues to benefit from cyclical upswings due to low driver churn and limited additional capital requirements. With 90% of truck capacity belonging to independent owners, Landstar is able to quickly increase market share through driver subcontracting. Nevertheless, while the Street is engrossed by the Pollyanna conditions of the industry as a means of lifting all boats, we are still evaluating trucking. This means the cyclicality of the industry must be considered. Unlike other asset-heavy carriers, LSTR will not have idle vehicles/fixed assets in downturns. It leverages lower S&GA costs, as agents are only paid if they bring in revenue over employee-based model. When freight volumes reached a 10-year low in 2009, LSTR averaged operating margins of 34.5%, compared to the asset-heavy average of 8%. Driver churn also fell to 25% in 2008-2009 conditions, demonstrating continued employee loyalty and resilience. As a result, Landstar's EBITDA to FCF conversion is double that of asset-lite peers due to substantial network effects. While the current conditions of the trucking industry are indeed favorable, Landstar is thoroughly insulated from future cyclical downturns.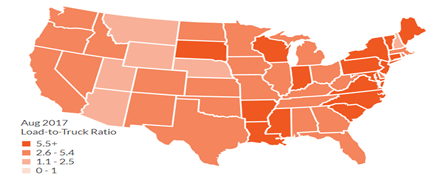 Source: DAT
Valuation
Management has a track record of distributing excess cash through dividends or share buybacks. Our model assumes a conservative assumption of a reduction of 8% of shares by 2022. We think the cash-generative potential of the business for buybacks is not completely priced in by the Street, and it boosts Landstar's earnings power. As the stock has run up a lot recently, the valuation is a little stretched. However, given LSTR's strong balance sheet, its ability to compound earnings, the ability to ride out cycles, and high FCF generating potential, we think it can still make a good buy and hold candidate.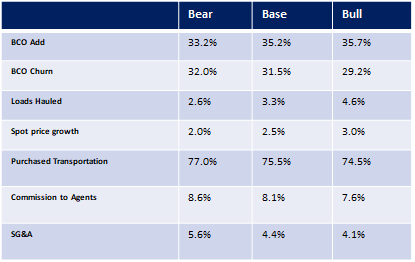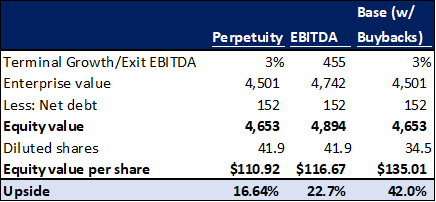 Catalysts
ELD Implementation: ELD implementation in December requires limits on driving time daily/weekly. This tightens truck capacity, as it reduces the supply of drivers, which will drive up spot rates and therefore LSTR's revenue. Smaller truckload brokerage operators will have more difficulty in meeting customer demand, which could lead to an influx of business for the company. When HOS was first implemented in 2013, there was a 5% reduction in industry capacity, and higher truck rates were realized in 2-3 quarters.
Hurricane Harvey and Irma: Given historical precedence, LSTR stock reacts positively when a hurricane occurs in the U.S. To remove debris and transport supplies for rebuilding and recovery efforts, additional flatbed capacity is needed. Hurricane Harvey has disrupted trucks' travel to Houston (the #1 source of loads for flatbeds because of the oil & gas industry). With greater than 6 states needing to be re-supplied through different directions, LSTR's flexibility will find perfect opportunity. On average, the stock price appreciates by 12.4% in the two months following a hurricane. In 2005, post Hurricane Katrina, truck tonnage growth accelerated to above +3% yoy, versus +1% yoy prior to Katrina.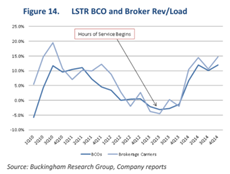 Risks
The country's 100 largest metropolitan areas drive national goods trade, with more than 80 percent of all goods ($16.2 trillion) either starting or ending in these areas. China, Japan, Mexico and Canada alone account for more than half of all U.S. international trade ($1.6 trillion, or 53.4 percent) and increase US reliance on international economic welfare. Disruptions to either entity will drive massive supply chain disruptions and difficulty in organizing freight transport.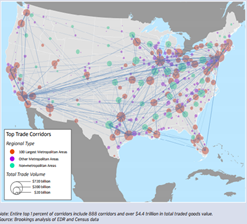 Mitigant: Shift of labor-intensive manufacturing to low-cost centers in Asia, Mexico and other emerging markets will result in increased demand from ports, necessitating that goods be shipped to US manufacturing and consumption centers. Furthermore, with LSTR's 3PL model, disruptions in any key supply chain can be quickly addressed through fill-ins with new independent contractors. The response time of asset-heavy companies will be far more constrained.
During the past decade, large industry operators have acquired companies in related industries to provide more value-added services, such as warehousing, packaging and logistics. Schneider and Swift pose increased competition in the 3PL space.
Mitigant: Capital-intensive providers may incorporate logistics platforms but will not cannibalize proprietary fleet. In 2017, for every dollar industry players spend on labor, only an estimated $0.13 will be spent on capital. This low level of capital intensity allows low barriers to entry to persist. The number of industry enterprises is projected to grow at an annualized rate of 1.0% to 225,721 by 2020 as retailers outsource logistics operations.
Co-written by Clifford Yeo and Anni Zhang of The Wharton School.

Disclosure: I/we have no positions in any stocks mentioned, and no plans to initiate any positions within the next 72 hours.
I wrote this article myself, and it expresses my own opinions. I am not receiving compensation for it (other than from Seeking Alpha). I have no business relationship with any company whose stock is mentioned in this article.