Visa (NYSE:V) has been a tremendously successful stock since it came public several years ago. The company's success allowed it to be debt-free for many years, but recently, it dipped its toe in the debt market to fund its acquisition of Visa Europe. That transaction immediately took Visa from a self-financed company to one that relies on a decent amount of debt, and that has not changed in the time since the purchase occurred. But what impact has that had on Visa's earnings and its ability to take on more debt in the future, if needed?
To find the answers to those questions, I'll be using data from Seeking Alpha.
We'll begin with a look at the company's short- and long-term debt, in addition to the interest expense associated with those items for the past five years and an estimate for this fiscal year, which is nearly complete.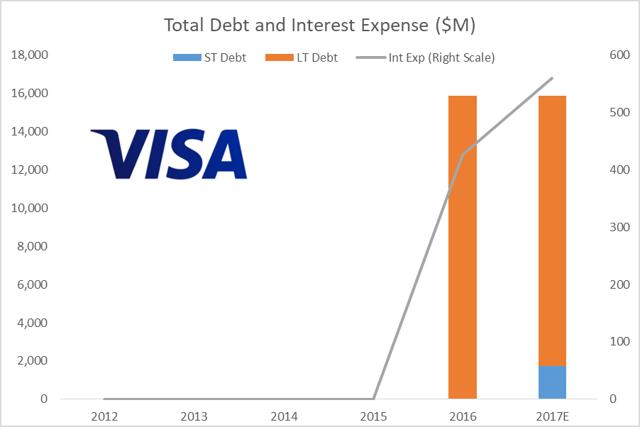 Ordinarily, I wouldn't leave a bunch of blank spaces in the chart, but in this case, I did it intentionally to show the major change Visa went through with its capital structure to buy Visa Europe. This is not a company that had $15 billion lying around that it could throw at the transaction, so apart from a highly dilutive stock offering, debt was the only viable option. Visa issued over $15 billion in debt in conjunction with the transaction, and some of that has since moved into short-term debt because it is coming due. The total is almost exactly the same now as it was at the end of 2016, but the composition is very slightly different.
The total level of debt remains at just under $16 billion, and I suspect we'll see Visa pay off these debts as they come due rather than refinance them, but given the varied schedule of maturity the debt is on and other things management may have in the works, we'll just have to wait and see. But the company produces billions of dollars in FCF every year, and its dividend is meaninglessly small, so that isn't where the money goes. That does, however, free up cash to pay down debt as it comes due, so that's my base case.
What does this have to do with the stock? Apart from signaling a change in management's willingness to go to the capital markets for funding, which would come in handy if Visa were to make any other large acquisitions going forward, it has a very real and tangible impact on the company's earnings each year. Below I've charted the percentage of operating income that Visa is consuming with interest expense to get an idea of how onerous its debt pile is at this point.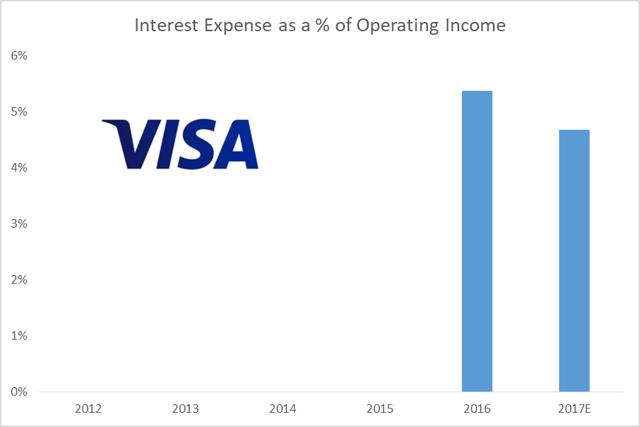 In short, the answer is "not very," as Visa's operating income is twenty times the size of its interest expense obligation. And with its earnings trajectory looking up, up and up some more, I expect the metric depicted above will continue to move in the right direction irrespective of whether or not the company pays down its debt, refinances it when it comes due, or some combination of the two.
Five percent of operating earnings is a real drag on net income so I don't want to downplay the change in Visa's capital structure strategy. However, I do want to stress that given it has no reason to issue more debt right now - none that are publicly known, anyway - and that its operating income will almost certainly continue to grow over time, the burden on its earnings should dwindle over time. That's a very good place to be, because leveraging down interest expense means the net income margins should have a nice tailwind at their back going forward, as if Visa needs any help with that. That should support slightly higher EPS growth rates in the coming years, given that interest expense as a percentage of revenue should dwindle.
Apart from rising margins due to a lower interest expense burden over time, Visa has the ability to issue more debt, if it so chooses, in order to buy back more stock. It already buys billions of dollars of stock each year, but according to this data, it could easily double its current ~$15 billion allotment of debt and be under 10% of operating income in terms of associated interest expense. I'm a bit surprised management hasn't gone this route, because that would allow it to do a very quick 6% or so of the float and more than offset the increase in interest expense as a percentage of operating earnings. In addition, the company's strong FCF would allow it to pay down the debt over time, so it would essentially be bringing FCF forward for a very low rate of interest. That's extremely attractive, and given the reasonable valuation of the stock, it seems a fairly straightforward decision, but thus far it hasn't happened.
Regardless of whether or not management goes this route, Visa's rising earnings and FCF will allow margins to rise over time as interest expense is leveraged down and for its debt pile to be reduced. Both of those things will produce a small but meaningful tailwind for earnings over time, and while those potential gains would be reversed via a debt-financed accelerated buyback, low funding rates would allow the gain from a lower float to more than offset the additional interest expense. In other words, Visa's capital structure is a source of strength right now regardless of which direction management goes with it in the future, and that is one more reason to like the stock. The bias for net income margins is up as the company gradually reduces its financing costs over time, and that's a tailwind for the stock.
Disclosure: I/we have no positions in any stocks mentioned, and no plans to initiate any positions within the next 72 hours. I wrote this article myself, and it expresses my own opinions. I am not receiving compensation for it (other than from Seeking Alpha). I have no business relationship with any company whose stock is mentioned in this article.