WTI prices have not made headlines for a long while, which may be construed as a positive, considering prices were appearing in the media circus for all the wrong reasons when WTI tumbled from $100/bbl to lows of $20/bbl between 2014 to 2016.
Right now, WTI prices have been consolidating between $40/bbl to $55/bbl, a relatively tight range, for about a year. This is a pretty long period of time and should be perceived as a positive for the instrument. Perhaps the once-falling knife has met with some friction on the way down, and should WTI prices manage to break above this range, we could revisit much higher prices in a hurry.
Fundamentally, WTI prices could benefit from the tailwind of a weaker USD, due to the inverse relationship between both instruments. Commodity-linked forex pairs, such as the AUD, NZD and CAD, have all outperformed against the greenback, with the Canadian Bank recently embarking on a rate hike programme to reverse the rate cuts employed to deal with sliding oil prices. Their confidence in Canada's oil-dependent economy doing well should be noted.
OPEC members have also gone far in giving WTI prices a helping hand higher. Saudi Arabia has toned down on its infamous antics in the past, which indicated it previously prized market share over higher commodity prices. The influential oil producer has played a key role in getting OPEC members to agree on production cuts in the past few months, which have helped steady WTI prices.
On a more macro level, recovering WTI prices may be part of a larger-scale global commodity recovery. Copper has rallied approximately 20% this year, while iron ore prices have enjoyed circa 30% gains from their trough in June this year. These are risk-on commodities that tend to reflect a recovering global economy. WTI prices finally breaking $55/bbl may not be a misfit in this set-up.
From a technical perspective, looking at the weekly chart of WTI below, we see the aforementioned $40-55/bbl range that price action has been trapped in. WTI has been late to the global commodity recovery party, and I am looking for the $55/bbl resistance to at least be tested from current levels of $49/bbl.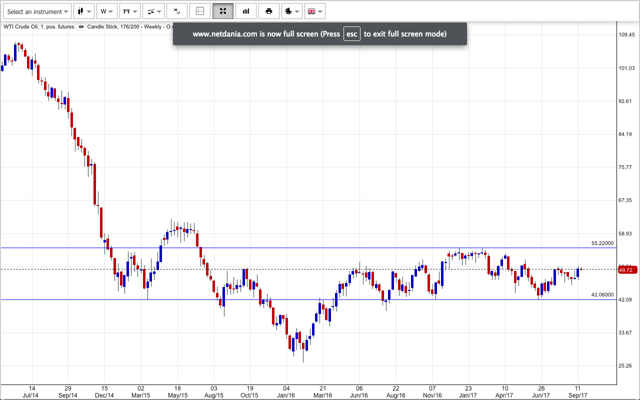 How can investors participate in a potential oil price rally? One way is to purchase the Energy Select Sector SPDR ETF (NYSEARCA:XLE), which would allow one to gain exposure to a diversified portfolio of oil players. According to Bloomberg, the current dividend yield of this ETF stands at 5.25%, which gives investors a good yield. One can also imagine that oil players may raise their dividend, should WTI prices continue to consolidate or drift higher.
In addition, the YTD return on this ETF is -10%, which indicates that this selection of stocks may be a laggard in the overall equity rally thus far. Hence, there may be good potential for this ETF to outperform the overall market going forward. Purchasing this ETF at current levels would mean buying it near the 5-year low as well, as seen from the chart below.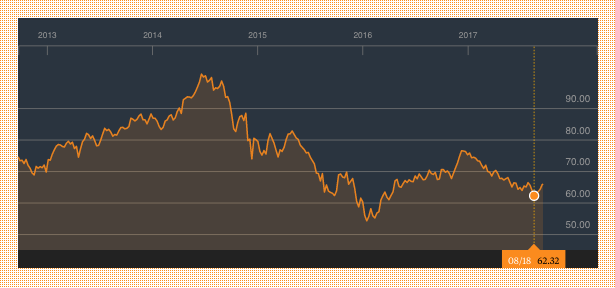 Overall, there are good reasons to believe an oil rally may be in store, in line with the broad commodity recovery that we are witnessing thus far. Oil players have been laggards versus the broad equity market as well, and long-term investors can consider buying XLE to gain exposure to a diversified basket of oil counters.
Disclosure: I/we have no positions in any stocks mentioned, and no plans to initiate any positions within the next 72 hours.
I wrote this article myself, and it expresses my own opinions. I am not receiving compensation for it (other than from Seeking Alpha). I have no business relationship with any company whose stock is mentioned in this article.