Traders have had to wade through a choppy range the past few weeks as the S&P-500 (SPY) tried to make up its mind as to where it wanted to go. Meanwhile, there have been several growth names that continue to power to new highs ahead of the market. One of the stocks that recently fell onto my lap from my growth scans is Hooker Furniture (HOFT). The company has a growth rate of nearly 30% over the past 3 years and is seeing growth accelerate over the past year. Despite a growth rate that is better than 99% of other NYSE stocks, the company's current P/E ratio is in line with the general market. The company once again surprised on the recent earnings report and broke out to new 3-month highs. Not only is the company undervalued but it's also now got some momentum behind it as it tries to press for new highs.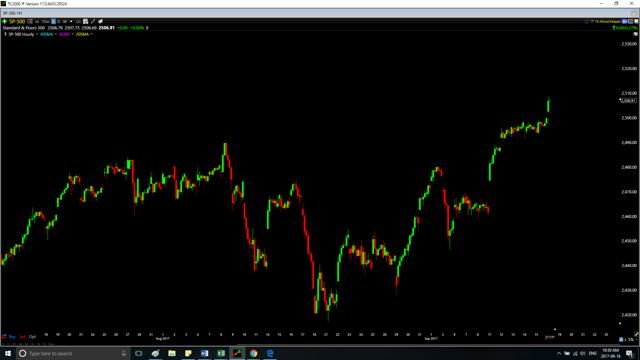 During market lulls like the one we've seen recently, I try to buy stocks that have been leaders this year and are making new highs ahead of the market. The idea behind this is that I do not want to buy a stock that's trading in line or is weaker than the general market when the market itself is not doing much. This is not going to accomplish anything whatsoever. The goal is to buy a stock that is making new highs ahead of the market (and therefore does not require market strength to advance further), as this tells me that no matter what the market does I should out-perform in that stock. I always embrace corrections like this as the number of names appearing on growth scans thins out considerably which really helps one zero in on leading names. It also allows one to pick up great bargains in some cases.
In an interview with Jack Schwager David Ryan once explained this:
Jack Schwager: "What would cause a stock to just sit despite very good earnings?
David Ryan: "The broad stock market may be weak and holding back the stock, but once the weight of the market comes off, these stocks just go right through the roof.
What Ryan is saying above is that stock market corrections are actually a gift as often stocks that would have otherwise gone up 15-20% on earnings may have only gone up 5-10% in a bad market. This allows traders or investors to accumulate the stock at an attractive valuation despite earnings already being on the table.
The most recent candidate that showed up on my main growth scan was Hooker Furniture, a US furniture company with a market cap just over $550 million. The stock reported another impressive increase in EPS as it showed a 46% gain year over year ($0.67 Q2 2017 vs. $0.46 July 2016). The stock also managed to rally 10% on the news which was a very positive sign. More important than the numbers themselves, I want to see how a market reacts to certain news. If a stock is up 100% this year but can't rally on great news and a strong earnings beat, that can often be a red flag. Conversely, if a stock advances nicely on good earnings after establishing a base pre-earnings, that's typically a green light for a new position. To judge this I am using the close the day after earnings are reported, not what the initial print is after-hours with an after-hours market release. We can see below the gap in the chart with Hooker's earnings advance and breakout from its 3-month consolidation.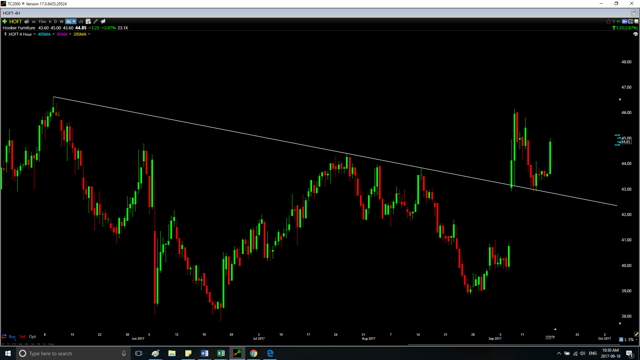 So why Hooker Furniture of all stocks? The company has been on my radar the past few months after posting EPS growth of 150%, 86% and 46% the past 3 quarters. To put this in perspective, market darling YY Inc. (YY) has seen 30%, 97% and 53% EPS growth the past 3 quarters, shy of Hooker Furniture's numbers. Due to a smaller following and market capitalization as well as less liquidity, I would guess that no one reading this has heard of HOFT but a fair amount of people have heard of YY. Coupled with strong earnings growth, the company has seen sales increase from an average of $60 million per quarter in 2015, to over $150 million per quarter for the past year.
In addition to strong fundamentals, the stock has set up nicely the past few months in a bull flag. These consolidation periods are the best risk/reward time to enter growth stocks in my opinion as they offer cleaner entries with more defined risk. As we can see, Hooker Furniture is emerging above this mini-base and has the potential to make a new all-time high monthly close for September.
The company's 5-year average P/E range is 14-25, therefore despite growth rates within the highest 1% of NYSE companies, Hooker is trading at the lower end of its 5-year P/E ratio.
Looking at the below chart we can see my entry in the stock last week at $44.90. The stock has broken out above 3-month consolidation area and thus far is holding the gap fill. As long as price does not violate the 200-day moving average on a close or the swing lows near $38.00 by more than a couple percent, I plan to stay long. My initial stop on the position is below $37.40 on a daily close.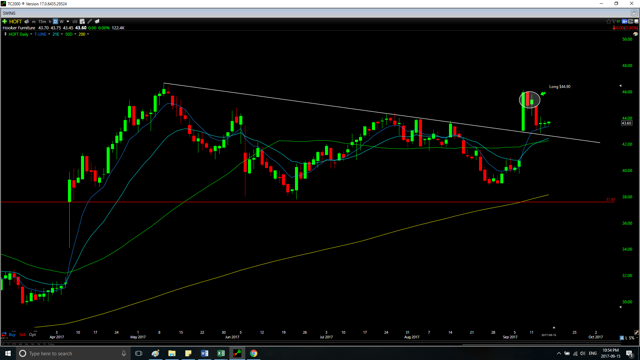 So what if I am wrong?
As mentioned above, I have a stop for the position and will gladly head for the exits if the stock breaks down. Being wrong is not a problem; it's losing more when you're wrong than you make when you're right. Based on the stop being just over 15% from my entry at $44.90, I have sized this position small at less than $3,000 of my roughly $100,000 portfolio in US equities. I never want to risk more than 1% of my total portfolio on any one trade. Using a portfolio size of 3% and a risk of 16%, the total risk to the portfolio if this trade is a loser is roughly 0.50% or $480 on a $100,000 portfolio.
Hooker Furniture is one of the top-ranked growth companies in the market but seems to be under the radar due to being a small-cap and having lower liquidity than some of its peers. The stock has broken out to new 3-month highs recently and I've gone long at $44.90 with a 3% portfolio size. There are no guarantees in the market but any time I can buy a company that is within the top 1% of NYSE companies based on earnings growth at a price tag of less than the S&P-500's current P/E ratio I am very interested. The fact that earnings are accelerating recently, the company is making acquisitions, and the company has a very low float (11 million shares outstanding) are all cherries on top.
Disclosure: I am/we are long HOFT, SPY, FIZZ.
I wrote this article myself, and it expresses my own opinions. I am not receiving compensation for it (other than from Seeking Alpha). I have no business relationship with any company whose stock is mentioned in this article.