First things first: An IPO that trades down after launching should not be considered a failed IPO. In fact, it's the opposite. Despite conventional wisdom and the fact that most companies would like to see a Day 1 "pop" for psychological reasons, that immediate uptick in stock price means the company left money on the table.
YogaWorks (NASDAQ: YOGA) is one of few companies this year (in fact, ever) to go public and not see that Day 1 pop - which is unfortunate for holders of the stock, but also means it received the maximum amount of proceeds possible from the offering. An IPO is a once-in-a-lifetime event; might as well squeeze as much money out of it as possible. The investment banks underwriting the deal were good salesmen, though their clients on the buyers' end of the offering might not be so pleased with them.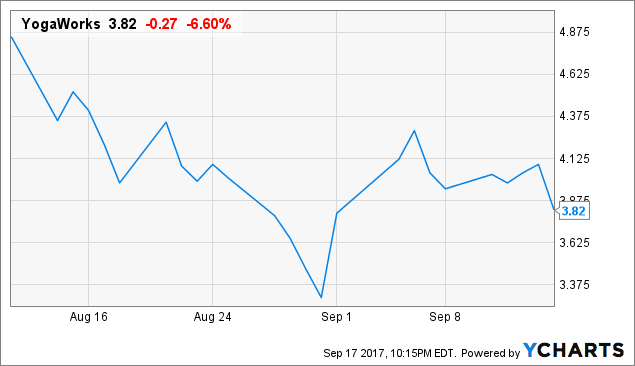 YOGA data by YCharts
YogaWorks seems to be putting its offering proceeds to good use by acquiring studios and growing its top and bottom lines. As disclosed in its S-1 filing, studios are profitable on an EBITDA basis and the company is generally able to improve both revenue and profitability post-acquisition.
If the company is able to quickly put its new cash war chest to work in acquiring studios, it could see tremendous growth on the top and bottom lines. Post-IPO, it has already announced the acquisition of two studios, bringing its total count to 52 locations.
By no means am I prepared to be fully bullish on YogaWorks - as an extremely young consumer discretionary company, its future prospects are near impossible to divine and highly subject to consumer whims. But I like the fact that it's still a small enterprise we can get our arms around. And while I see the possibility for failure, I also see a (more likely) path to success.
The company reports earnings on Thursday, September 21 - we'll get a bit more clarity on the company's direction then, but investors willing to risk capital prior to then could stand to see substantial gains, as small-cap companies swing wildly.
YogaWorks basics
There's nothing inherently fancy about YogaWorks' business - it operates yoga studios that charge roughly $90-$135/month in membership fees, as well as an online yoga class website at MyYogaWorks.com, which charges between $5-$15 per month. In 2016, YogaWorks studios attracted a total of 3 million visits across 180,000 class sessions.
YogaWorks has grown steadily in the past several years, most recently posting $55.1 million in revenues in 2016. The below chart, taken from the company's S-1, shows the growth in its key metrics since 2012:
Figure 1. YogaWorks metrics

In terms of the overall industry, total spend on yoga in the United States was $16 billion, $5.8 billion of which was spent on yoga instruction (the remainder was spent on apparel, equipment, and accessories). Given that YogaWorks occupies only a tiny fraction of this highly fragmented and localized industry, it still has plenty of room to expand. It is, after all, the only publicly traded yoga studio operator and has ready access to capital markets.
The company operates 52 studios across the U.S., the majority of which are in California. The below chart from YogaWorks' S-1 shows its geographical composition of locations, prior to its addition of two additional D.C. locations:
Figure 2. YogaWorks locations

Greater than 60% of YogaWorks' studios were acquired, and its growth strategy leans heavily on acquiring established studios and retaining their students and instructors. If it can continue to pursue smart acquisitions and deploy its newly raised capital, YogaWorks stands to see phenomenal growth in the next 6-12 months.
Use Of IPO Proceeds And Path To Growth
YogaWorks sold 7.3 million shares (roughly 45% of its available float) at $5.50, raising $40.15 million. After netting out $2 million of underwriting fees and expenses, the company raised $39.15 million in net proceeds.
Now let's break down how the company intends to use this cash, using the S-1 disclosure as our guide:
$3.3 million will be used to fully pay down a convertible note.
$7 million will be used to fully pay down a high-interest term loan, rendering the company debt-free.
The remaining ~$29 million of net proceeds are earmarked for studio acquisitions, with a portion set aside for general corporate purposes.
The company has entered into letters of intent or is in late-state negotiations to acquire up to 20 additional studios for between $7.8 million to $9.4 million in total, or approximately $430,000 per studio if we take the midpoint of that purchase range.
We don't know what these studios can bring in terms of revenue and profits, but we can use several clues in the S-1 to work out a range:
The company strategy as outlined in the S-1 states that YogaWorks targets studios with annual revenues between $500,000 to $700,000.
In 2015, the company acquired 17 studios for $12.2 million ($717,600 per studio on average), and these studios generated $11.7 million in revenue in 2016 ($688,000 per studio on average).
We can approximately deduce that the company pays approximately $1 to acquire every dollar of studio revenue.
Now what about profitability? Acquiring revenue-rich, but cash-burning studios is no good for the company. To address this question, we turn to the company-defined metric of Studio-Level EBITDA:
Figure 3. Studio-Level EBITDA reconciliation


Though in general investors should take caution in taking company-adjusted metrics at face value, YogaWorks' adjusted addbacks are fairly standard. Adjusted EBITDA adds back standard stock-based comp and depreciation expenses to net income. Studio-level EBITDA strips out corporate overhead to paint a picture of what each studio contributes to profits standalone.
Using FY16's $12.4 million in Studio EBITDA, we can deduce that YogaWorks is capable of generating $247,000 in contribution margin per studio (divided by 50 studios in 2016), and at least a 22% Studio EBITDA margin (based on $55.1 million in 2016 revenues).
Implications For Acquirable Profits
There are two scenarios we can run on YogaWorks' potential growth via acquisition, generously assuming that YogaWorks uses $20 million of its $29 million in available IPO cash on acquiring studios and the remaining $9 million on general corporate infrastructure:
YogaWorks acquires $20 million of additional studio revenue (at an average purchase multiple of 1x revenues), and at a 22% margin, can produce $4.4 million in incremental Studio EBITDA.
YogaWorks acquires 34 new studios (roughly $600,000 per studio) and generates 34 x $247,000 = $8.4 million in incremental Studio EBITDA.
Obviously, results vary widely based on assumptions used and which historical purchase metrics to focus on, but we can generally assume that YogaWorks is capable of adding between $4-8 million, or approximately $6 million at the midpoint, of incremental Studio EBITDA on average.
Since corporate overhead expenses are more or less fixed in nature, we can also deduce that additional Studio EBITDA will largely be purely incremental to the company's overall EBITDA.
The "acquirable profit" metric can be increased if we assume the company is able to exercise restraint and efficiency with overhead spend, and use more than $20 million on smart studio acquisitions.
Valuation
With a market cap of $60 million, post-IPO cash of $30.9 million ($1.9 million of existing balance sheet cash plus $29 million in non-debt-paydown IPO proceeds) and post-IPO debt of $0, YogaWorks carries an enterprise value of $29.1 million, or an Enterprise Value/Adj. EBITDA valuation of 17.1x its 2016 Adj. EBITDA of $1.7 million.
No doubt the current valuation, based on historical profits and assuming no cash usage on acquisitions, is expensive - the typical S&P 500 company trades between 8-12x EBITDA.
However, if we assume YogaWorks pumps $20 million of cash into profitable studio acquisitions, we adjust our calculation as follows:
Cash balance decreases by $20 million, bloating the enterprise value to $49.1 million.
Adjusted EBITDA increases by the full incremental ~$6 million Studio EBITDA to $7.7 million, assuming no corporate overhead expenses are added with the studio acquisitions.
This valuation method implies an Enterprise Value/Adj EBITDA valuation of just 6.4x, which is much more reasonable and could even be considered borderline cheap.
Of course, don't get me wrong - there are a lot of uncertainties with this approach. If the company is too eager to acquire studios and loses discipline in acquisition prices, it will acquire fewer studios and gain less incremental revenue and profits. If the company ramps up its overhead spending, then Studio EBITDA will not directly translate into overall EBITDA, also pressuring the valuation.
But don't forget there is room for upside too. YogaWorks has noted that it is able to increase both visits and revenue from acquired studios. It could also pursue selective studio acquisitions with better economics than estimated above. It could also spend more than $20 million on studio acquisitions, and less on overhead.
Key Takeaways
No doubt that YogaWorks is a high-risk stock, as most micro-cap companies are. But the stock has faced incredible selling pressure in recent days as most investors don't believe the company can post a strong earnings quarter in its first release on September 21.
With so many naysayers proclaiming doomsday scenarios for YogaWorks, it's also important to realize there's a bull narrative hidden in the story too. The company has already shown progress toward acquiring the 20 studios in its pipeline, with its two Washington D.C. acquisitions closing just a few weeks after its IPO. And with a growth-hungry management team, more acquisitions are sure to be added to the pipeline in short order.
While the likelihood of this bull narrative playing out is another matter entirely, it's clear that brave investors could either stand to gain (or lose) a lot from this trade.
Disclosure: I/we have no positions in any stocks mentioned, but may initiate a long position in YOGA over the next 72 hours.
I wrote this article myself, and it expresses my own opinions. I am not receiving compensation for it (other than from Seeking Alpha). I have no business relationship with any company whose stock is mentioned in this article.