By Jill Mislinski
The National Association of Home Builders (NAHB) Housing Market Index (NYSE:HMI) is a gauge of builder opinion on the relative level of current and future single-family home sales. It is a diffusion index, which means that a reading above 50 indicates a favorable outlook on home sales, and below 50 indicates a negative outlook.
The latest reading of 64, down 3 from last month's number, came in below the Investing.com forecast of 67.
Here is the opening of this morning's monthly report:
"The recent hurricanes have intensified our members' concerns about the availability of labor and the cost of building materials," said NAHB Chairman Granger MacDonald. "Once the rebuilding process is underway, I expect builder confidence will return to the high levels we saw this spring."

"Despite this month's drop, builder confidence is still on very firm ground," said NAHB Chief Economist Robert Dietz. "With ongoing job creation, economic growth and rising consumer confidence, we should see the housing market continue to recover at a gradual, steady pace throughout the rest of the year." [link to report]
Here is the historical series, which dates from 1985.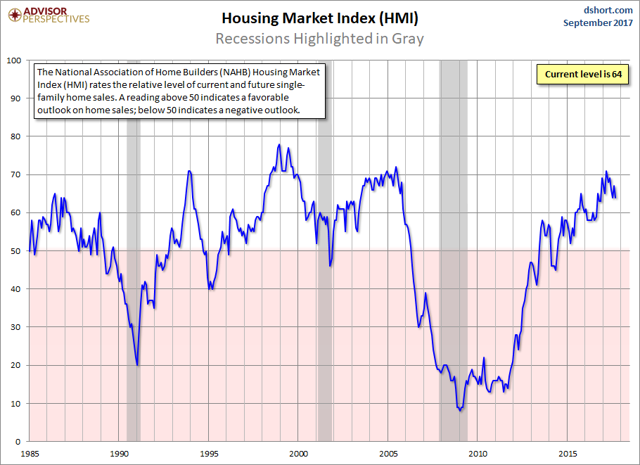 The HMI correlates fairly closely with broad measures of consumer confidence. Here is a pair of overlays with the Michigan Consumer Sentiment Index (through the previous month) and the Conference Board's Consumer Confidence Index.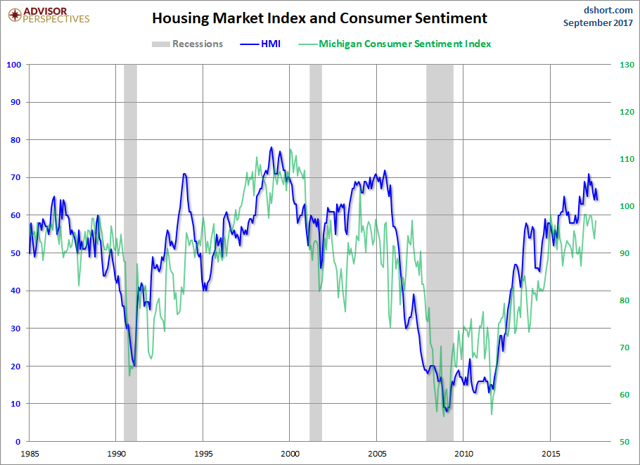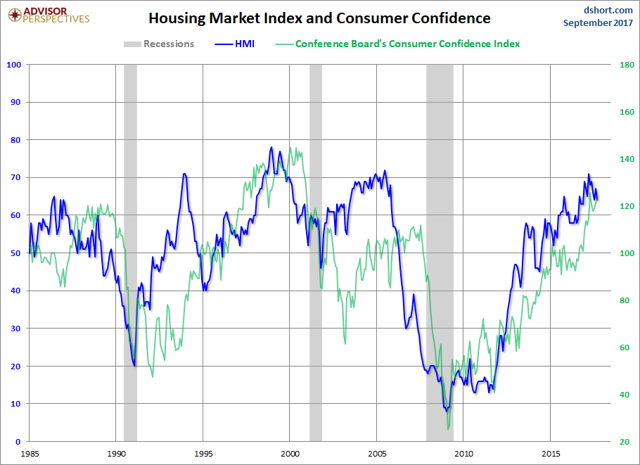 The HMI is an interesting prelude to tomorrow's release of Building Permits and Housing Starts.