We can't say what will happen with the stock market's volatility (VXX) tomorrow, next week, or next month. However, low volatility tends to last for longer periods of time than periods of high volatility. Just as the S&P 500 (SPY) performs well over the long term, shorting volatility can also work over long time periods (specifically during bull market complacency). Shorting volatility during the current bull market significantly outperformed the stock market's gains. However, shorting volatility has risks that investors should be aware of.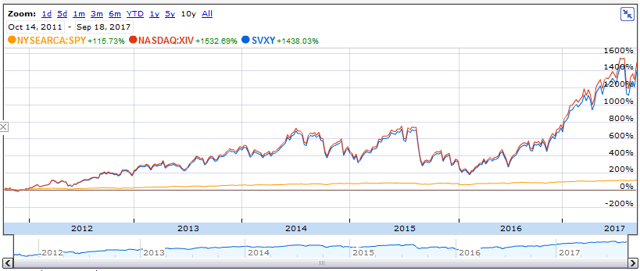 source: finance.google.com
ETFs to Short Volatility
One way to participate in shorting volatility is with VelocityShares Daily Inverse VIX ETN (XIV) or with Proshares Short VIX Short-Term Futures ETF (SVXY). These investments aim to match the inverse daily performance of the S&P 500 VIX Short-Term Futures Index. Volatility typically spikes during market corrections, bear markets, and periods of uncertainty. These occurrences don't happen often and they don't last as long as periods of low volatility. That is what allows XIV to perform well over the long term.
Volatility typically remains low during bull markets. Bull markets can last for many years and they are sustained for longer periods than market downturns. The current market from March 2009 to present is a great example of a strong multiple-year bull market with low volatility for the majority of that time period. However, corrections and periods of uncertainty do cause spikes in volatility.
Just as the S&P 500 is a winning investment over the long term, XIV and SVXY also win over the long term. XIV and SVXY significantly outperformed the S&P 500 since inception. Therefore, it can be a good investment vehicle for beating the market. However, it is important to have a good understanding of the risks.
The Risks and Strategy for Shorting Volatility
Investors shouldn't short volatility without a clear understanding of the risks and without a strategy to start and end a position. A simple buy and hold strategy may not be the best plan of action for shorting volatility.
The risk is that a spike in volatility can cause large losses in XIV and SVXY. Investors could lose most of their investment during a spike in volatility. So, it would be wise to have a good entry point and exit strategy.
The stock market hasn't experienced a correction since the end of 2015/beginning of 2016. So, valuations have become extended as measured by the S&P 500's trailing PE of nearly 25, as compared to the long-term average PE of 15.7. This means that there is a high risk for a volatility spike to occur on an unexpected event.
XIV's inception date was November 29, 2010, while SVXY's inception date was October 3, 2011. These dates occurred during the current bull market. So, we don't have a reference point to compare how these funds perform during a bear market like the 2008 financial crisis.
What we can do is compare how these funds performed during the 2015 market correction. The S&P 500 dropped about 11% in August 2015 as a result of the sharp sell-off in China's stock market. Volatility did spike higher during this correction. SVXY and XIV decreased by over 60% during this market correction.
We can also look at how XIV performed during the European Debt Crisis of 2011. The S&P 500 decreased by about 19%, while XIV decreased by about 70%. With such drastic relative drops during periods of high volatility, we can estimate that XIV and SVXY will lose most of their value when the S&P 500 drops by 30% to 50% during a recession or bear market (when volatility is very high).
With that in mind, it would be wise to short volatility during bull markets. The funds did recover after the European Debt Crisis and the 2015 correction. So, investors with strong stomachs can hold these funds through market corrections/periods of high volatility. To avoid losses during these times you can use technical indicators to exit your position. For example, you could draw a trend line under the lows on a chart and sell when the price falls below the trend line.
To avoid shorting volatility during deeper market downturn situations like recessions, investors can exit their positions when the yield curve inverts. This occurs when short-term interest yields become higher than longer-term yields. This typically happens prior to recessions when the economy is nearing its peak and prior to equities dropping significantly. Therefore, investors have a signal to exit these funds before the position has the potential to lose most of its value.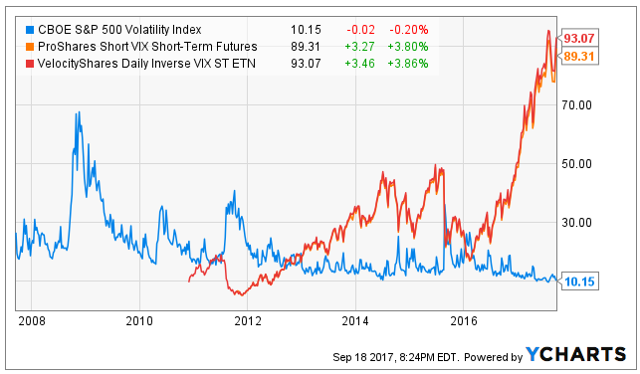 The VIX index is currently at a low point of about 10.15. So, it is not a great time to begin shorting volatility right now in my opinion. The VIX index spiked over 35 during the 2015 correction and during the European Debt Crisis market correction in 2011.
It would be better to wait for a spike in volatility to start your position. You can see in the chart above that the volatility spikes in 2011 and 2015 created some good entry points for SVXY and XIV. Therefore, I think it would be prudent to wait for a volatility spike to occur during the next market pullback or correction.
Here's an example of exiting an XIV position when a volatility spike occurs: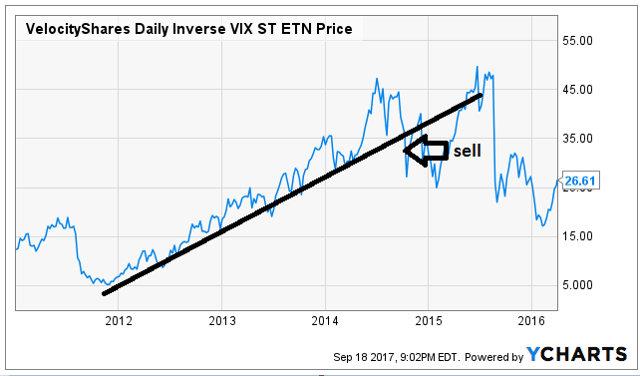 I used the period from 2012 to 2016 as an example. If someone was shorting volatility with an XIV position before the 2015 correction, they could have ended the position when the price of XIV broke below the trend line. This would have saved the trader more losses heading into the beginning of 2016.
If a trader was looking to enter a position, they could do so during that spike in volatility when XIV dipped. You might not get the exact bottom, but you'll start a position at a good entry point for a longer-term holding period.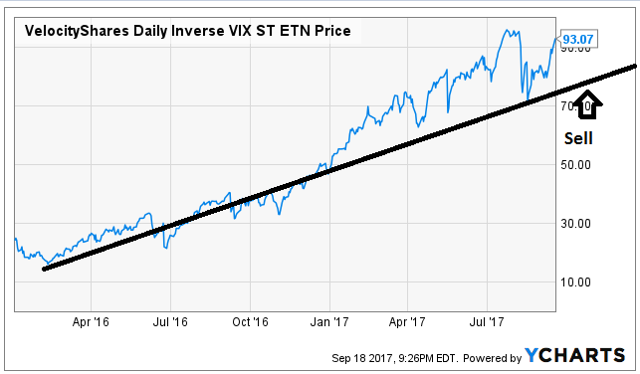 Traders who currently have a position in XIV or SVXY could mitigate deeper losses by selling when the price breaks below the current trendline. Of course, we don't know how long the current trend will last. So, traders should readjust their exit price as time goes on.
The market has been calm for a long time – something is bound to happen to cause a spike in volatility eventually. That event will allow for a good entry point for those who wish to short volatility.
Let me know what you think in the comment section below.
If you like my analysis, click on FOLLOW at the top of the article near my name. That will allow my articles to display on your homepage as they are published.
Disclosure: I/we have no positions in any stocks mentioned, and no plans to initiate any positions within the next 72 hours.
I wrote this article myself, and it expresses my own opinions. I am not receiving compensation for it (other than from Seeking Alpha). I have no business relationship with any company whose stock is mentioned in this article.
Additional disclosure: The article is for informational purposes only (not a solicitation to buy or sell stocks). I am not a registered investment advisor. Investors should do their own research or consult a financial advisor to determine what investments are appropriate for their individual situation. This article expresses my opinions and I cannot guarantee that the information/results will be accurate.