The rhetoric regarding renewed sanctions on Iran has increased.
On September 14, NBC News reported that the Trump Administration is planning new sanctions against Iran. The article goes on to say that the new sanctions are aimed at entities and individuals tied to activities like procurement and human rights abuses, two senior administration officials and a person involved in the discussions told NBC News.
It is not clear at this time if sanctions will bring back the embargo on Iran's oil exports, but a what-if analysis is warranted.
Embargo Recap
Throughout 2012, the U.S., European and Asian governments moved against Iran's Central Bank and oil exports by implementing sanctions. As a result, Iran's oil production dropped significantly from more than 3.5 mbd in January 2012 to less than 2.75 mbd six months later. Sanctions were then lifted in late 2015, and consequently, Iran's oil production rebounded.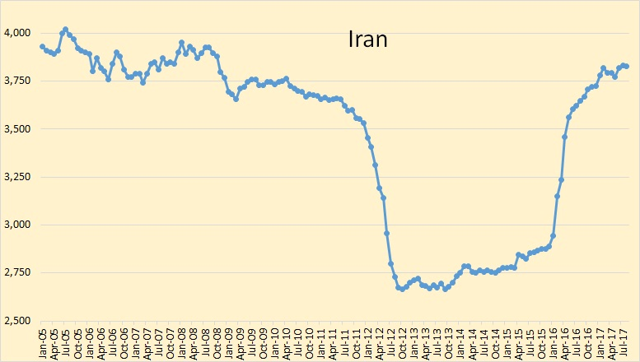 Similarly, oil exports from Iran halved from nearly 2 mbd to 1 mbd during the period sanctions were in place.
Current Oil Demand Supply Imbalance
The following graph from OPEC's latest Monthly Oil Monthly Report ("MOMR") that OECD inventories have been declining versus the five-year average at a rapid rate since February: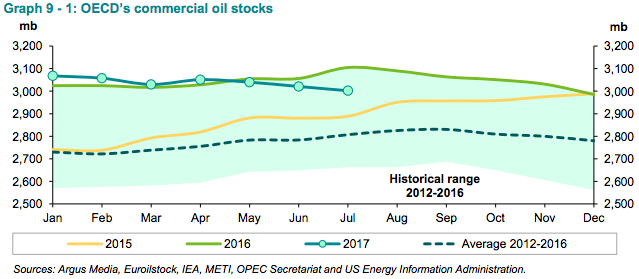 As I discussed in my recent article, Oil: Another Bear Argument Bites The Dust, the latest 193 mb difference between July's total oil inventory level versus the five-year average represented a 59 mb month-over-month decline from June's 252 mb. This is very significant as, if one assumes the non-OECD inventories were stable in July, such a large drop in oil stocks in just one month means a very significant and increasing imbalance between global oil demand and supply of more than 1.5 mbd.
Bottom Line
Assuming July's quick pace of inventory declines continue, and considering Libya and Nigeria have increased their oil output in recent months, it is reasonable to expect the "glut" to largely dissipate by early next year.
If the Trump Administration brings back the embargo on Iran's oil exports, and other OPEC countries do not increase their supply in response, the glut would disappear earlier, and the bullish implications would continue into 2018.
The U.S. President's speech to the UN General Assembly this morning will likely include indications of the Administration's intentions regarding this topic. Stay tuned.
Follow For Free Articles
If you enjoyed this article, please scroll up to the top of the page and click the "Follow" button next to my name. Your support will allow me to invest further time and resources into creating proprietary research for you.
Premium Research
Despite my conviction in higher oil prices, I see better opportunity elsewhere. If you're interested in learning about my investment methodology as well as high-quality fundamental research on Tesla (NASDAQ:TSLA), which will affect the future of oil markets, supported by detailed financial projections by product and service line, as well as timely price target alerts, you can sign up for the Tesla Forum here. I am confident that you will find my research to be very insightful, and I look forward to answering your questions.
Disclosure: I am/we are long TSLA.
I wrote this article myself, and it expresses my own opinions. I am not receiving compensation for it (other than from Seeking Alpha). I have no business relationship with any company whose stock is mentioned in this article.