"The biggest challenge after success is shutting up about it." - Criss Jami
I have been getting quite a few questions around Aldeyra Therapeutics over the last week. This makes sense as the stock has soared since posting encouraging mid-stage trial results for its compound targeting dry eye disease on Sept. 12th.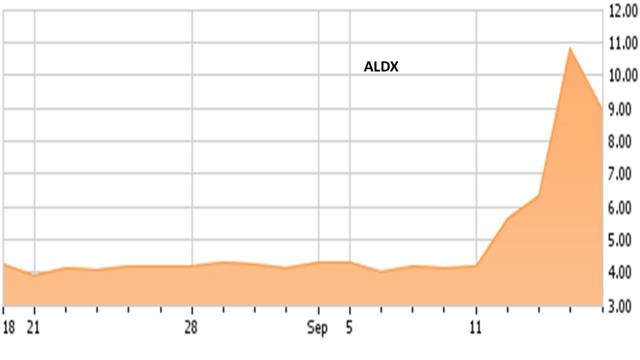 This small cap name came onto my radar early this summer both because of insider buying and the fact it was a "busted IPO." It was too small to recommend for approval into the Insiders Forum. However, we did do a deep dive on the name and gave it a thumbs up for a small stake within a well-diversified biotech portfolio. Today, I am making that original analysis available to the wider Seeking Alpha community as the stock is providing another attractive entry point on a just announced secondary offering in today's trading.
Company Overview
Aldeyra Therapeutics (ALDX) is a Lexington, Mass.-based clinical-stage biotechnology concern focused on the treatment of diseases related to endogenously generated toxic and pro-inflammatory chemical species known as aldehydes. Its therapies sequester the aldehydes, which may result in lowering inflammation, reducing healing time, diminishing scarring, protecting a lipid that is important in tissue moisture barriers, and mitigating pain. The company came public in May 2014 at $8.00 per share. Although Aldeyra has other early stage or pre-clinical aldehyde traps, ADX-102 is its lead candidate and is currently in trials for multiple indications. ADX-102 is patent protected in the U.S. through 2033 and into the late 2020's worldwide.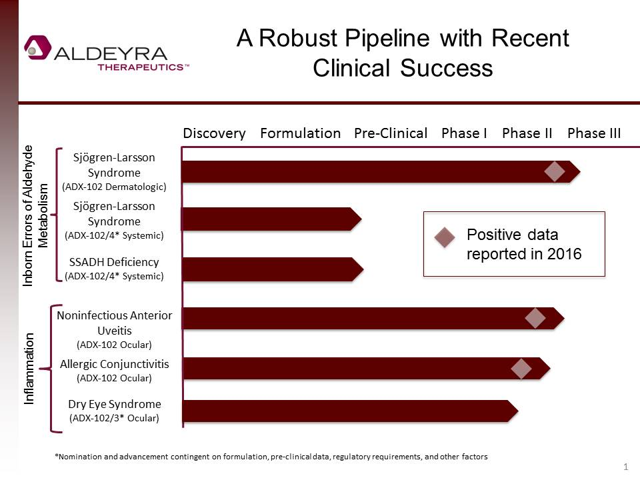 Pipeline
1. ADX-102 (ophthalmic solution) for Allergic Conjunctivitis. This eye stinging, burning, and itchiness is brought about by seasonal hay fever allergens such as pollen and grass or perennial allergens such as dust, mold, and animals. It affects about 20% of the population worldwide and it is at least part-mediated by aldehydes. Current treatment includes anti-histamines, and in severe cases corticosteroids. The company believes that 30% to 40% of the allergic conjunctivitis sufferers are sub-optimally treated with anti-histamines and approximately one million are steroid-dependent. There is currently no approved drug for late-phase symptoms of this indication.
In a recent readout of a Phase 2b trial, ADX-102 failed to meet its primary endpoint of a one point reduction in ocular itching scores (.8 improvement on a 0 to 4 point scale) versus the control component, but the .5% dosage exhibited statistically superior reduction in itching over control at 10, 20, 30, and 60 minutes, with 23%, 37%, 55%, and 65% improvements respectively. 0.1% ADX-102 also reduced itching, but generally to a lesser degree than 0.5% ADX-102, suggesting a dose-related efficacy response that confirms the biological effect of the drug.
Just as important, ADX-102 demonstrated activity during the late phase allergy response, which is responsible for persistent disease in patients with serious and chronic forms of allergic conjunctivitis. These are the patients that do not respond optimally to antihistamines, whose effects only last approximately five minutes. Also, Aldeyra's therapy was well tolerated, which is significant considering corticosteroids are the standard of care for one million patients. Corticosteroids can lead to cataracts and glaucoma.
The company expects to initiate a Phase 3 trial after its end of Phase 2 meeting with the FDA.
2. ADX-102 (ophthalmic solution) for Noninfectious Anterior Uveitis (NAU). Characterized by acute painful redness and swelling in the front of the eye and photophobia, this rare autoimmune eye disease can lead to blindness. It affects ~150,000 patients per year in the United States with the current standard of care corticosteroids.
The results of a Phase 2 study were released in May and demonstrated that ADX-102 lowered anterior chamber cell counts (re: reduced inflammation) comparable to that of corticosteroids. After four weeks of therapy, 53% of ADX-102-treated patients achieved ACC Grade 0 (zero or one cell) versus 38% for that of corticosteroid-treated patients. Just as important, average intraocular pressure increased in the corticosteroid group, but decreased slightly in the ADX-102 group. Similar results with greater safety portends well for ADX-102. A Phase 3 trial is currently enrolling 100 patients with results expected in 2H18.
3. ADX-102/3 (ophthalmic solution) for Dry Eye Syndrome. This is a common inflammatory disease characterized by insufficient moisture and lubrication associated with the anterior surface of the eye, leading to ocular irritation, burning, stinging, and, in severe cases, loss of vision. ADX-102 is currently being investigated in a Phase 2a study with results expected in late Q3 2017. Contingent upon those results, the company may initiate a Phase 2 trial for ADX-103 (another aldehyde trap) for the same indication in 2018.
4. ADX-102 (dermatologic) for ichthyosis in patients with Sjögren-Larsson Syndrome (NYSE:SLS). The first three ADX-102 indications were essentially for eye inflammation. This indication is for inborn errors of aldehyde metabolism. SLS is a disease caused by mutations in an enzyme that metabolizes fatty aldehydes, resulting in severe skin scaling (ichthyosis), retinal disease, and neurological disorders. This disease is generally present at birth. Patients afflicted with SLS generally live to their mid-50s. Approximately 1,000 Americans suffer from SLS with approximately the same number in Europe. There is currently no approved therapy for the disease. ADX-102 has received U.S. Orphan Designation for this indication. In a Phase 2 trial (n=6) all of the patients improved with regards to their composite ichthyosis scores versus baseline over an eight-week period.
The company is enrolling patients (30 in total) to participate in a two-part Phase 3 trial with Part 1 data expected in the second half of 2018. The potential of this indication is solid given that it is a life-long therapy that the company estimates could be worth $200,000 annually per patient. With that said, it is unlikely that ADX-102 will significantly affect the non-dermatologic conditions of SLS, which may negatively impact the potential market for ADX-102 in SLS and may also negatively impact reimbursement, pricing and commercial acceptance of ADX-102, if it is approved.
Balance Sheet and Analyst Commentary
Aldeyra had ~$31 million in cash and equivalents at the end of Q1 2017 and ~$1 million in debt. Management believes it has enough money on hand to fund operations into Q3 2018.
Aldeyra is a small-cap concern with a market capitalization of approximately and sells for approximately $5.00 a share. The five analysts that cover Aldeyra are sanguine on its prospects as evidenced by their two buy and three outperform ratings. Twelve-month price targets range from $12 to $30 with a median of $18, representing substantial potential upside from current trading levels
Outlook
Shares of ALDX have experienced the roller coaster ride typical of biotech companies that came public in 2014. Shares traded north of $12 in early 2015 after coming public at $8 in May 2014. The stock has since sold off as subsequent secondary offerings have diluted share value while the company wades through investigational trials in the hopes of commercializing its lead candidate. Combine that dynamic with the overall bear market in biotech and you have a company whose stock has been range bound between $4 and $6 per share throughout 2017.
The stock sold off from the low $5s to the low $4s on the news that ADX-102 failed to meet its primary endpoint in the Phase 2 allergic conjunctivitis trial, the results of which were announce on June 14th. However, as the data were more thoroughly examined, it certainly appears as if Aldeyra will be able to go forward with a Phase 3 study for this indication and the stock has started to rebound back above the $5 level.
With its ADX-102 ophthalmic solution's superior safety profile versus corticosteroids and its unique late phase efficacy, the company believes it will be able to sell its therapy for between $600 and $1,000. Given the size of the sub-optimally treated allergic conjunctivitis population, the corticosteroid dependent allergic conjunctivitis subgroup, the 150,000 American patients suffering from NAU annually, and the Dry Eye Syndrome market, the potential for the ADX-102 solution is quite large. It may require that Aldeyra partner up with an established sales force in this space while holding on to its dermatologic ADX-102 given the ultra-rare nature of SLS.
The company has plenty of catalysts upcoming over the next 18 months and insiders appear optimistic about their chances. The CEO bought $100,000 of shares in mid-February, the same day another director purchased $180,000 of shares. On June 30th, a beneficial owner (Joseph Edelman) added over $1.3 million to his stake in the company.
The stock is too small from a market cap perspective (under $100 million) to be considered for inclusion into the Insiders Forum portfolio at this time. It also only has the one main compound in its pipeline, albeit one targeting multiple indications. However, given upcoming catalysts, strong analyst support, an intriguing pipeline and recent insider buying; I do view the shares as having a favorable risk/reward profile. I have added a few shares to my own personal portfolio as Aldeyra seems appropriate for a well-diversified biotech portfolio and offer it up for consideration for those Forum members looking to diversify their biotech holdings with this speculative concern.
After moving above $11.00 a share late last week, the shares are down more than 10% today as the company announced a secondary offering to raised approximately $25 million to fund the continued development of ADX-102. The offering price is $7.25 a share. Anything close to the secondary price seems a good opportunity to establish or add to a position in Aldeyra.
The pipeline has become more derisked since our last article on this concern thanks to positive mid-stage trial results. Tier 4 concerns often raise funding after positive developments and Aldeyra is selling additional stock at a much higher price than it would have garnered a few weeks ago.
Analyst commentary is positive, with the median analyst price target just south of $20.00 a share. Insiders have been frequent buyers of the stock over the past several years with no insider sells I can find over that time span. The company presents more data at an upcoming R&D day in NYC on October 10th. I think today's dip in the stock is likely to be temporary.
"A critic is a man created to praise greater men than himself, but he is never able to find them." - Richard Le Galliene
Note: The free 14-Day Trial promotion for a risk-free test run into the Insiders Forum subscription service ends Sept. 30th.
Disclosure: I am/we are long ALDX.
I wrote this article myself, and it expresses my own opinions. I am not receiving compensation for it (other than from Seeking Alpha). I have no business relationship with any company whose stock is mentioned in this article.
Editor's Note: This article covers one or more stocks trading at less than $1 per share and/or with less than a $100 million market cap. Please be aware of the risks associated with these stocks.