Here's a quick look at GNC's (NYSE:GNC) volatility. As it traded as low as $8.47 on September 13th to as high as $10.44 yesterday, September 18th. Today, at the intraday lows, shares were down nearly 9%.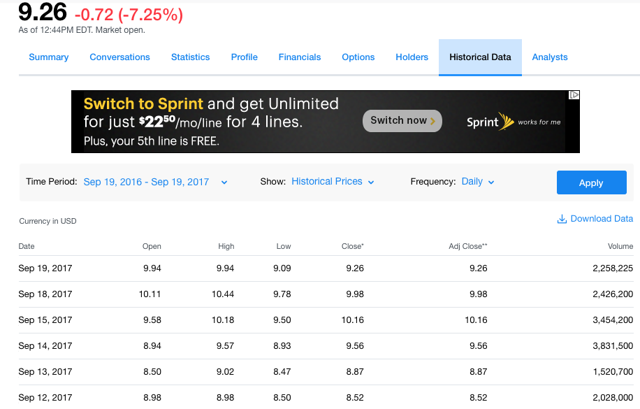 Source: Yahoo Finance
Last night, after the bell, GNC Holdings' new CEO, Ken Martindale, filed, albeit a few days lagged but in line with filing guidelines, an SEC 4 form disclosing that he sold 64,555 shares of his restricted share grant (these share vested immediate in anticipation of this tax liability).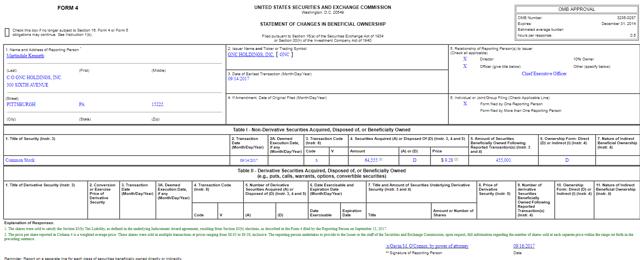 Source: Fidelity
Enclosed below I magnified the font of the filing, item 1, in order to make it crystal clear that this was well signaled in advance.
1. The shares were sold to satisfy the Section 83(B) Tax Liability, as defined in the underlying Inducement Award agreement, resulting from Section 83(B) elections, as described in the Form 4 filed by the Reporting Person on September 13, 2017.
So, perhaps, the GNC shorts are simply looking to use this as an excuse to quintuple down (I'm half kidding with the word quintuple) on their misguided short bet. During the last two weeks of August, collectively, the shorts only covered 383K shares. As of August 31, 2017, short interest stands at 22,432,071 shares.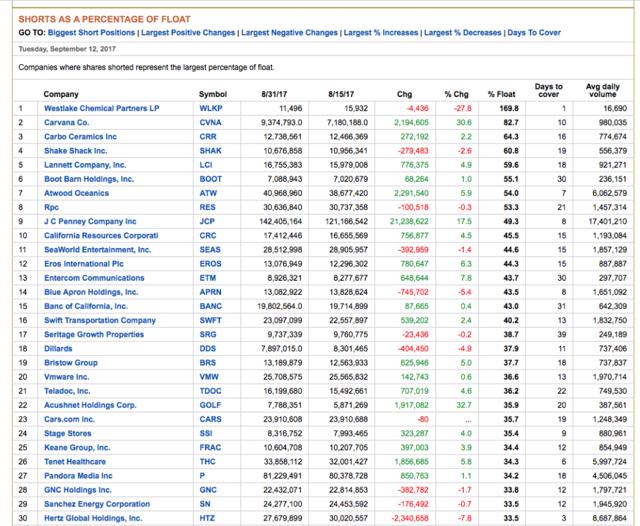 Source: WSJ
As we can see from my GNC short interest tracking sheet, short interest remains very elevated.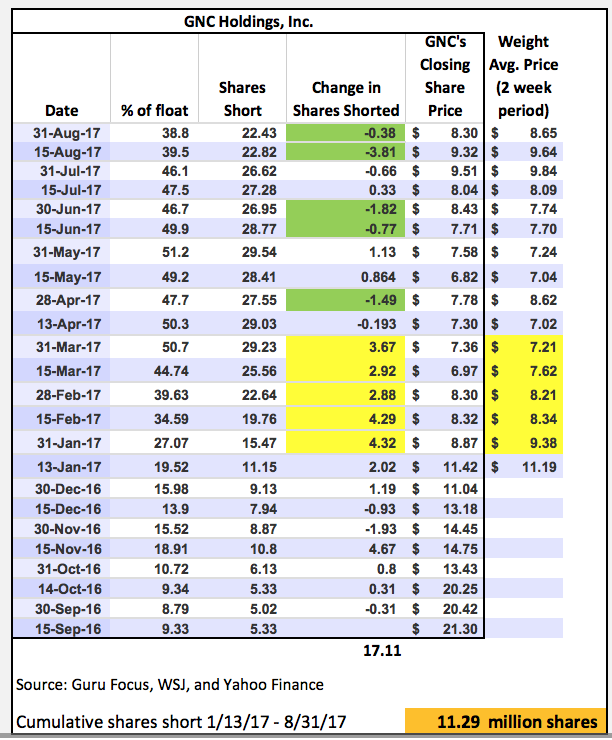 As I eat my own cookin', enclosed below is a snapshot of Fidelity account where I buy individual securities. As you can see, I'm long 3,000 shares with a cost basis of $8.56. I haven't sold a share. You may recall I didn't sell any shares at $9.50 on April 19th, not any shares on July 27th in the high $10s, and not any shares yesterday in the low $10s. I have consistently said my GNC target is $15 to $20 depending on how events unfold.

Source: Fidelity
In other news, Toys 'R' Us formally filed for bankruptcy.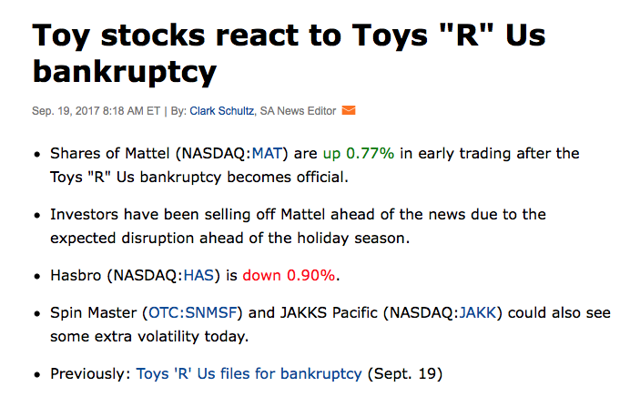 This was well chronicled and in anticipation, this past Saturday morning, I wrote a quick piece on this, in my premium service, Market Adventures. I am most likely going to share that piece on the public side of the site, perhaps tomorrow.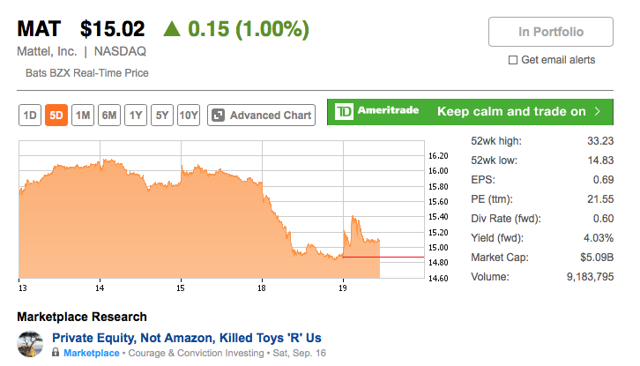 In closing, I find it laughable that the Masters of the Universe are able to take down GNC and other retailers on this Toys 'R' Us news. Private Equity, not Amazon (NASDAQ:AMZN), killed Toys 'R' Us. Moreover, for anyone who can read a balance sheet, as of late April 2017, Toys 'R' Us had over $5 billion in debt and averaged annual interest expense of $450 million. GNC's current interest expense coverage is nearly 4.5 times.
Disclosure: I am/we are long GNC.
I wrote this article myself, and it expresses my own opinions. I am not receiving compensation for it (other than from Seeking Alpha). I have no business relationship with any company whose stock is mentioned in this article.