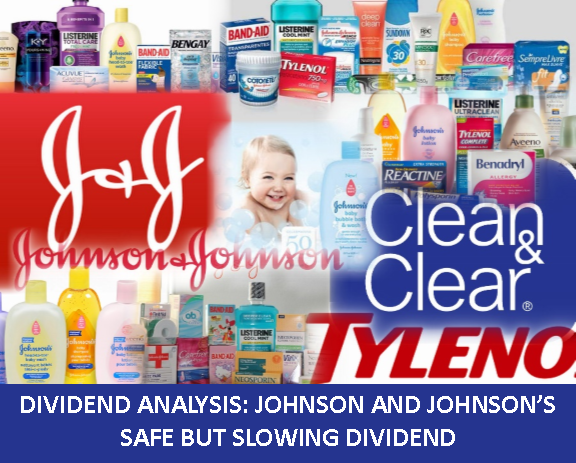 Johnson & Johnson (JNJ) is one of those stocks that many dividend growth investors currently own in their investment portfolio. The company is a dividend champion having paid a consecutive dividend for 55 years. These dividend increases have come like clockwork. Its products are purchased by millions all over the world and the company has produced many iconic brands. These are some of the reasons why I named JNJ a core holding for my Accelerating Dividends portfolio.
A yellow flag for me was raised back on April 27, 2017, when JNJ announced its latest dividend increase. JNJ raised the dividend by $0.04 per quarter which represented a 5.42% increase. Most dividend growth investors would rejoice at this raise, but I began to experience some doubts about the direction of the dividend. Based on the work of David Fish, he has calculated that the 1, 3, 5 and 10-year DGR ranged between 6.7% and 8.0%. This demonstrates some consistency just like clockwork. My troubles however are these:
Will a 2.57% and a 5.42% dividend increase help me achieve my passive income goals?
Is the yield or the dividend likely to go up in the future to help increase my dividend income?
I can honestly say that the answer to the first question is no. The dividend yield is too low and the dividend growth does not compensate for a low yield.
I do not have an answer to the second question yet but I intend to find out.
DIVIDEND BASICS
As I have already stated, JNJ has increased its dividend consistently for 55 years. Taking a look back at the last 10 years, the following graph shows a nice gradual rise in the annual payout amount.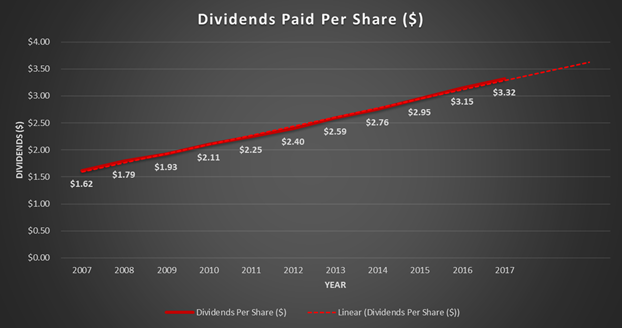 Source: Old School Value, chart created by the author
I have included a linear trendline to show where the dividend is projected to head in the next two years. Based on the dotted line, the dividend could rise to $3.48 (assuming one payment of $0.84 and three payments of $0.88 for a dividend increase of 4.8 %) in 2018 and possibly $3.61 in 2019 (assuming one payment of $0.88 and three payments of $0.91 for a dividend increase of 3.7%). This seems pessimistic until you look very carefully at JNJ's quarterly dividend growth history. You will notice that the company has increased the quarterly payout by $0.03 to $0.05 per year since 2001 as shown by the red line in the graph below.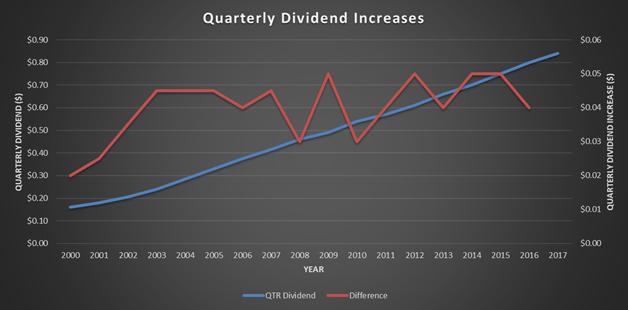 Source: Johnson & Johnson investor website, chart created by the author
This chart leads very well into the next chart. In mathematics, when you consistently raise something by the same amount, the percentage continues to decline. This is what is happening with JNJ. The dividend growth has been declining but had been fairly stable between 2011 and 2016 while the company raised the quarterly payout by either $0.04 or $0.05. I personally believed that JNJ would continue to increase their dividends by around 6-7% per year which would make the dividend a little more attractive. But this does not appear to be the case.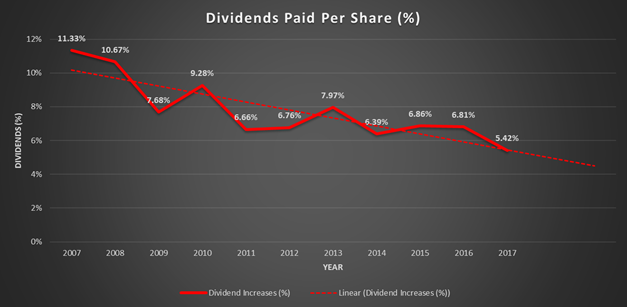 Source: Old School Value, chart created by the author
I added another linear trendline projecting the dividend increases in 2018 and 2019. By 2019, it is possible that the dividend may increase by a little more than 4% which models the predictions made earlier using the annual dividends per share.
On a side note, JNJ has been generous to investors as they continue to grow the dividend and repurchase outstanding shares. The company has spent approximately $7.7B per year over the past five years repurchasing shares but I for one would prefer to see more of that cash used to increase the dividend further in order to maintain a more consistent dividend growth rate than a declining one.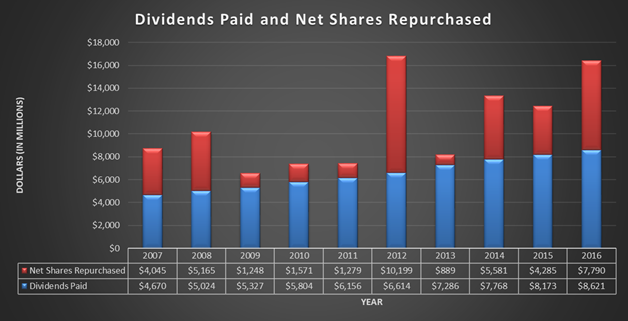 Source: Old School Value, chart created by the author
CASH FLOWS
Next, I want to see if JNJ's cash flows are sufficient to cover the dividend.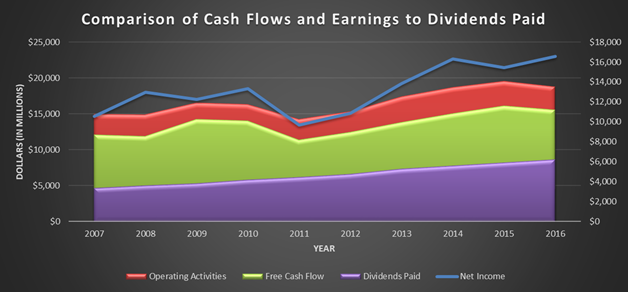 Source: Old School Value, chart created by the author
What I obviously want to see is that the operating cash flow and free cash flow are well above the dividends paid which in this case they both are. The five-year free cash flow average is $14.6B while the five-year dividends paid average is $7.7B which is a 2:1 ratio, which is good. However, there is one thing that needs to be noted. Dividends paid in 2016 equaled $8.6B and the total spent in repurchasing shares equaled $7.8B for a total of $16.4B. This is greater than the $15.5B of free cash flow reported in 2016. In other words, the dividend or share repurchases are partially being funding by something other than free cash flow (in this case debt) and the company exhausted its entire free cash flow that year.
My next question is whether free cash flow is growing fast enough to offset the pace of dividend growth or in other words is the amount of dividends paid growing faster than free cash flow.
| | | | | | |
| --- | --- | --- | --- | --- | --- |
| | Average (1 YR) | Average (3 YR) | Average (5 YR) | Average (10 YR) | Median |
| Free Cash Flow | -3.51% | 4.14% | 6.51% | 3.05% | 3.70% |
| Dividends Paid | 5.48% | 5.77% | 6.98% | 6.35% | 6.34% |
Source: Old School Value, chart created by the author
Taking a look at the 1, 3, 5, and 10-year averages and the median. It shows that the dividend is growing faster than free cash flow. Although it appears that there is plenty of free cash flow to cover the dividend, the company will have to make decisions regarding how aggressive it repurchases shares and when their debt obligations become due.
I find that it is equally important to analyze the operating cash flow as well as the free cash flow because growth in operating cash flows indicates whether the company is growing free cash from its operational activities. Other ways to increase free cash flow is by reducing CAPEX but there are limitations to this as well. CAPEX may be needed for the company to actually grow and there will come a time when the company can no longer reduce CAPEX.
The following graphs show the growth in the operating and free cash flows as well as the CAPEX.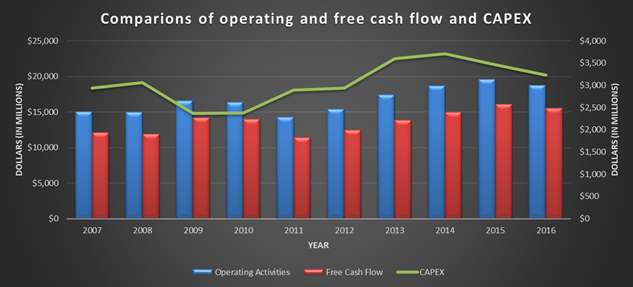 Source: Old School Value, chart created by the author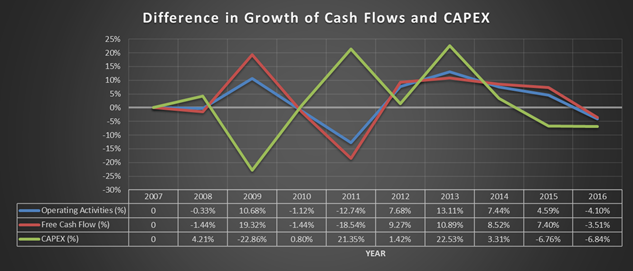 Source: Old School Value, chart created by the author
Although I have already mentioned that the operating and free cash flows generated by JNJ currently cover the dividend payments, the above graph shows that both of these cash flows are slowing since 2013 and even decreased in 2016 despite a nearly 7% reduction in CAPEX in the same year. This will become an important trend to monitor. It should be noted that JNJ has placed some effort in reducing CAPEX back to 2012 levels which is the last time in the past 10 years when CAPEX was below $3B where it has "normally" been.
Next, I want to evaluate whether JNJ's operating cash flows are likely to improve by looking at analysts estimates for the coming years.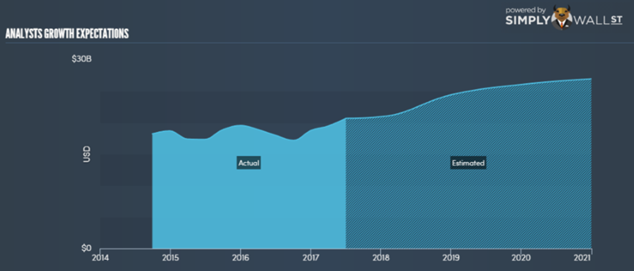 Source: SimplyWall.St
The analyst estimates are as follows:
| | | | | |
| --- | --- | --- | --- | --- |
| | 2017 | 2018 | 2019 | 2020 |
| Operating Cash Flow (in billions) | $20.973 | $24.448 | $26.082 | $26.983 |
| Difference (%) | 7.17% | 16.57% | 6.68% | 3.45% |
Source: SimplyWall.St, difference calculated by the author
Analysts are expecting JNJ to grow its operating cash flows in the future, particularly next year which is the most important observation. Although projections into 2019 and 2020 are much less reliable, they do show a declining growth trend. These figures also are going to improve the one-year (-4.10%), three-year (2.65%), five-year (5.74%) and 10-year (2.52%) operating cash flow averages. Furthermore, if operating cash flows increase by 7.17% in 2017, it should further increase JNJ's capacity to raise its dividend (assuming no unexpected CAPEX expenditures), possibly beyond $0.05. However, JNJ may also use this opportunity to reduce its coverage and payout ratios.
COVERAGE AND PAYOUT RATIOS
I already have demonstrated that JNJ is capable of covering its dividend. The next graph demonstrates the historical and current payout ratios.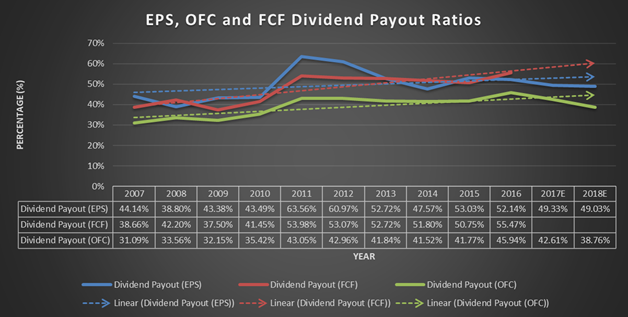 Source: Old School Value, CNNMoney.com, graph and estimates created by the author
JNJ's current EPS payout ratio is 52.14% while the FCF payout ratio is slightly higher at 55.47%. The operational cash flow payout ratio is 45.94%. Although not at their highest points in the past 10 years, all of the payout ratios show an increasing linear trendline which suggests that the dividend continues to occupy more and more of JNJ's earnings and cash flows. However, the short-term trend may be reversing based on some estimates of mine. I have used the analyst EPS estimates of $6.73 for FY2017 and $7.18 for FY2018 and assumed a dividend per share of $3.32 in FY2017 and $3.52 in FY2018 (based on a $0.20 increase or $0.05 per quarter which is the highest increase the company has offered in the past 10 years). These estimates would result in lower EPS payouts, each below 50% in FY2017 and FY2018. Similarly, I took the same dividend per share estimates, used the operating cash flow estimates from Simply Wall St., and the TTM outstanding shares (currently at 2.692B shares) to estimate the operating cash flow payout ratio. This resulted in an operating cash flow payout of 42.61% in FY2017 and 38.76% in FY2018. If JNJ continues to reduce shares outstanding, then these payout ratios will continue to improve. It also shows that JNJ could increase its dividend payout by $0.06 or even $0.07 and maintain the current payout ratios.
"The dividend coverage ratio measures the number of times that a company could pay dividends to its shareholders. The concept is used by investors to estimate the risk of not receiving dividends. Thus, if a company has a high proportion of net earnings to its total annual amount of dividend payments, there is a low risk that the business will not be able to continue making dividend payments of the same amount. Conversely, if the ratio is less than one, the business may be borrowing money in order to make dividend payments, which is not sustainable." (Source: Accounting Tools)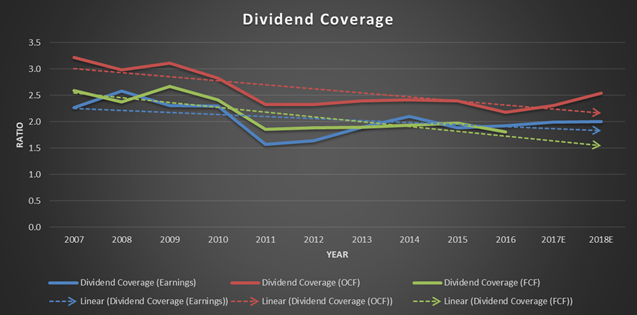 Source: Old School Value, CNNMoney.com, graph and estimates created by the author
Based on the graph above, there is little risk that JNJ will stop making similar dividend payments however 2016 represented the lowest FCF coverage in 10 years at 1.80 which still means it could pay 1.8x its current dividend. The trendlines are all declining which will have to be monitored.
FREE CASH FLOW GENERATION
How well does JNJ do in generating free cash flow? The CROIC will help to answer that question and the following graph demonstrates the company's history.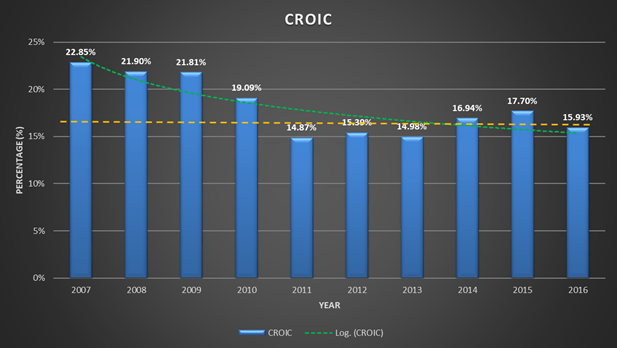 Source: Old School Value, graph created by the author
JNJ has a five-year average (yellow dotted line) of 16.19% which means that it is generating $0.16 in free cash flow for every $1 of capital invested. A CROIC above 10% is generally desirable which JNJ has met for the past decade. However, the company is not as efficient in generating that free cash flow as it was prior or during the financial crisis. Despite this considerable decline, JNJ has maintained a fairly consistent CROIC since 2011 to the present.
One other method to evaluate JNJ's free cash flow generation is by analyzing the FCF/S ratio or the FCF margin. This will show what percentage of sales is converted into free cash flow. Obviously, the higher the better but technically any company with an FCF/S ratio above 10% is considered a free cash flow generating machine.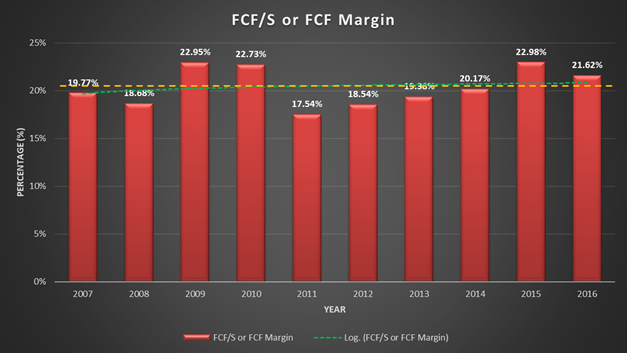 Source: Old School Value, graph created by the author
The company has been a free cash flow generating machine for a long time and has maintained a fairly consistent ratio of the past decade. The five-year average is 20.54% which shows that one-fifth of its sales is converted into free cash flow.
CONCLUSION
Johnson & Johnson's dividend is safe and there are no cuts projected into the near future at this time as the company is generating plenty of free cash to cover the dividend. The company will have to juggle its use of its free cash flow in the future since it has made some large acquisitions like Actelion Pharmaceuticals (OTCPK:ALIOY) and has been aggressive in repurchasing stock. This has reduced the amount that the company could have allocated to increasing the dividend.
The company seems fixated though on increasing the dividend by the same amounts each year which is resulting in the declining dividend growth percentage. This might be expected since operating cash flows and free cash flows have been slowing over the years. However, JNJ does continue to support healthy free cash flow and EPS payout ratios and dividend coverage.
Based on what I can see, the company is likely to maintain the current dividend payout strategy of a range between $0.03 and $0.05 which means that investors will likely look forward to dividend raises around 4%-5% in the coming years.
As an investor from the outside looking in, I'm inclined to look elsewhere since I cannot see JNJ's current future projected dividend growth significantly contributing to my dividend income goals. I also have decided to remove JNJ as a CORE holding from my portfolio buy list until such a time as I see a better direction in the company's dividend.
I hope you enjoyed this article. Please consider following me as a Seeking Alpha author by clicking the "Follow" button at the top of the article beside my name Accelerating Dividends if you want to be notified when my future articles are published. Thanks for reading.
Disclosure: I/we have no positions in any stocks mentioned, and no plans to initiate any positions within the next 72 hours. I wrote this article myself, and it expresses my own opinions. I am not receiving compensation for it (other than from Seeking Alpha). I have no business relationship with any company whose stock is mentioned in this article.