Costco (NASDAQ: COST) faces a number of challenges in the next few quarters that would make a bull run highly improbable. The biggest unknown factor in valuing Costco is the strength and growth of Amazon Prime. Amazon (NASDAQ: AMZN) has not released exact numbers about its Prime membership growth, but many sources point towards a rapid surge in domestic Prime members. Amazon has a retail model similar to Costco's. It is looking to operate on negligible margins on the goods sold while earning the biggest portion from membership fees.
In a recent report, Consumer Intelligence Research Partners (CIRP) estimated that Amazon Prime membership has crossed 80 million. This equates to a growth of 37.9% from its last year estimate.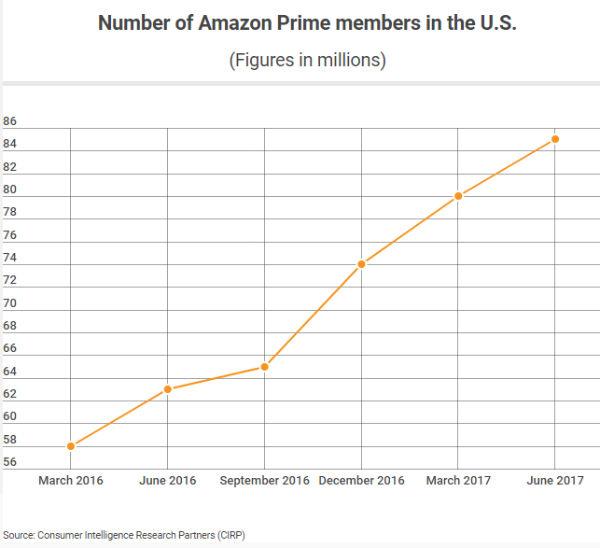 At the same time a majority of these customers are from higher income households having income levels above $50,000.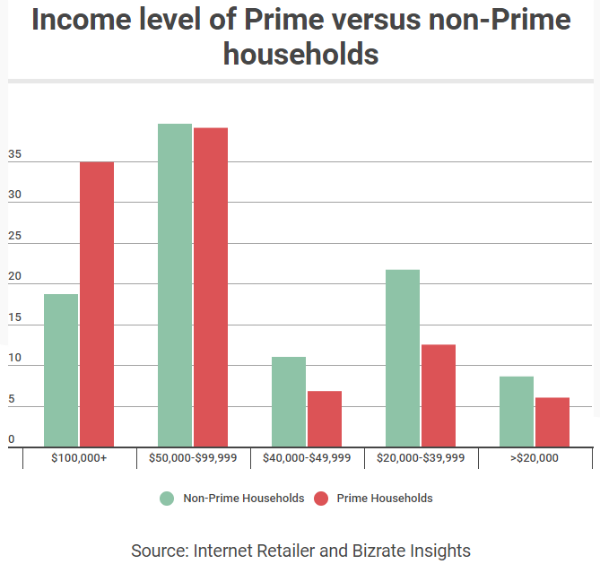 Costco's members are also concentrated in the same income level. This means there is a huge overlap between the membership of Costco and Prime. Last year Cowen & Co. released a note which estimated that households with Costco-only membership have dropped from 14.9% to 9.8% between 2013 and 2016. At the same time, households having both Amazon and Costco membership increased from 4.8% to 11.3%.
This trend will increase at a faster pace in the next few quarters as Amazon increases its presence in the brick and mortar space and improves its value proposition for the customers. Amazon is investing heavily in building a strong ecosystem that would increase customer loyalty. Once Prime membership reaches saturation levels, there is a very high probability that Amazon will start increasing its membership fees gradually.
Higher Amazon fees will have a negative impact on Costco's renewal rates. There is a tipping point where customers decide to choose between Prime and Costco membership instead of having both of them. If they have to choose between Prime and Costco membership, Prime would have a big advantage due to Amazon's wider ecosystem. Costco is heavily dependent on its membership fees to deliver earnings growth. Close to 75% of its total operating income comes from the membership fees.
In the past few years it has managed to show close to 90% renewal rates among its members. However, a decline by even a few percentage points can be disastrous for the earnings because every incremental membership loss directly reflects in the bottom-line. The operating expenses will not decline at the same pace as membership. Hence, any decline in membership will have bigger than expected impact on the EPS growth potential.
Valuation
In the last five years Costco has averaged close to 7% annual growth in its membership. It has grown its EPS on trailing twelve months (ttm) basis from $4.17 in 2012 to $5.78 in the recent quarter, which is a CAGR of 6.7%. However, its stock has delivered a return of 58% against S&P 500's 70% growth in the last five years. Costco's biggest rival is Amazon and its ecosystem is now much stronger than what it was three to five years back.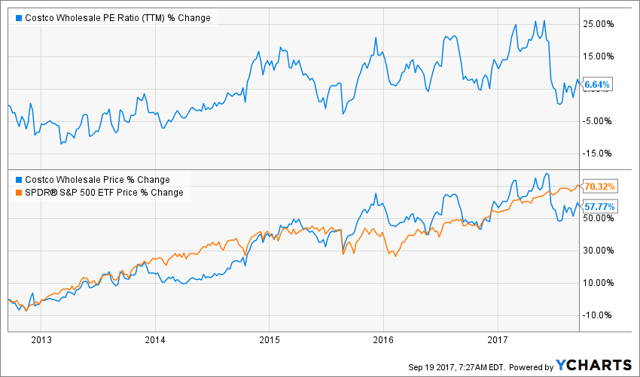 Fig: Costco is currently more expensive on PE ratio metric than it was five years back even though it has delivered lower returns than S&P 500
Close to a third of the total 123 million households in U.S. have a Costco membership. This percentage is much higher in households having income level of over $50,000. If Costco were to deliver average membership growth of 7%, it would reach over 50% of the households by 2022. This seems unlikely given the fact that Amazon Prime would have already reached near saturation levels by that time.
Even if Costco delivers 7% growth in the next five years, it would be more difficult for the stock to outperform S&P 500 as it is currently more expensive. Five years back the stock was trading at a valuation of 26 times ttm PE ratio. It is now close to 28 times ttm PE ratio.
Due to higher valuation and future challenges, it is difficult to justify an entry into this stock at the current price point.
Investor Takeaway
Costco needs to build a strong moat against the rising popularity of Prime membership. Amazon is trying to make Prime membership indispensable by adding new products and services to its ecosystem. Its acquisition of WFM and massive price cuts also point to the fact that it is not looking to earn profits from sale of goods but wants to attract more customers to its Prime ecosystem.
Once Amazon Prime reaches saturation level it is likely that Amazon would gradually increase the fees for this membership. This will cause many customers using Costco and Prime membership to choose between either of the retailers. In this scenario Amazon would have a clear advantage due to its wider ecosystem. Costco earns a majority of its profits through membership fees. If renewal rates fall by only a couple of percentage points, the impact on earnings and EPS will be drastic.
Costco has grown its membership and EPS by an average of 7% in the last five years. Yet it trails S&P 500 in terms of returns. It would be difficult for the company to deliver similar levels of growth in the next few years. A higher current valuation will also limit the bullish momentum in the medium term. Considering the risk and benefits, investing in Costco at current price point is not justifiable.
Disclosure: I/we have no positions in any stocks mentioned, and no plans to initiate any positions within the next 72 hours.
I wrote this article myself, and it expresses my own opinions. I am not receiving compensation for it (other than from Seeking Alpha). I have no business relationship with any company whose stock is mentioned in this article.