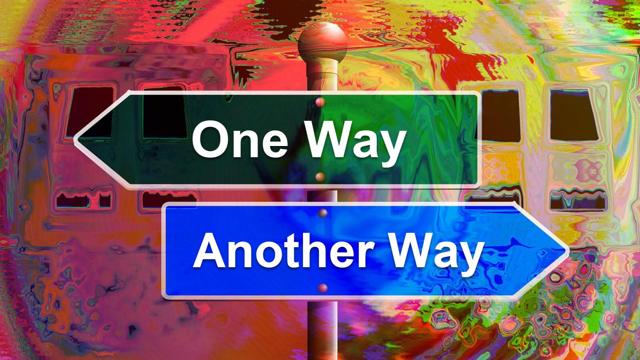 IBM (NYSE: IBM) was founded on the principle of profit for customers, employees and shareholders, and a responsibility to do something for others. Through an equitable distribution of its profits, the corporation created a stakeholder ecosystem based on enlightened self-interest: the success of one depended on the success of all the others.
Every street should be wide enough to be a two-way street.

Thomas J. Watson Sr., 1942, Endicott, New York
A two-way distribution of profits produced amazing shareholder returns
Tom Watson Sr. believed that employee benefits existed "not because of any philanthropy on the part of myself or my executive staff or the directors and stockholders. … When you add up the amount of money we spend on insurance, vacations with pay, country club, retirement plan, health and accident plan, and so forth, it comes to a large sum. No company could go on if that were philanthropy. … We do it because our people do a better job everywhere."
He and his son constantly reminded their shareholders of this fact in their annual meetings. The fruits of this symbiotic relationship between chief executive, customers, employees and shareholders returned amazing results for both Watson Sr.'s and Jr.'s investors: 17% compound annual growth rate (CAGR) over 32 years, and 21% CAGR over 15 years, respectively, far outdistancing an investment in large company stocks.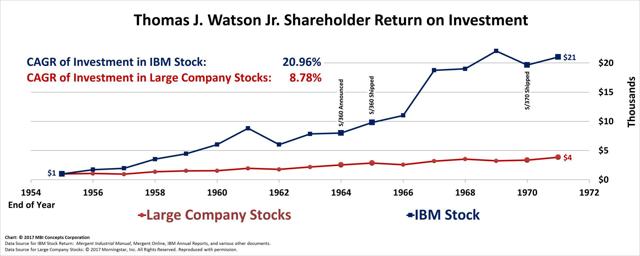 A one-way distribution of profits impacts shareholder returns
In 1995, Louis V. Gerstner started buying back IBM shares while continuing to reduce U.S. employee retirement benefits with the introduction of the pension equity plan. In 1996, IBM renewed its annual dividend increases for shareholders, and as IBM's profits and revenues reached record highs, Gerstner issued two, 2-for-1 stock splits in 1997 and 1999. And as the stock printing presses rolled ever onward, the chief executive continued to buy back shares. Profit redistributions were now flowing to shareholders and top executives alike. But, so far, all the employees had experienced were cuts. For them it was as if IBM had never recovered from its 1993 brush with bankruptcy.
Only two months after splitting the stock for a second time, Mr. Gerstner once again slashed the U.S employees' pension plans. And for the continuance of the 21st Century, his successors have replicated his strategy of turning employee pension plans, benefits, performance raises, and employment security into corporate profits that indirectly (or directly depending on a person's perspective) contribute to its continuing share buybacks.
This activity has disenfranchised IBM's employees and, in so doing, stripped IBM's shareholders of the benefit of employee enthusiasm, passion and engagement: revenue productivity flattened in 1995 and has been in a constant decline since 1999 ("IBM's Seventeen-Year, Non-Union Work Slowdown"). Profit productivity has only been propped up by the on-going: (1) selling of tangible assets (the "not-profitable-enough" divisions such as the PC and x86-Server Divisions), (2) transferring wealth from employee pension plans, (3) employee benefit reductions, and (4) workload rebalancing covered last week ("IBM's Financial Engineering Revealed – Workload Rebalancing").
IBM's 21st Century decline in revenue and profit productivity reflects the impact of ignoring an employees' state of mind, and IBM's shareholders have not escaped unscathed.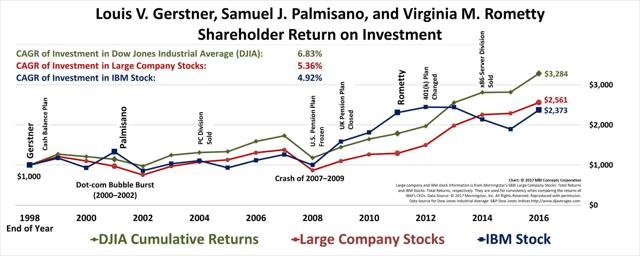 Shareholders, as of 2016, had received only 4.9% CAGR over the previous 17 years—an investment return that both the Dow Jones Industrial Average and a Morningstar large company benchmark index outperformed by returning 6.8% and 5.4%, respectively. This is the shareholder payback for an investment of a quarter of a trillion dollars - $190 billion since 1995 in stock buybacks and $57 billion since 2001 in acquiring 177 startups to supposedly produce higher-value.
Certainly, maintaining employee enthusiasm would have cost a lot less than a quarter of a trillion dollars, and, based on IBM's CAGR returns of 17% and 21% under the Watsons, would have yielded a far better return for shareholders.
A productivity corollary that didn't need to be proven
IBM's 21st Century leadership has proven the corollary to Watson Sr.'s and Jr.'s belief: performance drops everywhere when the executive leadership fails to adequately reward its employees' performance. While some may believe it is the chicken or egg conundrum, IBM's traditional founder and chief executive officer faced a similar situation. In 1914, as IBM's new chief rooster, he kept the company from laying an egg by investing his time (but, initially, very little money according to Watson Jr. in Father, Son & Co.) to improve employee enthusiasm: such is the responsibility of a great chief executive that understands human nature and its effect on the corporate bottom line.
My mind went back to the first convention I held after I came into this business … We had very few men. We had very little enthusiasm, but what we did have … gave us a great start, and the other men fell in line. Enthusiasm is the basis of all great things.

Thomas J. Watson Sr., One Hundred Percent Club, 1930
Unfortunately, IBM's 21st Century leadership sees benefits such as employment security, performance based raises, pension plans, 401(k) offerings and severance pay as unnecessary expenditures or accumulations of wealth to be exploited.
But the once fatted calf is looking lean.
A foreboding sign for the future
With a massive 20% drop in profit productivity over the last three years ("IBM's Financial Engineering Revealed – Workload Rebalancing"), IBM has lost all the "productivity" gains of the new century (in inflation adjusted dollars). But there have been no productivity gains as IBM's leadership found it easier to manipulate profits than to invest in improving employee productivity. This century's profits have been propped up by a massive transfer of wealth, a corporate wealth that two of America's greatest 20th Century industrialists accumulated by providing great service to their customers through enthusiastic, engaged and passionate employees.
Until shareholders acknowledge the importance of enabling and empowering enthusiastic employees to provide service to their customers, investors should expect short-term financial engineering to replace the mechanics of running a business properly.
Until IBM's 21st Century leadership reverses its current human resources practices, long-term shareholders should not expect the value of their investments to be maximized.
This article is an excerpt (with some changes and additions) from THINK Again: IBM CAN Maximize Shareholder Value.
Disclosure: I/we have no positions in any stocks mentioned, and no plans to initiate any positions within the next 72 hours.