Since Sony Corp. (NYSE:SNE) launched their lithium battery in the early 1990s the world has moved towards an increasingly mobile society where consumer electronics have dominated the consumer markets. Everything from laptops, tablet PCs, mobile and smartphone, digital cameras and many other consumer electronics have benefited from the rapid advancements in the lithium battery.
In one way or another, lithium battery technologies have already dramatically impacted nearly every individual's life. The greatest opportunities for lithium to benefit society is in the mass adaption of electric vehicles and stationary energy storage systems.
It is my personal opinion that every investor should have either a direct or indirect exposure to lithium batteries. Investment options include less than a handful of key lithium suppliers with some being publicly traded on global stock exchanges, recently established specialty ETFs such as the Lithium Global X Fund (LIT) and various battery technology companies. For investors who are generalist the Lithium Global X Fund can provide direct exposure to the entire supply chain while active investors should focus on companies who are actively producing lithium carbonate. Junior exploration companies are not of interest as new salt ponds take around a decade to bring online while batteries have already been commoditized making battery manufactures less appealing. Therefore, in my opinion a lithium ETF and existing lithium producers could be of interest to investors.
Demand for lithium products has taken flight
Today, lithium batteries are now in demand more so than ever due to an increase in the number of consumer products that have integrated the technology. For example, low cost mobile phones are being widely deployed in third world and developing parts of the world. Next, the number of product applications which utilize lithium batteries are increasing and the amount of lithium per device is increasing. A mobile phone, camera, laptop or tablet require a small amount of lithium carbonate while an electric vehicle requires a significant amount of the white metal. Stationary energy storage systems are also gaining significant traction, primarily in mature solar PV markets such as Hawaii, Germany, California, and Japan. Companies such as Tesla Energy (NASDAY:TSLA) have already constructed a massive 52MW battery power plant which consumes approximately the same storage capacity as 1,000 full electric vehicles. This is just the beginning as Tesla Energy has announced plans to construct a 100MW battery power plant in Australia which would be the largest in the world.
These portfolio of products and projects are creating significant immediate demand for lithium carbonate which did not previously exist.
Lithium Oligopoly Controls Majority of Global Production
Most of the world lithium is exported from Argentina and Chile with some other high volume established facilities in Nevada and Australia. Further, the vast majority of lithium is extracted from lithium brines, or salars, which are salt lakes that provide a low cost lithium product as it utilizes a cost effective evaporation process for extraction rather than a traditional hard rock operation. Three key lithium producers include: Sociedad Quimica y Minera de Chile SA. (NYSE:SQM), Albermarle Corporation (NYSE:ALB) and FMC Corp. (NYSE:FMC).
SQM is the world's largest producer of lithium who is focused on their 40,000 tonne lithium carbonate equivalent (LCE)/year brine facility located in Chile at the Salar de Atacama. In 2017, amid rising demand for lithium batteries, shares in SQM rose form 2014-16 trading lows to near all-time highs which pegged the stock at above $55/ share in the fall of 2017. At present the company currently pays shareholders a moderate dividend which yields over 3% annualized and a 44 Price to Earnings ratio and an inconsistent dividend payment. In 2014, the company paid $1.41/share while in 2013 the company paid $1.04/share.
FMC through their lithium division, has owned and operated a 17,000 t/yr lithium brine facility at the Salar del Hombe in Argentina. FMC is a very large and diversified multinational chemical company addressing the agricultural, consumer and industrial markets around the world through innovative solutions, applications and market-leading products. The Company operates in three business segments: FMC Agricultural Solutions, FMC Health and Nutrition, and FMC Lithium. At present the company trades at a 57 X Price to Earnings ratio while paying a quarterly dividend of .17/share which yields less than 1 percent on an annual basis. As most established lithium producers, shares in FMC have been trending higher from 2016 lows of around $35/ share to around $90/ share in the fall of 2017.
Albermarle Corporation is a global leader in the specialty chemical business who in 2015 completed the acquisition of Rockwood Holdings in an all cash and stock transaction valued at $6.2. Through the acquisition they now control one of the only operating lithium brines in North America located in Silver Peaks, Nevada within close proximity to Telsa Motors' operating Giga Factory. The North America operations produce 50,000/t of LCE per year while the Silver Peaks facility produces 20,000t of LCE per year. Albermarle offers their shareholders a dividend which yields 1 percent on an annual basis and trades at a Price to Earnings Ratio of 47. Since 2016, shares in the company have more than doubled from around $50/ share to over $120/share.
However, none of the organizations are pure play lithium focused companies, which allows investors to de-risk their investment as the companies are also tied to the performance of other chemicals and metals. However on the contrary, it does not provide direct exposure and upside to the lithium market, especially since prices of the white metal have already doubled in the past years and continue to increase.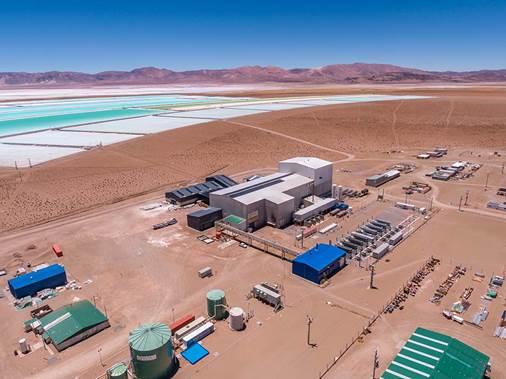 Olaroz Lithium Facility in Argentina
A New Pure Play Entrant to the Oligopoly
A pure play low cost lithium producer is Australia based Orocobre (OTC: OTCPK:OROCF) along with project partner Toyota Tsusho (OTC:OTC:TYHOY) has successfully brought online the Olaroz lithium salt pond project located in Argentina. The project partners have now outlined a three stage growth plan to expand their involvement as a tier 1 lithium producer for the global markets. First, the company will be expanding the Olaroz project by doubling the current lithium carbonate annual production to 35,000t/LC. Second, the company will construct a 10,000t/year lithium hydroxide plant in Japan with its current project partner, Toyota Tsusho. It is expected that the lithium hydroxide would be exported primarily for use in the manufacture of lithium batteries strengthening the company's position within the global lithium supply chain. Third, the proposed annual product mix of lithium carbonate would be 17,500t battery grade from its existing operations, 17,500t industrial grade, of which 9,000t would be allocated to supply the upcoming hydroxide plant in Japan.
Orocobre does not presently pay dividends to shareholders and will not offer any in the next years, as the company intends to heavily reinvest profits in repaying project debt and expanding the operations. The company trades at a Price to Earnings Ratio of around 40 and since 2015 has risen from approximately $1/share to $3.50/share in the fall of 2017.
Disclosure: I am/we are long OROCF.
I wrote this article myself, and it expresses my own opinions. I am not receiving compensation for it (other than from Seeking Alpha). I have no business relationship with any company whose stock is mentioned in this article.
Editor's Note: This article discusses one or more securities that do not trade on a major U.S. exchange. Please be aware of the risks associated with these stocks.