Emera Inc (OTCPK:EMRAF) [TSX: EMA] is a Canadian-based electric and gas utility with a substantial and growing footprint in the US. EMRAF services 2.5 million customers, of which 1.8 million are in the US and 700,000 in Canada. EMRAF has about Cnd$29 billion (USD$23.6) in total assets, the majority of which are outside the US (note all financials use an exchange rate of 1 Cnd$=USD$0.82). Of its Cnd$19.6 billion (USD$15.9) in regulated assets, 53% are in the US. Utility and income investors should add Emera to their holdings of international, mid-cap utilities with growing exposure to the US.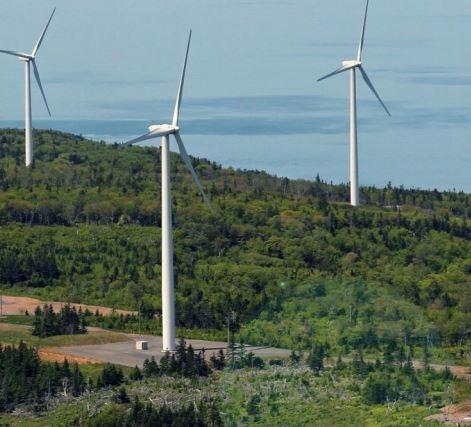 From an operating standpoint, Emera's regulated businesses are separated as follows: Emera Florida and New Mexico (Tampa Electric, Peoples Gas, New Mexico Gas), Emera Maine, Nova Scotia Power, Emera Newfoundland/Labrador, Emera New Brunswick, and Emera Caribbean (Grand Bahama Power, Barbados Light and Power, Dominica Electricity Services, St Lucia Electric). In addition, the firm operates an electricity and gas trading segment, Emera Energy. Below is a map of its service area: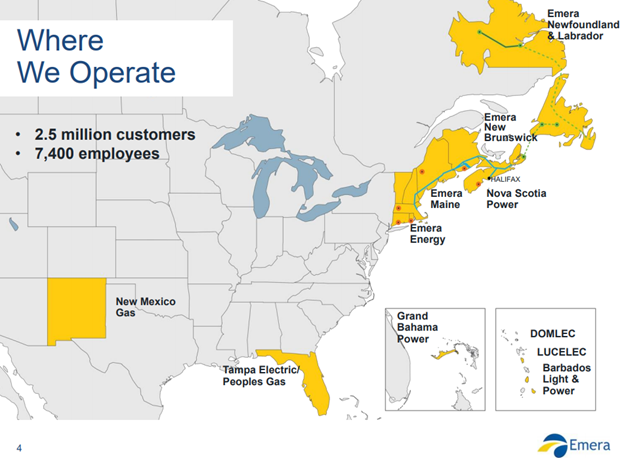 Not counting the Corporate and Other segment, management expects Tampa Electric to generate 40% of 2017 operating earnings Nova Scotia Power 20%, Emera Caribbean 5%, Emera Energy 7%, Emera Maine 6%, natural gas pipelines (Emera New Brunswick) 5%, Maritime Links/LIL 5%, People's Gas 5%, New Mexico Gas 4%. 2017 company-wide revenues are expected to be Cnd$6.8 billion (USD$5.5).
EMRAF first appeared on many investor's radar in 2015 when they announced the USD$10 billion acquisition of Tampa Electric TECO. Completed on 7/1/16, this merger increases both overall regulated and overall US-based assets. Management believes 75% to 85% of earnings will be from regulated businesses and 70% to 75% of earnings will be generated in US dollars.
I discovered EMRAF in 2009 when it partnered with Algonquin Power (AQN) to buy transmission assets in Nevada from NV Power, and as a long-term shareholder in AQN, saw firsthand EMRAF's building of a 50 million share position in AQN. In 2010, EMRAF swooped in and bought for cash another holding, micro-cap transmission firm Maine and Maritime. As EMRAF built its investment in AQN, they also earned a seat on the Board, which at the time was considered a positive AQN shareholder move as EMRAF was (and still is) known as being investor friendly and known for consistent dividend increases. A few years later, I started a small position EMRAF and figured EMRAF would eventually take out AQN as they already owned a sizeable position from acting as its equity banker since 2009. However, to finance its purchase of TECO, EMRAF sold its holdings of AQN, effectively squashing my hopes of a stock-for-stock acquisition. This also meant I would have to build an independent position in EMRAF, which I have done willingly.
There are several reasons to like Emera, and my favorite "like" is its current undervaluation based on a 17.8 PE and 4.5% yield compared to its history and to both US or Canadian utility peers. Below is the stock's current yield and expected forward yield for Emera vs. the average for its Canadian peers and the average of US utilities with a market capitalization between $5 billion and $25 billion, courtesy of Credit Suisse.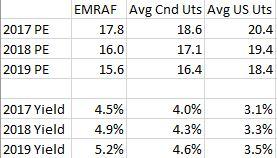 Management has targeted 8% annual dividend growth for the next three years. Earnings per share estimates are for Cnd$2.77 (USD$2.26) in 2016, Cnd$2.60 (USD$2.12) in 2017, Cnd$2.81 (USD$2.30) in 2018, and Cnd$2.91 (USD$2.37) in 2019.
The charts below also indicate the 12-month forward yield is on the higher end and PE is on the lower-to-middle end of their respective historic ranges, also courtesy of Credit Suisse.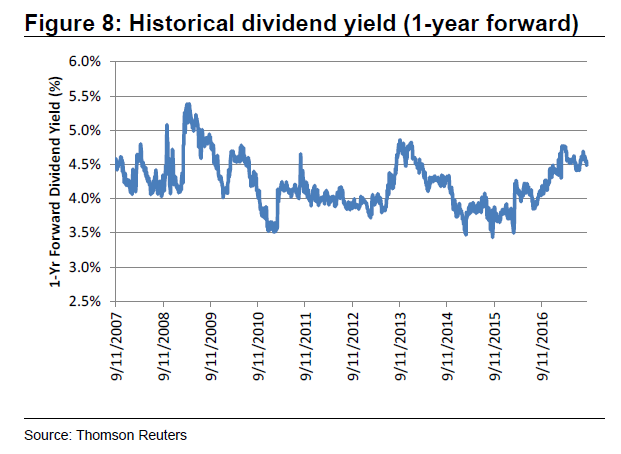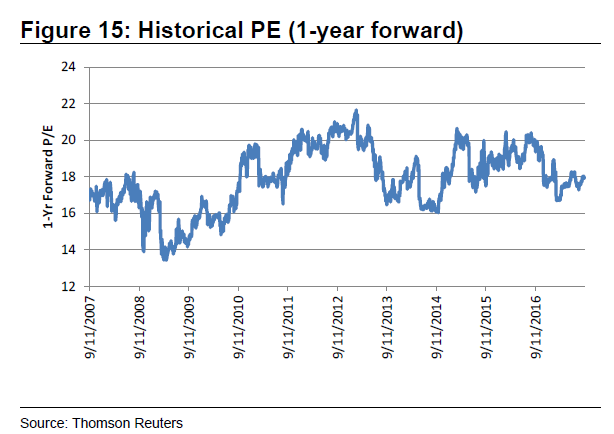 Based on fastgraph.com data, EMRAF seems to be trading at a fair valuation for longer-term investors. Going back 20 years, fastgraph.com figures share prices have not deviated much from the 16.6 PE line (blue line). Below is their chart: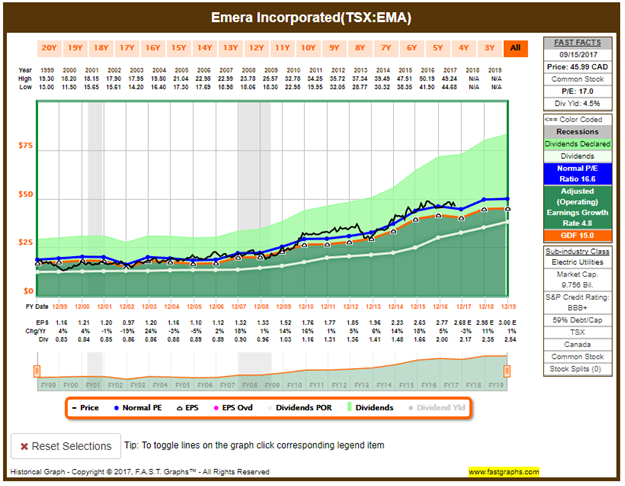 A large percentage of Emera's net earnings will be generated in US dollars. Management outlines their plans in their latest investor presentation:
70-75% of net earnings will be in US

dollars

Percentage of funds from operations in USD aligned with USD debt so credit metrics will not be materially impacted by changes in currency
USD cash flow will be used to reinvest in growing US utilities and to pay down existing USD holdco debt
Reported accounting earnings not hedged, weaker Canadian

dollar will be positive for earnings

Sensitivity: $0.01 change in FX rates will have a $2-4M effect on net earnings~
For US investors, a weaker US dollar will translate into higher US share prices for EMRAF and higher cash dividends when converted to US dollars, all else being equal. But all else is never equal. As indicated above, net earnings will be impacted by currency exchange movements. Using a 10% rise from the current rate to CND$.90=USD$1.00, Share prices should increase by $3.70 (current price USD$37.00), dividends by $0.17 (current dividend USD$1.70) while EPS could be reduced by upwards of $0.19 (current 2018 estimate USD $2.30). As I believe the trend for the US dollar is for continued weakness, I am on board with the improving investor rewards for USD Investors in EMRAF.
An example of the impact of currency exchange can be seen in the 4-yr chart of the US-traded EMRAF vs. the Toronto-traded EMA. Over the past 4 years, EMRAF has increased by 30% while EMA has advanced by 55%. Below is the price-only chart comparing the two. The difference is the impact of the multi-year strength of the US dollar. I expect with addition dollar weakness, the performance gap of the two will close.
Driving earnings growth over the next few years will be the same trend as with other utilities - increasing regulated rate base driving higher allowed returns. As shown below from their presentation, the US is an important consideration for capital expenditures due to higher allowed returns.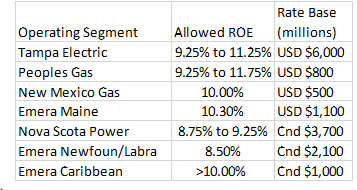 Over the next four years, management expects to invest Cnd$6.5 billion (USD$5.2) with 65% allocated to US businesses. Of interest to many investors, management is expecting to be cash flow positive after capex but before dividends.
Highlighting capex projects will be increase of renewable power generation in Florida, upgrading and expanding gas service in New Mexico, and the proposed Atlantic Link transmission. From their presentation:
Hydro refurbishment, transmission and distribution system upgrades at Nova Scotia Power
Renewable energy (solar) in Barbados
Generating unit capacity and heat rate improvements at Emera Energy
Transmission system improvements at Emera Maine
Maritime Link and Labrador Island Link
CNG vehicles in Florida: attractive economics and environmental profile
Economic development opportunities in New Mexico
EMRAF has proposed a new 310-mile undersea transmission connection from New Brunswick to Plymouth, Massachusetts. This project, known as the Atlantic Link, will deliver renewable hydro and wind energy from potentially northern Maine and eastern Canada to the site of the soon-to-be-mothballed Pilgrim nuclear plant. This innovative connection utilizes the existing infrastructure to the NE ISO grid and should grab the attention of MA regulators.
However, not all is just peachy with EMRAF. The hurricane season has produced quite a bit of damage to the Tampa area infrastructure, and the risk is not over yet. While the vast majority of costs associated with storm recovery are considered as reimbursable through future rate relief, there is a regulatory lag time between when the funds are spent and when recovered from rate payers. This regulatory lag may negatively impact EMRAF earnings over the short term, but should not impact overall long-term business expansion.
EMRAF has been investing in transmission assets to be eventually connected to a very large and expensive new hydropower facility known as Muskrat Falls in the province of Labrador. This transmission project will provide access from the new hydropower to the Northeast power grid, and the potential for access to the Atlantic link as well. Owned by Nalcor Energy, a Canadian government-owned firm, the project will produce upwards of 3,000 MW of hydropower from two plants, but like many large US power construction projects, is behind schedule and billions over budget. Originally begun in 2013 at a cost of Cnd$6.2 billion, plus financing, Muskrat Falls costs are now expected to top Cnd$12 billion. First power is expected in 2019, with full power in the second quarter of 2020, nearly two years behind schedule. While not directly involved with the hydro plant construction, EMRAF is investing $600 million in the transmission link known as the Labrador Island Link.
The firm carries a lot of debt with the TECO acquisition. Future equity raises, a more aggressive DRIP program, and higher free cash flow should whittle down outstanding debt over time. However, the leverage could cause concern for more conservative investors. From the most recent public comments from Moody's as of June 2016:
Emera's Baa3 rating assumes the TECO Energy acquisition will close imminently, and reflects the company's diverse and largely regulated business risk profile, offset by very high consolidated leverage. Emera's Baa3 rating reflects Emera's lower risk business profile that includes good geographic and regulatory diversity across its portfolio of operating subsidiaries. Emera's regulated subsidiaries are expected to account for approximately 90% of consolidated cash flows, a credit positive. However, Emera will be exposed to a high financial risk profile, evidenced by the significant level of consolidated debt, including debt to rate base of over 100%. These debt levels are a direct result of Emera's leveraged acquisition of TECO Energy, and we expect the leverage to weigh on Emera's pro-forma consolidated financial metrics over the next several years. That said, Emera's Baa3 rating incorporates a view that Emera's financial profile will improve over the next few years, such that Emera's pro-forma ratio of cash flow from operations pre-working capital (CFO pre-W/C) to debt will steadily improve to the mid-teen's range, from around 11% in 2016.
US shareholders are subject to a Canadian 15% dividend withholding tax if shares are not held in a US tax-deferred account. According to the US-Canadian tax treaty, IRA accounts are exempt from the withholding, but not non-tax advantaged accounts. The withholding tax is recouped when the investor files their annual IRS Form 1040. There is a straight-line credit for the Canadian withholding tax paid, and should offset each other for most all investors.
Based on its growing earnings and dividend, a price target of Cnd$58 (USD$47) would seem reasonable and could offer a 25%+ capital gain. As US investors become more familiar with the name and its opportunity, I fully expect to hear more about Emera in the financial media.
Overall, there are many positives for investors to consider with Emera. Going forward, management may decide to follow Algonquin's lead and pay dividends to US investors in US dollars. Personally, I prefer the currency exposure as US dollar weakness increases my cash dividend.
More information can be found on the firm's website.
Author's Note: Please review disclosure in Author's profile.
Disclosure: I am/we are long EMRAF, AQN.
I wrote this article myself, and it expresses my own opinions. I am not receiving compensation for it (other than from Seeking Alpha). I have no business relationship with any company whose stock is mentioned in this article.
Editor's Note: This article discusses one or more securities that do not trade on a major U.S. exchange. Please be aware of the risks associated with these stocks.