Investment Thesis
Equinix's (NASDAQ:EQIX) sales growth is likely to continue to accelerate because of the network effect. Thus, purchasing the stock at a high multiple is not unreasonable. Colocation providers offer interconnection services that allow their tenants to exchange data directly between each other in the physical server cabinets they rent. Key tenants such as Amazon (NASDAQ:AMZN), Netflix (NASDAQ:NFLX) and various internet service providers in turn draw more enterprises into Equinix's facilities that seek to rent server cabinets. Equinix is currently the data center market leader, it operates the most data centers and houses the largest number of tenants. Equinix's global presence also offers very promising opportunities for growth in European and Asian markets.
Market Overview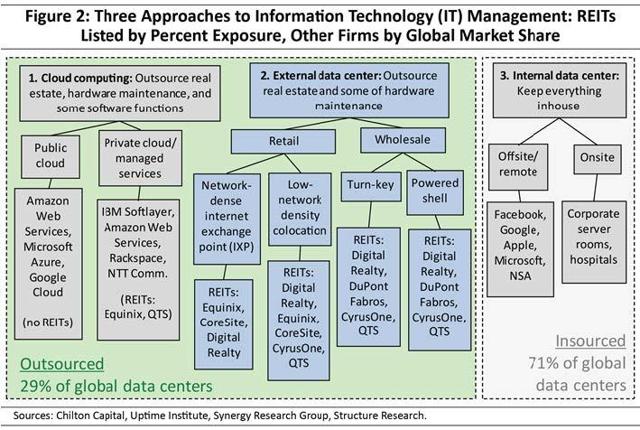 The "cloud" or "cloud services" is an ambiguous term that is thrown around quite often. What exactly is the "cloud"? For all practical purposes, the cloud refers to externally managed (outsourced) IT software and hardware. Alternatively, an enterprise that hires full-time IT professionals to install, acquire, maintain and builds out its own server room is not taking advantage of the cloud. Companies can take either a cloud computing approach or an external data center approach to outsourcing their IT assets.
The cloud computing approach lowers total IT costs-per-employee the most because nearly all IT assets are outsourced. A cloud computing approach also has relatively low start-up and switching costs for companies currently operating IT assets in-house. In addition, a cloud computing approach often utilizes a pay-as-you go model where companies are only charged for what they use under an everything-as-a-service model, this can be further divided into: 1) software as a service 2) platform as a service 3) Infrastructure as a service. By and large this segment is dominated by large-cap and blue-chip tech companies (i.e.- IBM (NYSE:IBM), Microsoft (NASDAQ:MSFT), Amazon). In my opinion, cloud computing will gain most of the market over the next several years; however, several disadvantages still arise with outsourcing all IT resources.
Companies can choose a hybrid or external data center approach, where they own their servers but access them at a third-party location (data center real estate investment trust). The external data center approach is best for relatively large companies with sensitive information (i.e.- defense contractors, financial services, healthcare providers) whose technology needs require a fair degree of customization. An external data center approach is costlier than a sole cloud computing approach but less so than an in-house data center approach, companies can sublease excess server space in order to offset costs. The Uptime Institute found that about 20% of companies currently use this approach (Network-Dense Data Center REITs).
Moreover, the external data centers can be subdivided into wholesale and retail data centers. Wholesale data centers make their money by leasing metered electricity per kilowatt or megawatt hour (which can be converted to a square foot rental basis) and building out data centers to tenant specifications. Tenants make minimum power usage commitments (>250 kilowatts) and may or may not maintain their own equipment. Wholesale data centers typically sign longer term leases (7 to 20 years) with fewer tenants and terms similar to industrial property leases (Network-Dense Data Center REITs).
In contrast, retail external data centers sign shorter-term leases in the 1 to 3 year range. Retail data centers also sell cross-connects to tenants that allow them to exchange data and traffic directly between each other's servers via fiberoptic or copper cable. Selling cross-connects is an extremely high margin business with gross margins that often exceed 95% (Network-Dense Data Centers). Retail external data centers can be classified by their network density with higher network density data centers categorized as internet exchange points (IXPs) and lower network density data centers categorized as co-location centers. Note that although IXP data centers themselves have greater network density, they have fewer total tenants occupying the physical data center but those tenants provide access to a greater number of people. IXP data centers house internet service providers and major content delivery networks like Amazon and Netflix. Co-location centers also benefit from the network-effect; an economies of scale type concept where the more tenants (and carriers) a data center REIT has the more tenants it draws who want to cross-connect with each other. The beauty of this business model is that it increases customers switching costs and thus lowers re-leasing risk.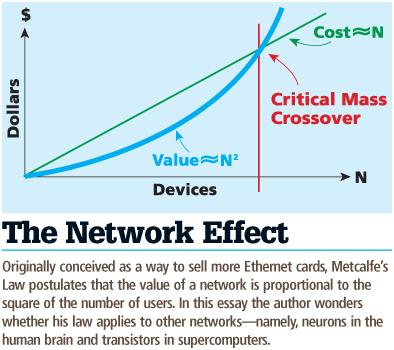 Company Specifics and Valuation

The leading player in the external data center market is Equinix. The data center REIT currently operates 182 data centers in three market segments: 1) North America 2) EMEA – Europe, Middle East and Africa and 3) Asia-Pacific. EQIX technology infrastructure also includes 242,000 cross-connects, 4,111 internet exchange ports and 205,200 leasable server cabinets (2nd Qtr Earnings Presentation). In my view EQIX is a good long-term buy. Although, I think the stock is still a little undervalued at its current price. My research establishes target price of $502.09 (See Net Asset Valuation at End). The five primary reasons why I think EQIX is a good long-term investment include:
EQIX can grow through acquisitions. Most of the M&A transaction EQIX has closed have been immediately accretive on an adjusted funds from operations basis (Bit-Isle Q3-2015 & Verizon Q4-2016) or have been accretive after the end of the fiscal year (Telecity Q1-2015). The companies $37 billion market cap can serve as a currency to fund future stock-for-stock acquisitions. In addition, as carriers divest from data centers EQIX may be able to purchase assets at reasonable prices. Carrier neutral data centers provide a better value proposition to customers with an open and efficient market for transit and peering services (Peering & Switching Overview).
EQIX offers better inflation protection than industrial, office and retail REITs given their shorter lease durations- which are in the 1-3 year range. EQIX's lease terms include pricing escalators that cover 2%-5% cost increases on existing contracts, cross-connects and power density (2nd Qtr Earnings Presentation).
Low leverage and dividend payout ratio compared to other specialty and data center REITs. EQIX's credit profile is excellent. It trades at 4.1x Net Debt/Adjusted EBITDA and 3.75x EBITDA/Interest. Moreover, the company has $1.5 billion in unused capacity under its revolving credit facility and an unused $750 million at-the-market equity offering program that allows it to continuously raise capital at opportunistic times. I would like to see EQIX take on increased leverage in the medium term as other assets become more fully integrated (2nd Qtr Earnings Presentation).
Supply and demand dynamics for data center properties are stable. The market should be able to handle the 506 megawatts currently under construction in North America. 2016 was a record year with 350 megawatts of absorption. Absorption has slowed but still remains high with 182.1 megawatts of absorption in first half 2017 versus 249.1 megawatts during the same period in 2016. Additionally, vacancy rates hover near 10% in most major metropolitan markets with Chicago and North Virginia showing sub 5% vacancy (Jones Lang Lasalle- First Half 2017).
Prudent allocation of international investments. EQIX has been allocating much more capital to its EMEA segment in terms of the total capital expenditures and Capex %/Asset % versus its Asia-Pacific geographic segment. Server cabinet utilization has been decreased in the Asia-Pacific segment, whereas, it has increased in Europe (2nd Qtr Earnings Presentation). Thus, EMEA markets have shown more stable cash generation in terms of a higher cash flow (Adjusted EBITDA)/Average Assets. The Asia-Pacific region does offer higher revenue per server-cabinet. However, the region remains riskier with a slowing China that has a lot of excess capacity in its traditional heavy industries (OECD: Economic Outlook for Southeast Asia, China and India 2017). Moreover, Apple has recently run into issues complying with the Chinese cybersecurity laws related to the first data center it has built in China's Guizhou province (AAPL Cybersecurity Law). Companies operating in China must often work under strict control of the government, often times to their own detriment (See International Segments Analysis at End).
I think investors should buy on the recent pullback but keep the results of Federal Open Market Committee (FOMC) meeting in mind. Every time Equinix has reached a new 52-week-high over the past 2-years the REIT has pulled back approximately 5%-10%. The FOMC concludes its 2-day meeting on Wednesday and will make any pertinent announcements at 2pm eastern standard time. The FOMC is unlikely to raise the federal funds rate. However, the FOMC will likely announce they will start to unwind their massive $4.5 trillion bond portfolio, which will raise yields on the long end of the yield curve (FOMC Preview). REITs generally have demonstrated modest sensitivity to rising long-term rates. Investors interested in Equinix should listen to the planned size and speed at which the FOMC plans to dispose of treasury and mortgage-backed-securities it purchased. Overall, Equinix's fundamentals remain very strong. Nonetheless, investors still need to be conscious of external factors that may effect Equinix in the short term.
Net Asset Valuation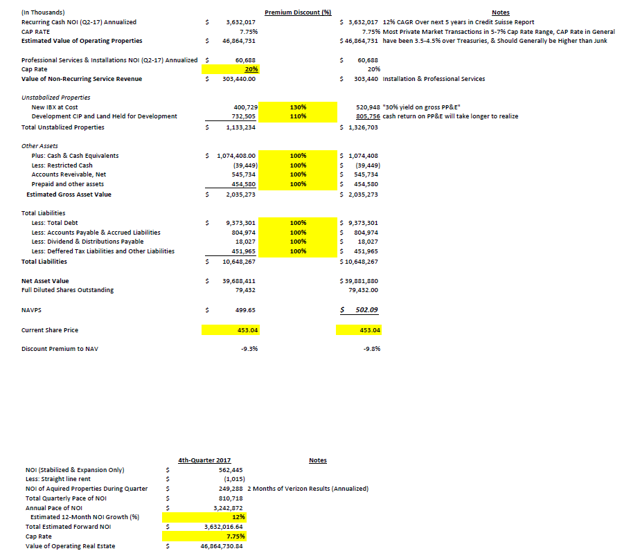 International Segments Analysis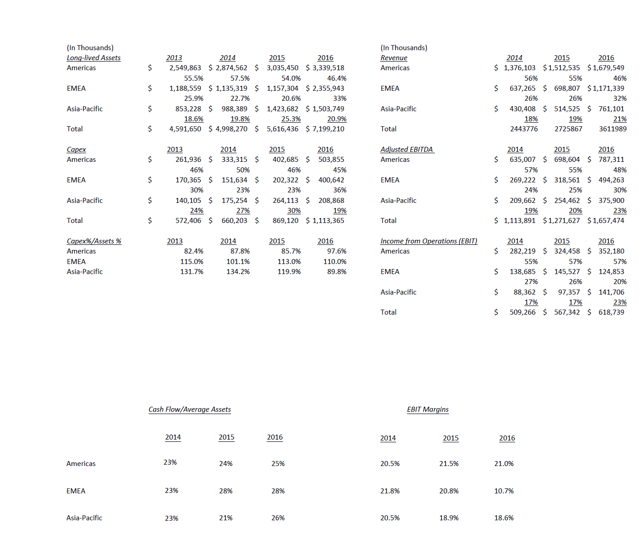 Disclosure: I/we have no positions in any stocks mentioned, and no plans to initiate any positions within the next 72 hours.
I wrote this article myself, and it expresses my own opinions. I am not receiving compensation for it (other than from Seeking Alpha). I have no business relationship with any company whose stock is mentioned in this article.