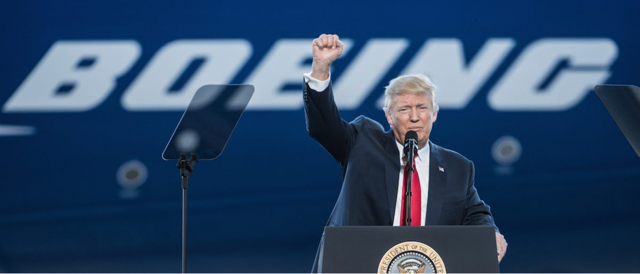 We are going to start winning again, and we're going to win so much.
A Performance Update On Our Boeing Portfolio
We've faced skepticism since we first presented our hedged portfolio method of investing here on Seeking Alpha, and for good reason: many of you are experienced investors, and our method is quite different from approaches you are familiar with. So we've aimed recently to be completely transparent: we present our hedged portfolios (since June, exclusively in our Marketplace service), and then we show you how they perform. Here we update the performance of a hedged portfolio built around a Boeing (BA) position, one we presented in this article in April.
Our Boeing Hedged Portfolio From April
The idea here was for a risk averse individual who liked Boeing and had $100,000 to invest to own it within a concentrated portfolio designed to maximize his potential upside, while strictly limiting his downside risk to a drawdown of no more than 15%. This is what Portfolio Armor presented us with: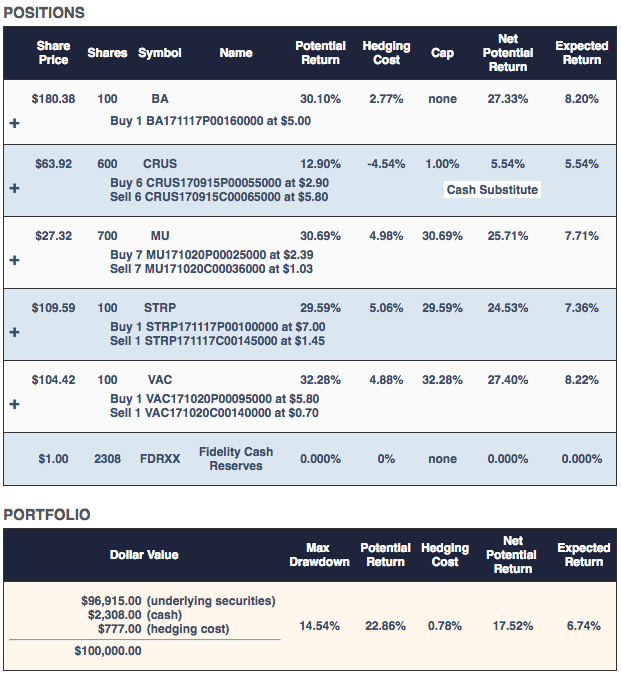 In addition to Boeing, our site included Marriott Vacations (VAC), Micron Technology (MU), and Straight Path Communications (STRP) as primary securities, based on their net potential returns and their share prices (Priceline (PCLN) also had a high net potential return then, for example, but too high a share price to be included in a $100,000 portfolio). It attempted to allocate roughly equal dollar amounts to each of those names, but rounded down the dollar amounts to make sure it had round lots of each stock (to lower hedging costs).
In its fine-tuning step, it selected Cirrus Logic (CRUS) as a "cash substitute" - that's a security that when collared according to your risk tolerance with a tight cap (the site uses 1% or the current money market 7-day yield, whichever is higher) has a potential return greater than the current money market rate. The site allocated as much as possible of the cash left over from its rounding-down step to the cash substitute.
What's Different About This Approach
Note what's different about our approach from what you typically see:
The whole portfolio consists of 5 names. There is no attempt to diversify by asset class or industry.
These securities were selected without regard for valuation: Portfolio Armor ranks stocks each day by potential return net of hedging cost, and it bases its potential return estimates solely on price momentum and option sentiment.
Each name is hedged.
Here's a closer look at the hedge on Boeing: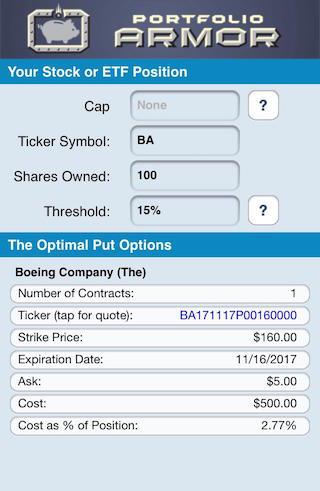 Note that the cost of this hedge was $500, or 2.77% of position value. That cost was calculated conservatively, assuming you bought the puts at their ask price rather than at some point between the bid and ask. And to be conservative, we assume you did just that when we track performance.
Boeing's Performance Since (Unhedged)
Recall in our hedged portfolio above, Portfolio Armor estimated a potential return of 30.1% for Boeing over the next 6 months. Boeing has blown past that so far: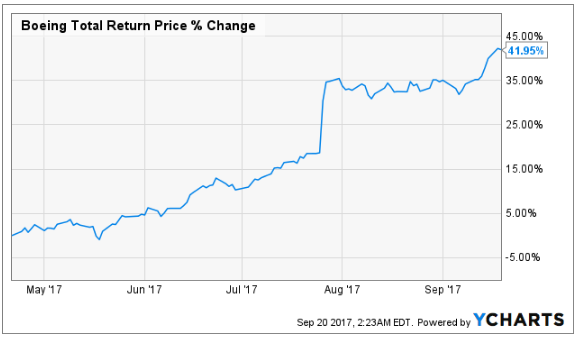 Boeing's Performance Since (Hedged As Above)
Since Boeing was hedged with puts, rather than with a collar, it's simpler to figure out its performance net of hedge than it was for Nvidia (NVDA) in the previous hedged portfolio we looked at. We just compare our entry cost (dollar amount of underlying shares + cost of puts) to the current value (dollar amount of underlying shares + value of puts).
Referring back to the portfolio above, we had 100 shares of BA at $183.38, so that was worth $18,338. Plus, we spent $500 on puts. So we started with a position value (underlying + hedge) of $18,838 for Boeing.
To get the current value of the puts, we use the intrinsic value or the midpoint of the bid-ask spread, whichever is higher. In this case, since the puts are out-of-the-money, their intrinsic value is zero, so we use the midpoint of the bid and ask. In the screen capture below, via Fidelity, we see that the bid was $0.09 and the ask was $0.23, so the midpoint was $0.16.

Since Boeing had an adjusted close of $252.46 on Tuesday, our position value was $25,246 in shares plus $16 in puts = $25,262. $25,262 represents a 34% gain from $18,838, so we were up 34% on the hedged Boeing position, rather than the ~42% we'd be up unhedged.
Hedged Portfolio Performance Since
Here's how the entire portfolio has performed since April 21st.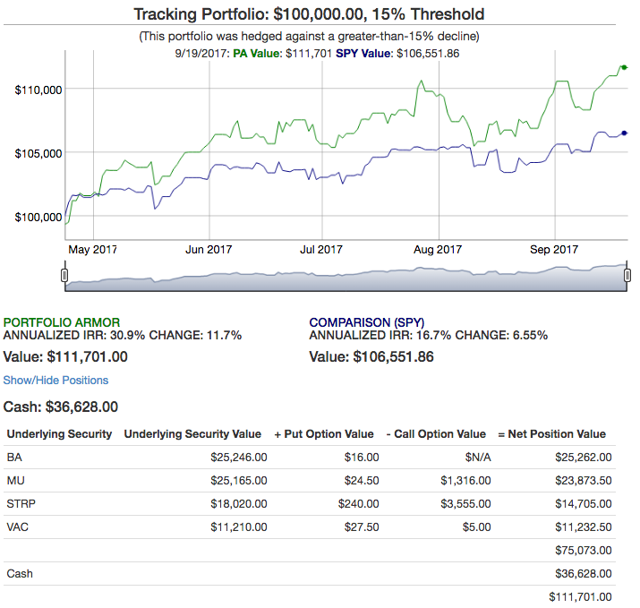 The portfolio as a whole was up 11.7% as of Tuesday, net of hedging cost and opening trading commissions (we'll deduct the exiting trading commissions in our final performance update for this one, but with concentrated portfolios like this, the trading costs tend to be pretty low). Over the same period, the market, as represented by the SPDR S&P 500 ETF (SPY) was only up 6.55%.
Why Aren't You Investing This Way?
That's not a rhetorical question; we welcome your answers in the comments. We think that generating competitive returns while strictly limiting your risk is an attractive proposition, but we realize that habits, including value investing and broad diversification, are hard to break. We also realize that some of you are focussed on dividends, while our focus is on total return and risk. Perhaps some of you reading this have the superpower to change your minds.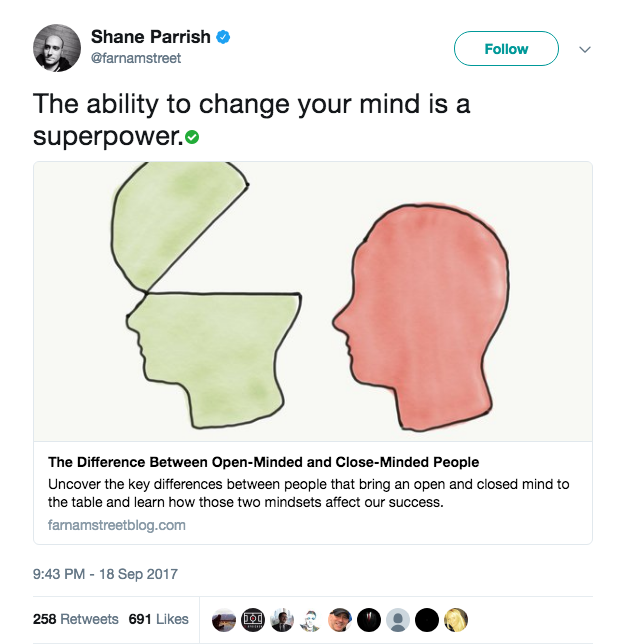 Disclosure: I/we have no positions in any stocks mentioned, and no plans to initiate any positions within the next 72 hours. I wrote this article myself, and it expresses my own opinions. I am not receiving compensation for it (other than from Seeking Alpha). I have no business relationship with any company whose stock is mentioned in this article.