Politics is war without blood, while war is politics with blood." - Mao Zedong

The biotech sector has drifted down slightly to begin the trading week. 'Merger Monday' passed once again without any significant acquisitions. It appears Gilead Sciences (GILD) $12 billion purchase of Kite Pharma (KITE) on August 28th might be a 'one off' and not the trigger for a significant uptick in M&A activity where deal levels are at their slowest annual rate so far in 2017 than in many years.
Author's note: To get these Biotech Forum Daily Digests as soon as they are published, just click here on my profile, hit the big orange "Follow" button, and choose the "real-time alerts" option.

Alnylam Pharmaceuticals (ALNY) should be up nicely in trading today. A key Phase III study for its compound patisiran hit its primary as well as all secondary endpoints in treating rare cases of hereditary ATTR amyloidosis with polyneuropathy. This drug is partnered with Sanofi (SFY). Ionis Pharmaceuticals (IONS) will probably be weak today as a result, given it is developing a competitor in this space that already has had some recent challenges.
European regulators approved Xermelo, in combination with a somatostatin analogue (SSA), for the treatment of carcinoid syndrome diarrhea in patients inadequately controlled with SSA therapy on Tuesday. Ipsen owns distribution rights to Xermelo outside the United States and pays royalties to Lexicon Pharmaceuticals (LXRX) which developed the drug and owns the U.S. rights. The drug was approved here and hit the market earlier this year. Lexicon has been a weak performer in the market recently, but has seen some insider buying in the shares from its CEO in September.
Adamas Pharmaceuticals (ADMS) announced the price of its recently approved drug GOCOVRI for Parkinson's at a list price of $28,500 annually. This was at the top end of the projected range and about double what the consensus was estimating. This caused Mizuho Securities to raise its price target on ADMS to $48 from $26 previously. Mizuho's analyst also lifted her peak sales estimate from $92 million to $266 million, but she noted it will take some time for the drug to garner market penetration primarily due to reimbursement challenges.

A couple of highly ranked analysts (TipRanks) came to the defense of Portola Pharmaceuticals (PTLA) yesterday after it was the subject of a negative piece by Adam Feuerstein over at STAT. Citigroup reiterated its Buy rating stating the recent sell-off was overdone. Oppenheimer reissued its Buy rating and $80 price target on PTLA. Its analyst noted that the recent decline "is based on the rehashing of draft guidelines that were available for public comment from July 24 to August 25, the analysts tells investors in an afternoon research note titled "Stale Draft Recommendations for VTE Mysteriously Resurface." The draft references the August 2016 New England Journal of Medicine article for Portola's Bevyxxa versus Lovenox in cohort one on the primary efficacy outcome"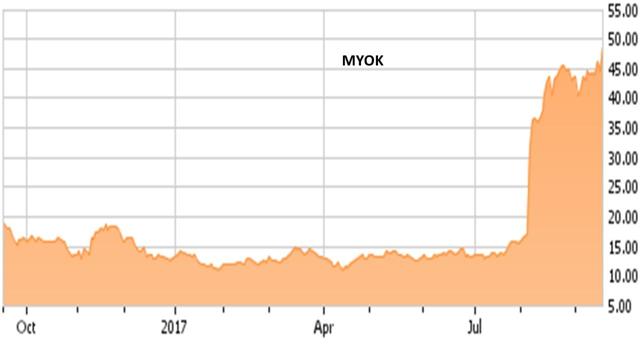 MyoKardia (MYOK) continued its recent massive rally. Helping yesterday was Credit Suisse raising its price target to $55 from $45. Its analyst notes he sees a 75% chance for mavacamten to be successful in treating in obstructive hypertrophic cardiomyopathy based on recent data from the company's PIONEER-HCM study. This was the first analyst commentary on this small cap concern in a month. We posted a positive piece on this name early this summer before its big move up.
Ultragenyx Pharmaceutical (RARE) gets Buy ratings reiterated at Wedbush and Robert W. Baird on Tuesday. Wedbush who has $62 price target on the rare disease concern notes that,
"a successful acquisition of Dimension Therapeutics (DMTX) would mark Ultragenyx's entry into the gene therapy space, and would be a natural extension of the latter's rare disease focus"
Cymbay Therapeutics (CBAY) whose stock has more than tripled in 2017 gets another positive 'shout out' from analysts. Yesterday, it was Cantor Fitzgerald initiating the stock with a Buy rating and $16 price target. Cantor's analyst could hardly be more effusive in his view on CBAY.
"Interim Phase 2 data as good as it gets. Seladelpar's efficacy in PBC was established in a Phase 2 trial that tested 50mg or 200mg daily doses. Problematic were safety signals that led to termination of the study"

Author's note: New analyst ratings are a great place to begin your due diligence, but nothing substitutes for deeper individual research in this very volatile sector of the market. Many of the small-cap names highlighted in "Analyst Insight" will eventually appear in the "Spotlight" section, where we do deeper dives on this type of promising but speculative small-cap concerns.

I am getting a few questions on Neos Therapeutics (NEOS) as the stock is dipping in the market since its compound NT-201 was approved by the FDA after the bell on Friday. Here is my quick take on this small cap name for our Spotlight feature today.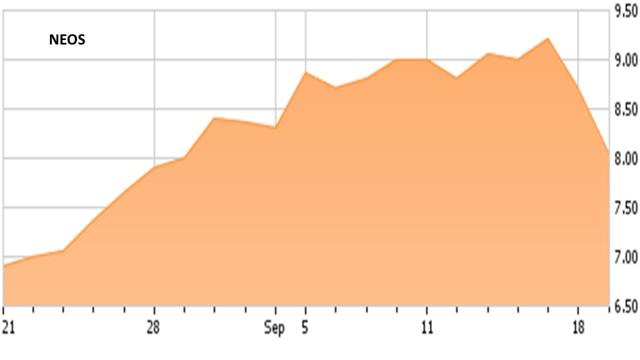 Obviously, approval of NT-201 was a desirable outcome. However, as happens many times in the small cap part of this high beta sector, there was some 'buy the rumor, sell the news' trading action around NEOS on this event. Given that the stock had run from ~$6.50 a share to just over ~$9.00 a share in the month into the FDA decision; some short-term profit taking is understandable if not expected.
This is the third drug the company has had approved for the ADHD space, which is roughly a $10 billion annual market in the United States. Its first compound 'Adzenys' is seeing solid script growth, and its second compound 'Cotempla' will hit the market soon after being approved in June. NT-201 or Adzenys ER will roll out early in 2018.
This gives the company three wholly owned compounds it can market and distribute through the same sales force. Obviously, this should be extremely positive for revenue growth and margins. Needham mentioned a possible 'funding overhang' which I think is unwarranted, given the company raised some $30 million near the end of June and ended the first half of 2017 with almost $80 million in cash and marketable securities on the books. This represents about 40% of the company's approximate $200 million market cap.
Analyst commentary on NEOS is quite positive. Over the past week, RBC Capital, JMP Securities, BMO Capital and Canaccord Genuity reissued Buy ratings with price targets proffered on NEOS of $12 to $30 a share. Here is the color the five star ranked analyst (TipRanks) at JMP offered a few days ago with his $30 price target.
Neos Therapeutics' approval of Adzenys ER Oral Solution further builds out the company's ADHD portfolio, giving it the most complete offering of alternative dose forms of the most widely prescribed drugs used to treat the condition".
I have taken this decline as an opportunity to add 20% to my core stake at NEOS at $8.05 a share yesterday. And, that is my current take on Neos Therapeutics.

Some must be warriors, that others may live in peace. " - Mercedes Lackey
Disclosure: I am/we are long ADMS, ALNY,CBAY, GILD, LXRX,MYOK,NEOS, PTLA, RARE. I wrote this article myself, and it expresses my own opinions. I am not receiving compensation for it (other than from Seeking Alpha). I have no business relationship with any company whose stock is mentioned in this article.
Editor's Note: This article covers one or more microcap stocks. Please be aware of the risks associated with these stocks.