This article originally appeared on my Seeking Alpha Marketplace site, Market Adventures, this past Saturday morning.
On September 6, 2017, CNBC and other media outlets reported that Toys 'R' Us was close to a bankruptcy filing (see article here).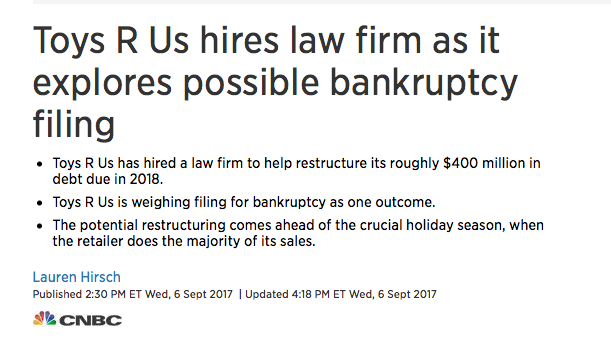 Per the CNBC article:
Toys R Us was taken private by KKR, Bain, and Vornado in 2005 in a deal valued at $6.6 billion.

Its owners had tried to take the company public, filing for an initial public offering in 2010, but later pulled it, citing challenging market conditions. At that time, the toy industry was struggling to deal with the increasing popularity of electronic gaming apps.
Early Saturday morning, September 16th, CNBC ran this story from Reuters.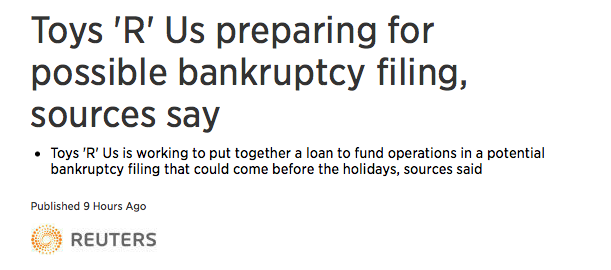 Source: Reuters (See article link here)
I find it fascinating that the media loves the practice of first level thinking and simply cites that competition from Amazon (AMZN) and Wal-Mart (WMT) are main reason for Toys 'R' Us's downfall.
See this part of the article:
The toy merchant's move underscores the deep distress rippling through retailers of all sizes as consumers increasingly shop online at sellers such as Amazon.com Inc. or go to discounters such as Wal-Mart Stores Inc.
On September 15, 2017, the WSJ published this article: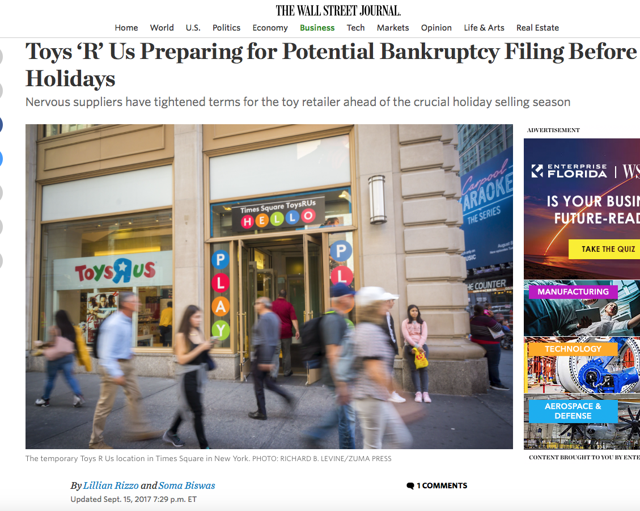 Source: WSJ
The WSJ piece cites vendor re-payment fears and tighter terms.
The potential filing would be propelled by the toy chain's suppliers tightening trade terms, including holding back on shipments unless Toys 'R' Us is able to make cash payments on delivery, the people added.

While Toys 'R' Us already has received a majority of its holiday shipments, it is still without a portion of the goods and could soon be cut off from receiving any fresh inventory, these people said.
This news intrigued me, as I have been negative on Mattel (MAT), for a while, (see Is Mattel A Buy at $22?). So, this prompted me to look more closely at Toys' financials.
After reviewing Toys 'R' Us's financials, it is very apparent that private equity killed the toy star (think of the annoying song: video killed the radio star - see you YouTube to the Buggles' 1979 video).
Exhibit A - Top-line sales are down $2 billion over the past five years.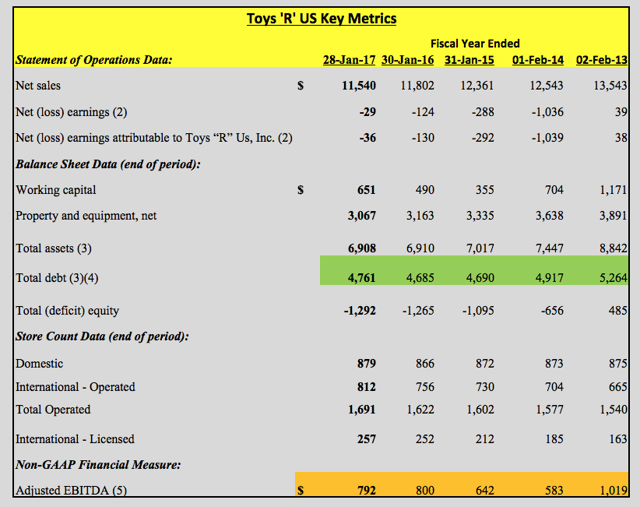 Source: Toys 'R' Us 10-K (pg. 24)
Exhibit B
$5.2 billion in debt as of April 2017 is insurmountable, given the weak operating performance. As you can see, there is $400 million in debt maturing in 2018. 7.375% coupon debt isn't exactly low interest debt, but that is what happens when the greedy private equity firms lever up companies with "Other People's Money" (OPM).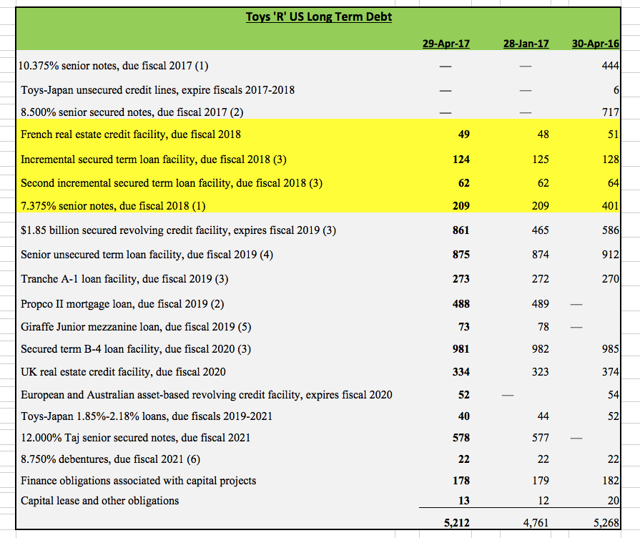 Source: Toys 'R' Us April 2017 10-Q (pg. 7)
When you are paying $425-517 million per year in interest expense, then it is really hard to make money.


Source: Toys 'R' Us 10-K (pg. 25)
Here is the April 28, 2006, 10-K citing the private equity deal.
We were acquired on July 21, 2005 by an investment group consisting of entities advised by or affiliated with Bain Capital Partners LLC, Kohlberg Kravis Roberts & Co., L.P. ("KKR"), and Vornado Realty Trust (collectively, the "Sponsors"), along with a fourth investor, GB Holdings I, LLC (the "Fourth Investor"), an affiliate of Gordon Brothers, a consulting firm that is independent from and unaffiliated with the Sponsors and management. The acquisition was consummated through a $6.6 billion merger of the Company into Global Toys Acquisition Merger Sub, Inc. ("Acquisition Sub") with the Company being the surviving corporation in the merger (the "Merger") pursuant to an Agreement and Plan of Merger, dated as of March 17, 2005 (the "Merger Agreement"), among the Company, Global Toys Acquisition, LLC ("Parent") and Acquisition Sub. The Sponsors and the Fourth Investor are collectively referred to herein as the "Investors."

Under the Merger Agreement, the former holders of the Company's common stock, par value $0.10 per share, received $26.75 per share, or approximately $5.9 billion. In addition, approximately $766 million was used, among other things, to settle our equity security units, and our warrants and options to purchase common stock, restricted stock and restricted stock units, fees and expenses related to the Merger, and severance, bonuses and related payroll taxes. The merger consideration was funded through the use of the Company's available cash, cash equity contributions from the Investors and the debt financings as described more fully below. We refer to the July 21, 2005 Merger and recapitalization as the "Merger Transaction." Please refer to the section entitled "Merger Transaction" under Item 7. "MANAGEMENT'S DISCUSSION AND ANALYSIS OF FINANCIAL CONDITION AND RESULTS OF OPERATIONS" and Note 2 to our Consolidated Financial Statements entitled "MERGER TRANSACTION" for further details.
Source: Toys 'R' Us 10-K April 2006
The private equity sponsors actually put up $1.279 billion in equity to get the deal to the finish line and get the debt arranged for the LBO. I haven't gone through every 10-K since the April 2006 version to see if private equity was able to make any "special distributions" to get its money back. It would also be interesting to follow the timeline of the Toys 'R' Us bouncing debt trail (bouncing debt ball), but I just don't have the bandwidth.
Before private equity got involved, Toys 'R' Us was generating free cash flow.

Source: Toys 'R' Us 2006 10-K (pg. 40)
Look at Toys 'R' Us's balance sheet and debt pre and post LBO.


Source: Toys 'R' Us 2006 10-K (pg. 57)
Takeaway
With Toys 'R' Us set to report earnings on September 26th, I expect a bankruptcy filing by then. $5.2 billion of debt and $450 million on annual interest expenses are unsustainable. I would argue that is just private equity greedy gone wrong. I'm sure the media will blame Amazon.