The two major challenges for the Greek Banks are their liquidity issues and the high level of non-performing loans. As I have done traditionally, I will compare the second quarter results of the 4 biggest banks: National Bank of Greece S.A. (OTCPK:NBGIF), Piraeus Bank SA ADR (OTCPK:BPIRY), Alpha Bank S.A. ADR (OTCPK:ALBKY), Eurobank Ergasias SA ADR (OTCPK:EGFEY).
Liquidity
The loan/deposit ratio improved for all banks the second quarter. As you can see, the situation is gradually improving. National Bank of Greece is best positioned to benefit from new loan originations as it has quite some unproductive deposits on its balance sheet: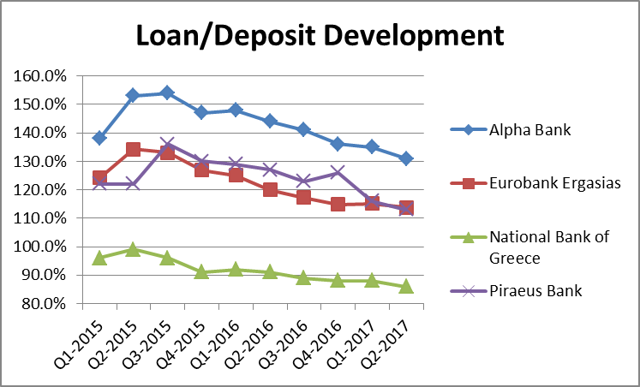 Source: Q2-2017 reports
All Greek banks are still on Eurosystem life support, but also on this metric things are improving. As percentage of Total Assets, thinks seem to progress slowly but this is mostly the result of shrinking balance sheets. Underlying Eurosystem exposure went down for all banks with the exception of Piraeus. Moreover, in the Q2 results the banks provided a sneak peak of their August Eurosystem balances, and they were down again.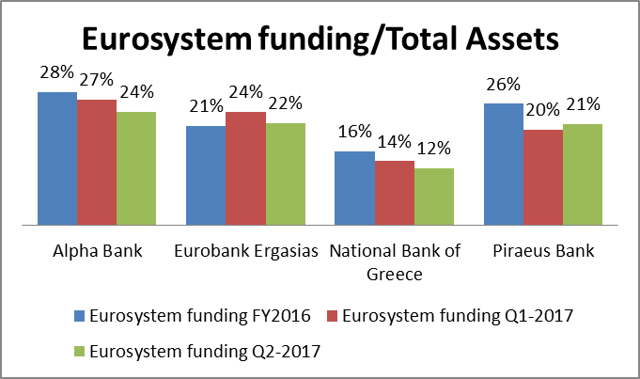 Source: Q2-2017 reports
I expect the liquidity position to improve further in the future. First of all, I notice most banks are busy selling non-core assets. Eurobank sold a 20% ownership in Grivalia (Greek REIT), National Bank of Greece is busy selling a bunch of subsidiaries (National Insurance, UBB, Interelease, Banca Romanesca) and Piraeus is disposing of Avis Hellas and Hellenic Seaways. I don't have the specifics on every transaction, but I feel it's safe to assume that significant cash can be used to reduce eurosystem exposure.
A second factor which could have a major impact on improving liquidity is the gradual relaxation of capital controls. To give you an idea: until august of this year, Greeks could only withdrawal 840 Euro per month. As of September, this increased to 1800 Euro. Additionally, individuals will be able to transfer up to 1000 Euro a month. Another real life example: before, only 10% of incoming funds could be withdrawn in cash. Now it's possible to withdraw 60%.
These developments give me the confidence the liquidity will improve over time (but probably slowly, as always).
Non-performing loans
The NPL ratio is mostly flat for the last 2 years. Overall, we saw some improvement this quarter but not of significance, just rounding errors. The coverage ratio development is also mostly flat. The coverage is still quite high and comfortable, especially if you would add collateral coverage.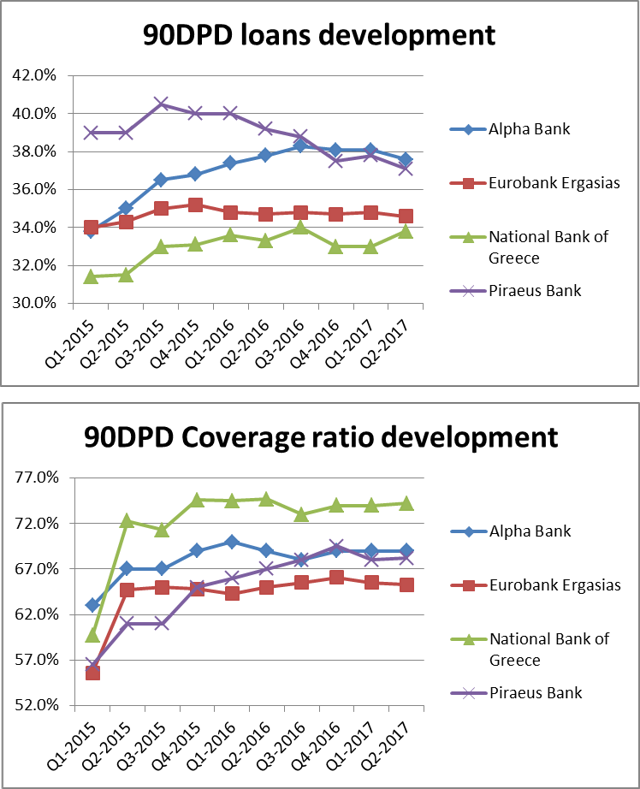 Source: Q2-2017 reports
If we look at underlying NPL formations, all banks with the exception of Eurobank had negative NPL formations. Eurobank saw some minor increases in NPLs (91 million), mostly coming from mortgages. The reason the NPL ratio still improved is due to the fact it added new customer loans and thanks to international improvements.
In sum, I think it is fair to expect liquidity improvements in the near future. Meaning the banks are de-risking and making progress. Someday, the NPLs will reduce as well, but I have been wrong on the timelines before and will not speculate on them again. I will patiently wait while book value increases in the meantime.
Disclosure: I am/we are long EGFEF.
I wrote this article myself, and it expresses my own opinions. I am not receiving compensation for it (other than from Seeking Alpha). I have no business relationship with any company whose stock is mentioned in this article.
Editor's Note: This article covers one or more stocks trading at less than $1 per share and/or with less than a $100 million market cap. Please be aware of the risks associated with these stocks.