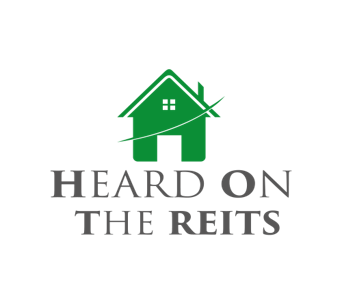 For the week ending September 22, 2017, the MSCI REIT Index (RMZ) was down 1.6% on a price basis, which lagged the SPDR S&P 500 ETF (SPY), by 1.3%. The MSCI REIT Index now trails the S&P 500 by over 11% on a YTD basis.
Regional malls reversed gains from last week and continued to decline, ending the week with a 5.2% drop. Pennsylvania Real Estate (PEI), which had a 4.4% increase last week, gave back those gains and then some, dropping 7.5% on the week. Taubman Centers (TCO) also declined more than 7% with a 7.2% drop after Morgan Stanley downgraded the stock (See news below).
Infrastructure and shopping centers also pulled back with both sectors declining by 4.3% on the week. Uniti (UNIT) continued its fall with another 13.2% decline this week, giving it a total return for the year of -34% - it did seem to stabilize towards the end of the week. CorEnergy Infrastructure Trust (CORR) had the second largest decline in the group but was as modest 4% compared to Uniti. Shopping Center REITs were dragged down by DDR (DDR) with a 9.2% decline, primarily due to the expected damages to its 12 assets in Puerto Rico. Most other companies in the sector dropped by more than 4% for the week. Only Urstadt Biddle Properties (UBA) (UBP) mustered positive returns.
There were a few winners on the week but their gains were unimpressive. Timber REITs gained 2% while self-storage REITs rose 1.7% on average. Timber REIT CatchMark Timber Trust (CTT) was up 3.7%, leading that group, while National Storage (NSA) led all self-storage REITs with a 3.5% return after reporting minor hurricane-related damages.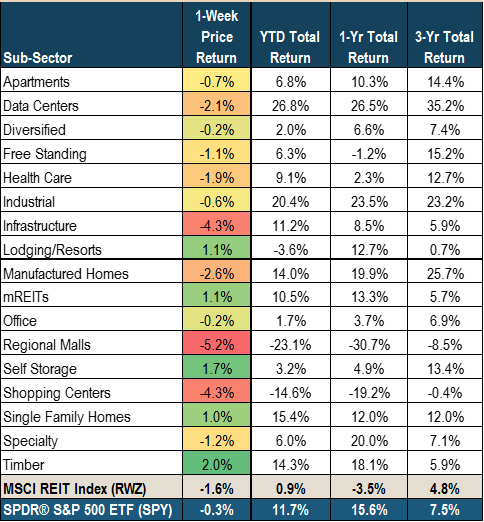 Note: One-week price returns are based on the average returns all REITs within each sector. Not market-weighted.
Below are the results for a select group of REIT ETFs. We have added fund flows for one-, three, and six-month periods. The biggest winner for the week and one of the leaders over the last one-year period is the WisdomTree Japan Hedged Real Estate ETF (DXJR). All other ETFs declined roughly 1% for the week.

Select News Items
A few updates on hurricane damages this week: Starwood Waypoint (SFR) estimates damages in Houston to be less than $10M but that it will take several weeks to assess damages in Florida. Gladstone Commercial (GOOD) announced that its office properties in hurricane impacted areas were relatively unscathed, with the exception of a property in Miami, whose tenant will suspend operations. Camden Property (CPT) reported damages of $2M-2.5M for landscaping, water intrusion, and roofing. NexPoint Residential (NXRT) reported immaterial damages. Equity Lifestyle Properties (ELS) was able to assess its properties in the keys and reports that they should be open for business once utilities have been restored. None of the mainland properties were materially affected.
HCP (HCP) reports that its preliminary damage assessment revealed little to no damage and that utility power has been restored at all but one property. Damages are covered by insurance. Omega Healthcare Investors (OHI) evacuated 16 facilities in the path of Hurricane Irma and only minor flooding and damage was reported post-Irma. All facilities have resumed readmitting residents. The two facilities in Houston that were evacuated have also resumed admitting residents. DiamondRock Hospitality (DRH) reported that its Frenchman's Reef Marriott in St. Thomas suffered significant damage and is working with engineers to assessing remediating strategy. Its properties in Key West are partially open and its property in Ft. Lauderdale sustained minimal damage. Vornado Realty (VNO) apparently has nothing to worry about and has potential tax gains regarding its position in Toys "R" US. It already carried the investment at zero and could potentially reap benefits in future years. Invitation Homes (INVH), American Homes 4 Rent (AMH) and Starwood Waypoint Homes (SFR) were subpoenaed as part of an SEC probe regarding securitizations. Under investigation is Green River Capital, which is a service provider that provides certain broker price opinions to REITs. Ventas (VTR) was named to the Dow Jones Sustainability North America Index.
Upgrades/Downgrades
Upgrades
Goldman Sachs initiated coverage of Hudson Pacific (HPP), citing advantages over East Coast peers and setting an initial price target of $39.
Downgrades
Taubman Centers (TCO) cut to Underweight by Richard Hill, primarily due to a decline in same-store sales. He cut his price target from $56 to $47.
Dividends this Week and Next - Lots of dividend activity in the next couple of weeks!!

REITonomics This Week
Building Permits
Building permits rebounded strongly from last year's decline and was well above consensus forecasts of 1.22 million. This data does not take into account the potential increase in building permits that may be filed in places that have been impacted by hurricanes recently, such as in Texas and Florida. The rebound is good news for the economy because it portends new home construction.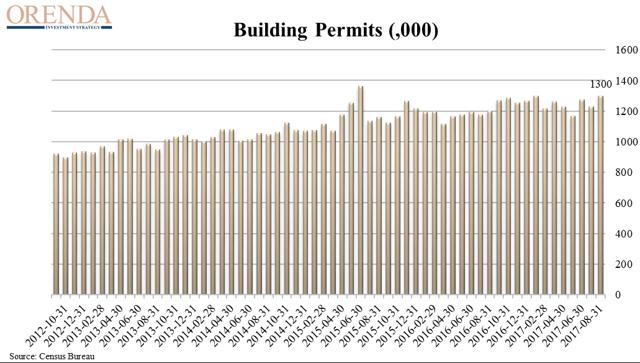 Housing Starts
Housing starts declined for the second month in a row and now stands at 1.18 million. We expect this figure to rebound in coming months after strong building permit data in two out of the last three months and the potential impact of hurricane rebuilding efforts.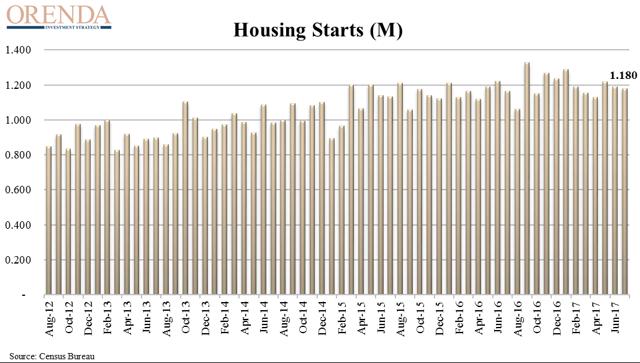 Existing Home Sales
Existing home sales declined for the third month in a row and the fourth out of the last five months. The good news, if any, is that the decline in sales has more to do with the lack of supply not demand. Consumers want to buy homes but there aren't enough of them for sale. Let's hope the increase in building permits is an indication of upcoming new construction. Whatever happens has huge implications for both single-family and multi-family rentals because tight supply has forced otherwise willing buyers to continue to rent - and rents remain elevated.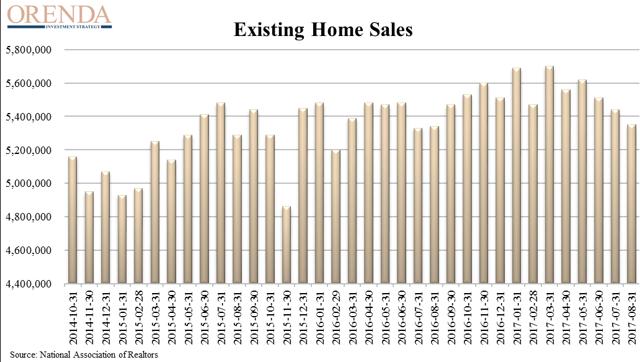 Initial Jobless Claims
Initial jobless claims had a meaningful decline from last week to 259,000, which was well below the consensus of 300,000. The four-week moving average did however increase to 268,750. So a bit of a mixed signal for the otherwise strong labor market.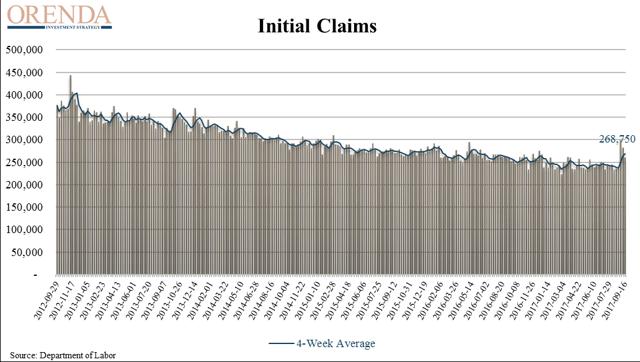 REIT Data
We have changed the format of our Dividend Yield/Payout Ratio chart to better reflect attractive dividend payers with dividend growth potential. Based on the new format, sectors located to the top/left are attractive based on current dividend yields and low payout ratios that could lead to potential dividend boosts. Although not quite towards the top left, regional malls stand out as high dividend payers with only slightly high payout ratios. Lodging/resorts sport a 5% yield and a 40% payout ratio but we still have it as a slight underweight.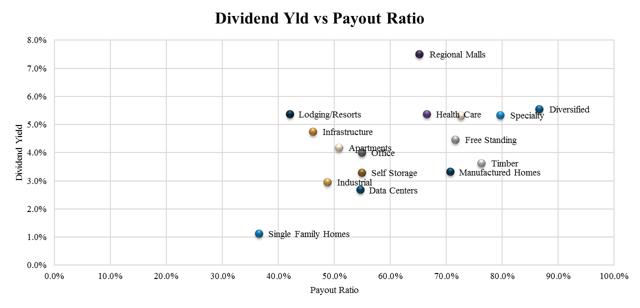 Comparing price multiples to potential returns based on analyst estimates, regional malls still look attractive with a P/FFO multiple of 10.6 - and a potential return of 19.9%. The sector with the highest potential return based on analyst estimates continues to be infrastructure REITs with a target return of 30.6%, after declining this week. Their P/FFO multiple of 15.1x is much higher than the regional malls but still reasonable in our view.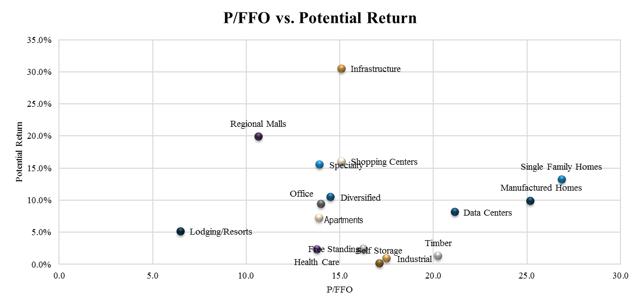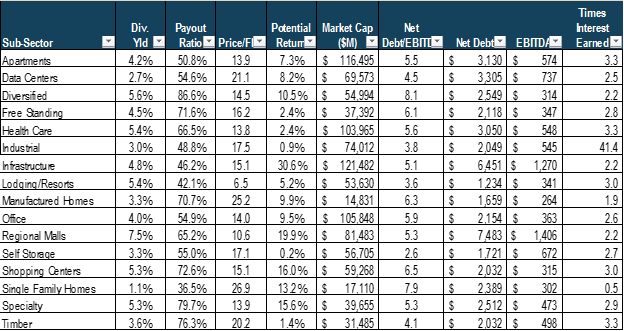 Note: Some adjustments were made to normalize the average numbers such as removing data points where P/FFO was negative due to negative FFO/share or where a low FFO would lead to an abnormally high P/FFO in a small population size.
As we continue to refine our offering, we will provide AFFO when it is viewed as a better indication of a company's current cash flow.
Market Cap Breakdown of REIT Sector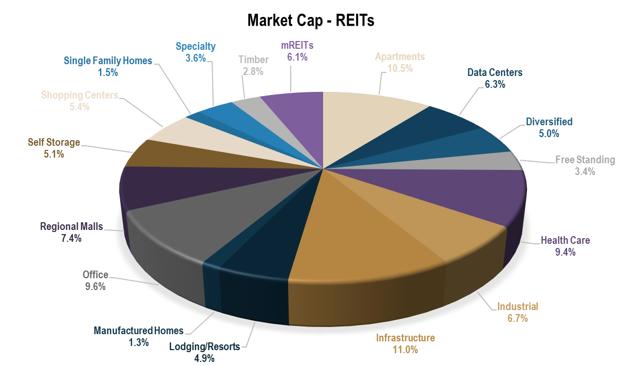 Due to Hurricane Irma, we will be extending our annual discount pricing for the Heard on the REITs premium service until mid-October to allow us to catch up on the reports and publications we had planned on producing before the end of September. That deadline will be tough to meet after almost 10 days of inactivity due to the hurricane.
So until mid-October (Deadline TBD), we are offering an annual price of $500. That's $100 off the regular annual price and a $400 savings to the monthly subscription price. This is a limited time offer, so consider subscribing today.
The following samples were published for free, but these highly analytical reports will only be available in the Premium service from now on.
Sample Premium Research Report
Disclosure: I am/we are long BXP. I wrote this article myself, and it expresses my own opinions. I am not receiving compensation for it (other than from Seeking Alpha). I have no business relationship with any company whose stock is mentioned in this article.
Additional disclosure: Long BXP, SLG, DRE, MNR, KIM, REG, SPG, GGP, SRC, O, ACC, EDR, UMH, AMH, AAT, HPT, CUBE, HTA, SNR, WY, AMT, UNIT, CCI, DLR, QTS, CXW, BXMT