By Bob Ciura
If there is one company that epitomizes the damage Amazon (AMZN) has done to retailers, it's Barnes & Noble (NYSE:BKS). Bookstores were the first casualties of Amazon's rise. By selling books online for lower prices, Amazon effectively rendered brick-and-mortar bookstores obsolete. Barnes & Noble's sales have collapsed over the past several years.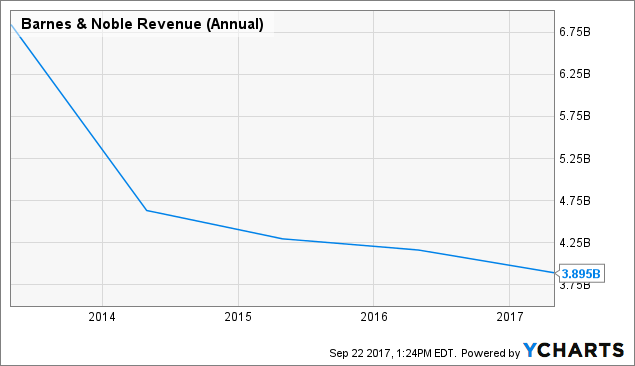 And yet, Barnes & Noble still pays an 8% dividend yield. On the surface, it is a very attractive dividend stock, because of its extremely high yield. It is one of 402 stocks with a 5%+ dividend yield. You can see the full list of established 5%+ yielding stocks here.
However, the company's deteriorating fundamentals have called into question whether the dividend is sustainable. For example, Bloomberg expects Barnes & Noble to cut its dividend soon, by 50%.
Barnes & Noble could be calling out to income investors, with the siren song of an 8% yield. However, investors should resist the temptation to buy the stock just because of its dividend. This article will discuss why Barnes & Noble stock is a good example of when not to chase extremely high yields.
Business Overview
Barnes & Noble is a retail bookseller. It operates 632 Barnes & Noble bookstores in all 50 U.S. states. It also has an e-commerce business. Barnes & Noble's product offerings include a wide range of books, as well as the NOOK reading tablet.
This is a very difficult operating climate for Barnes & Noble. Its business model is under enormous pressure from Amazon. Consumers simply don't need or want to go into a physical bookstore anymore, when they can order them online and receive at-home delivery. Barnes & Noble built its own e-commerce platform designed to compete with Amazon, but it was too little, too late.
As a result, Barnes & Noble's sales have declined each year for the past five years. Fiscal 2017 was a particularly difficult year. Comparable sales, which measures performance at stores open at least one year, fell 6.3% for the year. Excluding sales of the NOOK, comparable sales declined 5.7%.
Cost cuts have helped Barnes & Noble maintain profitability. Selling, general, and administrative costs fell to 26.7% of sales in 2017, down from 28.3% the previous year. Earnings-per-share were $0.30 in fiscal 2017, which reversed a net loss of $0.49 per share in fiscal 2016.
Growth Potential
Barnes & Noble's growth prospects look bleak. This should not be a surprise, as its business model has virtually become obsolete. There don't seem to be many viable avenues for growth. Physical bookstores are on the way out, and Barnes & Noble is not having much success with e-commerce.
The best opportunity to keep earnings intact seems to be cost cuts, but there is a limit to what Barnes & Noble can achieve with cost cuts. Costs are coming down, but the company is still not reporting growth, or even consistent profitability.
The company's recent earnings reports have disappointed. Last quarter, Barnes & Noble stock fell 10% on September 7th after the company missed analyst expectations on revenue as well as earnings-per-share.
Revenue of $853 million fell 6.6% year-over-year, while analysts were expecting $871 million. Barnes & Noble reported a net loss of $0.15 per share for the quarter. Analysts were expecting a loss of $0.12 per share. Comparable sales declined 4.9%.
Making matters worse is that it is not just Barnes & Noble's physical stores that are performing poorly. Management attributed last quarter's weak results to lower online sales, which indicates Barnes & Noble's e-commerce business can't keep up with Amazon either.
Barnes & Noble expects fiscal 2018 to be another difficult year. Comparable sales are excepted to decline in the low single-digits. As a result, it is not likely Barnes & Noble will return to earnings-per-share growth for this year, at least.
Dividend Analysis
On September 19th, Barnes & Noble declared a quarterly dividend of $0.15 per share, in-line with the previous quarterly dividend. The dividend is intact for the time being, which results in a hefty 8.3% yield. Barnes & Noble has kept the dividend for now, but that may not always be the case. In fiscal 2017, the company did not fully cover its dividend with earnings—earnings-per-share of $0.30 were half the $0.60 per share annualized dividend.
Barnes & Noble's dividend looks slightly better from a cash flow perspective. Free cash flow of $48.9 million was enough to pay its dividend, which required $43.8 million of cash. The company generated roughly 12% more free cash flow than it needed for the dividend, but coverage could erode going forward. Sales continue to decline, and the trend shows few signs of reversing. This means free cash flow is likely to decline over the long-term as well.
A dividend cut of 50% as Bloomberg suggests, would help right-size the dividend payout given the company's declining sales and earnings. A reduced quarterly payout of $0.075 per share would equal an annualized $0.30 per share would be covered by earnings, and would free up cash flow to invest in the business.
Final Thoughts
Stocks with extremely high yields are tempting, but investors need to make sure the dividend is sustainable. A high yield of 8%+ does not do much good for investors if the company cuts or eliminates the dividend. A dividend cut not only means investors receive less income, but it typically results in a large haircut to the share price as well.
While Barnes & Noble generates enough cash flow to support a dividend, it is doubtful the company can sustain the current quarterly rate of $0.15. Even if investors believe in Barnes & Noble as a deep-value turnaround stock, it is still appropriate to price in a fairly significant dividend reduction.
Barnes & Noble has a very high dividend yield, but there are higher quality dividend growth stocks out there. Our exclusive service Undervalued Aristocrats provides actionable buy and sell recommendations on some of the most undervalued dividend growth stocks around. Click here to learn more.