Early last week, I wrote an article for Income Idea subscribers about the Reaves Utility Income Fund (NYSEMKT:UTG) upon a request from one of my subscribers. It was a great opportunity to discuss a fund I mentioned more than 14 months ago as a potential replacement for the BlackRock Utility & Infrastructure Trust (NYSE:BUI) after it had recaptured its discount. It is now even more timely, as UTG had a rights offering recently.
Income Idea subscribers can read the article here: "UTG - Good Trade, Issues As An Investment (Income Idea)."
After publishing the article, I received both positive and appreciated comments from subscribers in article comments and in private conversations.
As customary, I published a more concise article with a bit less analysis for my amazing followers and the great Seeking Alpha community in "UTG: Good Trade, Issues As An Investment." If you haven't already, please take a look at the article.
In that article, we analyzed the fund and came up with a few main thoughts.
First, the fund has been a well-performing closed-end fund which has yet to have a distribution decrease. Second, the current rights offering presents an interesting short-term trading opportunity.
Having stated that, there were a number of big warning signs flashing. Those signs include a currently negative UNII, a new line of credit with a higher spread above LIBOR, on top of the already higher LIBOR rates and a greater dependence on capital gains in order to maintain the distribution. There was also the looming rights offering which will be dilutive to existing shareholders and, of course, the potential end to the long-term money flowing into utilities.
While most of the readers and commenters were appreciative, there were two types of comments that made me cringe and scratch my head.
First was from the group of investors who focused on the premise that because the fund has not had a distribution decrease in the past, it likely won't in the future. I believe these investors are likely making a very common mistake of mistaking a CEF Distribution for a "Dividend" or "Yield."
The second group of comments was focused on the similar idea, but was also dismissive of dilution, rising interest rates which are increasing the cost of lending, the worse credit terms on the new line of credit and the idea that the fund is dependent upon capital gains in order sustain its distribution.
As I was already working on a complete educational series on completing a top-down due diligence process for CEFs, ETFs and Open-End Funds, distributions were going to be covered. In light of the response to the UTG article, I moved it to the top and just completed the lesson. This follow-up article is then a case study in applying it.
UTG investors, take note.
What's a Distribution?
Unlike stocks, investment companies like REITs, BDCs, and mutual funds are with a few exceptions pass through entities.
In order to avoid double taxation, to maintain their "tax-free" status, the funds must generally pass through:
90% or more of their net investment income from dividends and interest payments.
98% or more of their net realized capital gains.
Anytime you get paid through the fund, it is a distribution.
What is a distribution made of?
That is the key question you should be asking.
A distribution can be made up of interest payments from bonds or loans, dividends from equities, both preferred and common, realized capital gains and Return of Capital. Please note, I am talking about the tax principle, not the economic "return of principal" concept.
For a dividend-focused fund such as UTG, the majority of the distribution should be "Income" earned from Dividends, as that is the most likely source of income. The fund cannot depend on ongoing capital gains.
Earning The Distribution
Closed-end funds sell themselves on an above-market distribution. The way they do that is typically through leverage.
It is simple, funds will typically borrow money at LIBOR plus about .70%, i.e., a bit less than 2% today, and then use the proceeds to reinvest in dividend payers and bonds that pay 4% or more. Voila... end result, you make an above-market rate of return on borrowed money.
"The Dividend Was Never Cut"
We all know these are actively managed investments that charge fees which sponsors make their money from.
One of the central focus points in closed-end fund investing is the distribution, and we don't have to look too far to find investors picking investments strictly based on their distributions.
A distribution cut is a death knell for fund managers, and unfortunately, I believe many sponsors and managers maintain their distribution or increase them, e.g. the Wells Fargo Multi-Sector Income Fund (NYSEMKT:ERC), even though it is not sustainable. They do this because going through with the distribution cut would have a negative impact on fund flows (primarily money flowing out, increasing the discount to NAV, less appetite for future rights offerings).
Oftentimes what starts out as a great fund and a strategy becomes unsustainable in the long term. Do you cut the distribution? Or maintain the unsustainable distribution at the expense of the fund's NAV.
Let's take a look at this particular fund.
UTG was launched in 2004. When it originally launched, it was fortunate enough to have leverage in the low 1% range through its auction rate preferred stock. The fund was also levered in the high 30% range.
Using the Utilities Select Sector SPDR ETF (NYSEARCA:XLU) as a utilities proxy, we know that it yielded 3.33% at the fund's launch.
Straight from the first UTG Semi-Annual report, we know that the fund was 39% levered and had a $.096 per share distribution.
I have looked at the fund's data, it suggests that the fund has been for the most part covering its distribution from launch until 2008.
Starting in 2008 through today, we have complete data. What I have done is compiled it and put together a spreadsheet showing the total regular annual distribution and the total distribution, including any special dividends.
More importantly, I have compiled and computed the percentage of those distributions that is derived from income earned from dividends and interests.
| | | | | |
| --- | --- | --- | --- | --- |
| | Total Monthly | Total W/ Special | % of Regular | % of Total |
| 2009 | $1.27 | $1.36 | 100% | 93% |
| 2010 | $1.38 | $1.38 | 100% | 100% |
| 2011 | $1.47 | $1.47 | 100% | 100% |
| 2012 | $1.52 | $1.85 | 75% | 62% |
| 2013 | $1.58 | $1.58 | 67% | 67% |
| 2014 | $1.65 | $1.65 | 78% | 78% |
| 2015 | $1.82 | $1.82 | 59% | 59% |
| 2016 | $1.84 | $1.84 | 50% | 50% |
| 2017 | $1.44 | $ 2.36 | 49% | 30% |
(Source: Data from Reaves, SEC and CEF Connect)
Notice anything?
Up until 2011, the fund was performing as expected in using leverage to invest in dividend payers.
And then it happened. Without fail, with the exception of 2014, the fund's distribution has been continually less and less covered by the earned dividends.
Here is a graphical representation.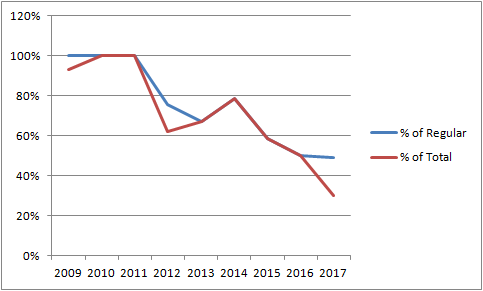 (Source: MaksFS)
Why is this Happening?
Think of closed-end fund distributions from the income and expense side.
As we now know, on the income side we have dividends. Here is a chart for the dividend yield of XLU.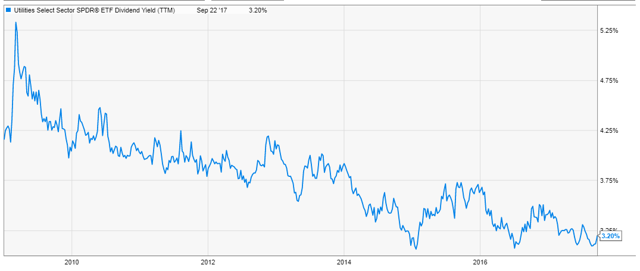 (Source: YCharts)
Since 2009, when the fund was fully covering its distribution from earnings, utilities were yielding over 5%. Today, their yield is 3.2%.
As the fund had its main source of income decreasing, it was forced to realize gains and sell off shares in order to cover it. Fortunately, the utilities prices were cooperating.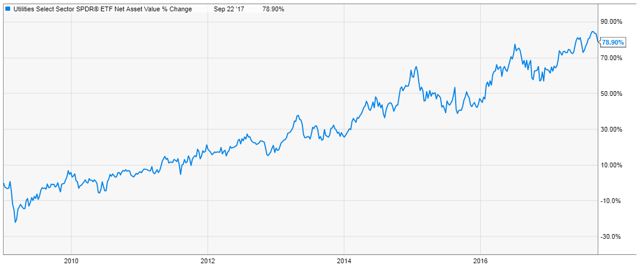 (Source: YCharts)
But here is the problem - the expenses have also increased.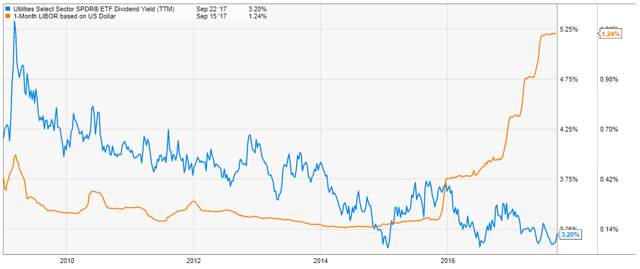 (Source: YCharts)
Above is a chart showing one-month LIBOR, which the fund's leverage expenses are based off of.
From 2010 through 2016, LIBOR was in the .25% range.
Bottom Line
I think the best way to sum this up is to look at the numbers and the relationship between yield and interest rates.
In 2009/2010, utilities yielded about a 5% dividend rate. The fund had taken a significant fall already, and at this point was already over 90% levered using preferred shares. At the peak of the GFC, the fund was paying an average yield of 1.58% on its preferred shares.
High leverage + dirt-cheap leverage rates + high dividend yield from utilities.... was a winner.
The difference between the XLU yield and the interest expense was 3.42%.
At the end of 2015, LIBOR rates just started to rise a tad but were still low.
Let's look at the numbers from the Semi-Annual UTG report for the period ending 10/31/2015. At this point, XLU yielded about 3.75%, and the fund was levered about 36% at a cost of 1.29% for its BNP lending facility. The difference between the XLU dividend yield and the cost of lending was 2.46% at this point.
And then it happened... LIBOR rates shot up, while the yields on utilities have continued to decline.
Today, XLU's dividend yield is 3.2%. The cost of leverage has gone up in two ways. First, LIBOR has increased from about .2% up to 1.2%. Secondly, the fund's spread over LIBOR has increased from the last line of credit from LIBOR + .75% to LIBOR + 1.1%. This means the fund's leverage expense is now about 2.3%. In a sense, the cost of leverage has nearly doubled over the last year. The difference between the XLU yield and the fund's cost of leverage is now down to .9%.
Of course, don't worry... (sarcasm), the last time the spread between the fund's average cost of leverage and the dividend yield of utilities was this low was 2008, and we know how that worked out - a nice 60% drop in price and NAV.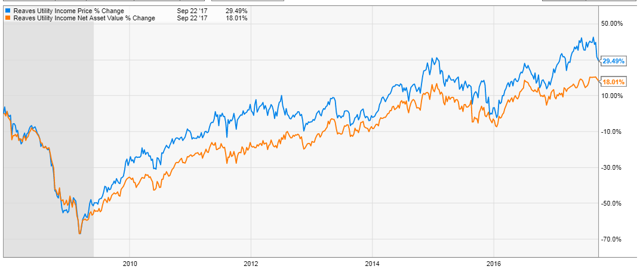 (Source: YCharts)
In the previous article's comments, I suggested that while I would not touch UTG with a 10-foot pole as an investment at this point, I would certainly consider taking advantage of the dilutive rights offering and purchase shares at a 5% discount to market price and likely 10% or more to NAV and then get out of it.
Having gone through this exercise, perhaps we have yet another reason for the offering - pay down the leverage while you can before the spread gets even thinner or completely upside down. Perhaps management believes that diluting the shareholders for 5% or more is the cheapest way to delever the fund, while increasing their asset base to generate more fees. Win win?
I sincerely hope this was helpful and educational.
I would not tell any investor to either buy or sell the fund. My main intention is to provide some education and to get you to see the broader picture, to realize and understand how the fund covers the distribution so you can decide if you believe it is sustainable in the near future in today's environment.

I hope you enjoyed this article and it was helpful in your due diligence sure. I also hope you now have a good understanding of the type of research we do beyond what you see in the regular articles.
Since launching less than 2 months ago, we have added lots of content and many people have joined the service. As discussed in my launch article, rates will be increasing on October 1st. Anyone who is a current subscriber or signs up before October 1st will be able to lock in the $40 per month rate for life. You can save even more by signing up for the annual rate of $400.
More detailed fund analysis is not all you get, Income Idea subscribers also receive guest articles from fellow contributors, a weekly macro article and a weekly article looking at covered call opportunities.
For more information, please take a look at "Income Idea Price Increase On October 1st."
I believe in active management that works, and I am here to help you find those opportunities. Please follow me here on Seeking Alpha as we look for those opportunities and sort out the good managers from the mediocre. Simply click the "Follow" button next to my name at the top of the article or on my profile page.
Disclosure: I/we have no positions in any stocks mentioned, and no plans to initiate any positions within the next 72 hours.
I wrote this article myself, and it expresses my own opinions. I am not receiving compensation for it (other than from Seeking Alpha). I have no business relationship with any company whose stock is mentioned in this article.