While US equity indices continue to chase record highs, the Federal Reserve marked a milestone of its own by reversing its asset buying program forged in the wake of the biggest financial disruption this side of the Great Depression. The Fed's balance sheet, now just under $4.5 trillion will begin the long path of reducing its holdings with an initial plan to limit the reinvestment of maturing Treasury and mortgage-backed securities (MBS) held in its portfolio, starting in October.
To date, markets have largely ignored these Fed signals in their quest to push for further market highs. The facility of the Fed's unwinding of its asset purchase programs over the past decade, the first such program ever attempted, will easily determine whether such tools are used as headline tools in future market contractions. Just as the Fed's asset purchase programs after 2008 pushed monetary policy into uncharted waters, the unwinding of its $4.5 trillion balance sheet will again take monetary policy down an unknown path. Uncertainties abound.
Figure 1: The 10-Year Treasury Note and the PowerShares US Dollar Index (UUP)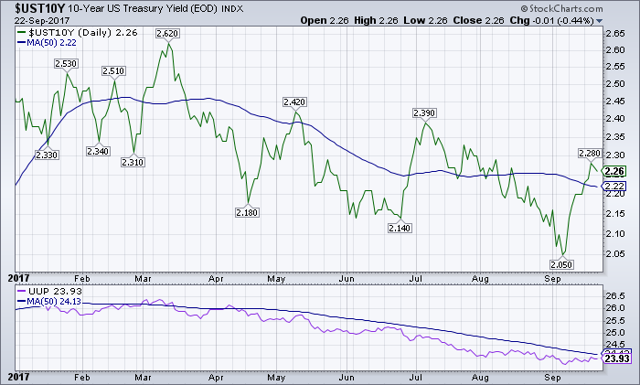 Housing prices have consistently posted year-over-year (YOY) gains of 5% nationally, crossing that threshold back in July of 2015 - well above the growth of wages for the period that only recently touched 2.5% YOY nationally. The Fed has proposed to use a series of caps on the amount of Treasury and mortgage-backed securities (MBS) that will not be reinvested. Treasury security reinvestments will cap out at $6 billion/month to a ceiling of $30 billion while MBS will cap out at a slower pace of $4 billion/month to a ceiling of $20 billion through the first stage of the program.
While impacted Treasury securities have an uneven forward maturity schedule, MBS securities are much more dependent on how fast homeowners pay off their mortgage liabilities. The brisk pace of home prices mixed with a tightening of credit in the mortgage market, however slight out of the gates, could further close the door on would-be homebuyers that are forced into the credit markets to finance their purchases. The first-time buyer market could break out to the downside from August's 32%, already close to an historic low, further tightening buying opportunities further up-market.
If eventually allowed to continue for the course of a year, his first stage of balance sheet reduction will result in $120 billion of liquidity being removed from the greater economy over the course of the first year - $48 billion from the mortgage credit market. This is equivalent to almost two 25 basis-point upticks in the federal funds rate over the course of the year. While home sales data has yet to react to the Fed's latest move, recent trends are not encouraging.
Existing home sales declined 1.7% month over month in August, eking out a 0.2% increase YOY for the month. August's declines represents the third consecutive month of sliding sales. The median price of an existing home dropped to $253,500, a decline of 1.78% MOM but a 5.6% increase YOY. While tempting to blame the impact of Hurricanes Harvey and Irma on the unexpected drop in existing home sales across southern states of a 5.9% drop MOM and a 0.9% decline YOY, the high-priced west coast markets also experienced sizable decreases in home sales, falling 4.8% for the period.
Recent declines in the 10-year Treasury yield has much to do with a corresponding run of soft inflation measures over the period not to mention elevated political tensions here and abroad, creating uncertainty over the future Fed path regarding short-term interest rates. Yields tend to fall with soft inflation and increase with stronger measures of price inflation in the greater economy. Rising share prices, record market indices, weak dollar and strong corporate earnings provide very visible support for a rate hike by the end of the year.
The dollar is about to break out from trading under its 50-day moving average (see Figure 1, above). The yield on the 10-year Treasury note has already broken through its 50-day moving average (see Figure 1, above). In anticipation, the yield on the interest rate sensitive 2-year Treasury note hit 1.442%, its highest post since November, putting the yield spread between the 2-year and 10-year notes at 0.836 basis points through Friday's market close (22 Sept).
Low inflation rates are likely with us for the intermediate term. FOMC projections place the median core PCE inflation at 2.0% through 2020 while, more importantly, quietly dropped its projected inflation for this year to 1.5% in September, down from 1.7% in its June projections. For 2018, Committee core PCE inflation projections dropped to 1.9%, down from 2.9% in June. Still, the Fed continues to view low inflation measures as temporary blips and markets appear largely primed for an uptick in the federal funds, with the probability now just under 71% - almost double the probability just a week prior.
December's hike would be the fifth increase since December 2015. September's FOMC projections have penciled in three more hikes in 2018, two in 2019 and one in 2020. Of the 16 FOMC policy makers, only four projected no change in the federal funds rate for the rest of 2017, the same number in the June FOMC projections. For 2018, 11 policy makers projected three 25-basis point hikes with the remaining five members projecting fewer upticks in short-term interest rates.
There was little in the FOMC's September statement to indicate overt concerns about underperforming inflation measures, even though there is little evidence of inflationary pressures from either prices or wages looming on the immediate economic horizon. While Chair Yellen continues to point out that forward monetary policy is data-driven and is not etched in stone, it appears the Fed is being pushed by events other than economic factors back into the mold of cyclical unidirectional rate hikes, rather than a program that could see the federal funds rate move in either direction in accord with the economy's real-time needs moving forward.
And then there is the uncertainty that touches on the Fed leadership and FOMC makeup itself. In addition to Janet Yellen's term expiration in February, the vice-chair and four other governors could potentially be appointed by a president that defies conventional predictability. The appointment of an inflation hawk to the Fed chair could accelerate this cyclical trend even more, inadvertently pushing the economy into recession. It remains to be seen whether Yellen's current balance sheet reduction course will still be intact one year hence.
Another concern is the decreasing spread between yields on bonds in relation to the relative expense of equities. The more the current advantage of owning stocks is whittled away with the increase in yields, the more difficult it will be for investors to justify buying certain groups of equities at the top of the market. As the spread closes, technology stocks could come under price pressure. With a strengthening dollar in world currency markets, US export revenues become less buoyant. Markets could fall from their current heights.
All of this said, markets are fairly strong to date and sentiment remains positive, despite high equity valuations and low risk premiums on junk bond issues. Reversing the effects of the Fed's asset purchase programs in the measured increments currently planned will likely not be noticed by the broader market - at least under current market conditions. Historically, equities tend to fall in conjunction with falling bond yields due to concerns about economic growth.
Equity markets tend to be less disturbed by rising yields, which historically signals faster economic growth. And with continuing low inflation measures across asset prices in the greater economy thrown into the mix, rising bond yields and interest rates drop quickly to financial stocks' bottom line. All of this could be moot, however, if current market conditions change.