Calumet Specialty Products Partners, LP (NASDAQ:CLMT) is a MLP turnaround opportunity which has a real chance of reinstating its distribution and doubling in price in the next twelve months. I have been investing in MLPs since 2000 and have a solid record beating the Alerian Total Return Index AMZX and the Alerian MLP ETF (AMLP) by nearly 10% annually, since its inception. My optimism stems from my experience in investing in broken MLPs which are restructuring themselves in the wake of major MLP cycle down turns like 2008-9 and 2015-16.
In 2016, Income Growth Advisors, LLC had invested heavily in two turnarounds, American Midstream Partners, LP (AMID) and JP Energy LP (JPEP) which rose 125% and 104%, respectively before merging earlier this year. Consequently, our 2016 MLP separate account performance was up 49.9% and outperformed AMZX--which was up 18.3%--by 31.6% was noted in Barron's in Amey Stone's blog in early April Smaller MLPs May Outperform in 2017. I believe there is a similar turnaround opportunity in CLMT.
The Calumet story is a largely a family owned and operated business that flourished in the specialty oil products niche and went astray. CLMT started buying traditional fuel refineries like the Superior Refinery in 2011 shifting away from their specialty oil products niche and into the more competitive fuel refining business and then experienced balance sheet and operating troubles.
Calumet Specialty Products Partners, L.P. produces and sells specialty hydrocarbon products in North America. It operates in three segments: Specialty Products, Fuel Products, and Oilfield Services. The Specialty Products segment offers various lubricating oils, white mineral oils, petrolatums, solvents, waxes, synthetic lubricants, and other products which are used primarily as raw material components for basic automotive, industrial, and consumer goods. The Fuel Products segment provides fuel and fuel-related products, including gasoline, diesel, jet fuel, asphalt, and heavy fuel oils, as well as resells purchased crude oil to third party customers. The Oilfield Services segment manufactures and markets drilling fluids, completion fluids, and solids control services to the oil and gas exploration industry. The company was founded in 1916 and is headquartered in Indianapolis, Indiana.1
Timeline and Financial Demise:
Calumet's total liabilities grew, as of 12/31, from:
$618 mm in 2010 to
$1,003mm in 2011,
$1,363mm in 2012,
$1,625mm in 2013 and
$2,309mm in 2014.
Net income available to limited partners declined from:
$206.5mm in 2012 to
($11.5mm) in 2013 and
($125mm) in 2014. 2
As their financials turned south and began its decline, CLMT sought new management. On September 14, 2015, CLMT brought in a new CEO Timothy Go, a seasoned energy executive with 20 years experience in various senior level operations and management roles at ExxonMobil Corporation (XOM). As a trained chemical engineer, Mr. Go has brought a deep base of technical and operational knowledge to Calumet as well as other talented executives including Wes Griffin as CFO.
When the oil market crashed from $107/bl in June 2014 to $26/bl in January 2016, CLMT was pushed over the edge. When markets crash, asset prices decline and liabilities remain constant. This put CLMT in a terrible position.
On April 15, 2016 CEO Tim Go outlined the restructuring plan for CLMT. It issued $400mm in debt and cut its distribution. The Board of Directors also stated its desire to reinstate a quarterly cash distribution in due course. We believe when the debt to EBITDA ratio returns to the 4.5 range, a distribution reinstatement will become probable.
When the market opened on April 18th 2016, the stock dropped from the low double digits to the $3-4/share range. Between its peak and nadir, CLMT's units declined 92%. CLMT units traded at $39.14/share on March 4, 2013 and bottomed at $3.15/share on November 3, 2016--a 92% decline.
The Turnaround: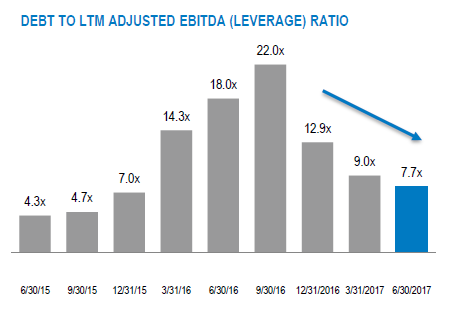 3
The market has started to react to these improving financial metrics. Below are five year and one year charts for CLMT.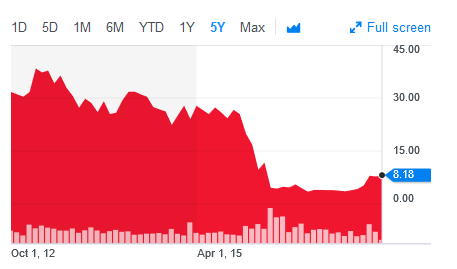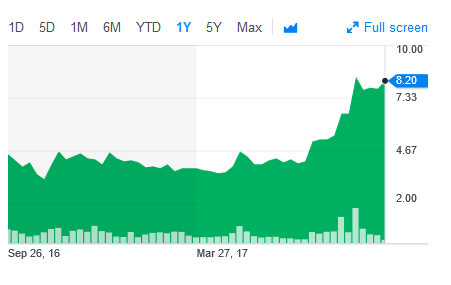 4
On August 4th, 2017, Calumet reported second quarter earnings and returned to profitability.

5
On August 14th, 2017, Calumet announced its planned sale of its Superior Wisconsin refinery to Husky Oil for about $500 million. This sale will help reduce debt on its balance sheet and continue to improve its debt to EBITDA ratio from its current 7.7 level.
Under CLMT's "self-help" restructuring plan, it plans to add $150-200mm in incremental EBITDA by 2018. In 2016 it generated $89mm in additional EBITDA. In the first half of 2017, it has generated an additional $32mm. Annualizing the first half of 2017 and adding 2016's $89mm, CLMT self help plan should exceed the low end of its expectations a year ahead of plan.
The chart below shows the TTM EBITDA recovering.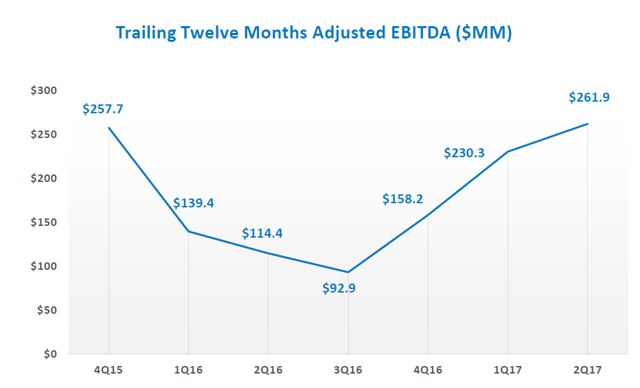 6
Distribution Reinstatement:
What I want to see for a distribution reinstatement is the debt to EBITDA number to return to the 4.5 range next year.
The balance sheet data below from Portfolio123 shows the last quarter's total liabilities $2,565mm.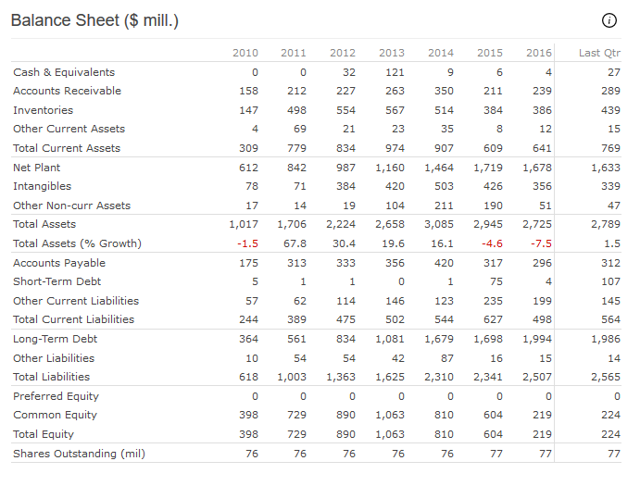 Looking forward to the closing of the Superior Refinery sale and assuming $500mm in net proceeds, total liabilities should drop to $2,056mm.
Assuming a 4.5 ratio and $2,056mm in debt, EBITDA on a TTM basis must equal $456mm. In the second quarter EBITDA was $101.6mm, though it benefited from some extraordinary items. Assuming $90mm annualized would be 360mm in EBITDA and $100mm in incremental "self-help" EBITDA, CLMT could reinstate its distribution in the one-year time-frame. Whether and when it reinstates its distribution will depend on continued operating success under the new management. Calumet's specialty product niche should provide a defensible growth business to allow CLMT to grow for years.
Tyson Halsey, CFA
References:
1. Company description from Portfolio123.
2. Debt and income figures from SEC.gov filings
3. Chart of Debt to TTM EBITDA from q2, 2017 earnings presentation. Calumet Specialty Products Partners, L.P.
4. Charts from Yahoo.finance.com
5. Calumet q2 earnings release. News Releases
6. q2, 2017 earnings presentation. Calumet Specialty Products Partners, L.P.