Pending Home Sales
The Pending Home Sales report released by the National Association of Realtors (NAR) each month showed that pending home sales, or "signed contracts," declined 2.6% vs. last month and also declined 2.6% compared to this month last year.
The Pending Home Sales Index (PHS), a leading indicator of housing activity, measures housing contract activity, and is based on signed real estate contracts for existing single-family homes, condos and co-ops. Because a home goes under contract a month or two before it is sold, the Pending Home Sales Index generally leads Existing Home Sales by a month or two - National Association of Realtors.
Pending Home Sales: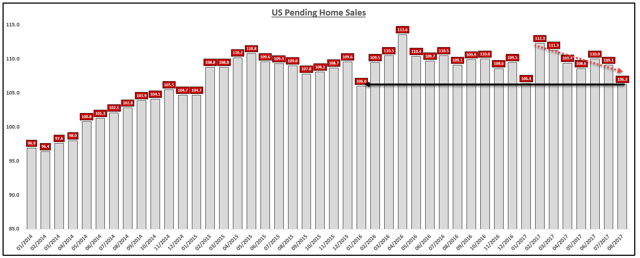 Source: National Association of Realtors
The Pending Home Sales index is down over 5% from February this year confirming a slow down that has been underway in a majority of the housing data.
Not only is the index down over the past few months, Pending Home Sales are at nearly the exact same level as December 2015. This flat line in sales over the past 1.5 years prompted some negative comments from Lawrence Yun, NAR chief economist.
In the press release for the Pending Home Sales report Yun believes "the housing market has essentially stalled."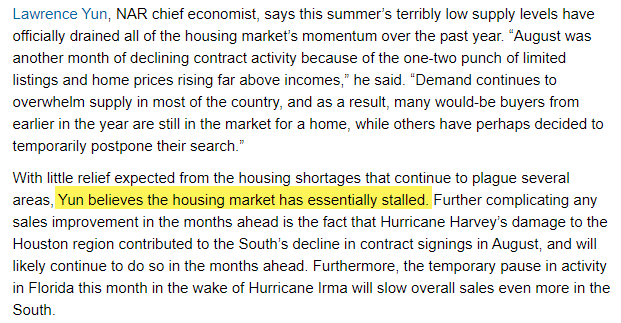 Source: NAR
Pending Home Sales have hovered in negative territory on a year over year basis for the entire year and this report makes it even more likely that home sales in 2017 will end the year lower than 2016.
Pending Home Sales Year over Year Growth:

Source: NAR
Housing stocks reacted negatively to this soft report on Pending Home Sales with companies like (LEN) (TOL) (KBH) (PHM) all fractionally lower.
Despite this negative reaction, housing stocks have soared this year in the face of what is soft housing data. Transaction volume continues to fall but prices are rising which is keeping the market afloat.
Housing stocks are rising far beyond their fundamentals as seen in the below overlap between housing data and housing stocks.
Housing Stocks Rising Too Fast: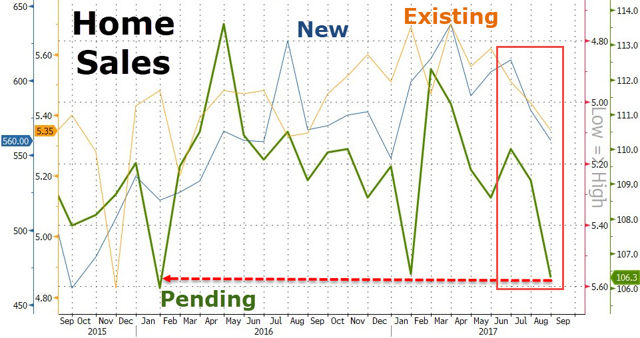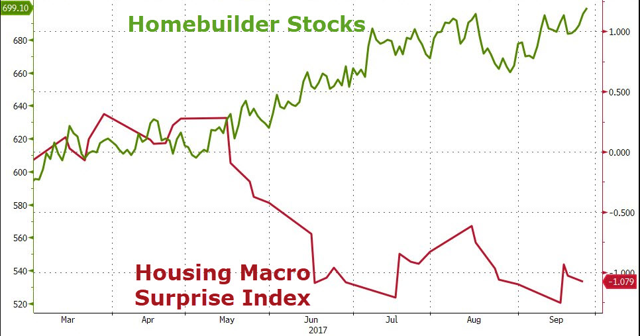 Source: NAR, ZH
It is not unusual for stocks to outrun fundamentals. There is no way to forecast what will bring home-building and housing related stocks back down and more in line with their fundamentals but it is safe to say that the risk-reward is not appropriately priced in this sector.
The extent of the run in housing stocks can be understood by comparing the performance of housing stocks to sales. The data is suggesting and Lawrence Yun is quoted as saying, "The supply and affordability headwinds would have likely held sales growth just a tad above last year, but coupled with the temporary effects from Hurricanes Harvey and Irma, sales in 2017 now appear will fall slightly below last year."
(ITB), the ETF that tracks home-building stocks, is up over 25% this year. A 25% gain in stocks with sales that are going to be lower than last year does not add up.
The decline cannot even be fully attributed to the hurricanes as all four regions of the country saw declines in signed contract activity, not just the south.
Look for Existing Home Sales to post large declines and surprises to the downside over the next 2-4 months and proceed with extreme caution into the housing sector. I think it would be best to stay clear of this sector as a whole as the volatility will likely increase dramatically as the data begins to reflect the large swings and impacts of the hurricanes.