Sometimes, the behavior of stocks in merger situations is just plain odd. On May 22, Huntsman Corp. (NYSE:NYSE:HUN) announced that it would combine with the Swiss chemical firm Clariant (OTCPK:OTCPK:CLZNY) in what (inevitably these days) was described as a "merger of equals." The terms were that Huntsman shares would be exchanged 1.2196-for-one into those of the Newco, imaginatively to be named HuntsmanClariant, and Clariant shares at the rate of one-for-one. On that basis, Huntsman shareholders would obtain 48% of the combined companies, and Clariant shareholders 52%. The combined group would be incorporated in Switzerland but operations would be directed from Huntsman's location in Woodland TX.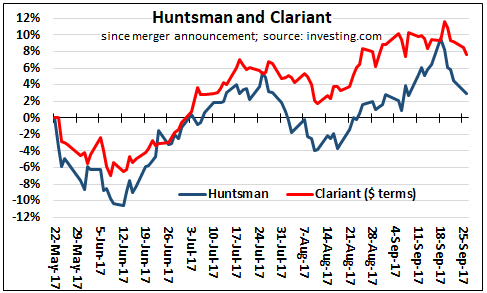 Huntsman has generally underperformed Clariant since the announcement - most sharply in the first three weeks after the announcement but never completely catching up since. This despite the fact that the proposed transaction is effectively Huntsman's managerial takeover of Clariant on terms that Huntsman shareholders cannot object against too strenuously: in effect, it is a takeover at no premium. The proposed combination has even suggested that it will maintain Clariant's more generous dividend policy (a payout ratio of ½ rather than ⅓).
So it is not surprising that, despite their relative share price performances, it is in fact Clariant shareholders who have objected most strongly to the combination. White Tail Holdings, a special purpose vehicle that pools the holdings of the activist investment vehicles Corvex Management and 40 North, reports that it holds a 15.1 stake in Clariant, making it the Swiss company's largest shareholder. This combination is sufficiently convinced of the justice of its cause that, over the last three months or so it has doubled its stake to its current level. The purchases involved probably account for the relative performance of the companies' shares since the third week in July.
White Tail's opposition is based on a variety of objections to the deal. The operational control of the combined entity is one of them, but probably not the most important. Rather, these hedge funds are concerned that Clariant is diluting its existing, largely value-added specialty chemical businesses with Huntsman's large, partially commodity-like polyurethane activities, which would account for about 28% of the combined group's revenue. A larger portion of Clariant's Plastics and Coatings Division (in all accounting for 43% of Clariant's revenues) than White Tail would like is also commodity-like. The hedge funds would far prefer to see an independent Clarian dispose of these activities than augment them through merger. Suggestions that these activities might be sold post-merger only suggests to Clariant investors that they will have to share the benefit of the proceeds from such a sale with current Huntsman shareholders.
When I wrote about this transaction immediately after its announcement, I expressed skepticism that the companies' suggestion that they could achieve $400 million in annual cost savings within two years of closing was in fact achievable. Subsequent management discussion of the matter reiterates these claims without giving a great deal more detail on how they will be realized. Portfolio management - i.e., pruning existing operations - is an entirely other matter for companies with virtually no overlap in their operations: pruning may help margins, but it does not create synergies. Nor do tax savings resulting from the retention of a Swiss tax jurisdiction amount to synergies. The companies' claim that revenue will increase by 2% as a result of the merger is, frankly, incomprehensible without elaboration.
Assuming normal rates of Clariant shareholder participation in the vote that must approve the merger, and that at least 10% of shareholders are sufficiently engaged to vote and that they agree with White Tail, this is probably sufficient to block the merger. So it is not by any means a done deal. It is interesting, in the context of who will control the combined companies, that it is Huntsman that has chosen to react publicly to White Tail, in what can best be described as a hissy fit. It is not, to my mind, especially persuasive.
It is very difficult to guess how a quorum of shareholders in Swiss corporations will vote. Large numbers of them are clients of Swiss banks, who may have assigned their votes to those banks. Others may feel that it is in their best interest not to reveal the existence of their investment by voting or allowing their custodians to do so on their behalf. Shareholder participation in the vote to approve this transaction is likely to be lower than Americans would expect in such a situation, making it difficult to predict the outcome. But the possibility that the transaction may not proceed is very real.
Editor's Note: This article discusses one or more securities that do not trade on a major U.S. exchange. Please be aware of the risks associated with these stocks.