After multiple requests of various readers, here is my analysis and comparison of the three largest US banks.
Thesis
JPMorgan Chase (JPM) has taken the crown of best large-cap U.S. bank in the view of most people from Wells Fargo (WFC). Wells Fargo had previously held this position for quite some time and rewarded shareholders who stayed with it for the long term like Warren Buffett. Losing this crown, however, resulted in significant underperformance.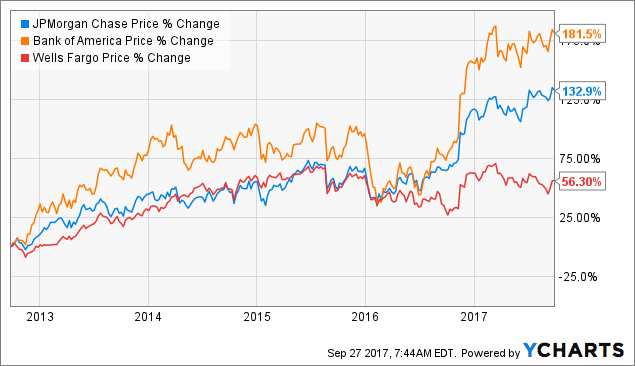 JPM data by YCharts
Given that losing the best-of-breed crown can lead to significant underperformance, is it a good strategy for investors to put their money in JPMorgan Chase or are they better off investing in Bank of America (BAC) or even Wells Fargo?
Return on capital
Return on capital is one of the most important metrics for banks because it determines who is using their capital in the most efficient way. JPMorgan Chase had tangible common equity of $188B and delivered a return on tangible equity of 14%. This compares favourably to Bank of America, which has a tangible common equity of $175.7B combined with a return on tangible equity of 11.2%. Wells Fargo has slightly less capital with tangible equity at $152B but still rules supreme with a return of 14.3% on its tangible capital, but JPMorgan is a close second.
Operating convergence or better reinvestment rate
Higher returns on capital are great because they allow for higher profits given an amount of capital and a better reinvestment rate, which allows the profits to grow faster with newly retained capital. A downside, however, is that potential operating convergence is a benefit for underperforming competitors. Bank of America was struggling after the financial crisis, but by cutting cost and reinvesting in the business it was able to converge to its more profitable peers, leading to outperformance in the stock market.
Dividends and payout yield
Now that all banks have rebuilt their balance sheets, capital return is back on top of everyone's mind. Wells Fargo has the highest yield with 2.9%, JPMorgan Chase has a yield of 2.39% while Bank of America has a yield of 1.93%. However, what is important to keep in mind is that share repurchases are another important way of returning capital to investors. JPMorgan wants to return more than $23B, while Bank of America is returning over $11B and Wells Fargo aims to return close to $19.5B in 2017 alone. This results in payout yields of 7.1% for JPMorgan Chase, 4.3% for Bank of America and 7.3% for Wells Fargo. This means Wells Fargo is paying you most while Bank of America is retaining more. The downside of those high payout yields is that much of the future earnings per share growth needs to come from the reduction of shares outstanding, and the better-operating banks cannot grow earnings faster because they don't retain significant amounts of capital.
Scandal and risk
Problems arise sometimes and a scandal can happen to many companies but is less likely to well-managed companies. But be aware of why those companies look to be well-managed. Good ideas taken too far can harm businesses, like the cross-selling initiative at Wells Fargo. The risk at Wells Fargo is that some hidden problems still might arise, but intrinsically its high return on capital, its primarily domestic footprint and its relatively small investment bank reduce the risk at Wells Fargo compared to Bank of America and JPMorgan Chase. JPMorgan Chase has terrific management with Jamie Dimon and high returns. Bank of America, however, is more risky because of its lower profitability and poorer operating history. Historic risk for banks, however, was much larger than it is currently since leverage is reduced because of new regulation.
Valuation
JPMorgan has $188B in tangible common equity on which it earns 14%. This will most likely result in a yearly profit of $26.3B. Given its strong management and operating record, a return of 7% is fair in my opinion to calculate a market value. This results in a valuation of $376B, which is 14% above the current market capitalisation of $330B.
Bank of America has $175.7B in tangible common equity on which it currently earns 11.2%, which results in a profit of $19.7B given its slightly higher risk profile. Demanding a return between 7-8% return for an investment in Bank of America is reasonable in my opinion, which gives it a valuation of $262.3B - very close to the current market value of $261.7B.
Wells Fargo has $152B in tangible common equity on which it currently earns 14.3%. This results in a yearly profit of around $21.7B. Given its recent scandals but strong operating history and focus on less risky activities, a discount rate of 7% is fair in my opinion. Using this to calculate the market value results in a value of $310.5B, which is 16.3% above the current market capitalisation of $267B.
Conclusion
According to my calculations, the most attractive bank to invest in currently is Wells Fargo, with JPMorgan Chase as a close second. Bank of America had a great run last year, outperforming its peers, but this leaves it at a slightly higher valuation than its peers. While Bank of America might have some more room to converge its operations to the level of its largest competitors at the current time, the slightly better-run companies provide a better investment.
Disclosure: I/we have no positions in any stocks mentioned, and no plans to initiate any positions within the next 72 hours.
I wrote this article myself, and it expresses my own opinions. I am not receiving compensation for it (other than from Seeking Alpha). I have no business relationship with any company whose stock is mentioned in this article.