After being knocked down by its worst recession on record, Brazil is back to growth and luring investors with a bright outlook driven by a pro-market Government's strong bias towards macro and microeconomic reforms. Obviously, the road is not as safe as we would wish, as it is usually the case when it comes to Brazil. But the achievements so far and the possibility of further strong fundamental improvements are quite significant and could lead to a robust cycle of growth and a considerably better longer-term outlook. As a result, investing in Brazilian equities and the iShares MSCI Brazil Capped ETF (EWZ) looks quite attractive.
Figure 1: EWZ's Recent Performance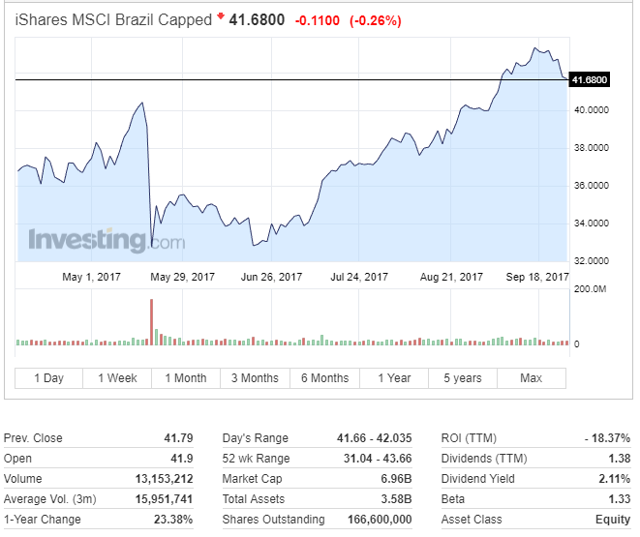 Source: Investing.com
The Cycle Has Turned Positive in Brazil
A combination of improved business and consumer confidence, very low inflation (for Brazilian standards) driven by a responsible monetary policy but mostly by a favorable crop that drove food inflation into negative territory and a little help from the Government (e.g. freeing up unemployment-security funds) has ignited a recovery in Brazil. Still-high unemployment numbers show signs of reversion and companies already show accelerating sales trends. The consensual view now is that Brazil's recession is finally over, and investors have been positioning for the upcycle.
Figure 2: Brazil's GDP YoY Change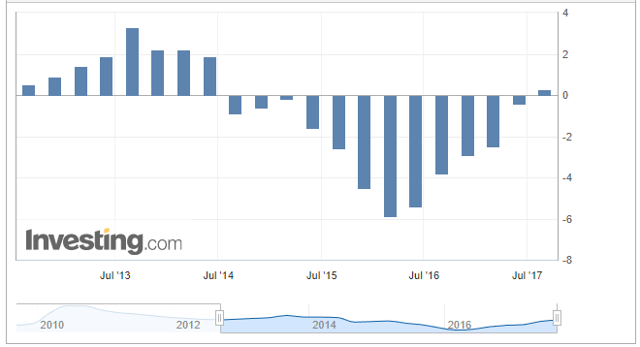 Source: Investing.com
Reforms Already Implemented Are a Huge Advance!
Some of the key reforms that already passed Congress approval are:
Labor Reform: More flexibility on the negotiations between firms and employees, more flexible working hours, less beurocracy to hire and fire, end of obligatory union contribution, etc.
Outsourcing: A new law enables companies to outsource any services to a thrid-party, while previously only "non-final activities" were allowed.
Long-Term Interest Rate (TLP): The interest rate charged by the Brazilian development bank BNDES will be based on market interest rates, instead of

the discretionary and highly subsidized rate it currently uses (TJLP).

Budget Ceiling: The Federal Governments spending cannot grow above inflation for the next 20 years.
It is important to note that these reforms ultimately improve Brazil's productivity, as they enable a more optimized channeling of private investments (as the Government was previously almost dictating through highly-subsidized interest rates to a few select sectors and companies who would be able to grow) and allow the private sector to take on more risks and expand capacity/higher more people, without the unbearable labor burden that used to come with that.
Another important aspect of the reforms (especially the budget ceiling and TLP) is that they help tackling the fiscal deficit, which is Brazil's biggest problem today. With the current fiscal deficit accounting for ~10% of GDP, the public debt has been quickly climbing and raising concerns about the country's solvency in the long run if the matter is not appropriately dealt with. Moreover, it implicates in higher interest rates, which prevents greater investments and consumer spending.
Figure 3: Brazil's Fiscal Deficit (% of GDP)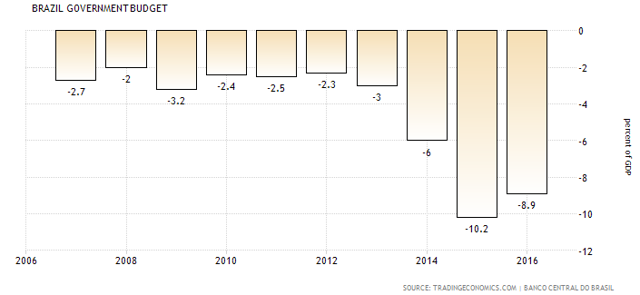 Source: Tradingeconomics.com
Figure 4: Brazil's Debt-to-GDP Ration (%)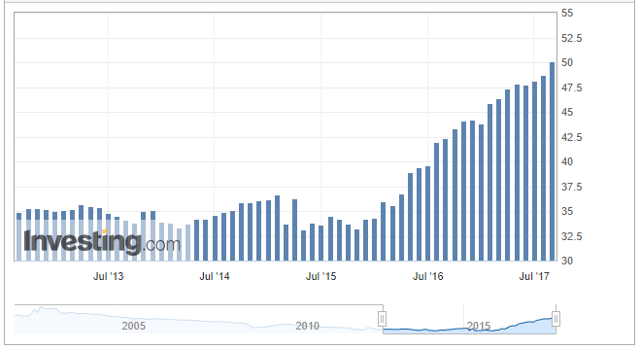 Source: Investing.com
It is greatly consensual that without the Pension Reform the fiscal deficit issue will hardly be solved. The good news is that with the economic recovery and the reforms already approved, the deficit tends to stay under control. Moreover, the first signs of economic growth could be a tailwind for congressional support for the reform, as it becomes easier to sell to voters the idea that the recovery is as a result of the new policies. This could make Congressmen more likely to want to link their names to these policies. It is worth noting that Congress will have to vote on a new charge against President Temer, which will delay the reform agenda. However, the Finance Minister Henrique Meirelles said he expects reforms to be voted before the end of the year.
Somewhat improved expectations about the fiscal deficit coupled with a sharp decline in inflation has led interest rates in Brazil to fall consistently, which helps to fuel the positive mood and foster investments.
Figure 5: Brazil's Basic Interest Rates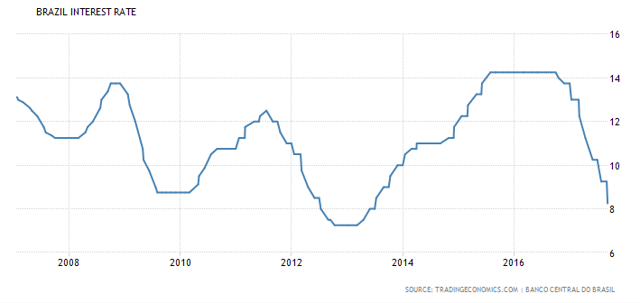 Source: Tradingeconomics.com
2018's Elections Offer More Upside than Downside Risks
The outlook for 2018's elections in Brazil could hardly be more uncertain, with no clear favorite for the presidency. The leading pre-candidate in the latest polls is Lula da Silva, who has been allready convicted by a lower court for corruption and will likely be in jail by the time voters decide Brazil's next president. The second in voting intentions (Jair Bolsonaro) is a "far right" candidate, a term is now in vogue, that can hardly survive one or two debates in live TV before getting killed by his own mouth. Left-wing candidates carry the burden of the PT's legacy of Brazil's recent crisis, and will likely be hammered by a campaign focused on pointing at the disasters of the Government they had been supporting.
That leaves room for a center-right, pro-reform candidate. The traditional opposition party when PT was in Government, PSDB, was always shy on defending a reformist, privatization agenda. Now could be the right time to change the speech. Moreover, João Doria, the Mayor of São Paulo, an entrepreneur who got elected with a speech of "not being a politician", is increasingly becoming "presidential". He has been implementing a highly reformist agenda, with privatizations and things similar to zero-based budgeting, which made companies run by 3G Capital famous for their efficiency. Although he still has arround just 10% of voting intentions and has to face intense pushback from most media outlets (as media vehicles in Brazil are largely left-wing oriented), it is worth noting that he was able to be elected in Brazil's most important city in the first round (got more than 50% of votes) when most "experts" did not see it coming and polls were all pointing to a runoff. People nowadays seem to like to hear an anti-PT, pro privatization speech which Mr. Doria is ready to deliver.
It is worth noting that Mr. Doria is with the PSDB party, which has Mr. Geraldo Alkmin, current Governor of São Paulo, as the most likely candidate. He would be a no brainer had Mr. Doria not become such a phenomenum. Probably the most likely scenario is the PSDB sticking to Alkmin, leading Dória to leave the PSDB and join another party (possibly DEM or PMDB) to run the presidential election. If that is the case, both Doria and Alkmin could have a real chance of winning, which in either case would likely represent a continuation of the current reform agenda, or an acceleration in the case of Doria, with the potential privatization of companies such as Petrobrás (PBR).
And to put some icing in the cake, there is also the possibility of Henrique Meirelles, the Finance Minister, to run as a candidate. He's party PSD already said he is a pre-candidate, an affirmation he skillfuly dodged from. A scenario with three pro-reform candidates, one "far right" and maybe two leftist seems highly favorable at this point, with the boost from the ongoing recovery playing highly in favor of the reformist ones and the legacy of past Government playing strongly against the leftist. The big question mark is the "far right" one, which seems a tail risk at this point in the process.
Corruption Was Put on Check and Will Bring Extremelly Positive Effects
The "Lava Jato" (car wash) operation has been investingating, arresting and convicting politicians, corporate moguls, government officials and all other sorts of corrupts in Brazil for a few years already. It has gained an imense support from the public opinion and media, and should continue doing its job despite the efforts from politicians to suppress it. The transformational changes that should be brought to Brazilian society by this clean up are hard to forecast. Nevertheless, they are surely significant. The President himself has been recorded in compromising conversations, which signals that everyone is subject to going to jail if someone else decides to snitch. And the change in law that made the so-called "plea bargain" possible is a key responsible for this change.
Now people caught in wrongdoing have a big incentive to snitch and hand over to justice the "bigger fish" in exchange for reductions in their own sentences. The outcome in the longer run should be of a reduction in the sense of impunity that prevailed in Brazil for ages (anyone could go to jail). This should make a corporate executive think twice before accepting or proposing bribery to a Government official, not to say the even darker deals closed between high-profile politicians and companies in order to buy/sell favorable decisions. At the end of the day, companies will have to be increasingly efficient to compete, as the possibility to outperform by corruting politicians and Government officials, although probbably not being eliminated, will reduce significantly.
Conclusion
Brazil's stock market is rallying this along with other emerging markets, after having surged in 2016 on the renewed optimisim brought by a pro-market Government. However, it seems that Brazil could continue to perform well and even outperform other EMs based on potential catalysts such as more reforms and greater clarity on next year's election. Although the Ibovespa (Brazil's main equities index) is near its recently-reached all time high level, the EWZ (and the index in USD terms) is far from its peak. The renewed confidence in the ongoing economic upcycle and the potential long-term benefits of the reforms and corruption fighting should contribute to sustain a the rally for longer.
Figure 6: EWZ Long Term Price Overview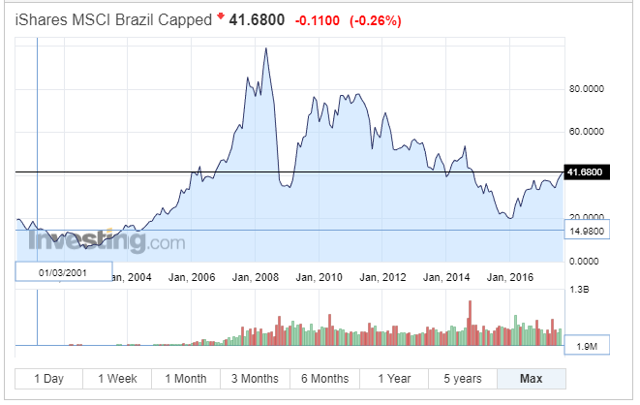 Source: Inveting.com