I will start this article with a confession: I love companies which pay big dividends. GlaxoSmithKline (NYSE:GSK), a British pharmaceutical company, pays a very big one. When we compare the dividend yields of some big pharma companies, GlaxoSmithKline is - by far - the best yielding stock: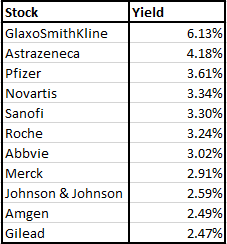 Source: Google Finance (AZN),(PFE),(NVS),(OTCQX:RHHBY),(ABBV),(SNY),(MRK),(JNJ),(AMGN),(GILD)
The company is currently paying out £0.80 per share in dividends, or twice the equivalent of this in US dollars for their depository receipts on the NYSE (each ADR consists of two of the British shares). They have been paying this regular dividend for four years now, as it has been frozen since 2014.
Debts
So, what's not to love? Well, let us take a look at the balance sheet of GSK.

Source: GSK annual report 2016
Their net debt at the end of 2016 amounts to £13.8 billion, £3.1 billion higher than the net debt at the end of 2015. The difference in these number is mostly attributable to currency effects and dividends paid.
This high debt means that GlaxoSmithKline is highly leveraged, much more so than their peers. This can negatively impact the company when it wants to raise funds if needed. When central banks in Europe start increasing interest rates again, the debt might even prove to be a much more urgent problem.
Additionally, the interest costs of this debt are nothing to sneeze at either. In 2016, a total of £701 million was paid as interest expense, when you consider that this equates to about 16% of their free cash flow, it is obvious that the debt truly has an impact on the bottom line of the business.
The good news is, when compared with the free cash flow of £4.33 billion, this figure would mean that GlaxoSmithKline could pay off its debts in a bit more than 3 years if all of the free cash flow would be dedicated to paying off the debts. But more than a fair share of the free cash flow has been used for a different purpose during the last couple of years.
Dividends
Is the royal dividend of GlaxoSmithKline sustainable? One of the most reliable ways to analyze whether the dividend of a company is safe and sustainable is to look at the dividend payout ratio. The dividend payout ratio measures the dividends paid out by the company as a percentage of their net income.

A payout ratio of 100% would mean that a company is paying 100% of their earnings as a dividend to shareholders.
The free cash flow of GSK in 2016 was £4.33 billion. They paid out a total of £4.85 billion as dividends in 2016, which would result in a payout rate of 112%. But, this figure is including a one-time special dividend paid out in January as a result of the Novartis asset swap a year earlier. The dividend payout ratio when we only include the regular dividend in the equation is 90%, which looks a whole lot healthier.
But let us take a look at the payout ratios of the past few years (all values in billion pounds):
| | | | | | |
| --- | --- | --- | --- | --- | --- |
| | 2012 | 2013 | 2014 | 2015 | 2016 |
| Free cash flow | 2.62 | 5.36 | 3.35 | 0.531 | 4.33 |
| Dividends | 3.81 | 3.68 | 3.84 | 3.87 | 4.85 |
| Payout ratio | 145% | 69% | 115% | 729% | 112% |
These data paint quite a bleak picture. Only in 2013 was the payout ratio on a healthy level, the other years GlaxoSmithKline clearly paid an unsustainable high dividend. In total over 2012-2016, they paid out £20.05B in dividends with a free cash flow of only £16.19B. This basically means they have been borrowing money to pay out as dividends to the shareholders for some time already.
If you bought the GSK stock for the dividend, you will have enjoyed a great yields the last couple of years. But the share price development has been stagnating (the chart is of the ADR on the NYSE):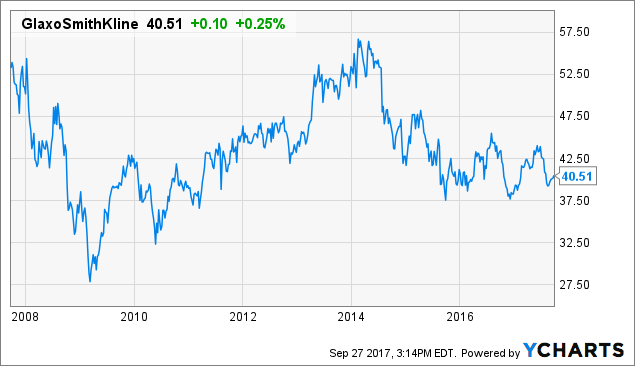 GSK data by YCharts
If you are in it for the long run, the share price development on the short term might not be a big issue. But what should be an issue for investors is the debt and the - not unrelated - lack of growth. The company has been spending almost £5 billion of cash on dividends in 2016, and will spend almost £4 billion for the same purpose in 2017. With these large dividends, they have hardly any cash left for growth purposes. Or for paying off debt.
The dividend is a millstone around the neck for GlaxoSmithKline, and their unwillingness to cut it has already led to more borrowing and higher debts. A possible solution could be a further increase in the free cash flow and the restructuring of the company to finally start paying off. But, sooner or later GlaxoSmithKline will have to recognize that their huge dividend and big debts are impeding growth, and the dividend should be cut.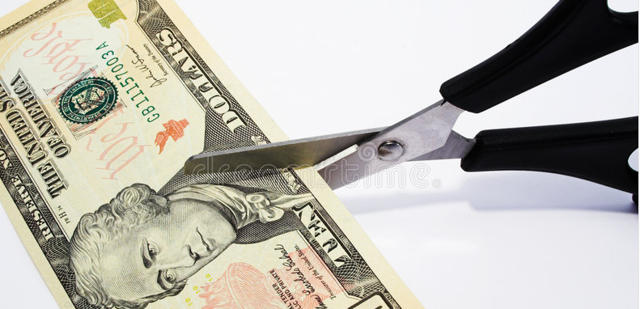 Am I too pessimistic by suggesting there should be a dividend cut? The company might have made a decision already. Here is the official statement from the press release of the 26th of July:
The Group also announced its policy for future distributions from 2018 onwards and its expectations for the 2018 dividend. GSK recognises the importance of dividends to shareholders and aims to distribute regular dividend payments that will be determined primarily with reference to the free cash flow generated by the business after funding the investment necessary to support the Group's future growth. The Board intends to maintain the dividend for 2018 at the current level of 80p per share, subject to any material change in the external environment or performance expectations. Over time, as free cash flow strengthens, it intends to build free cash flow cover of the annual dividend to a target range of 1.25-1.50x, before returning the dividend to growth.
So, in layman's terms, GlaxoSmithKline is basically saying: 'We will keep the dividend of 2018 at the current level, and will likely cut it in 2019 unless our situation improves dramatically.'
If the free cash flow cover of the dividend would be in the middle of the mentioned target range, 1.375, and the dividend would stay frozen in 2019, free cash flow needs to be £5.35B, which is an increase of 24% compared to 2016, and higher than their free cash flow has been since 2013. This does not seem impossible, but it will be very difficult.
So, this more or less seals the deal, I think the dividend is very likely to be cut in 2019. But for future growth and development of the company, this will definitely improve its financial position. They can finally dedicate more funds to what they should be doing right now: paying off their debt and investing in their future. For a dividend investor, it could take many years before the dividend returns to current levels. I would avoid investing in GlaxoSmithKline for now.
Thank you for reading, if you liked this article please click the "Follow" button.
Editor's Note: This article discusses one or more securities that do not trade on a major U.S. exchange. Please be aware of the risks associated with these stocks.