Target (NYSE:NYSE:TGT) has seen a correction of close to 20% year to date. Its cheap valuation and high yield are often cited as attractive factors for value investors who want to use a buy-and-hold strategy. However, it looks more like a value trap, given the past performance and future challenges. The recent initiatives of massive price cuts, heavy seasonal hiring and increase in the minimum wage will also cause pressure on margins and future EPS growth.
Target's performance in comparison to S&P 500 in the last few years has been very weak. In the last one-, three-, five- and 10-year time frame, the S&P 500 has shown total returns of 20%, 32%, 95.5% and 99%, respectively. On the other hand, in the last one-, three-, five- and 10-year time frame, Target has shown total returns of -11%, 5.5%, 7.8% and 22%, respectively. This performance shows that the market has consistently given it a pessimistic rating.
The future fundamentals for the company do not look quite strong. Most of the retail commenters were hinting at a "retail slump" from 2014 to 2016, which signified falling comp sales and margins for brick-and-mortar stores. In the last few months, they have started using the term "retail apocalypse" to highlight the rapid closures of stores, falling revenues and the need for increasing price cuts by retail stores to attract customers.
Amazon (NASDAQ: AMZN) is still growing at over 25% in U.S., which will continue to shift tens of billions of dollars in sales from the retail stores to the online channel. Target would need to answer if there is a third place available after Amazon and Wal-Mart (NYSE:WMT) for a full-scale discount chain. Wal-Mart has 2.5 times the number of stores that Target has in the U.S. and pulls in 5x Target's net income. This would make it difficult for Target to attract customers solely on the basis of price cuts as Wal-Mart will not only match but beat every pricing move by Target.
Target has also announced a 40% increase in seasonal hiring in this holiday season compared to last year. It is unreasonable to expect a growth of over 5% in total sales. This massive hiring surge will be another major factor affecting its margins. Wal-Mart, on the other hand, has decided to continue its last year's policy of using current associates for filling any additional labor demands during the holiday season.
Valuation
Target is currently trading at a close to 12x trailing 12 months (TTM) P/E ratio. On the other hand, Wal-Mart is trading at a 19x P/E ratio on a TTM basis. Even by early May, both retailers were trading at a similar valuation of 15x P/E ratio. The recent divergence can become a norm as Target increases its investments in pricing, labor and technology that will pull its margins down.
Despite the size, Wal-Mart has been able to grow its sales at a faster pace compared to Target. In the last 10 years, Wal-Mart increased its sales from $370 billion to $490 billion at a CAGR of 2.8%. On the other hand, Target increased its sales from $63 billion to $69 billion at a CAGR of 0.9%.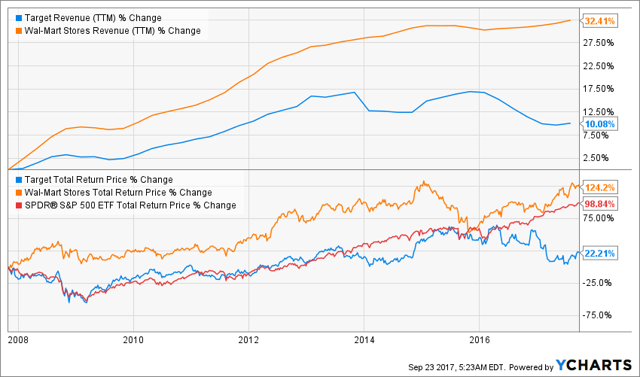 Comparison of Wal-Mart's and Target's performance in the last 10 years.
Target has seen marginal net income decline in the past ten years. However, it has been able to show EPS growth on the back of stock buybacks, which have reduced outstanding shares from 850 million in 2007 to 550 million by the last quarter. This equates to over 35% decline in outstanding stock. Even with this scale of buyback it has underperformed S&P 500 by a wide margin, as mentioned earlier. It would not be able to show a similar level of stock buybacks as the investment needs increase in the next few years.
It will be very expensive for Target to protect its turf, as Amazon continues to grow and Wal-Mart increases its investments in technology to rival Amazon. In this scenario, it would be impossible for Target to show any meaningful EPS growth, which will keep its valuation subdued. Target's payout ratio is already close to 50%. The recent dividend growth of 3.33% was the lowest in more than a decade, even lower than the hike it had during the Great Recession.
Investors should not put their hopes on good dividend growth in the future due to an already high payout ratio and greater investment demands on the company.
Investor Takeaway
Target has underperformed the S&P 500 for several years. Its lower valuation does not make Target a value play due to strong challenges facing the company. Target's stock can continue to underperform S&P 500 in the next few years due to low revenue growth, low EPS growth, poor dividend growth and continuous pressure on margins. This can make the stock a huge value trap for several years.
Even with a yield of more than 4%, Target's stock will find it difficult to beat an index fund in total returns over the next decade. By investing in Target, investors are not getting the requisite return for the risk associated with this stock. Considering these factors, long-term buy-and-hold investors should stay away from Target.