A brief history of the EV industry
The birth of the EV industry is usually pegged to the summer of 2008 when crude oil prices peaked above $140 per barrel. Tesla (NASDAQ:TSLA) was a few months from launching its electric Roadster and I started blogging on battery investing for Seeking Alpha.
At the time, the DOE and everybody in the auto industry pegged their EV hopes and dreams on lithium manganese oxide, or LMO, and lithium iron phosphate, or LFP, batteries. The reasons were simple. Both chemistries had great performance profiles for EVs and both chemistries were made using cheap and abundant raw materials – lithium, manganese and iron.
The sole renegade was Tesla, which planned to use consumer grade cells and a nickel-cobalt chemistry instead of more costly automotive grade LMO and LFP cells. Tesla's theory, which had more than a touch of genius, was that using consumer grade cells would allow it to over-build its battery packs to improve safety and slow cell degradation while pitching a 300-mile range with neck snapping acceleration as major advantages, even though most Tesla owners would crawl through city traffic with the rest of us and average less than 35 miles of daily driving.
While Tesla's electric muscle cars have always been energy, emissions and economic nightmares, the sales pitch resonated with one percenters who were drawn to Tesla's richly subsidized eco-bling like moths to a flame.
The consumer response was so strong that most players in the EV industry are moving away from LMO and LFP batteries and embracing high-energy nickel manganese cobalt, or NMC, batteries.
The EV industry's transition away from cheap and abundant raw materials in favor of costly nickel and cobalt will not end well.
The cobalt cliff
Over the last 18 months I've repeatedly cautioned readers that intrinsic and unavoidable constraints on cobalt production would create insurmountable obstacles to the widespread deployment of long-range EVs with high energy nickel-cobalt batteries.
While the problems will be shared by all automakers that have launched or plan to launch EV products with nickel-cobalt batteries, most will be able to roll with the punches and adjust their business models to accommodate the vulgar exigencies of cobalt production dynamics.
Tesla stands alone as an EV manufacturer that cannot implement its business plan, or for that matter continue in business, without easy access to unlimited cobalt supplies. In my view, Tesla's failure to secure a robust and reliable cobalt supply chain before starting construction for its Nevada Gigafactory is the biggest OOOPs in the history of supply chain management.
Frankly, Tesla's cobalt predicament reminds me of the cliff sequence in the 1991 movie classic Thelma and Louise: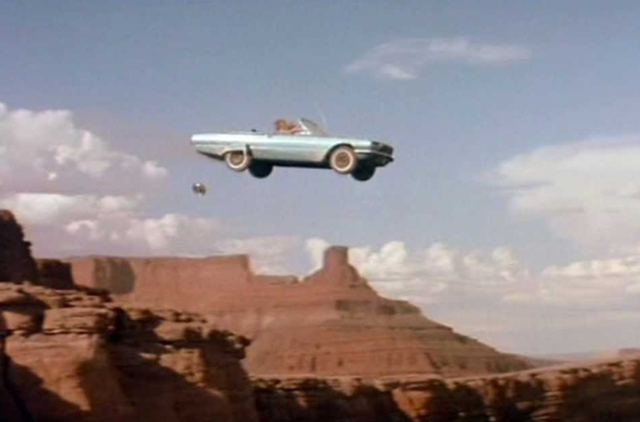 In March 2016, the first of my five prior articles on the Cobalt Cliff explained:
Cobalt is an essential raw material for all high-energy lithium-ion cells and the battery industry accounted for 44% of cobalt consumption in 2015.
Cobalt is also an essential raw material for superalloys, machine tools, catalysts, pigments and other high value products that accounted for 56% of cobalt consumption in 2015.
Roughly 90% of cobalt supplies come from copper (60%) and nickel mines (30%) that produce cobalt as a minor byproduct.
The other 10% comes from primary cobalt mines (2%) and "artisanal" cobalt mines in the DRC (8%) that reportedly rely on slave and child labor.
Reliance on a byproduct is incredibly risky because availability always is tied to demand for the primary product; in this case nickel and copper.
Without rock solid supply contracts, Gigafactory owners will find themselves between a rock and a hard place as they try to outbid other companies that need cobalt for higher value products.
The likely price of supply chain failure will be business failure because you cannot make EVs without batteries and battery Gigafactories cannot operate profitably without robust and reliable raw material supply chains.
In the last 18 months, several events, developments and reports have corroborated, ratified and reinforced my original thesis, including:
Market Price

Cobalt prices have soared from $10.50 per pound in March 2016 to a recent high of $28.35 per pound.

Major Mine Purchase

In May 2016 China Molybdenum bought a 56% stake in the DRC's Tenke Fungurume Mine from Freeport McMoRan for $2.65 billion and gained control over 10% of global cobalt production in a single transaction.

In July 2017, China Moly facilitated BHR Partners' purchase of a 24% stake in the Tenke Mine from Lundin Mining for $1.14 billion.

China Dominates Cobalt Refining

Between the Tenke purchase and contracts to finance the Eurasian Resource Group's Roan Tailings Project, Chinese interests will control at least 60% of the world's refined cobalt production for the foreseeable future.

Updated Chinese Subsidy Regime

In January 2017, China updated its subsidy regime for new energy vehicles to favor higher energy densities and longer travel ranges while permitting the use of nickel-cobalt battery chemistries. As a result, a significant portion of the China market that was previously dominated by cobalt-free batteries is likely to change chemistries.

Bernstein's 2017 Black Book

In March 2017 Bernstein released the latest version of its EV Black Book which devotes 60 of its 271 pages to cathode powder formulations, raw material requirements and the principal players in those markets.

In their slow adoption scenario, Bernstein expects the battery market for passenger EVs to exceed 360 GWh per year by 2025, which implies an annual cobalt demand of roughly 55,000 tonnes.

Interestingly, Bernstein also forecast a mining industry capital spending requirement of $350 to $750 billion to support a full transition to EVs and noted "the lead time required for conversion of exploration success into an operating mine has lengthened considerably and now stands at ~30 years."

Ultimately, Bernstein's battery materials discussion concludes, "Either the world must do without EVs or it must pay more for the commodities it consumes, the choice really is as simple as that."

UBS Bolt Teardown

In May 2017, UBS published the results of their teardown analysis of a GM Bolt EV and estimated that global cobalt production would need to increase by 1928% to support an annual EV build of 100 million units. My estimate of a mere 900% global cobalt production growth requirement pales in comparison.

Morgan Stanley Cobalt Report

In June 2017, Morgan Stanley issued a 25-page commodity report on cobalt that surveyed planned capacity additions and forecast primary refined cobalt supply growth from 94.4 tonnes in 2016 to 148,300 tonnes in 2025.

On the demand side, Morgan Stanley forecast that in 2025, 59,600 tonnes of cobalt would be used for non-battery applications, and 47,500 tonnes would be used for consumer products batteries, which would leave 41,200 tonnes for use in EV batteries.

VW's Glencore contract

In July 2017, we learned that Contemporary Amperex Technology and its customer Volkswagen signed a four year 5,000 TPY cobalt offtake agreement with Glencore last fall.

VW's Contract Solicitation

In September 2017, we learned that VW is soliciting 10-year requirements-based cobalt offtake commitments for 16,000 to 24,000 TPY and wants contracts in place this year.
Until recently, I wasn't completely convinced that leading automakers were truly committed to their EV initiatives. While the Chinese are deadly serious about promoting new energy vehicles as a mean of reducing pollution in their mega-cities, Nissan (OTCPK:NSANY), Tesla, GM (GM) and BMW were the only western automakers with credible EV programs. That dynamic changed after dieselgate when VW came to the EV party with a vengeance, partly as penance for past sins and partly in response to Germany's increasing political support for electric drive.
In its "Global EV Outlook 2017" the International Energy Agency summarized the electric car ambitions of the world's automakers as follows:
BMW

100,000 electric car sales in 2017; and
15-25% of the BMW group's sales by 2025.

Chevrolet

30,000 annual electric car sales by 2017

Chinese OEMs

4.52 million annual electric car sales by 2020

Daimler

100,000 annual electric car sales by 2020

Ford

13 new EV models by 2020

Honda

Two-thirds of the 2030 sales to be electrified vehicles
(including hybrids, PHEVs, BEVs and FCEVs)

Renault-Nissan

1.5 million cumulative sales of electric cars by 2020

Tesla

500,000 annual electric car sales by 2018; and
1 million annual electric car sales by 2020

Volkswagen

2-3 million annual electric car sales by 2025

Volvo

1 million cumulative electric car sales by 2025
With an average cobalt content of 8 kg per car, the 41,200 tonnes available for EV batteries in 2025 will only support the manufacture of 5.15 million EVs, a little over half of the aspirational totals set forth above.
At this point I have to believe the EV revolution has entered a melee phase where there won't be enough cobalt to satisfy everybody's needs and anyone who wants to play the game will have to stand toe-to-toe and compete for cobalt supplies with China Inc. and six of the world's ten largest automakers.
I don't think Tesla is up to the business challenge establishing robust and reliable supply chains in the face of relentless competition from the big boys.
I know it lacks the financial strength to stand toe-to-toe with the big boys in a bidding war.
I can almost hear Elon Musk and JB Straubel reprising a Tesla version Thelma's last conversation with Louise.
Conclusion
Benjamin Graham, the father of value investing, once explained that in the short run, the market acts like a voting machine – tallying up which firms are popular and unpopular. But in the long run, the market acts like a weighing machine – assessing the substance of a company. Tesla is clearly a voting machine stock that will maintain an irrational value until the market starts to act like a weighing machine. Since I expected Tesla's stock to crumble when it was trading in the $30s, I haven't a clue when that will happen.
This article focuses on a third reason why I think Tesla's business model is fatally flawed and its inherent investment value is zero. I will discuss others in future articles. The biggest challenge with macro issues like the cobalt supply and dynamics discussed in this article is that it's almost impossible to predict when an unavoidable outcome will occur. In my experience, being right about an unavoidable outcome too early isn't much better than being wrong.
Since Elon Musk is the most talented stock promoter I've ever seen and I've never shorted a stock, I have no advice to offer Tesla bears. That being said, I wouldn't own an un-hedged long position in Tesla because the downside risk is enormous.
From my perspective the only safe place to watch this circus is the sidelines.