When Others Are Fearful...
The US stock market is expensive, and one place to look for better value is overseas. The current geopolitical tensions on the Korean peninsula should be viewed as an opportunity. While other investors are avoiding South Korean stocks, driving valuations to exceptionally low levels, I am hunting for bargains.
Looking For Value Outside Of The US
With the US stock market trading at a historically high valuation, where should a value investor look for bargains? One option is to try and identify the inexpensive stocks that exist inside the US, but these are becoming few and far between. Another option is to look overseas. Not only are international markets trading at a discount relative to the US, but adding international stocks to your portfolio increases diversification and risk adjusted return.
Using publicly available CAPE ratios from Research Affiliates, we can easily visualize the growing disparity between US and All World valuations over the past ten years.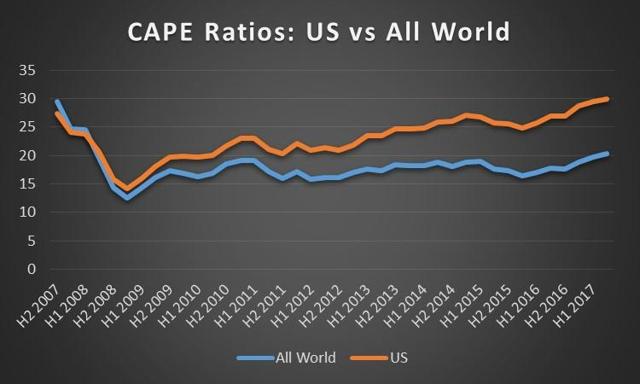 If we were to look at the US relative to the emerging markets or certain countries, the difference in valuations would become even more apparent.
There are plenty of sensible reasons that people propose for why the high valuations of many US stocks are okay and may persist for some time to come. But when viewed in the international context, these arguments start to look like rationalizations.
One popular argument is that relative to US bonds, US stocks are cheap. This makes perfect sense until you think more broadly and include assets outside of the US. The ECB, Bank of Japan, and others are pursuing similar quantitative easing as the United States and are even earlier in the cycle than the US is. If US stocks are truly a bargain compared to bonds, then international stocks are an even BIGGER bargain.
The Cheapest Developed Market In The World
StarCapital Research has a very useful ranking of international markets that is updated periodically, which includes different valuation measures such as CAPE, traditional price/earnings, and price/book. While the latest update was at the end of the second quarter and is a bit stale, the information is still very relevant.
In their ranking of 40 markets, South Korea comes in at #1 as being the least expensive market in the world. At the end of June, South Korea had a CAPE of 15.3, a trailing P/E of 12.9, and a P/B of 1.1. To put this into context, the United States had a CAPE of 28.0, a trailing P/E of 22.4, and a P/B of 3.1, making it the most expensive market in the world.
Another good resource for comparing stock market valuations is Yardeni Research's publication on the forward P/Es of MSCI countries. In its latest update, it also shows that Korea is one of the cheapest markets in the world.
| | |
| --- | --- |
| Country | Forward P/E |
| US | 18.1 |
| Canada | 15.2 |
| France | 14.9 |
| Japan | 14.3 |
| UK | 14.3 |
| Germany | 13.4 |
| Italy | 13.4 |
| Spain | 13.4 |
| Korea | 9.0 |
There is still some debate about whether South Korea constitutes an emerging or a developed market. MSCI classifies South Korea as an emerging market, while FTSE, S&P, and the IMF all consider South Korea to be a developed market. Considering how advanced of an economy the country has, the high standard of living of its citizens, and the strong democratic and legal institutions, I can't help but think that it's only a matter of time until MSCI catches up with the rest of the world and recognizes that it is indeed a developed economy.
While South Korea's stock market is undeniably cheap, there has been a fairly persistent "Korean discount" throughout history. This term refers to the fact that South Korea, unfairly or not, has traded at a discount to the rest of the world. This discount has been attributed at times to the specter of armed conflict with North Korea. At other times, the discount has been blamed on the family-controlled chaebols, the corporate conglomerate structure that can sometimes lead to corruption and inefficiency.
Leaving aside the causes of the discount, the current South Korean discount is larger than it has been anytime in the past 13 years. Yardeni Research produces a report on South Korea that includes a chart of the relative valuation between the country's stock market and the MSCI All World index. The relative P/E of South Korea has ranged from 0.3 (in 2000-2001) to over 1 (in 2008-2009). It currently stands near the bottom of the range at 0.56.
ETFs or ADRs?
A significant amount of research has been done on the impact of valuation on future returns, both in terms of single stocks and entire stock markets. While value can underperform growth for periods of time, it is precisely these periods of underperformance and the consequent abandonment of value by groups of investors that lead to "the value effect", the persistent excess return of value stocks over the long run. With growth having beaten value over the past ten years, now is the time for value investors to stick to their convictions.
StarCapital produced one such research paper that concluded that a combination of CAPE and price/book serve as useful predictors of future ten year returns throughout the world. With South Korea at historically low valuations compared to the rest of the world, what is the best way to bet on the country and its stock market?
The safest way to invest in undervalued South Korean stocks is by increasing exposure to broad international ETFs that include them. It gets a little bit tricky, because MSCI considers South Korea to be an emerging market, while FTSE considers South Korea to be a developed market. Some good options for ETF exposure are:
Schwab International Equity ETF (SCHF) and Vanguard FTSE Developed Market ETF (VEA) both track FTSE indexes that include South Korea among other developed international markets. They have very low expense ratios of 0.06% and 0.07% respectively, and either would serve to increase exposure to South Korea and international stocks in general, all of which are trading at a discount to US markets. Both ETFs have roughly 4.5% of their holdings in South Korea.
iShares Core MSCI Emerging Markets ETF (IEMG) tracks the MSCI Emerging Markets Investable Market Index, an index which includes South Korea and emerging markets stocks. The ETF has an expense ratio of 0.14% and an almost 15% allocation to South Korea. With emerging markets trading at an even bigger discount to the US than developed international markets, this is certainly a tempting option.
iShares MSCI South Korea Capped ETF (EWY) tracks the South Korean stock market. It is a good alternative if you want to focus only on that country, although the expense ratio of 0.64% makes it the priciest of all the options.
I invest in South Korea partly through the Vanguard Developed Market Index Fund (VTMGX), but I also devote half of my portfolio to stock picking. There are 9 Korean ADRs to choose from that trade on US stock exchanges, and below are two that I have researched before. One of them I previously owned, and the other I made an investment in just this past week.
SK Telecom (NYSE:SKM) is the dominant telecommunications company in South Korea. I purchased it in early 2016 when it was trading near its 52 week lows and sold it in early 2017 for a 25% gain. I still keep my eye on this stock, as its P/E ratio of approximately 9 and its dividend yield of 4% make it a very appealing investment.
Korea Electric Power Corporation or KEPCO (NYSE:KEP) is the electric utility in South Korea. They are majority owned by the South Korean government and in addition to providing regulated electricity generation and transmission in South Korea, they are engaged in projects around the world constructing power plants for other countries. While their nuclear plant projects get the most headlines (mostly negative), they are also building wind farms, coal plants, and other power plants that use diesel, heavy oil, and natural gas. While there are risks facing the company, including the South Korean government's plan to reduce the use of nuclear energy and coal and the diminishing outlook for nuclear energy worldwide, these risks appear to be fully priced into the stock and then some. KEPCO trades at an incredibly low price/earnings ratio of 5 and price/book ratio of 0.34. I added this stock to my portfolio last week.
The Risks Are More Than Priced In
There are numerous risks facing South Korea, including the escalating tensions between the US and North Korea, as well as recent political and corporate scandals within the country. With risk comes opportunity, however. It is precisely because of these negative headlines that South Korean stocks trade at such a huge discount to the US and the rest of the world. My recent investment in KEPCO at 52 week lows is a bet on both value investing and on the South Korean economy.
Disclosure: I am/we are long KEP, VTMGX.
I wrote this article myself, and it expresses my own opinions. I am not receiving compensation for it (other than from Seeking Alpha). I have no business relationship with any company whose stock is mentioned in this article.