There have been several valuable articles discussing Roku (NASDAQ: ROKU) on Seeking Alpha prior to the Thursday 9/28/17 IPO. These articles have done a great job on bringing perspective on the business fundamentals and financials. Here is a link to the Roku S-1. Rather than rehash similar information in this article, we hope to bring value from a different perspective:
As a trading-oriented contributor and Marketplace service Trader's Idea Flow seeks to bring a shorter term perspective that has value for investors and traders who are interested in near-term price action. This makes our perspective and service somewhat unique on Seeking Alpha as most contributors bring a longer term perspective. The value here might be the combination of both a longer term and a shorter term perspective, which can be useful for your short-term trading or also for getting specific when picking long term entry/exit points.
We also will bring some discussion of our successful experience trading three tech IPOs thus far in 2017. We will share some tips that you may find useful in your own trading on the current Roku IPO trade that is now underway or on future IPO trading. Snap (NASDAQ: SNAP), Redfin (NASDAQ: RDFN), and now Roku have each been successful, short-term, tech IPO trades to the long side for us in 2017. Additionally, we were able to also successfully flip the Snap and Redfin trades to the short side after taking profits on our long positions. We provide links to the time/date stamped articles that we wrote at the time of these trades for verification purposes.
We also preview what we will be looking for to identify an exit point from our current Roku long position. The same sell signal that identifies our exit point from our long position also will identify our entry point for our anticipated short position.
Briefly, we also want to touch upon the macros that we believe are driving this Roku IPOs demand. Again, we don't want to rehash the good information already provided in other articles but we do want to identify a few of the drivers for this IPO that are relevant to your trading calls. Let's get started with a brief discussion of these macro fundamentals first:
Of course we are in a bull market and perhaps we may be in the latter stages of this bull market when speculation, volatility, and larger price moves become more likely. Granted, this overall market has been notable for its lack of volatility for some time now but there have been a number of individual stocks making big percentage price moves for some months now. The Roku IPO being the most recent example of price volatility to the upside after extreme moves to the downside recently by Dexcom (NASDAQ: DXCM) and Equifax (NYSE: EFX). While the overall markets have not been volatile, there have been a steady stream of individual stocks displaying extreme volatility.
A good example of this volatility that is relevant to the current Roku IPO: Recently, Trader's Idea Flow bought the open on the IPO debut of tech stock Redfin at $19.50 and while we sold above $26 and $28 that IPO peaked at $33.50 in just five trading sessions. That is the type of volatility and explosiveness that we are referring to that we are now seeing again in shares of Roku on day one of trading.
The small float and strong lead underwriters on both of these IPOs also are key factors in the after market success of these stocks. Goldman Sachs (NYSE: GS) was the lead for the Redfin IPO and Morgan Stanley (NYSE: MS) is the lead for the Roku IPO. The Roku IPO float is only about 18 million shares, including the 2.2 million share greenshoe option.
Anthony Wood, CEO of Roku, brings a wealth of experience in the industry to the company. Wood founded Roku in 2002. Since 2007 Wood was a vice president at Netflix (NASDAQ:NFLX) responsible for all aspects of Internet TV. Wood actually invented the DVR and founded Replay TV. Roku means "number six" in the Japanese language. Roku is the sixth company that Wood has founded.
Roku and its business model have been in transition away from hardware to a higher margin mix of revenues. For now, the shift in revenue mix towards a platform business model appears to be working. This is one of the reasons why Wall Street is showing enthusiasm for the Roku IPO.
For the six-month period ended June 30, Roku reported revenue of $199.7 million, up 23% from the year-ago period, with a loss of $21.2 million, vs. a loss of $32.6 million a year ago. Roku revenue comes from the sale of Roku TV streaming devices, from advertising and subscription revenue.
A note on valuation: Although losses have been narrowing, ROKU is not profitable (this is a point that is not lost upon bears) so the Price to Sales Ratio is a useful indicator of value relative to competitors. This article discusses the fact that ROKU's business model is in transition to a more favorable revenue model than the hardware component of the business. The graphic below shows where investors are valuing ROKU relative to other comparable companies.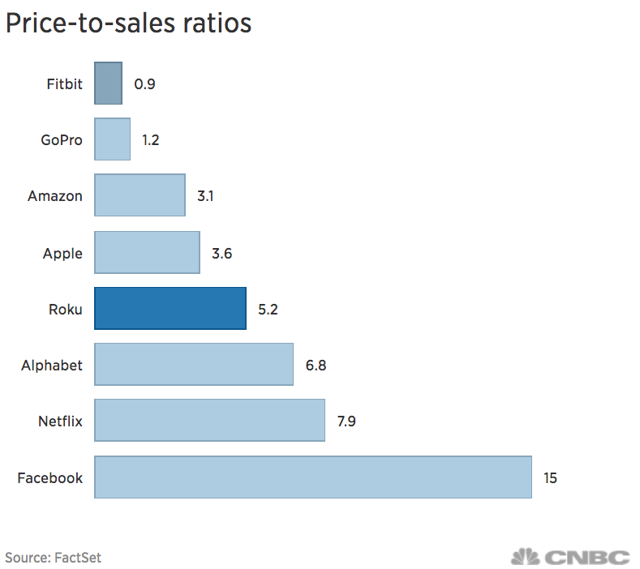 Finally, there already is some speculative buzz in the marketplace that Roku and Netflix would be a natural fit together as the result of some type of M&A activity. Candidly, the idea has merit.
So the above macro concepts serve as the backdrop for the successful IPO trade of Roku that is entering day two on Friday 9/29/17.
Now let's get more specific into the micro concepts that are serving to assist us in making money on this Roku IPO trade. The following discussion will encompass a number of short-term trading and pattern recognition ideas:
Let's recap the Roku trading game plan discussed in this Thursday's 9/28/17 2:58AM Trader's Idea Flow post. Then let's discuss the short-term trading prospects for ROKU to seek maximal exit points for our long position. And then let's also discuss the optimal entry point for the anticipated short sale of ROKU. So to be clear, we are currently long ROKU and looking for an exit point on this current momentum trade higher. We then want to seek the maximal point to flip the ROKU trade from long to short.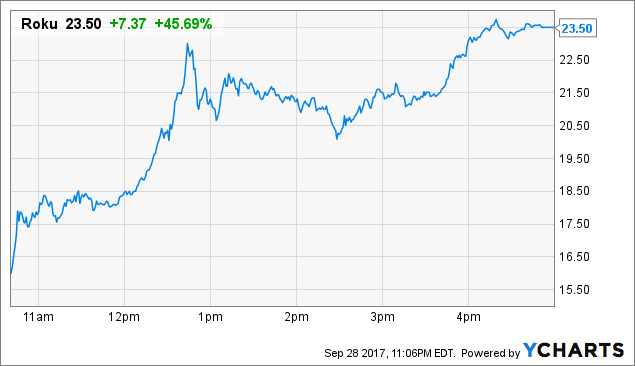 ROKU Price data by YCharts
Here's some context and background on the trade that may be useful for those who wish to consider either a long or short position in this stock in the near term:
We planned to buy the first dip out of the IPO gate this morning on Roku's trading debut. The stock priced at $14 on the high end of the range, which is what we wanted to see since demand is crucial for the momentum trade to the long side.
ROKU opened above $16 and then quickly traded to about $15.75. The stock turned higher in a fast market and we had to chase $16.24 for our entry point. It is our experience that many IPOs dip after the initial move higher in the first few minutes of trading. Our first indication of how strong the ROKU IPO was going to be today was how shallow the initial dip was and how quickly it filled. We were in a fast market higher to $18 per share on ROKU before we could say, "Roku's business model is evolving away from hardware to a higher margin sales, ad, subscription revenue model."
Day one of a hot IPO always is the easiest day. With our order executed and the stock quickly trading in a bee-line higher to $18 shortly after our purchase we put the trading desk chair into recline mode for the rest of the day. One of the most gratifying feelings as a trader is knowing that you have a winning trade with a lot of room left to run. You know the feeling when you watch the chart trade in your favor and the Daily P/L counter lights up like one of the old school pinball machines when you have just won an Extra Game. The adrenaline rush from that money making action just never gets old. Am I right? All of us can agree on that point.

OK, enough of that looking into the rearview mirror contextual background stuff. Let's get ready for day two of our ROKU IPO trade:
ROKU closed at the intra-day high of $23.50 up $9.50 for the day. This is text book stuff setting the stage for a strong day two morning. Then ROKU added another .80 in the After Hours session to close at $24.30.
Candidly, I liked the old days better when the 4PM close was final. Here is why: the after hours gap complicates the morning trading. In addition, the pre-market trading may also have a gap higher. So when the institutions join the trading at 9:30 AM a gap may need to be closed, or we may just continue higher. But we cannot know which trading action will occur. This is the complication that the additional trading hours in the AH and PM sessions create. There is no way to call that trading action with any degree of certainty. But awareness of this issue is important for traders since on occasion a stock will trade back down to fill the gap, and then continue trading lower after the gap fill. Sometimes markets seem to adopt Newton's First Law of Motion where, "... an object in motion stays in motion ... and in the same direction..." So AH/PM gaps can complicate your trading decisions.
Clearly, we are likely to have a gap as trading opens in the morning. My guess is that ROKU's momentum takes this stock higher on day two regardless of the initial trading action around the gap. But how much higher can this momentum trade take us? The answer to this money question is that your guess is as good as mine or anyone else's guess. But let's throw in a few clues that may be useful as we progress in our ROKU IPO trading plan:
The Redfin (NASDAQ: RDFN) IPO was our last successful IPO recommendation for Trader's Idea Flow subscribers. The chart below shows five consecutive up days out of the IPO gate. This multi-day move higher of RDFN from $19 to $33.50 over five trading sessions is a rare event as most know and is generally found only in a bull market. A two or three consecutive day move higher for a hot IPO is more common.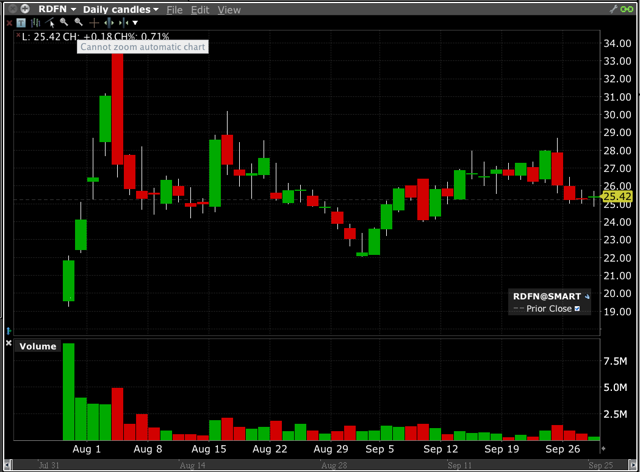 2. The other IPO that Trader's Idea Flow rode day one momentum higher this year was Snap, Inc. (NASDAQ: SNAP). We were long on IPO day for a successful momentum trade higher prior to entering our Snap short on day three. The chart below shows a more common two-day IPO momentum price spike higher: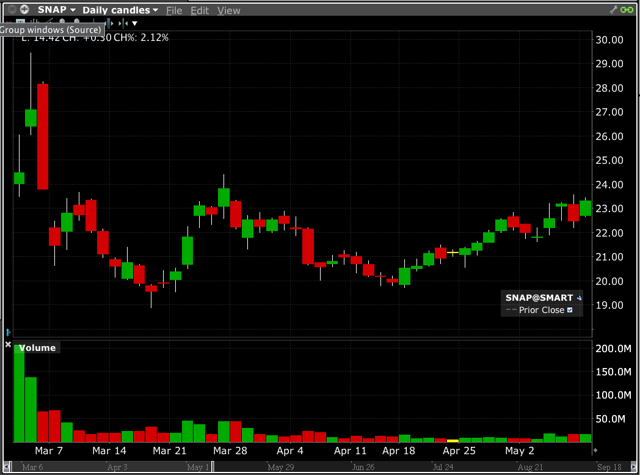 So day two of the ROKU IPO in the morning could be your momentum price peak as it was in the case of SNAP. Or ROKU could be on to a multi-day move higher as was the case for RDFN. How do you know which of the two trading events is happening for ROKU, a two-day move or a four/five day move higher? The RDFN trading event was a rare beast of an IPO that surprised to the upside. But the SNAP IPO was more predictable.
SNAP showed us a classic Breakout Failure Pattern on day three of the IPO as illustrated on the daily chart above. This article discusses this usually reliable pattern that we will be looking for on our current ROKU trade.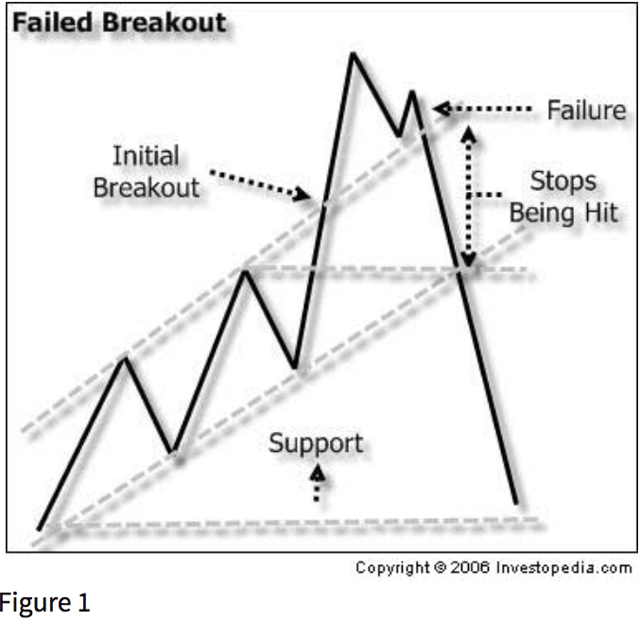 As we enter day two of the ROKU IPO trade we are now looking for a maximal exit point. This exit point may not present itself until day three or later.
When an IPO is breaking out higher on a brand new chart, then one of the few reference points is pattern recognition. If the Breakout Failure Pattern presents itself, then we will use this tool to signal our exit point from our long position. Trader's Idea Flow anticipates the best potential for seeing a Breakout Failure Pattern would be the morning of day three.
We also will be mindful of the short sale trading opportunity that may present itself after ROKU's upward momentum has become exhausted. The same Breakout Failure Pattern that signals our exit from our long position will also signal our entry to our short position.
The entry point for the upcoming short position may not present itself until day three or later of the ROKU IPO trade. For now let's remain focused on day two trading action keeping in mind that the stock is likely to gap higher in the morning and spike higher in price. This morning price spike, if it happens, could be an opportunity for you to exit your long position. If you feel like ROKU has enough strength of momentum to trade higher into a day three move, then you will act accordingly.
Summary and Conclusion:
Roku is a company in transition to a higher profit margin, platform business model. Wall Street recognizes this event and seems to be in the process of assigning a higher valuation than Roku would have received if the company were perceived as just a hardware provider.
As other articles have discussed, Roku has a number of very challenging competitors at major tech firms. This is a valid reason for concern and a cornerstone of the bear case against Roku.
There are currently a number of favorable macros that are aligned to give the Roku IPO a boost.
After a successful day one for our ROKU IPO trade, we are now on the lookout for a maximal exit point on day two or later.
We are mindful of the upcoming trading opportunity that will present itself to the short side.
We are looking for sell signals such as the Breakout Failure Pattern to appear on day three or later.
Trader's Idea Flow does not provide any investment advice of any sort to anyone at anytime. And discussion of trading or investing is solely for the purposes of Trader's Idea Flow own account. Always do your own due diligence. Consult with your professional and financial advisers prior to making any financial decisions related to investing. Short term trading carries many additional risks and should not be attempted by less experienced investors.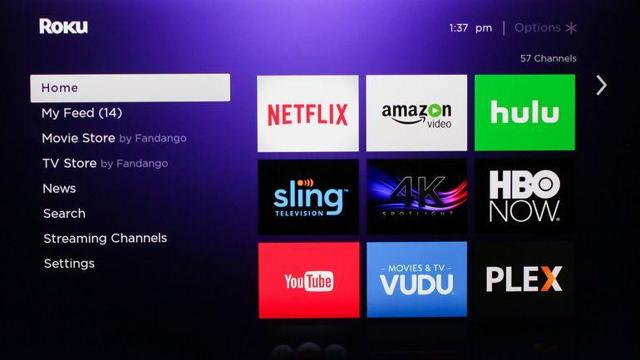 Disclosure: I am/we are long ROKU. I wrote this article myself, and it expresses my own opinions. I am not receiving compensation for it (other than from Seeking Alpha). I have no business relationship with any company whose stock is mentioned in this article.