Today marks the end of the third quarter of 2017. There have been 188 trading days so far this year, and the S&P 500 has experienced an average absolute move of +/-0.31% on these days.
As shown in the chart below, historically, the S&P 500 has averaged a daily change of +/-0.73% over the first 188 trading days of any given year.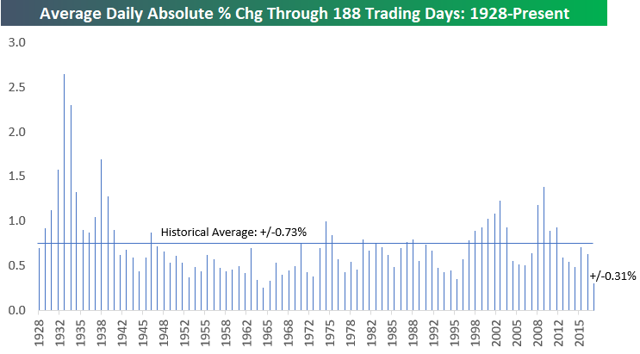 The only year where the S&P 500 experienced a smaller daily change through 188 trading days is 1964. In that year, the index averaged a daily move of just +/-0.26%! As shown in the table below, though, the S&P 500 went through a three-year period of extremely low volatility in 1963, 1964, and 1965. 2017 now ranks as the second least volatile year through 188 trading days, but 1964 ranks 1st, 1965 ranks 3rd, and 1963 ranks 4th. The 1963-1965 period shows that 2017 doesn't have to be a one-year outlier - this type of low volatility environment can go on for even longer.
That's not to say vol WILL remain low, however. It can pick up again at any given moment. On the right hand side of the table below, we show the most volatile years through 188 trading days as well. The four most volatile years and six of the top seven all came in the 1930s. 1932 was the most volatile with an average daily move of +/-2.65%.
Three of the ten most volatile years have come since the year 2000, so only the youngest investors haven't experienced a period of massive volatility. 2009 ranks 5th with an average daily move of +/-1.39% through 188 trading days. Memory is fleeting, though, and at this point, it's difficult for most investors to remember exactly how they felt during the darkest days of the Financial Crisis. The further we distance ourselves from the Crisis and the lower volatility gets, the more complacent investors will become.