Summary
Specialty REITs led the way with Outfront Media cashing in on a big contract with NY MTA.
Regional Malls jumped after Goldman upgraded Retail REITs.
Industrial REITs declined 1% - taking a breather from its torrid 19% return over the last year.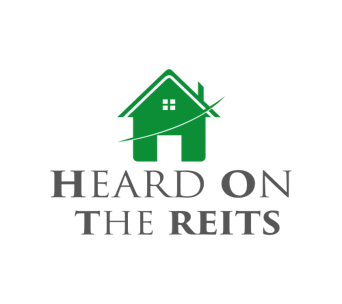 For the week ending September 29th, the MSCI US REIT Index (RMZ) underperformed the S&P 500 (SPY) by 30 bps. The REIT Index now trails the S&P on a YTD basis by over 12%! REIT investors can take solace in the fact that the REIT Index is heavily tilted towards the larger REIT companies so chances are any kind of diversification away from the large players may have resulted in better returns. Furthermore, there are some sub-sectors that have performed quite well, such as Data Center REITs with a 27.5% YTD and Timber REITs with a 17.1% return YTD.
For the week, Specialty REITs led all sub-sectors with an average return of 4.5%, led by Outfront Media (OUT) after signing a new deal with the New York Metropolitan Transportation Authority. Regional Malls also looked to reverse some YTD blues with a 2.6% pop led by Pennsylvania Real Estate (PEI) which closed on the sale of a $30M property and benefited from Goldman Sachs' upgrade of the Retail REITs.
There weren't a whole lot of losers this week, but Industrial REITs declined by 1%, with Rexford Industrial Realty leading the sub-sector downward with a 2.5% decline.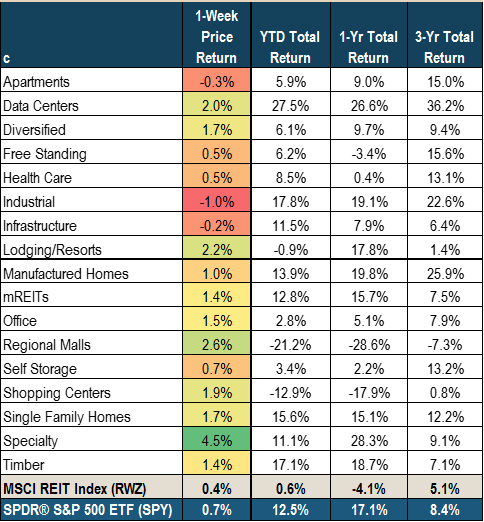 Note: 1-Week Price Returns are based on the average returns all REITs within each sector. Not market-weighted.
The biggest winner among REIT ETFs was the PowerShares KBW Premium Yield equity REIT Portfolio ETF (KBWY) with a 2.3% return for the week. It is heavily weighted towards small caps, which outperformed their large cap counterparts that are the largest holdings in the MSCI US REIT Index. Another testament to the need for diversification and perhaps a ding on 'passive' ETF strategies that are market-weighted.

Select News Items
Western Asset Mortgage Capital (WMC) reported book value as $10.97. After its capital raise, the stock dropped 2.3% and is now at $10.47 – a good 5% below 'book value'.
Sabra (SBRA) 3.0 was down 6.0% on the day it priced a 16M share offering and after putting up for sale the remaining facilities leased to Genesis Healthcare. PendragonY called it a Buy.
Gladstone (GOOD) sidestepped any Hurricane Harvey damage in Houston and brought its Houston MOB up to 100% occupancy.
Uniti (UNIT) – It must be the most popular stock on Seeking Alpha right now. It's a buy in my book even after Aurelius Capital called 'default' – which had nothing to do with the Windstream (WIN) situation – it just adds yet another layer of news the company has to cut through. Take Nicholas Ward's lead and buy the stock – just a little tiny bit of it. Windstream did rebound after a credit research firm chimed in that Windstream's take on the situation is valid. But litigation is never simple and certainly not predictable so caution is still warranted.

More from Houston –

Bluerock Residential (BRG) bought an 80% stake in the Villages of Cypress Creek just Northwest of Houston. No damage to that property and it's 94% occupied – even after the hurricane.
DDR (DDR) reported that its Plaza Palma Real property in Puerto Rico sustained significant damage. The other 11 assets on the island were less impacted but suffered minor damage.
Outfront Media signed a deal with the New York MTA for more than 50,000 digital ad displays across subway, commuter rail, and buses. Chances are if you see an ad while commuting in NY, it belongs to Outfront.
Cedar Realty Trust (CDR) was up 3.1% after-hours after Snow Park Capital reported a stake in the REIT and is suggesting a possible sale.
Dividends this Week and Next – Lots of dividend activity in the next couple of weeks!!

REITonomics This Week
New Home Sales
New Home Sales continue on an upward trend but were a disappointing 560K in August. The median sales price of a new home jumped 6% to $313,700. Even though the supply of new homes for sale increased slightly, they are still relatively low, which is causing prices to rise faster than people can afford to buy them. We've mentioned many times before that wage growth isn't keeping up with many other metrics and home prices is another one. What we thought could be the end to the rise in rental rates could continue to go up if people just can't afford to buy a home.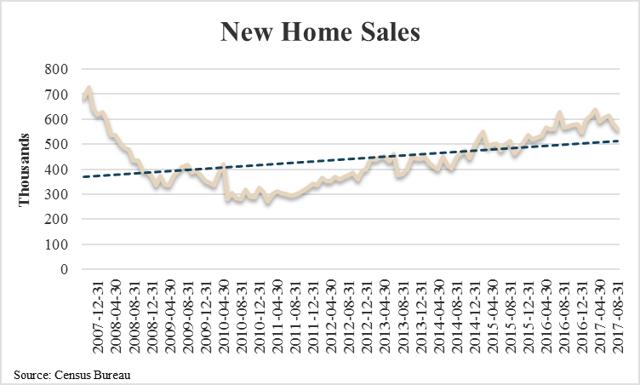 Core Durable Goods Orders
Core durable goods orders managed a gain of just 0.2%, which was in line with consensus forecasts but well below the 0.8% from the previous month. Not very exciting.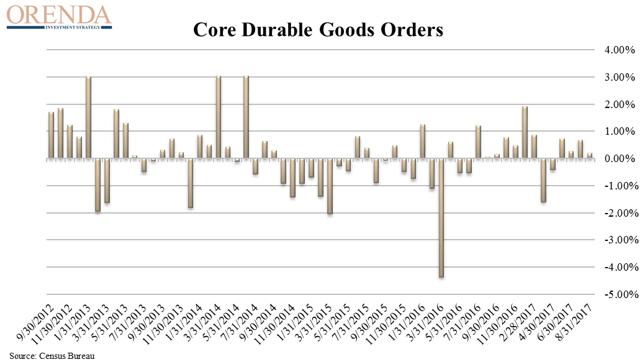 Pending Home Sales
Pending home sales declined for a second month in a row and for the 5th out of the last 6 months. Not surprising for the same reasons we mentioned earlier: no supply and higher prices. Oh yeah, and then there were two hurricanes that may have affected that. So perhaps we will see a big rebound in September as things got back to 'normal' in affected areas. It would be problematic for the economy if housing stalls, but Apartment REITs and Single Family REITs could benefit.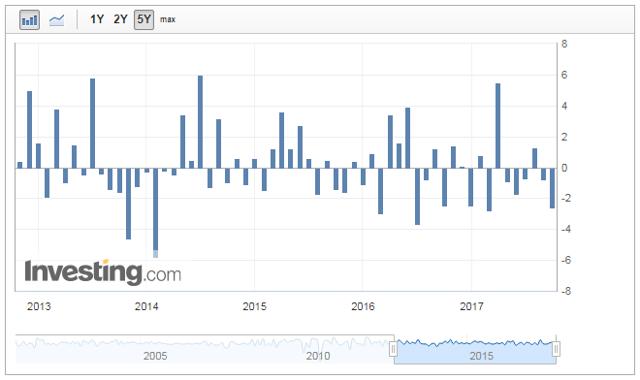 GDP
GDP was adjusted slightly upward in the latest revision from 3.0% to 3.1% growth in 2Q 2017. The change was minor, but puts in perspective the imminent policy normalization phase we are in and which will be further entrenched next month when the Fed starts reigning in its balance sheet. We have already started seeing some yield curve steepening, which could be good for banks. The effect on mREITs could be dependent on short-term vs. long-term opportunities. Rising rates can affect book values, but a steepening yield curve presents spread opportunities.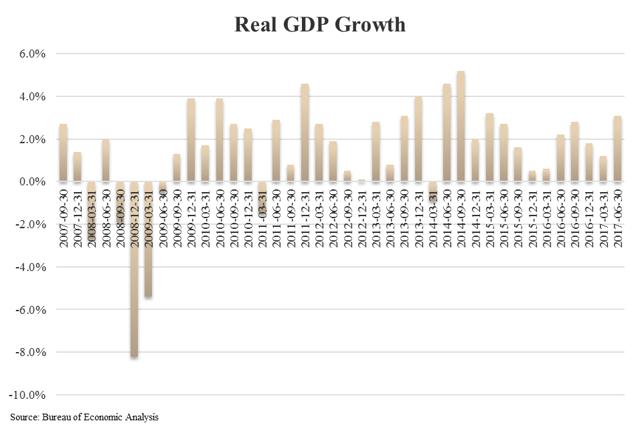 Initial Jobless Claims
If there is any part of the labor market that is showing some signs of weakening it's in the initial claims. Claims this week came in at 272,000, increasing the 4-week moving average to 277,750.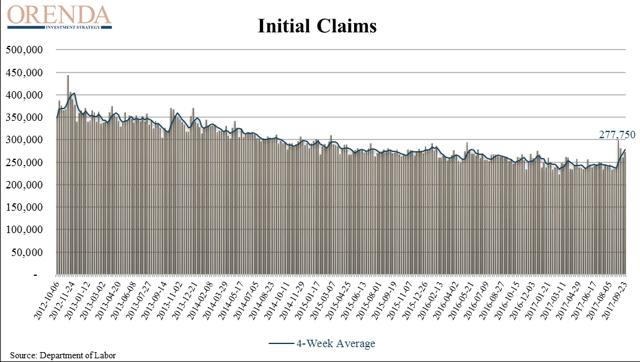 Core PCE Price Index
Where is inflation? The oft-cited Fed's favorite measure of inflation declined again to 1.73%. Late in 2016 and earlier this year, it looked like we were going to hit the Fed's inflation target of 2%, only to have it decline for 4 out of the last 5 months. With the Fed unwinding its balance sheet, we think it likely they will hold on the next rate hike.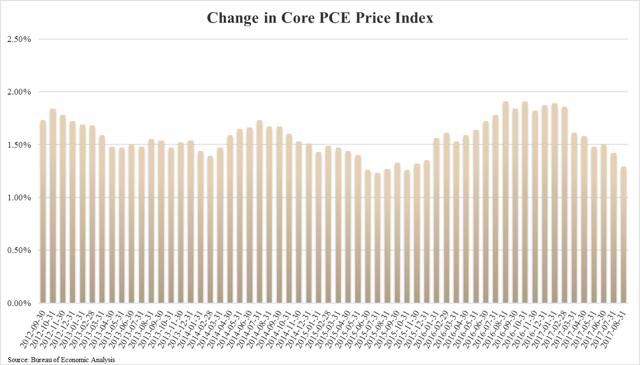 Michigan Consumer Sentiment
Consumer confidence continues to hover around multi-year highs which bodes well for future consumption even if personal spending is hovering around 0.1%.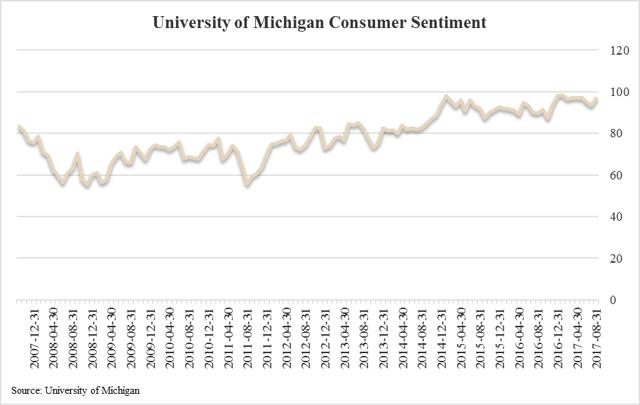 REIT Data
We have changed the format of our Dividend Yield/Payout Ratio chart to better reflect attractive dividend payers with dividend growth potential. Based on the new format, sectors located to the top/left are attractive based on current dividend yields and low payout ratios that could lead to potential dividend boosts.
We made some adjustments to the data this week to eliminate any companies with outlier yields or payout ratios that could be lead to data looking very strange. So word of warning, just use this data as a way to identify sub-sectors that look interesting for further analysis. Lodging and Infrastructure look interesting as does Healthcare. We do not currently have a position in Lodging as we were stopped out of Ashford Hospitality Prime (AHP) and are evaluating several options.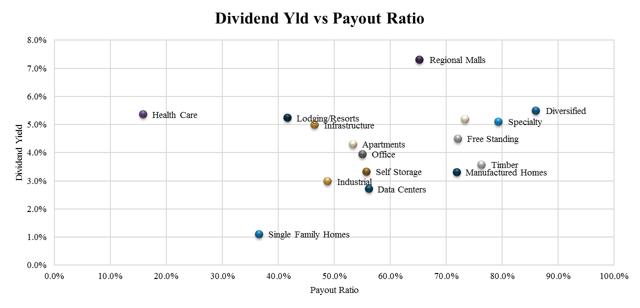 Comparing price multiples to potential returns based on analyst estimates, Regional Malls still look attractive with a P/FFO multiple of 10.9 - and a potential return of 16.3%. The sector with the highest potential return based on analyst estimates continues to be Infrastructure REITs with a target return of 32.7%, which is driven by Power REIT's (PW) 102% return target and Uniti's 89% return target, according to analyst estimates.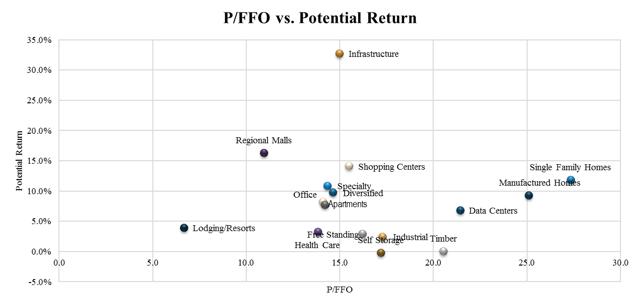 Note: Some adjustments were made to normalize the average numbers such as removing data points where P/FFO was negative due to negative FFO/share or where a low FFO would lead to an abnormally high P/FFO in a small population size.
Market Cap Breakdown of REIT Sector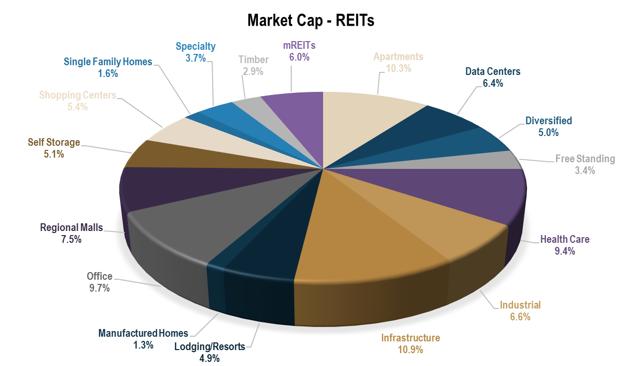 Heard on the REITs: Profitable, customizable REIT strategies from expert portfolio strategist Arturo Neto
Heard on the REITs is focused on more than single REIT stock ideas. It's highly valuable, in-depth, institutional-quality research designed to save you time while helping you become a better-informed REIT investor. What's more, you get personalized portfolio asset allocation guidance and actionable REIT investing strategies. At Heard on the REITs, I share my best ideas in a concentrated portfolio while implementing smart strategies to minimize downside risk. As a Heard on the REITs subscriber, you'll invest alongside the #6 ranked REITs author on Seeking Alpha. And until October 15, subscribers save $100 off the annual price, and $400 off the monthly. Join our community today!
Sample Premium Research Report
Disclosure: I am/we are long BXP. I wrote this article myself, and it expresses my own opinions. I am not receiving compensation for it (other than from Seeking Alpha). I have no business relationship with any company whose stock is mentioned in this article.
Additional disclosure: Long
BXP
SLG
DRE
MNR
KIM
REG
SPG
GGP
SRC
O
ACC
EDR
UMH
AMH
AAT
CUBE
HTA
SNR
WY
AMT
UNIT
CCI
DLR
QTS
CXW
BXMT
Editor's Note: This article covers one or more microcap stocks. Please be aware of the risks associated with these stocks.