If you're a big believer in the old "Buy Low, Sell High" philosophy, then what are you going to do in a market like this one? Stocks are routinely breaking records in a nearly decade-old bull market. In such an environment, it's time to try the newer "Buy High, Sell Higher" philosophy.
Stocks that are making new highs tend to continue moving even higher until something disrupts the trajectory. With no recession in sight and the economy humming along, the overall trend for stocks remains upward. So how do you find the stocks most likely to continue ascending? The best tool is the Zacks #1 Rank New Highs screen on Zacks Premium. You'll find a collection of Strong Buy stocks that are making new highs and should continue to do so moving forward.
Below are three stocks that were recently on the screen:
Lam Research Corp. (NASDAQ:LRCX)
Whenever North Korea makes news with its saber-rattling, a company like Lam Research Corp. is going to take a hit. Geographically, nearly 40% of its revenues in the last quarter came from Korea while another 30% comes from Japan, Taiwan and China. However, this is a company that hasn't missed quarterly estimates in more than five years, so it should be back to new highs pretty quickly once the tensions ease and NK is no longer in the headlines.
Under more normal circumstances, this semiconductor processing equipment company is one of the most impressive members of its highly-ranked industry. It's part of the Semiconductor Equipment/Wafer Fabrication space, which is in the top 2% of the Zacks Industry Rank with a more than 50% return year-to-date. Even after a recent pullback due to North Korea news, LRCX is still up more than 62% so far this year.
The company earned $3.11 per share in its fiscal fourth quarter, surging more than 84% from a year earlier and beating the Zacks Consensus Estimate by 3%. Revenues jumped more than 51% from last year to $2.34 billion, inching past the Zacks Consensus Estimate of $2.31 billion. It was a record quarter for non-GAAP earnings, revenue and shipments, which were up 5% to $2.54 billion. With demand improving, LRCX believes it is on track to outperform overall industry growth in calendar 2017.
We won't have to wait too long to see the next round of that overperformance, as LRCX is expected to report fiscal first quarter results as soon as October 18. The quarterly report mentioned above led to sharp increases in earnings estimates. For example, the Zacks Consensus Estimate for this fiscal year (ending June 2018) has jumped 17.2% over the past three months to $12.61 per share. For next year (ending June 2019), earnings are expected to climb 5.2% higher to $13.26, which have increased 8.3% over those 90 days.
Lam Research Corporation Price, Consensus and EPS Surprise
Owens Corning (NYSE:OC)
Owens Corning will be going for a 13th straight positive surprise when it reports again on October 25. The odds of reaching that market are certainly in the company's favor, given all the momentum at its back. Plus, a building materials company like OC should have a lot of business helping to fix up the hurricane-ravaged areas of Texas and Florida. The stock has soared more than 47% so far this year, which is more than four times better than the Building Products/Miscellaneous industry.
In its report from late July, Owens Corning completed a third straight year of bottom-line outperformance with second-quarter adjusted earnings of $1.20 per share. The result easily beat the Zacks Consensus Estimate by 13.2%. Over the past four quarters, the stock has now amassed an average beat of 20.2%. Consolidated net sales were up 3% from last year to $1.6 billion, which included net sales increases in its main divisions.
Looking forward, the company said it continues to expect an environment consistent with consensus expectations for U.S. housing starts and moderate global industrial production growth. Earnings estimates have been steady over the past several weeks, but you can see the impact of its strong second-quarter numbers when you look back three months. For example, the Zacks Consensus Estimate for this year is up 6.7% in 90 days to its current reading of $4.28 per share. Analysts expect earnings to rise a further 14.7% next year to $4.91 per share. That result is up 9.4% over the past three months.
Owens Corning Inc Price, Consensus and EPS Surprise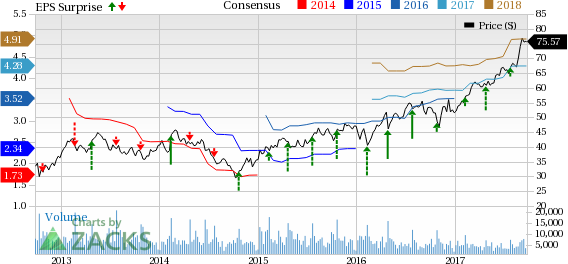 MasTec, Inc. (NYSE:MTZ)
In early August, MasTec, Inc. reported its seventh straight positive surprise in grand fashion. The $1.03 per share result was 56% better than the Zacks Consensus Estimate at 66 cents while also surging past the year-ago result by 186%. MTZ has now put together a four-quarter average surprise of nearly 30%.
The company can thank its strong quarter and its surging share price to record levels of Oil & Gas project activity. Due mainly to such record levels, net sales jumped 53% from the previous year to $1.89 billion. The Zacks Consensus Estimate was only looking for $1.49 billion. Revenues for the Oil & Gas segment climbed 168% to $1.1 billion.
MTZ has other opportunities elsewhere as well. It recently expanded the geographic footprint of its heavy civil operations while also entering the water, sewer and drainage systems infrastructure space. The company believes that such moves set up continued long-term growth possibilities.
In fact, MTZ raised its 2017 guidance during the quarterly report to new record levels. Revenue is now expected at approximately $6 billion compared to its previous forecast of $5.7 billion. Earnings per share should now hit $2.73 instead of just $2.45, which would mark a 44% surge over 2016.
In the wake of the raised forecast, analysts started revising their estimates higher. The Zacks Consensus Estimate for this year has increased 11.4% from two months ago to $2.74 per share. Analysts then expect earnings to grow another 8% to $2.96 per share next year, which have increased 10% in 60 days. MTZ, which is up nearly 23% so far this year, will report earnings again on Nov. 2.
MasTec, Inc. Price, Consensus and EPS Surprise